An adult allowance can easily be implemented into your budget plan, whether you make a little or a lot!
Remember when you were newlyweds and navigating finances as a new couple?
I was a saver and he was a spender. It was a culture shock when $20 didn't stay in my purse more than two days. My wallet was always empty no matter how much I put in. My husband enjoyed Starbucks, purchasing lottery tickets, and handing cash to the guy holding a cardboard sign.
Steve was in the military and came into our relationship with nothing more than a duffel bag and a few thousand in credit card debt. His father had passed away from colon cancer, when Steve was just eight years old, and his mom worked multiple jobs to keep the family afloat. This meant Steve was largely raised by his two older brothers and, if he wanted to eat, he had to figure out how to cook for himself (bonus for me now, he's an awesome cook!). His mom turned to alcohol and life was pretty rough. He was raised in situational poverty and worked really hard to change his future.
I was raised in a stable home with parents who weren't necessarily wealthy but used their money wisely. After being awarded a full scholarship to a local community college, I decided that wasn't the route I wanted to take. I went to work, lived at home, and saved like crazy. With my savings, I was able to purchase a duplex at the age of 21 and lived in half while renting the other half. I continued to save for the big picture.
Somehow, we had to come up with a way to handle our finances, together, in a way that we both could agree on.
That's when the monthly adult allowance came into play! We came up with an agreed upon amount that Steve would get, once a month, to spend with no complaint from me. No more rolling my eyes when he stopped for a $4 coffee. It was complaint free money. His to budget, as he pleased.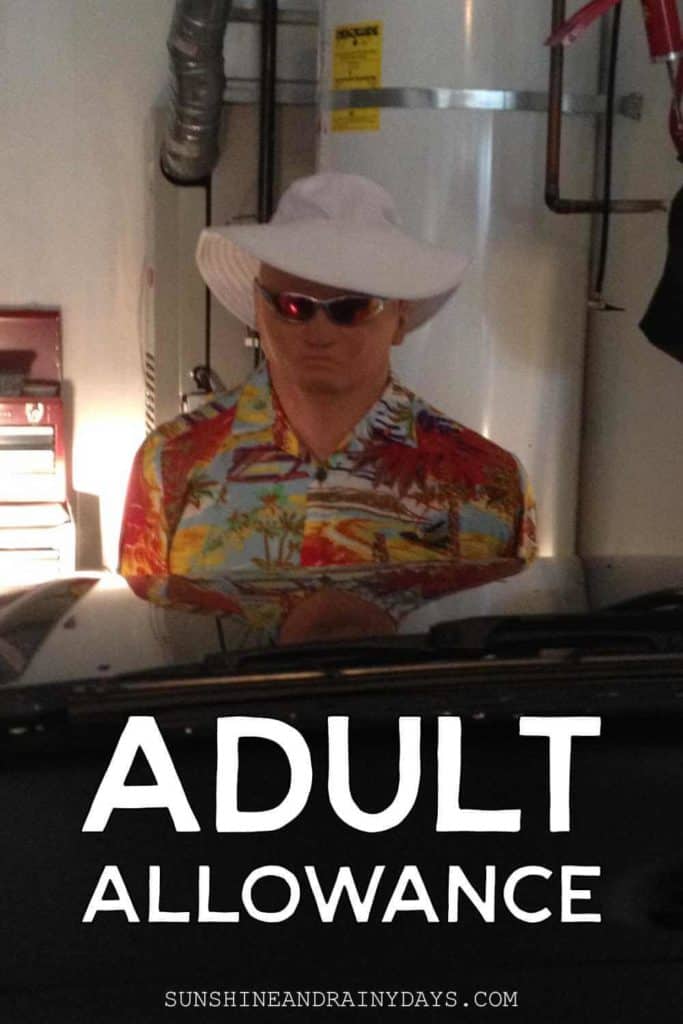 Benefits Of An Adult Allowance
Simplifies Your Family Spending Plan
Creating an allowance system places the responsibility of budgeting, for personal items, up to each individual family member. This leaves less to include in the family spending plan.
SAVES Money
Since money is no longer coming from the family money tree, each family member gets to work, within their individual budget, and the family budget stays intact.
Gives You Freedom
An allowance gives you the freedom to spend on things that are important to you! You may decide to drive less or get your hair cut less often, in order to save for that new pair of shoes. You get to spend your allotted amount the way you choose, as long as the pre-determined budget items are taken care of, out of your personal budget.
Makes You Work Within A Budget
Having a set amount of money makes you think twice about any purchases you make. It gives you a reason to set boundaries on your personal spending.
Makes Your Life Easier
You no longer have to consult with anyone before you make a purchase, as long as it fits within your personal budget. You have your own cash, on hand, to spend as you see fit.
Helps You Make Your Dreams Come True
When an item doesn't make sense to fit into the family budget, you still have options! You can choose to save your allowance for the things you'd like to have, without damaging the family spending plan.
How Much Allowance Should You Give Yourself ?
You should give yourself an amount that will cover your normal monthly expenses that you can pay cash for, plus a little extra, for fun stuff!
We calculated how much Steve would need, for a normal month, to come up with his allowance amount.
These are the categories that we shifted from our regular budget, to Steve's personal allowance:
Gas
Haircuts
Co-pays
Clothing
Going out to lunch, on his own
Nickel and Dime Stuff that comes up at work
Gifts for ME – Really. Because how can it be a true gift if it's coming out of the family budget that I am the CFO of?
Car maintenance – LOF, etc.
Any other Needs, Wants, Desires
You get the picture, anything he might need to purchase or pay for, during the month, that wasn't in our regular monthly budget.
Of course, the allowance amount has changed, over the years, along with our budget and his commute. However, over 25 years later, we still say this was the best financial move we ever made!
How Often Should You Give Yourself An Allowance?
You should give yourself an allowance on a regular weekly, bi-weekly, or monthly basis. Your allowance should be paid just like a regular bill.
Since we are a single income family and my husband is paid once a month, we pay ourselves our allowances on a monthly basis.
The important thing to remember is to be consistent!
What Should You Spend Your Allowance On?
Your allowance should be spent on the pre-determined items you've chosen to use your allowance for. It is helpful to put it in writing, on a Monthly Allowance Proposal Worksheet, so you don't forget.
BOB has joined our family by way of an allowance. He hung out in the dining room for a while and I was startled every time I walked by. I knew he was there but it didn't matter. HE. FREAKED. ME. OUT! My husband turned him to face the window. It didn't help. BOB was probably an excellent thief deterrent looking out the window the way he was.
Thankfully, after working with BOB in the dining room, my husband decided there wasn't enough space and sequestered BOB to the garage. Poor BOB. It's cold out there. He doesn't care though. Every day BOB greets us as we pull our cars into the garage. What a nice guy he is!
If you haven't figured it out, BOB is short for Body Opponent Bag. He's the best sparring partner money can buy!
This post contains affiliate links. When you purchase through an affiliate link, we receive a small commission at no additional cost to you. Disclosure.
The great thing about BOB is that he was paid for with cash, from Steve's allowance!
BOB can now be crossed off my husband's wish list. I have to tell you, his list used to stress me out as the Household Chief Financial Officer. Somehow, I felt the pressure to help him achieve every desire of his heart. That was until, THE MAN ALLOWANCE!
My husband loves getting a man allowance every month and he squirrels money away to purchase things off his wish list. He has his very own envelope system which means no more pressure for me! Whew! He's happy, I'm happy.
Justine and I had a little fun dressing BOB up one afternoon. He was ready to greet Steve, as he pulled into the garage. I had hoped he would scare him a little too! If BOB keeps dressing like that, we may become friends!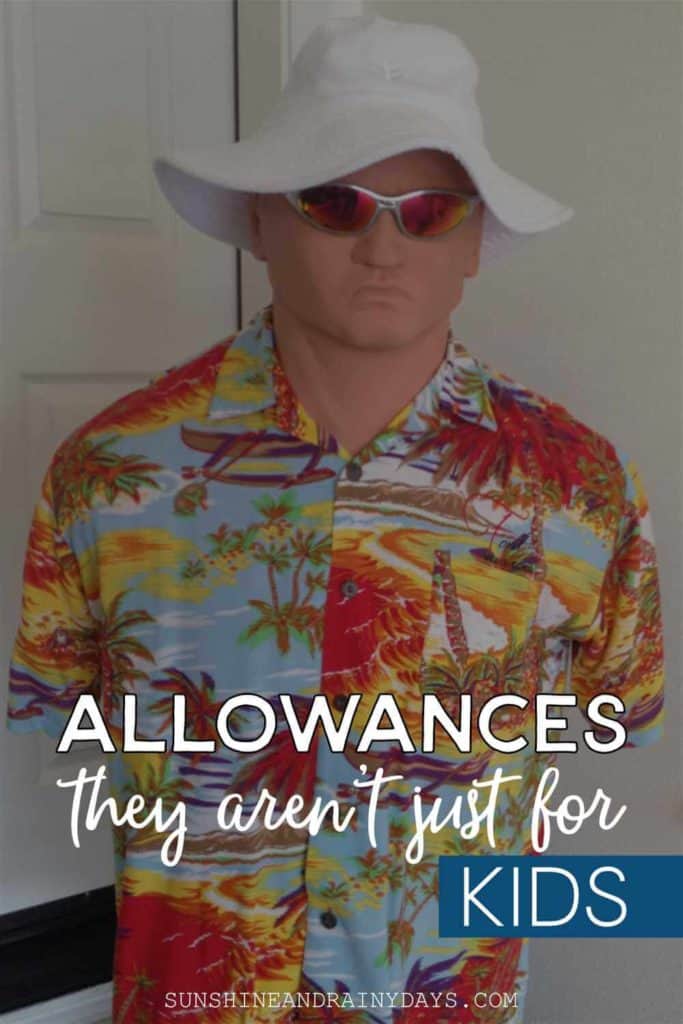 What Should You NOT Spend Your Allowance On?
Your allowance should never be used on family stuff. This is your money, to spend on yourself, the way you like.
It is totally okay to use your allowance to buy a family member a gift. As a matter of fact, it makes those gifts even more special! However, resentment could easily creep in if you continually use your allowance to cover the grocery bill or pay for a home improvement project. That would defeat the whole purpose of an allowance.
How Do You Give Yourself An Adult Allowance?
There are many ways you may choose to give yourself an allowance and each family member may choose something different. That's okay! You do want to be sure to place your allowance in a separate place from your regular bank account so it truly feels like it's all yours!
Cash – Cash makes it easy to create your own envelope system, for the things you want and need.
Venmo – Venmo is a digital wallet that makes it easy to pay or get paid. This is my daughter's payment choice. She is in college and this is what works best for her!
Bank Account – You may choose to set up your own bank account, with a debit card, for your allowance. If you prefer to use a debit card, for your purchases, this could be the right choice for you.
Hybrid – You may choose to receive your allowance in a few different ways. Maybe you'd like a little cash plus want to add to your bank account. My son likes this method. I deposit half his allowance into his bank account and the other half, he gets in cash.
With so many ways to receive and send cash, you can easily find a system that works right for you!
---
Many people feel an adult allowance is degrading or manipulative when a spouse gives them money, in this way. If an allowance is used in a negative way, it will suck the joy out of an allowance that should bring freedom. Your allowance amounts should be decided on, together, and revisited on a yearly basis.
Not too long after we set up an allowance system for Steve, I got in on the deal, too! We felt it was important for me to also have the freedom to have cash to spend on the things I wanted, without guilt. We have also raised our kids on an allowance and it has worked great!
The sweet thing is that adult allowances can easily be implemented whether your income is a little or a lot. You can make adjustments, according to your income and your regular monthly expenditures.
Wish lists can become reality when you squirrel away your adult allowance!