My niece is having a baby and the Couples Baby Shower will be at my house! Of course, I had to get my ducks in a row with a Baby Shower Planner so I could help the mom to be plan a shower she would love!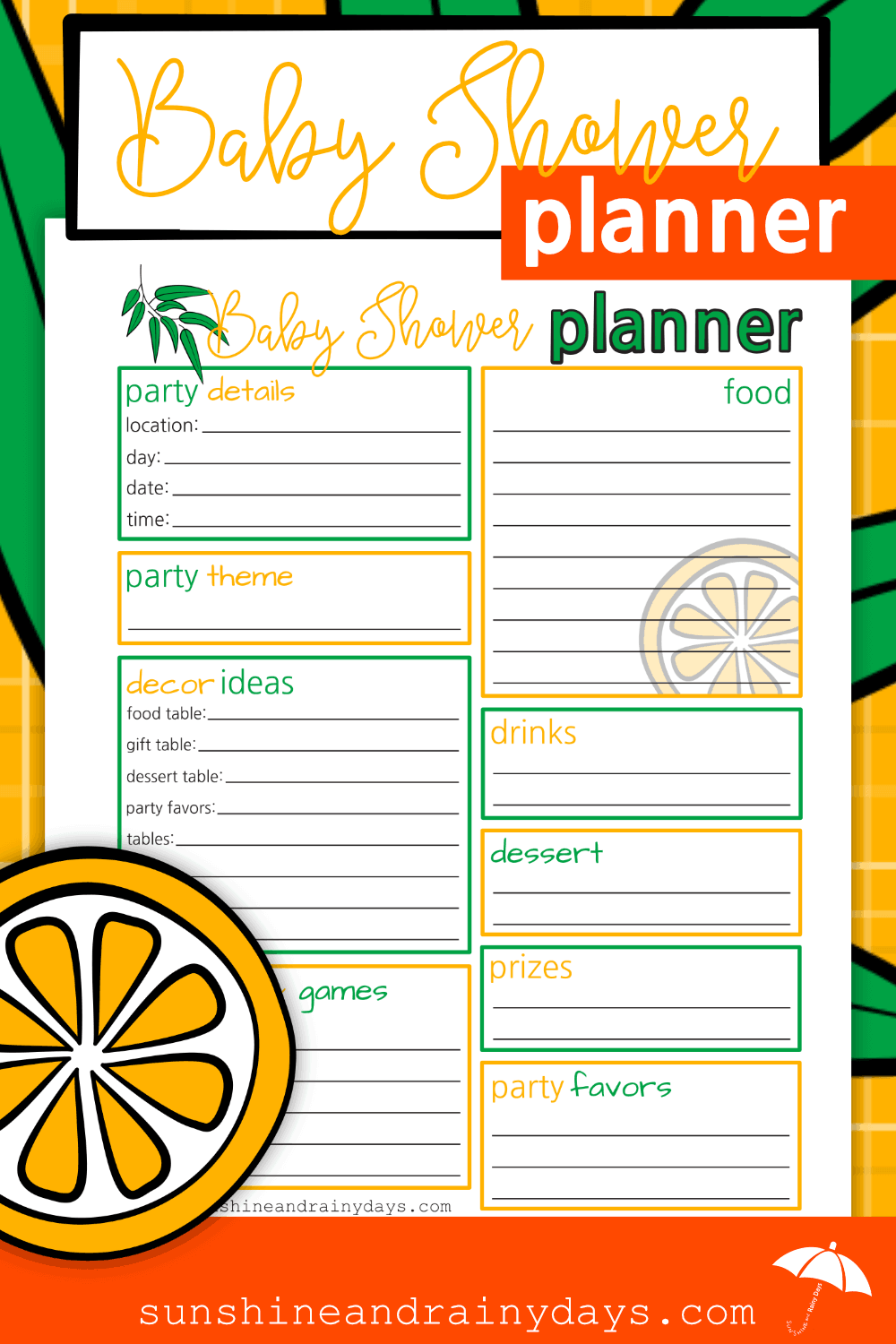 Baby Shower Planner
Host a Baby Shower with the confidence you've dotted all your i's and crossed your t's! Use the Baby Shower Planner to get your ideas on paper and ready to implement!
It all starts with a plan!
Baby Shower Planner Supplies
This post contains affiliate links. When you purchase through an affiliate link, we receive a small commission at no additional cost to you. Disclosure.
Printer – I just purchased this one and it is ah-mazing! You will love it!
Paper
Baby Shower Planner – found below
Writing Utensils
A creative mind!
How To Use The Baby Shower Planner
Print the Planner – found below.
Sit down with the mom to be and come up with a plan.
Location – Determine where you would like to host the Baby Shower. Are you happy to throw the shower in your home? Does a friend or family member live in a central location to your guests?
Pick A Date! – Consider your guests and a date that will work best for most!
Choose A Time – Will you be serving lunch or dinner? Maybe light snacks or cake? The time will tell your guests what to expect. If you choose 11:00 – 2:00 or 4:00 – 7:00, guests will likely think you are serving lunch or dinner. Schedule a shower between usual meal times like 1:00 – 4:00, and guests will know snacks will be served.
Pick A Theme! – You don't have to have a theme but it sure does help guide you in your Baby Shower plans.
My niece chose greenery with a twist of lemon and a bit of pink!
Decorations – How will you decorate? Are you into banners and crepe paper streamers? Will flowers set the tone? Can the cake stand alone?
We plan to use greenery mixed with lemons on the tables, a banner by the fireplace, and perhaps a few balloons!
Activities And Games – A Baby Shower isn't a Baby Shower without a few fun games and activities!
Food – What food will you provide? Will you have it catered? Semi-catered? Prepare food yourself? Have family and friends help? Is it a full meal deal or light snacks? Maybe you'll choose to do a mixture of it all!
Drinks – What kind of drinks will you provide? A few choices might be Jar Drink Dispensers with lemonade, iced tea, or flavored water. What about canned soda on ice?
Dessert – Dessert is a must have! Is cake your thing? You could also go different and do something like donuts, a candy bar, or the mom to be's favorite dessert.
Prizes – What will you use for prizes? Think about it ahead of time so you aren't left scrambling.
Since we have the garden with a twist of lemon theme going on, I plan to purchase plants as prizes! For the Pregnancy – How Sweet It Is Game, I will purchase the candy mentioned in the game as a prize!
Party Favors! – Party Favors are so fun!
My niece chose baby succulent plants and decorated cookies!
Now that the plan is in place, it's time to create a Guest List and implement the plan!
We've even started a Secret Facebook Planning Group so family can pitch in and help too!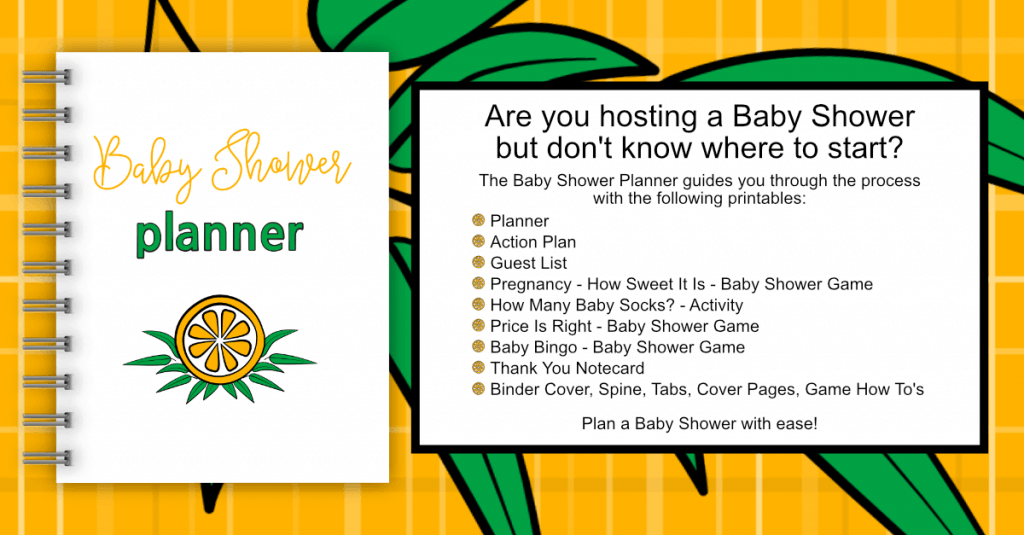 What's In The Baby Shower Binder?
Our Baby Shower Binder is here to help with the following printables:
Binder Cover
Cover Page
Binder Spine
Tabs
Plans Cover
Planner
Action Plan
Guests Cover
Guest List
Games Cover
Pregnancy – How Sweet It Is – How To
Pregnancy – How Sweet It Is – Game
Pregnancy – How Sweet It Is – Answer Sheet
How Many Baby Socks? – How To
How Many Baby Socks? – Sign
How Many Baby Socks? – Entry Cards
Price Is Right – How To
Price Is Right – Game
Baby Bingo – How To
Baby Bingo – Cards – (24)
Thank You Notecard
More Baby Shower Resources
How Does A Diaper Raffle Work?