If your weekends are full of To Do's, it's time to get those To Do's out of your head and onto a Fillable Things To Do Checklist so you can clear your mind and concentrate on one thing at a time!
This fillable sheet has two checklists, one for Things To Do and the other for Stuff To Buy.
How To Use The Fillable Things To Do Checklist
Fill out the checklists in Adobe Acrobat PDF Viewer and print or print the checklist and fill out by hand.
Cut the checklists.
Leave in a spot where you can reference it easily.
Mark off the tasks, as you complete them!
You may also choose to leave the fillable PDF document on your device and mark tasks off, as you complete them, there.
Whatever you choose to do, the Fillable Checklist gives you options!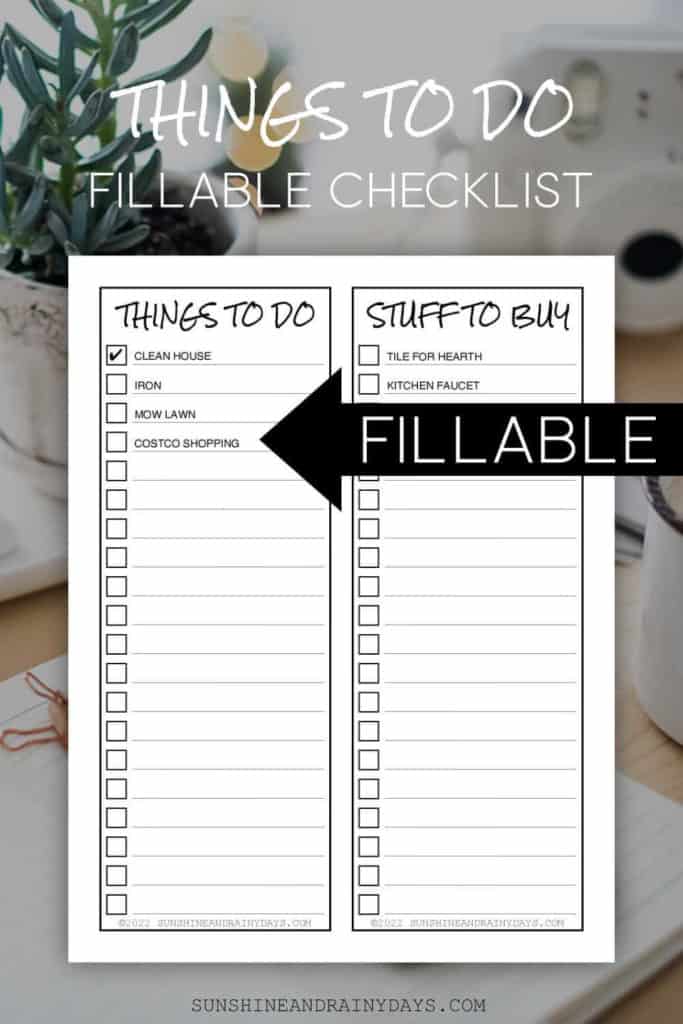 It's time to clear your mind! Get those weekend To Do's down on paper so you can concentrate on the task at hand.
Download Your Fillable Checklist Here!
Fillable PDF Info
This editable PDF uses fillable form fields for your convenience. The fillable fields are laid over a pre-made template which can't be altered.
I recommend opening the file in the free Adobe Acrobat PDF Viewer for the most reliable results.
If using a Mac, please open in Adobe PDF Reader as the Mac Preview software does not work well with fillable fields.