Do you have piles of paperwork precariously strewn about your home that are begging for their very own space? A space that you will know to go to when the need arises for that one sheet of paper? A place that paper will be recognized for the value it holds? Let me introduce to you How To Organize With Binders!
Imagine this … you need a particular piece of paper and you don't have to dig through a file cabinet or box to find it because it is right where you can easily find it … in the appropriate binder.
When you organize with binders, every piece of paper has a place. A place where it can easily be found and used!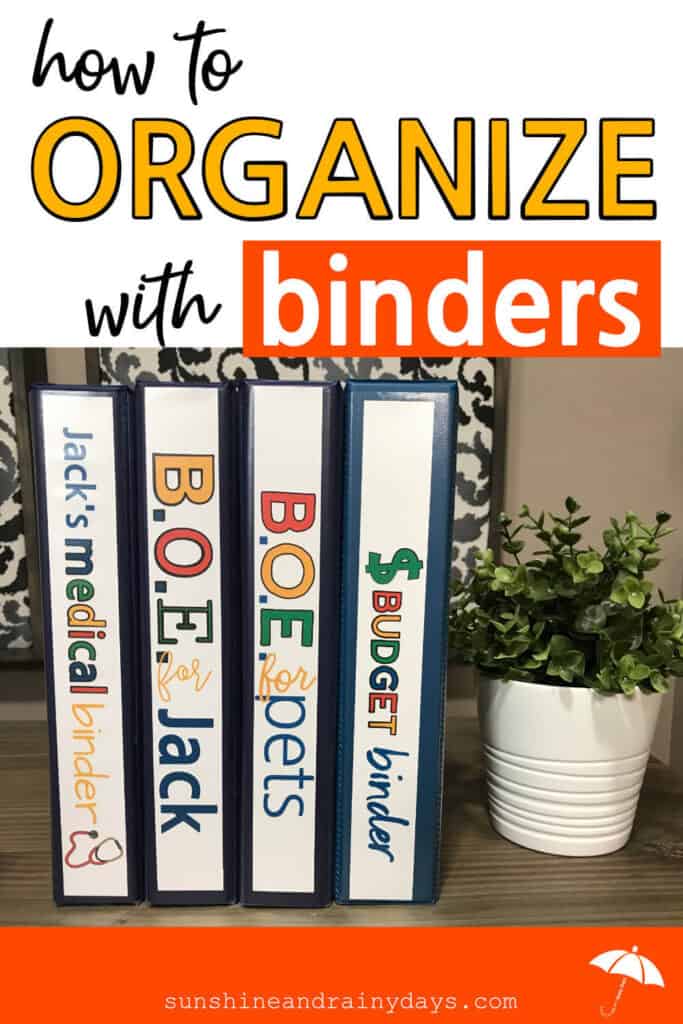 You don't need anything fancy to create your own binder system. Binders, dividers, and a three-hole punch will do.
If you want to take your binder organization one step further, you can purchase printables to put your binders over the top!
Either way, check out the binders I've created and be inspired to organize your own paper life with binders!
I've been organizing with binders for many years now. It started when my health required me to actually pay attention and track my own medical documents. A less cool version of the Medical Binder was formed. Thankfully, you get the sweet, refined version of the Medical Binder!
Say good-bye to digging through piles of medical information in order to find trends in your medical history. Get organized, once and for all, with a Medical Binder and Medical Binder Printables!
We have a Medical Binder for each person in our family. They are really quite handy and help us take charge of our health!
I no longer have to solely rely on doctors to keep my important medical files because I've got my own hard copies organized in my Medical Binder.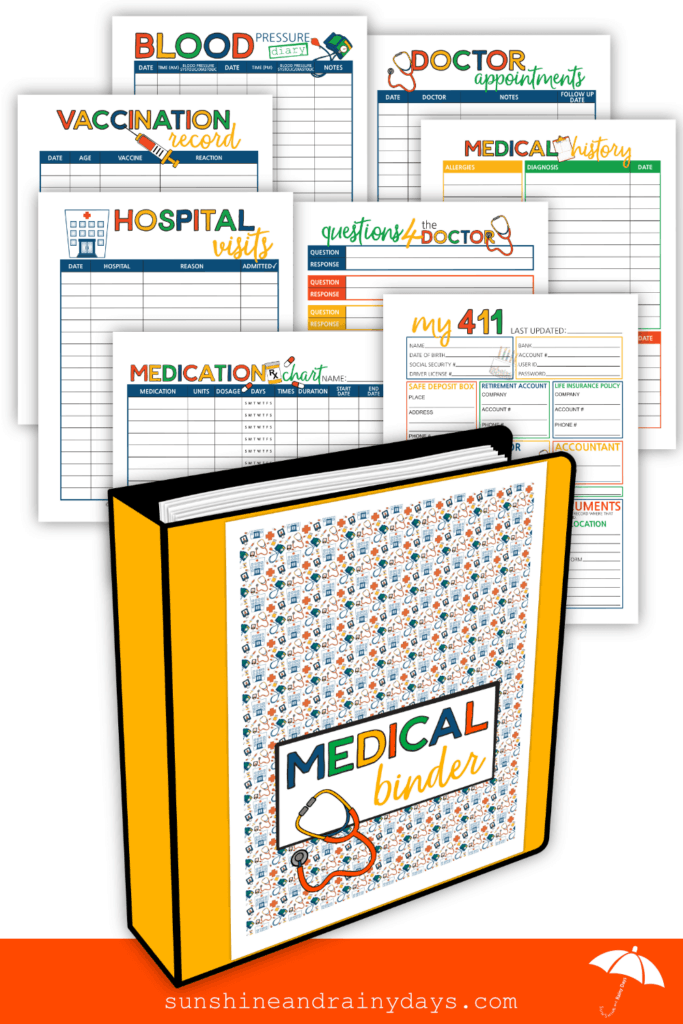 The kids had important papers that needed a home of their own. A spot where we could easily find the information we needed when filling out forms, adding them to our vehicle insurance, and gasp! filling out the FAFSA and college applications. There's no more digging around looking for stuff because we have what we need in their Big Book Of Everything!
This is the binder your teens need to put the things they can't bear to part with; like that driver's permit she no longer needs because she passed the test and has the real deal now or those ASB cards from years past.
It is also a fantastic place for your teenagers to keep their own passwords! Those little pieces of scrap paper aren't doing the job and your teens end up frustrated and start new accounts everywhere. Is that just us?
But that's not all! Employment, School, and Vehicle printables will help teenagers organize pertinent information.
The Big Book of Everything for Teens empowers your teenagers with the information they need at their fingertips!
Can I just say how nice it is to have a binder to put all of your kids stuff in? These things get used a LOT!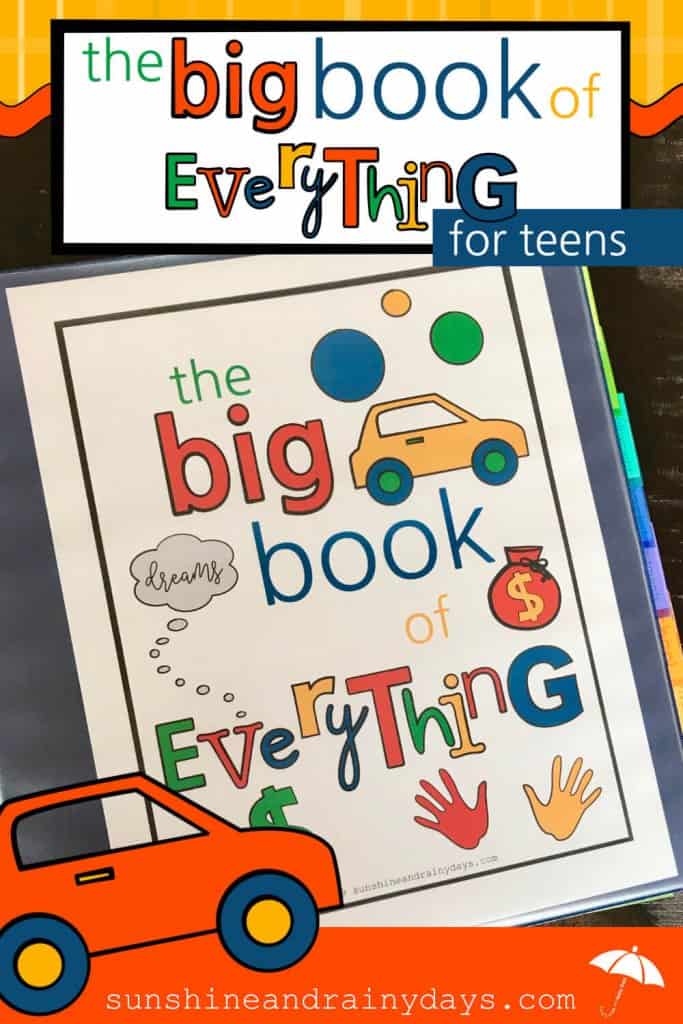 When TeddiBear came along, he needed his very own Pet Binder to record his vaccinations, vet appointments, and important information. We also use the Pet Binder to keep receipts for his vet visits, important documents like his AVID microchip #, and his pet sitter information sheet. It's kind of like a Medical Binder and Big Book Of Everything all in one … for pets. If it's paperwork and it has to do with TeddiBear, we know right where to find it!
Your pets mean the world to you and they deserve a binder just for them!
Organize your pets' records in one binder and never have to search for their paperwork again!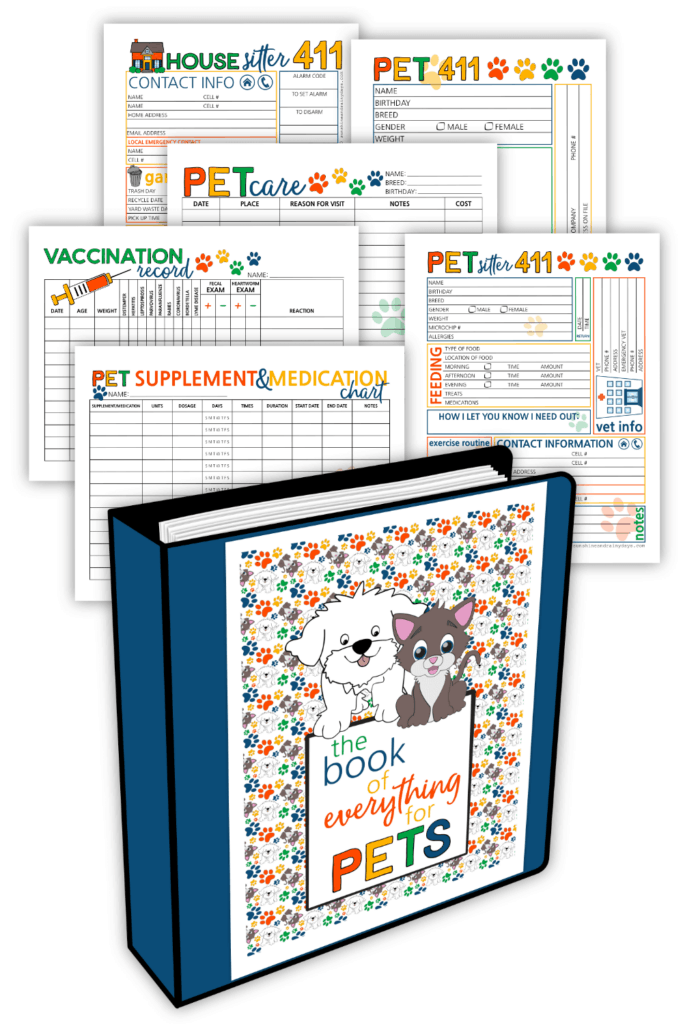 I'm kind of a nerd when it comes to our family finances. I actually enjoy the process of paying bills and figuring out our financial puzzle pieces. So … I decided to share all of my nerdiness with you in the form of a Budget Binder!
Use the Budget Binder, as a money tool, to help organize your finances, crush debt, and save for the stuff you really want!
The Home Management Binder For Young Adults was designed to help the young adults in your life transition to living on their own, with confidence!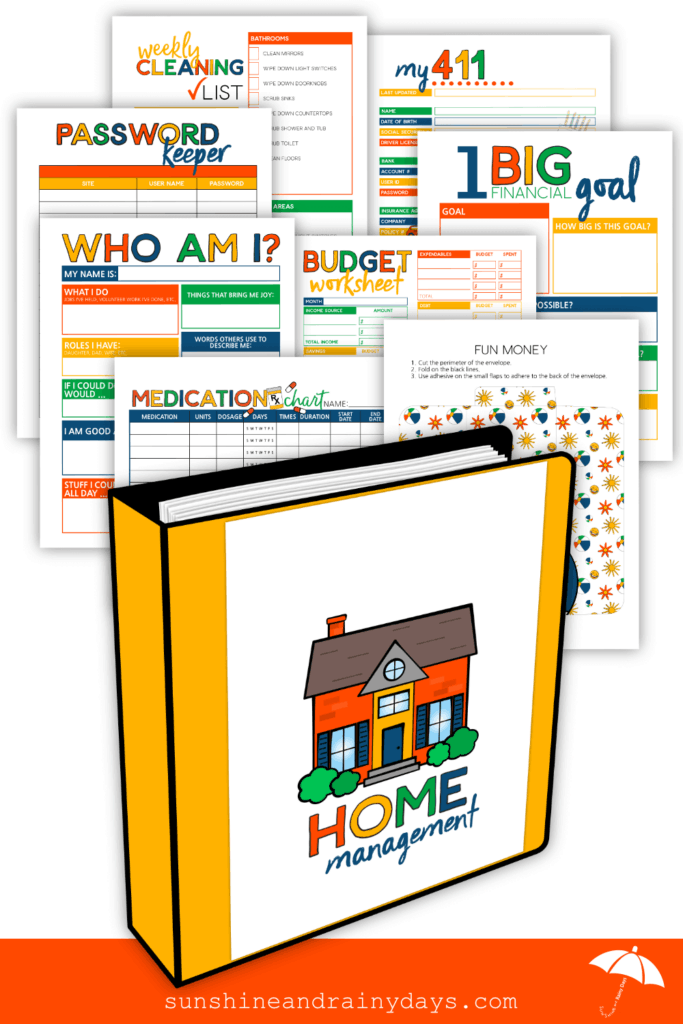 The most overlooked thing to organize is probably household manuals. They sit, in chaos, in a box that you work hard to avoid. You want to make sense of those manuals but you're stumped on HOW to organize them in a way that makes sense.
The Organized Manual System was designed to help you organize your manuals, warranties, and receipts, by room, so you can rest assured that you'll be able to find the information you need and get rid of that manual mess, in your drawer.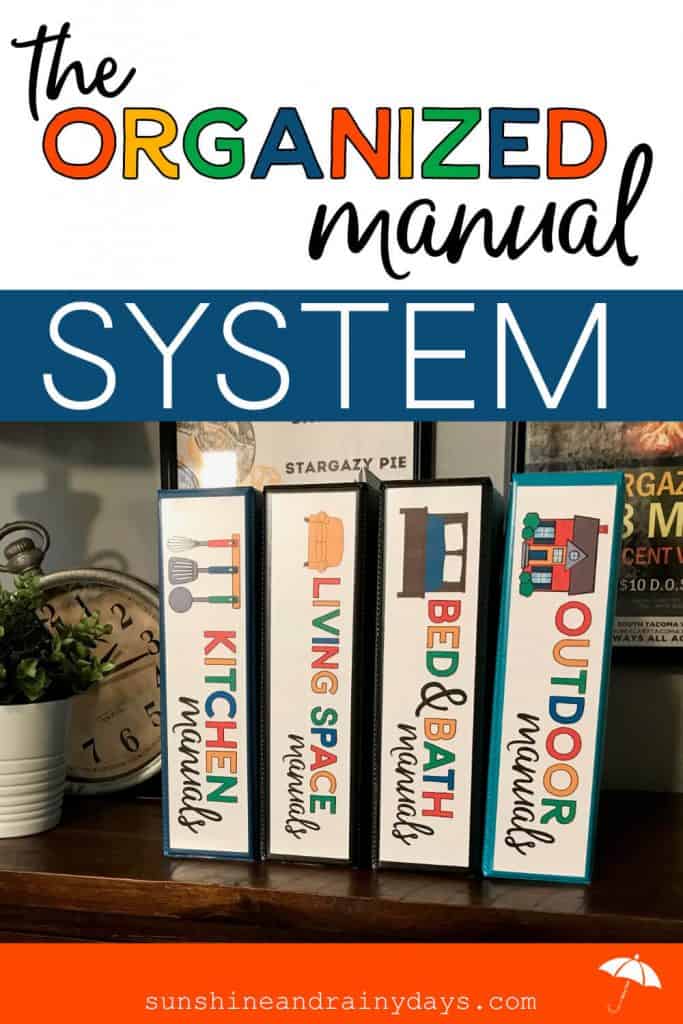 Special Events
Host a Baby Shower with ease with the Baby Shower Binder! Plan, make a guest list, and print Baby Shower Games … it's all here!
Do you have a high school senior? Use our Graduation Party Printables. Just throw them in a binder and keep all of your party ideas in one place!
Binder Supplies
This post contains affiliate links. When you purchase through an affiliate link, we receive a small commission at no additional cost to you. Disclosure.
I purchased this paper not too long ago and I really like it! It's the perfect thickness.
Card Stock is great to use for your binder view pockets (cover), especially if you want to utilize the spine printable. You could certainly use it for the printables inside your binders as well.
The Avery Dividers with pockets are awesome for your binder organization. The pockets are an excellent place to put papers that you don't want to hole punch. Trust me. You'll be thrilled with the pockets!
Sheet protectors always come in handy. I like to use them for manuals. Yes … I keep manuals. They've saved me money more than once!
I know … it sounds weird, right? Trading card sleeves are perfect for organizing business cards, coupons, and identification cards you want to keep.
We use trading card sleeves in our kids' Big Book Of Everything to hold old ASB cards, permits, social security cards, etc.
I have this color laser printer and have been super happy with it!
Of course, fun pens are completely optional. You can use your favorite pen you already have. Fun pens just make your binder organization … well, more fun!
We have loads of printables to help you organize your paper life, in binders!
There are many different ways to use binders to organize your paperwork.
There's no need to have paperwork everywhere.
Take control of the papers scattered around your home. Make them work for you the way they were intended to and create binders to organize the papers in your life.