St. Patrick's Day is a fun holiday that seems to come and go in a flash, with little fanfare. Even so, you can put out a few festive St. Patrick's Day decorations to make the day a little more exciting! These Printable St. Patrick's Day Signs are ready to print, frame, and bring a smile to your face!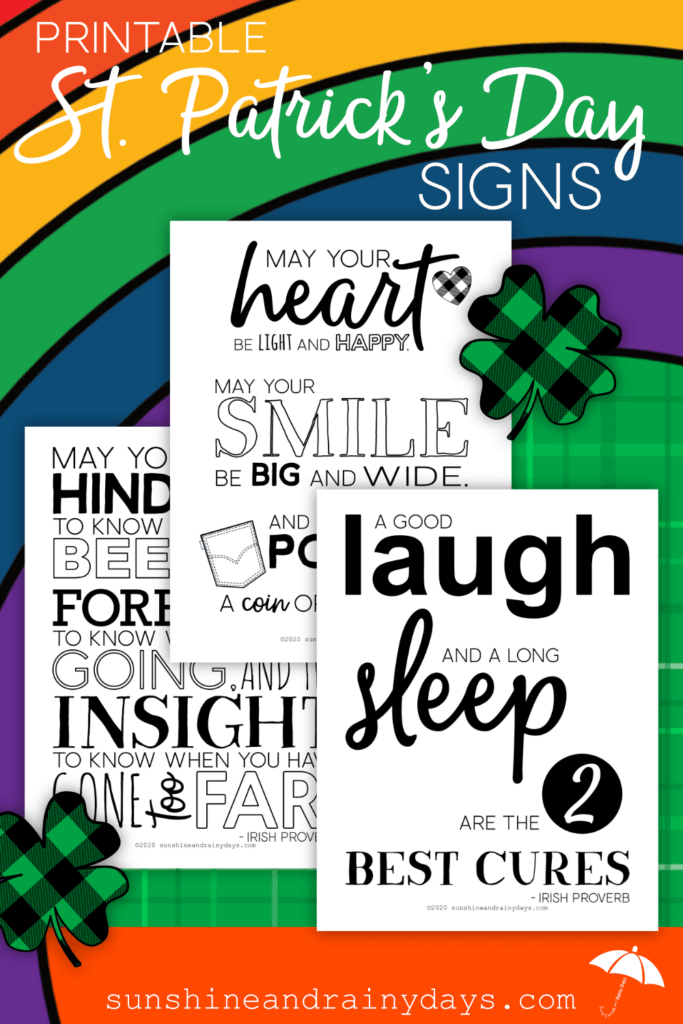 Printable St. Patrick's Day Sign Supplies
This post contains affiliate links. When you purchase through an affiliate link, we receive a small commission at no additional cost to you. Disclosure.
Printer
St. Patrick's Day Signs – Found Below
Not much is needed to put together a quick and simple Irish Proverb Sign.
Since I like to put a festive sign on my fireplace mantel for each holiday, I keep an 8-1/2 x 11 frame out and leave the holiday printables right in the frame, behind the current sign. That way, I can switch them out easily!
St. Patrick's Day Irish Proverbs Signs
These Printable Signs for St. Patrick's Day include the following three Irish Proverbs.
A good laugh and a long sleep are the two best cures.

irish proverb
May you have the hindsight to know where you've been, the foresight to know where you are going, and the insight to know when you have gone too far.

Irish proverb
May your heart be light and happy, may your smile be big and wide, and may your pockets always have a coin or two inside!

irish proverb
Get Your St. Patrick's Day Signs Here
Don't let St. Patrick's Day slip by without celebrating the Irish!
Print your Irish Proverb Signs and celebrate!