Step into the sweet anticipation of the holiday season with this Guess How Many Thanksgiving Game! As the aroma of autumn spices fills the air and the Thanksgiving table overflows with festive treats, check out this delightful challenge that will test your estimation skills.
Picture a jar brimming with the vibrant hues of candy corn, and imagine the excitement as friends and family attempt to guess the exact number inside. It's not just about counting candies; it's about capturing the essence of the season in a jar and taking home a festive prize that will add an extra sprinkle of joy to your Thanksgiving celebration. Get ready to channel your inner mathematician because in this guessing game, the sweetness of victory is just a guess away!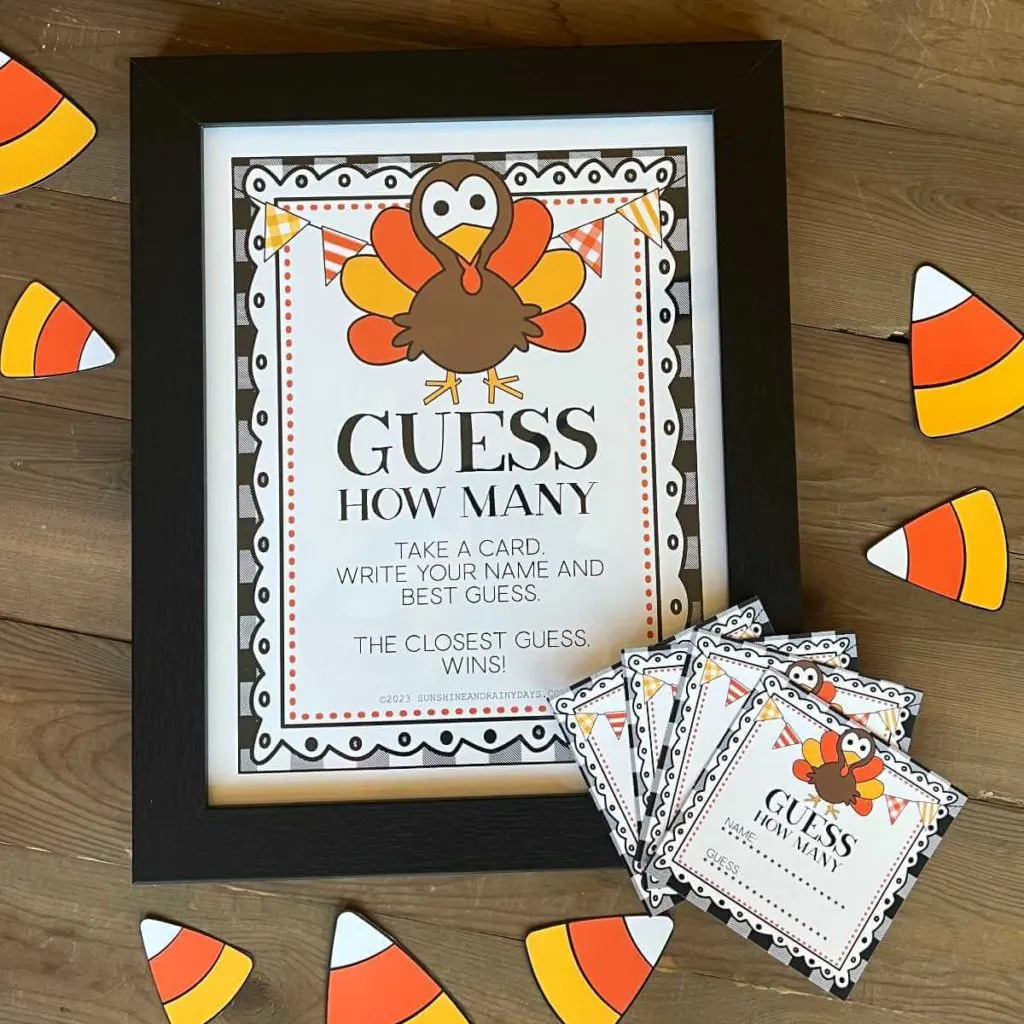 How To Play
This post contains affiliate links. When you purchase through an affiliate link, we receive a small commission at no additional cost to you. Disclosure.
Print the Guess How Many Thanksgiving Game. Print as many guess cards as you think you'll need.
Cut the guess cards. You can use scissors or a paper cutter.
Fill a jar with candy corn or a favorite festive treat – be sure to count them!
Cut the candy corn clip art to sprinkle around the table as decor.
Frame the Guess How Many sign.
Find a bowl, small box, or basket for people to put their guess cards in, once they've filled them out.
Place the jar, filled with candy corn or your choice of a festive Thanksgiving item, the sign, guess cards, pens, and guess card receptacle in a spot where everyone will see it.
Once everyone has made their guess, go through the cards to find the person who guessed the closest.
Award the winner a festive prize!
Get Your Guess How Many Game Here
Game Prize Ideas
Your guests will be totally into this game if you display a sweet prize next to the Guess How Many jar! That way they'll know exactly what they're working for. You might even catch a few picking up the jar and trying to count because they want that prize!
$10 Target Gift Card: Because who doesn't like Target?
Cold Hard Cash: Everyone could use a little extra cash to spend.
Thanksgiving-themed Gift Card: A gift card to a popular local bakery, candy store, or dessert shop where the winner can indulge in sweet treats.
Cozy Blanket: A soft and cozy blanket, perfect for snuggling up during chilly autumn evenings.
As the final guesses are tallied, the air is filled with laughter, the room buzzes with anticipation, and the winner eagerly awaits their well-deserved reward. In this game of estimation, you've not only indulged in the joy of guessing but also shared moments of togetherness that make Thanksgiving truly special. May the spirit of this festive game linger in your memories, and may your Thanksgiving be as sweet and delightful as the moments you've shared around the guessing table.
More Thanksgiving Game Ideas
Thanksgiving Activities