Step right up, Thanksgiving enthusiasts! Get ready to embark on a feather-filled journey of fun and laughter with a Turkey Traits Showdown: Who Is Most Like a Turkey Thanksgiving Game!
As the aroma of roasting turkey fills the air and the festive spirit takes hold, we present to you the ultimate game that will have your guests strutting their stuff in a competition like no other. Gather 'round as we unleash a game that combines the spirit of Thanksgiving with a touch of whimsy, challenging participants to discover just how turkey-like they truly are.
It's time to draw cards, unveil hidden traits, and earn those coveted paper feathers – because in this showdown, the more feathers you collect, the closer you get to being crowned the Thanksgiving champion and claiming a prize that will make your holiday even more memorable. Let the Turkey Traits Showdown begin!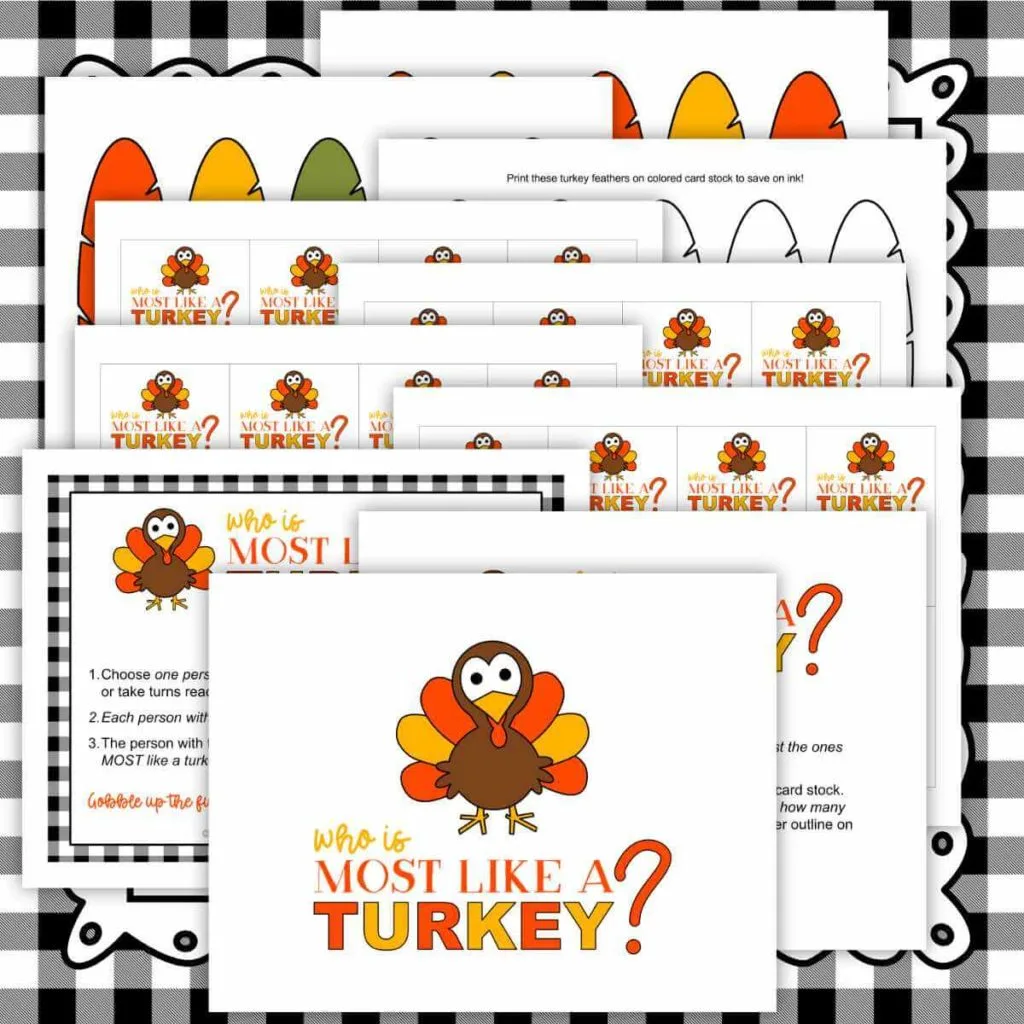 This post contains affiliate links. When you purchase through an affiliate link, we receive a small commission at no additional cost to you. Disclosure.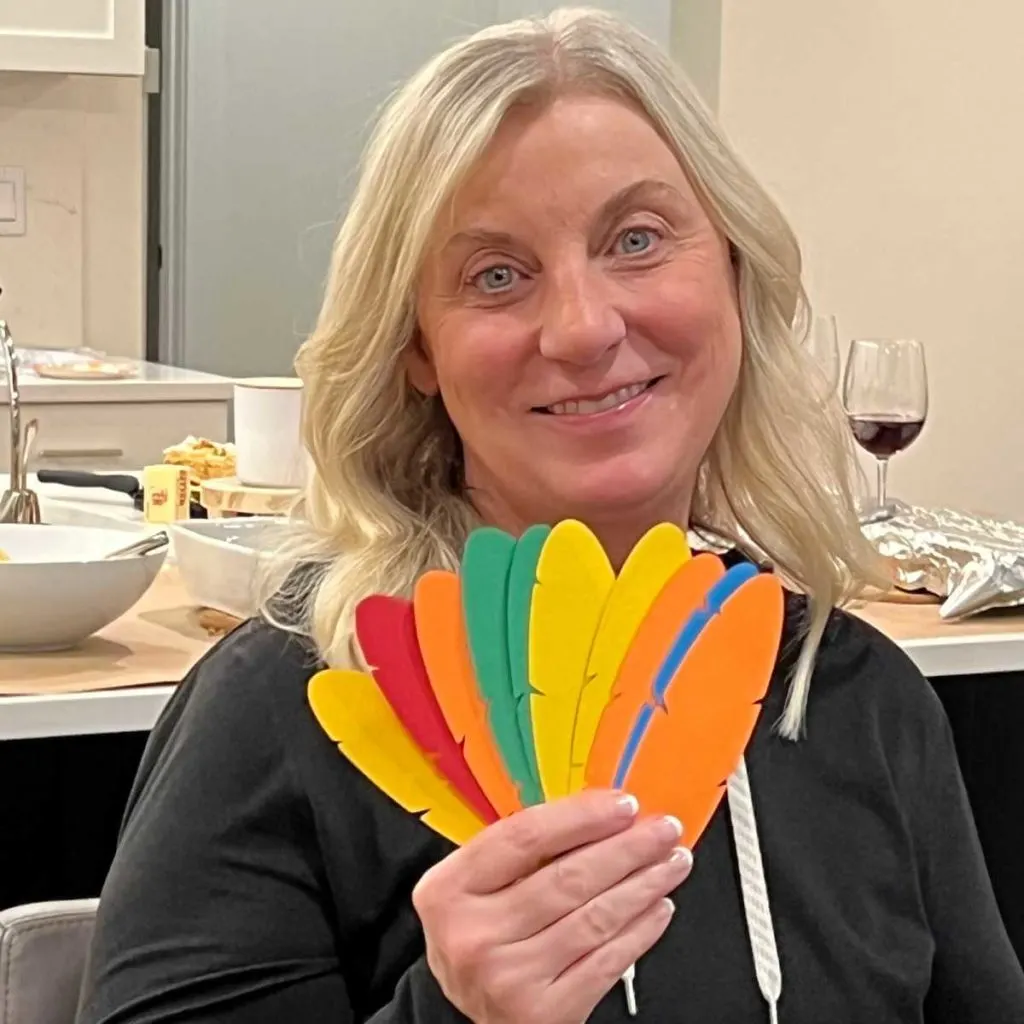 Game Directions
Download the Who Is Most Like A Turkey Game.
Print and cut the game cards on card stock. I like to use a corner-rounder on the cards to make them look official. Use just the turkey traits you like best.
Print and cut the turkey feathers of your choice on card stock. You will need a LOT of turkey feathers (depending on how many guests you'll have) so I recommend printing the feather outline on color card stock to save on ink or purchasing these 5″ Paper Die Cut Feathers.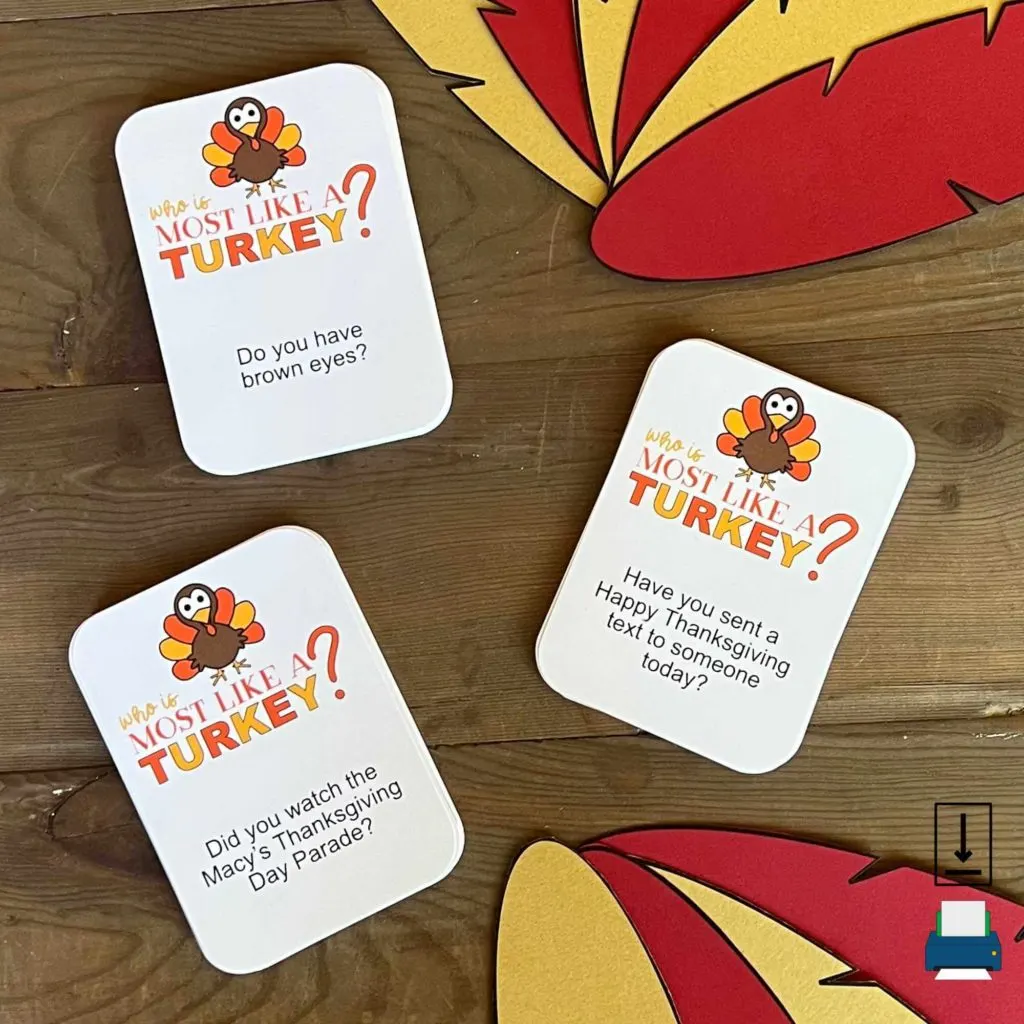 Game Rules
Choose one person to read the Turkey Traits Cards or take turns reading the cards.
Each person with the turkey trait on the card gets a feather.
The person with the most turkey feathers, at the end, is the MOST like a turkey and wins a prize!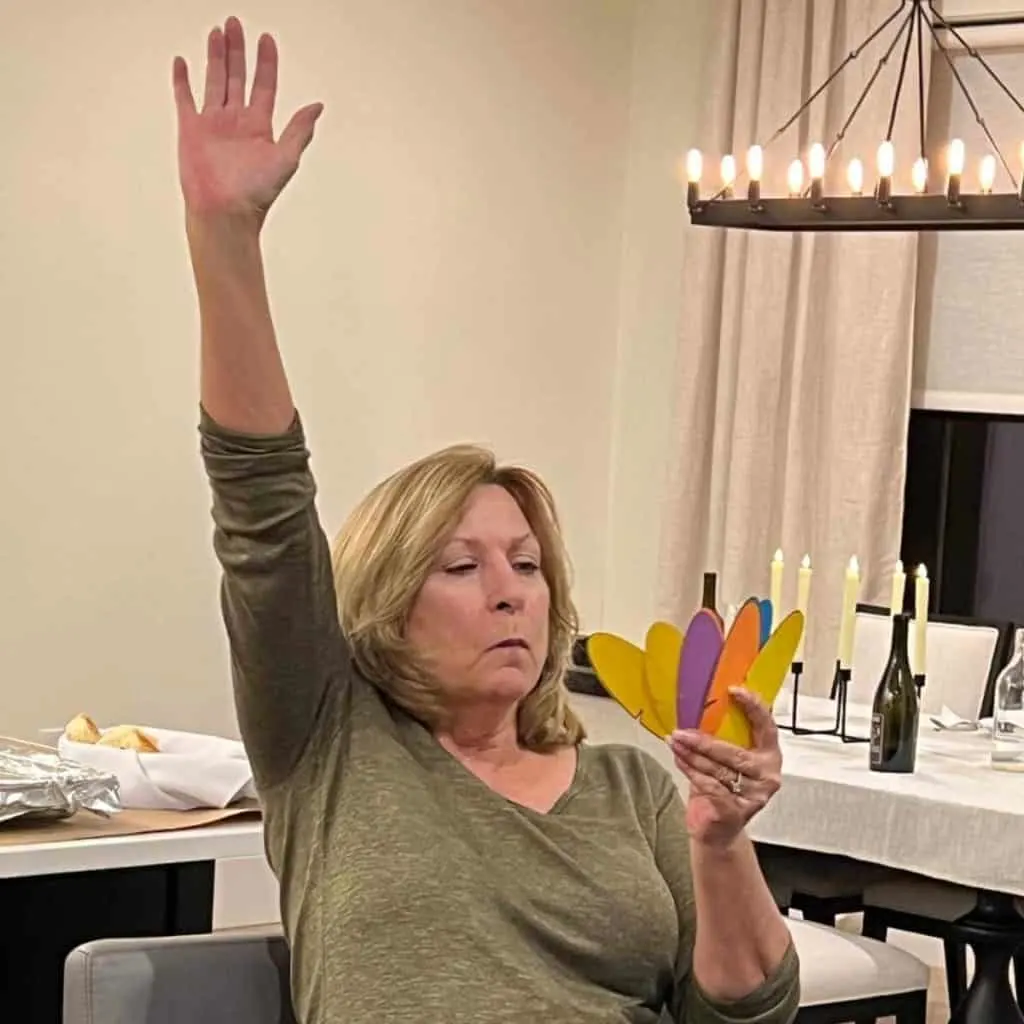 Turkey Traits
The following are the turkey traits on the cards. Don't want to buy the game? No worries! You can read the traits right from this page. Just be sure to have paper feathers ready for guests to collect!
Are you wearing red, orange, yellow, or brown?
Do you live on a farm?
Is your Birthday in November?
Do you have brown eyes?
Are you wearing a belt?
Do you have a T, U, R, K, E, or Y in your first name?
Did you travel over 30 miles to get here?
Do you like pumpkin pie?
Have you sent a Happy Thanksgiving text to someone today?
Have you thanked someone today?
Have you told a joke today?
Have you said the word Gobble today?
Have you hugged someone today?
Did you participate in a Turkey Trot?
Did you make a dish for your Thanksgiving feast?
Have you eaten anything with pumpkin in it this week?
Did you make a pie this week?
Have you called a family member today?
Do you like to walk barefoot?
Do you have red in your hair?
Have you taken a walk today?
Have you napped today?
Do you plan to shop Black Friday sales?
Have you been to Massachusetts where the first Thanksgiving was celebrated?
Did you watch the Macy's Thanksgiving Day Parade?
Have you drunk apple cider this fall?
Do you have a mum at your house?
Have you watched football today?
Have you ever tried sweet potato pie?
Have you had cranberries this week?
Have you flown in an airplane this year?
Do you have 20/20 vision?
Do you have poor night vision?
Do you like to listen to music and cluck along with the songs?
Does your face change color with emotion?
Do you eat berries?
Do loud noises scare you?
Are you most active in the mornings?
Have you ever slept in a tree?
Do you eat seeds?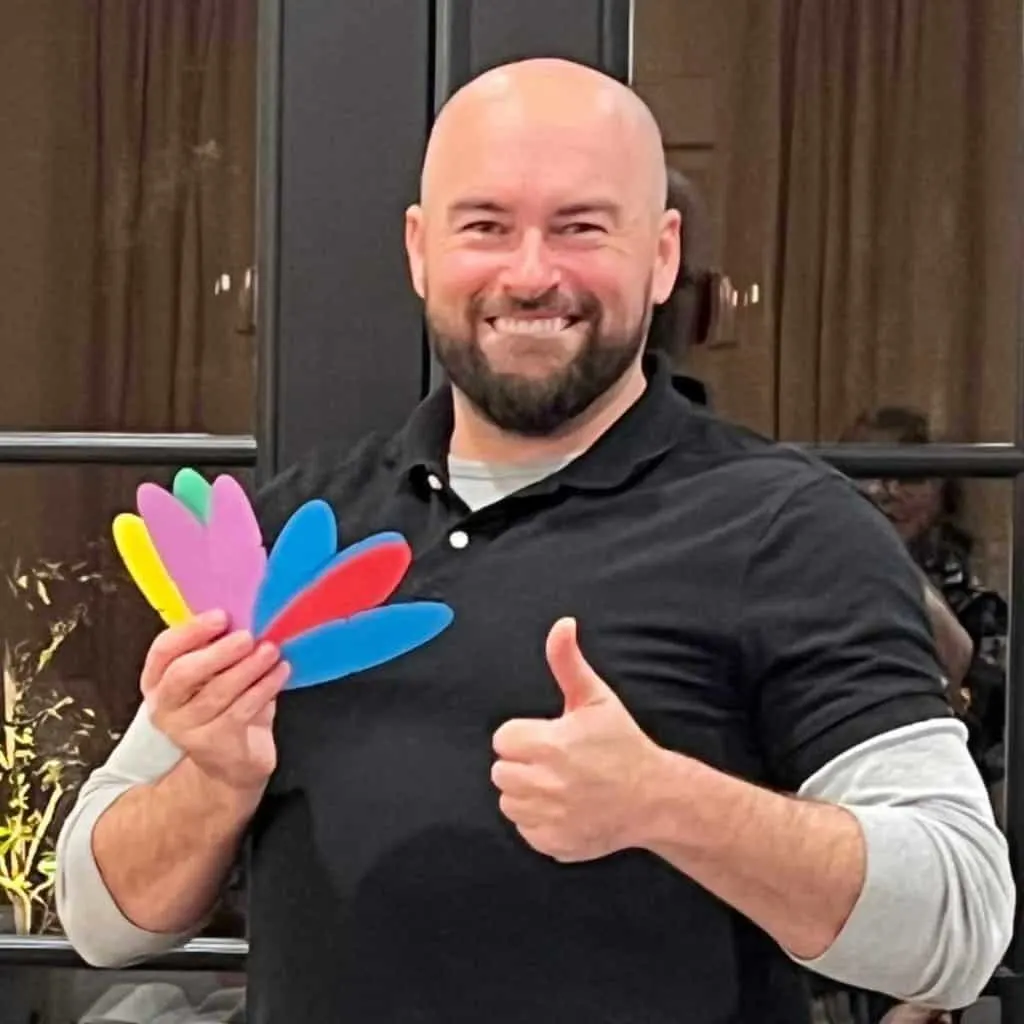 Get Your Turkey Traits Thanksgiving Game Here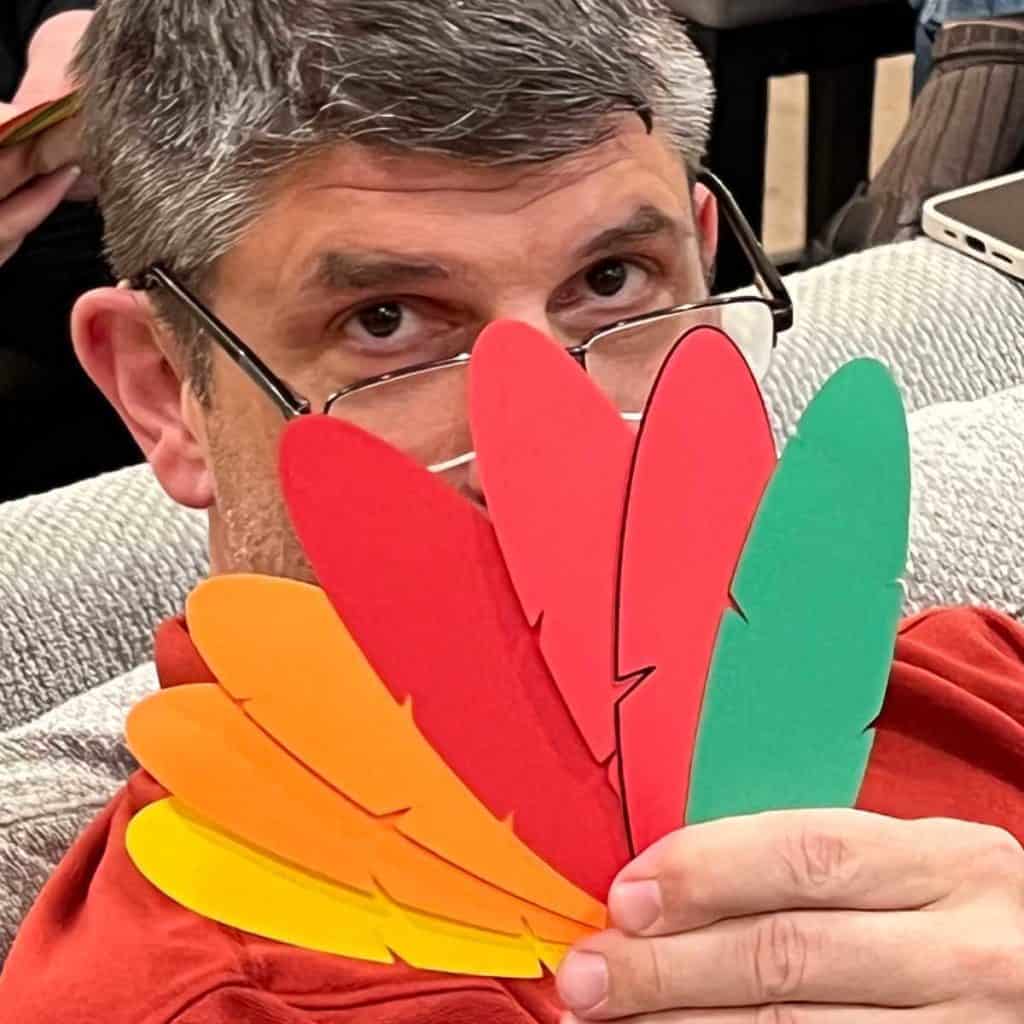 Game Prize Ideas
The person with the most turkey traits deserves a prize fit for a turkey! Here are some fun and festive prize ideas for the Turkey Traits Showdown:
Thanksgiving Treats: A box filled with Thanksgiving-themed treats, like those found in this Thanksgiving Care Package, or include Thanksgiving Popcorn.
Cooking or Baking Kit: A set of kitchen tools, utensils, or baking supplies to inspire the winner to create their next culinary masterpiece.
Apron: An apron with a fun turkey design and the title "Turkey Traits Showdown Champion" to commemorate their victory in style.
Thanksgiving Puzzle: A Thanksgiving puzzle, to provide entertainment for the winner and their family during the holiday season.
Gift Card to a Local Grocery Store: Let the winner choose their favorite Thanksgiving ingredients with a grocery store gift card.
Turkey Hat: A turkey hat they can wear right away and that will serve as a whimsical reminder of their triumph in the Turkey Traits Showdown.
Turkey Tutu: I believe these turkey tutus are meant for turkey trots but they would be an excellent way for the Turkey Traits Champion to dress up!
Turkey Socks: Because the champion needs to dress the part!
Turkey Medal: Let the winner rub their winnings in by placing a medal around their neck that they can strut around wearing while they gobble.
As the last feather flutters down, and the laughter echoes through the room, the Turkey Traits Showdown leaves behind a trail of cherished memories and a winner crowned with the grandeur of Thanksgiving glory. This game isn't just about tallying feathers; it's about bringing loved ones together, celebrating the quirks that make each of us uniquely turkey-like, and reveling in the joy of the holiday season.
More Thanksgiving Game Ideas
Thanksgiving Activities