I showed my 17-year-old son this Thanksgiving Activity Sheet and asked him if it was awesome, or what? I was kinda excited about it!
His reply was, if I was 5 … yeah! I didn't let him deflate my excitement. He was in the middle of homework, an after school snack, and texting friends so I guess I should've expected that kind of response. My Thanksgiving Activity Page couldn't compete with THAT!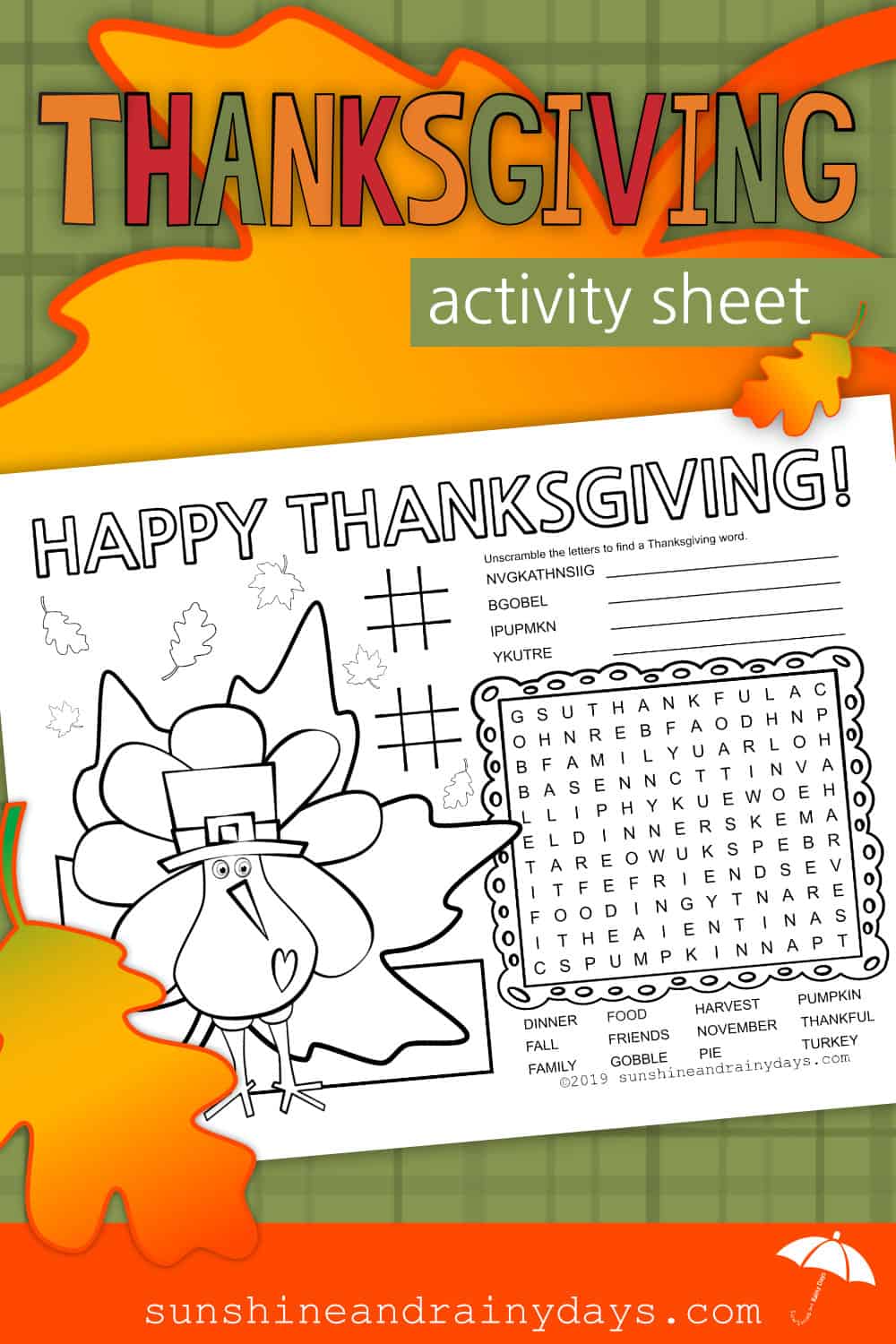 Thanksgiving Activity Sheet
Print a few (or a bunch) of these Thanksgiving Activity Worksheets and put them on the kids table … take note if the teenagers gravitate toward them too!
This post contains affiliate links. When you purchase through an affiliate link, we receive a small commission at no additional cost to you. Disclosure.
Activity Sheet Supplies
What Can You Do On The Happy Thanksgiving Activity Page?
Find The Words On The Thanksgiving Word Search
Find 12 Thanksgiving words in this Thanksgiving Word Search! There's nothing tricky here … no backwards, diagonal, or upside down words. Just straight across or up and down.
Hmmm … maybe I should've made them a little tricky for the teenagers!
BUT … there is a super secret word, not found in the word list. Hint: it's what you want to do after eating a big meal. Can you find it?
Unscramble The Thanksgiving Words
Unscramble four different Thanksgiving words! Woot! You can totally do this!
Play Tic Tac Toe
There are two tic tac toe boards but don't let that limit you! You've got the whole back of the sheet to show your mad skills!
Color The Activity Sheet
There's a cute little turkey, fall leaves, and the words Happy Thanksgiving ready for you to color!
Where Do I Find The Thanksgiving Activity Sheet?
You'll find the Thanksgiving Activity Sheet plus an Answer Page here:
I don't give away the super secret word though … for that, you're on your own!
I know good and well, if my 17-year-old was sitting at a table, waiting for his meal, he would be all over this thing!
You know what? I probably would be too! Who can resist a good word search?
More Thanksgiving Printables