Christmas is the time of year where many of us let loose and whip out credit cards in order to make it a great Christmas for those we love. We buy gifts, decorations, the BEST tree, new Christmas clothes, and we go to ALL THE THINGS.
THEN, when January rolls around and the credit card bills begin to arrive, we proclaim next year will be different. Next year, we will have a wonderful Debt Free Christmas! A Christmas that won't leave us strapped with credit card bills.
THEN, we forget. Oh, how easy it is to forget!
It's time to break the cycle.
Christmas can be great AND debt free.
How To Have A Debt Free Christmas
It all starts with a debt free Christmas plan! If you don't have a plan, you won't be able to think ahead and make purchases at the best time for your wallet.
Are you ready?
Let's make a debt free Christmas plan with the following 5 steps!
1. Create A Christmas Budget
The first step toward a debt free Christmas is a Christmas Budget. Before you groan at the word, budget, let's have a little talk.
Instead of thinking of a budget as something that confines you … what if you thought of it as a tool that gave you freedom? Freedom to move the pieces around to make your budget work in the ways that are most important to YOU!
YOU get to make the call!
YOU get to decide where your money goes!
YOU have the power to make this the best Christmas for your family AND your wallet!
How Much Should You Budget For Christmas?
According to the National Retail Federation, Holiday sales during 2018 totaled $701.2 billion. Holiday sales were expected to increase, in 2019, to a total of between $727.9 billion and $730.7 billion.
Woah! That's a lot of dough … but what's that mean for you?
According to Dave Ramsey, if your household income is around $50,000, the reasonable amount to spend on Christmas is $800.
If your household income is $25,000, your Christmas Budget would be $400.
If you make $100,000, Dave Ramsey would consider $1,600 a reasonable amount to spend on Christmas.
That equates to 1.6% of your gross household income.
Other financial experts recommend a Christmas Budget of 1 – 1.5% of your gross household income.
| | | | |
| --- | --- | --- | --- |
| Gross Household Income | 1% | 1.5% | 1.6% |
| $25,000 | $250 | $375 | $400 |
| $50,000 | $500 | $750 | $800 |
| $100,000 | $1,000 | $1,500 | $1,600 |
| $150,000 | $1,500 | $2,250 | $2,400 |
THE REAL DEAL is … your Christmas Budget should be one you can pay CASH for!
Christmas Expenditures
Christmas Expenditures go far beyond gifts. It's time to explore those expenditures and decide where you want to put your money. This is FUN! It's like a puzzle.
Family Picture – Do you have a professional family photo taken every year for your Christmas card? Would you rather use a snapshot from a family outing? The choice is yours!
Christmas Tree – Do you have an artificial tree you use year after year or do you love the tradition of cutting your own tree from the tree farm?
Indoor Decorations – You've likely collected Christmas decorations over the years. Do you want to add to your collection?
Outdoor Decorations – You want your home to be festive and fun! What does that look like to you? Do you prefer lights, cut to length, under your eves or is a Griswold Christmas a little more your style?
Christmas Cards – Do you send Christmas Cards and want the fanciest ones you can find or is a Christmas photo greeting from Costco just fine?
Postage – Don't forget stamps for those Christmas cards! Perhaps you could hand deliver a few too!
Gifts – This is a big one. Will you choose to purchase a gift for everyone you know or would you consider doing a Christmas Gift Exchange Game to lighten the load on everyone?
Gift Wrap – You can buy it pretty cheap but you can also get creative and use what you have! We have a huge roll left from last year that will work splendidly. Sure, the new patterns and colors might be intriguing but are far from necessary.
Shipping – Do you have friends and family that you mail gifts to? Would a gift card give them more bang for your buck?
Clothes – Is an Ugly Sweater Christmas Party in your future? Do you have a fancy shindig to go to and need a new outfit?
Food – Will you be hosting a Christmas Party or baking for special events?
Parties – Are your teenagers excited to throw a Teenage Christmas Party and you're all on-board?
Traditions – What Christmas traditions does your family enjoy? Do you want to continue the tradition? One of our Christmas traditions is to head out to Hallmark and let the kids each pick a new ornament. The idea is that by the time they have their own Christmas tree, they'll have a good start to decorate it.
Events – The Singing Christmas Tree, Scrooge, Christmas Parades … the options are endless! What will you participate in this year?
Travel – Do you travel to visit relatives for Christmas?
What other expenditures do you have during the Christmas Season?
This is where YOU decide where you want to put YOUR money this Christmas!
Sit down with your family and decide what is most important to make it a debt free Christmas!
I gotta say, we thought it would be cool to purchase an artificial tree that would fill our new space. THEN, we created our Christmas Budget and decided, as a family, we would rather spend the money on gifts. The small, artificial tree we had purchased at a garage sale served its purpose well … even when half the lights stopped working!
It's puzzle pieces! Move your Christmas Budget pieces around, until it works right, for your family!
The Christmas Budget Worksheet is available below or in The Christmas Planner!
2. Fill Out A Christmas Gift List
Once you have your Christmas Budget worked out, you will know how much you have budgeted for gifts.
A Christmas Gift List is an important part of your debt free Christmas plan. You need to know who you plan to purchase gifts for. When you know what gifts you need to buy, you can be on the lookout for great deals!
Too many people on your Christmas Gift List?
How about playing a Christmas Gift Exchange Game?
Last year, we hosted a Costco Christmas Commotion, played to the rules of Dirty Santa. Basically, we purchased gifts from Costco with a value of approximately $20. It was fun to see what people brought and, the best part, if you didn't like what you ended up with, you could easily take it back! Woot!
3. Examine Your Expectations
You want this Christmas to be the BEST EVER, right? You want the perfect tree, awesome gifts to give, memorable parties, and you want to go to all the things.
This is your chance to look like you've got it all together with your perfectly written Christmas letter, decorations inside and out, and beautiful Christmas cookies that look like a professional decorated them.
You know what? You're enough! You're enough with the cookies your kids decorated, the Christmas letter you wrote while waiting for the water to boil, and the lights that don't quite match.
YOU ARE ENOUGH!
Christmas will be perfect whether you spend .5% or 3% of your household income. It will be just the way it was meant to be!
Take a look at your Christmas Budget and examine where your expectations may be a little too high. It's time to embrace reality!
4. Look For Ways To Save Money
Your purse strings may be loosened during the Holiday Season but this is no time to forget the budget. Look for the small ways you can save money. After all, the small things add up to BIG savings!
Money Saving Ideas
Black Friday Shopping – You may dread the thought of Black Friday shopping but take time to check out the deals. Maybe there's a deal for something on your Gift List!
When you shop online, use Rakuten (formerly known as Ebates). When you shop through Rakuten, you will receive a small percentage of your purchase back. I don't shop a lot but I have earned $71.74 so far. I'll take it!
Look for substantial gifts that won't put a substantial dent in your wallet. Don't make it your job to buy the best gift the recipient has ever received. Your goal should be to purchase a gift your recipient will actually like and use.
There's no need to set a dollar amount. Instead, set a value amount. An example of that might be that you get up early, fight the crowds, and get that Black Friday deal on men's slippers your dad wanted. The slippers are normally $20 but you got them for $10. You have a $20 gift. You worked for it. You found the deal. Embrace it!
Go Homemade – Oftentimes, it's not the value of the gift but simply the fact that you thought about your recipient. Many times a super simple gift that didn't cost much is the perfect thing to give.
Here are a few ideas:
5. Find Ways To Make Money
You've created a Christmas Budget, filled out a Christmas Gift List, examined your expectations, saved every way you possibly could imagine, and still … your Christmas Budget is falling short.
What do you do? You need money and you need it fast.
Snag a seasonal job!
Many retail companies hire employees just for the fourth quarter of the year. They do this to help with all of the seasonal shopping. Wait … but you have a job? Can you take on seasonal part time work on top of your normal 9 – 5?
Sell stuff you no longer want or use.
It's a great time to go through your house room by room. Do a deep clean, touch everything in each room, and decide if you'd rather have money more than the thing.
The quickest way I've found to sell stuff is through Facebook Marketplace. There are a lot of flakes out there but you will also find real buyers. Be sure to meet buyers in a safe place, preferably not alone.
Start a side hustle.
What are you good at? If you're stuck, ask your family and friends. They'll know! For me, my side hustle is selling printables! I love to design and share what I create!
Use the skills you have to make money for Christmas!
Here are a few ideas:
babysit
walk dogs
house sit
dog sit
clean houses
tutor
make crafts to sell
work as a personal assistant
work as a virtual assistant
The possibilities are endless and you are capable! With a Christmas plan and determination, you can make this a debt free Christmas! A Christmas that won't leave you with credit card bills. A Christmas that lets you enjoy the season for what it's meant to be!
How bad do you want a debt free Christmas?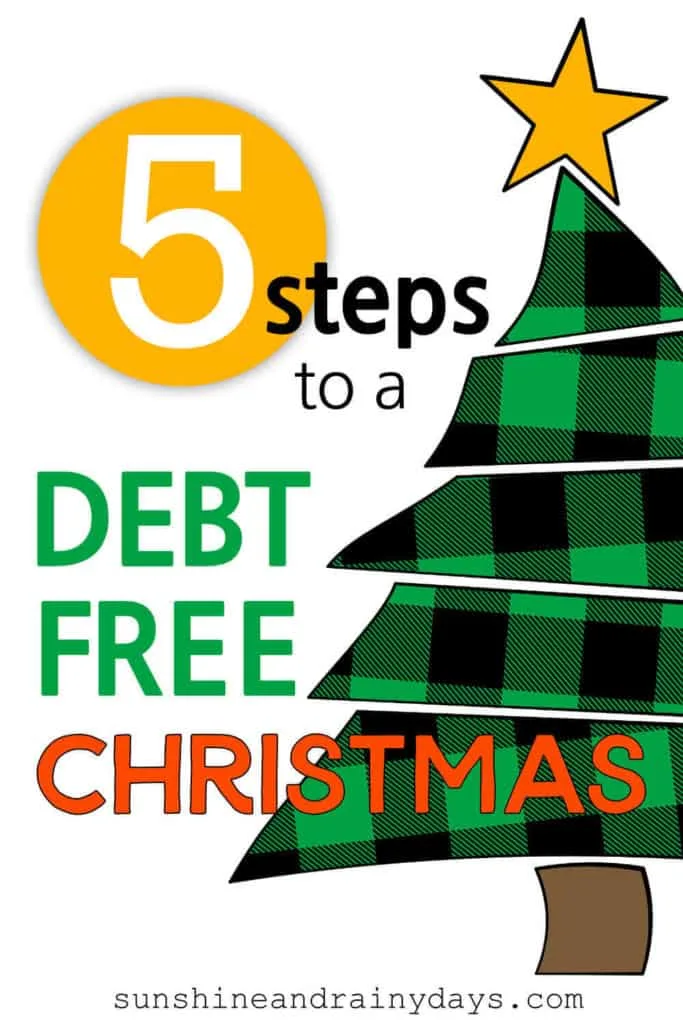 More Christmas Posts
Christmas Sinking Fund Envelope