Christmas Letters are so fun to send and receive! It's a great way to catch up with friends and family that you haven't seen in a while or … even ones you have!
The key of How To Write A Christmas Letter, that gets read, is to keep it REAL. No one wants to read about the perfect life of Ken and Barbie. They want to hear about Barbie's career but they also want to hear about how much time Ken spends at the beach and how hard Barbie works to make his lifestyle happen. Am I right?
Your friends and family want to hear about your awesome vacation but they also want to know about your monotonous day to day … NO … not every last detail … rather summed up in a sentence or two.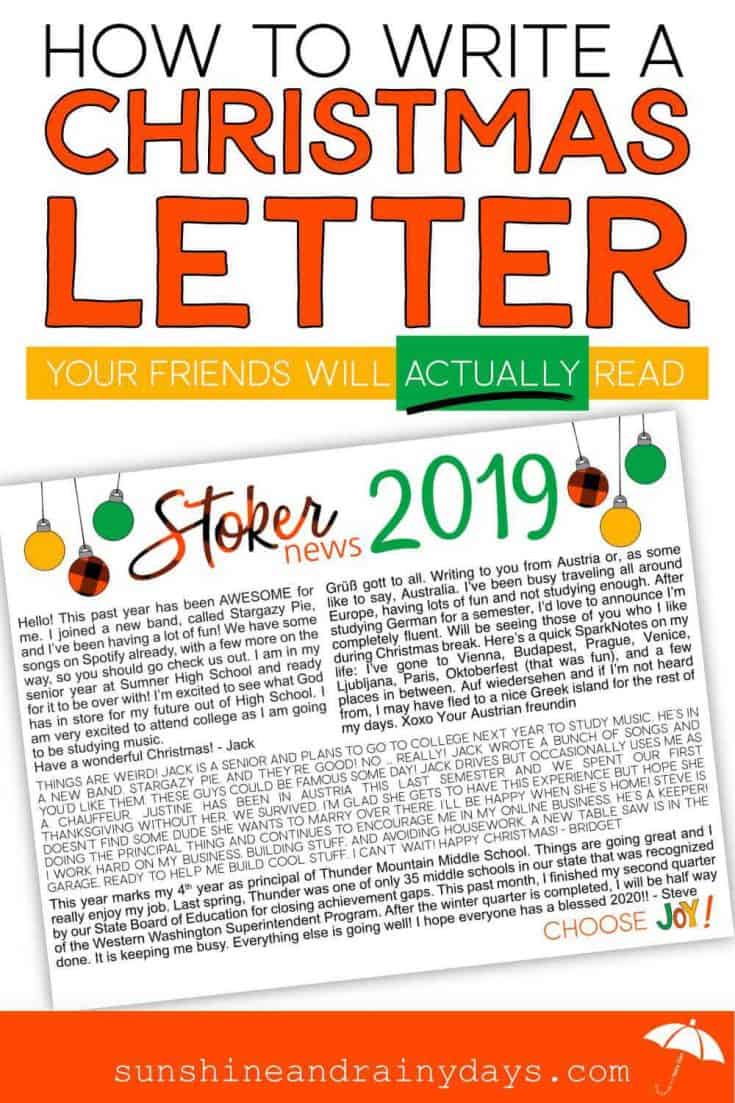 Decide On Your Christmas Letter Style
Over the years, we've received many Creative Christmas Letters that were a joy to read! There are SO many ways to create a Christmas Letter, that fits your family's style.
Here are just a few Christmas Letter ideas:
Traditional Christmas Letter
The Traditional Christmas Letter is typically a one page letter, written by one family member, sharing the highlights and events of their year. They may be accompanied by a Christmas Card but don't necessarily need to be.
One of my favorite Traditional Christmas Letters, we receive each year, comes from my Aunt and Uncle. It is usually handwritten and photocopied on festive Christmas stationery, along with a few pictures from their year.
Christmas Newsletter
A Christmas Newsletter has multiple parts (think newspaper) that share information about different events or family members. It may be written by one family member or all.
This is the format that we've used, over the years. When the kids were too small to write or, even talk, I wrote their sections, as if I were them, and what they would say. As they grew, we went from having them tell us what they wanted to say to writing their own little bit for the newsletter. Yes, they didn't always WANT to do it but my offers of writing for them convinced them otherwise.
Once in a while, my kids would write something that made me cringe a bit … after all … wouldn't I look like a terrible mom if they wrote about how they did nothing but watch YouTube videos ALL SUMMER LONG? Instead, I put my pride aside and went with it. We printed their bits exactly as they had them and laughed at what others might think. You know what? Those tend to be friend's favorite parts … it's the REAL, the UNPOLISHED, the RELATABLE version of us.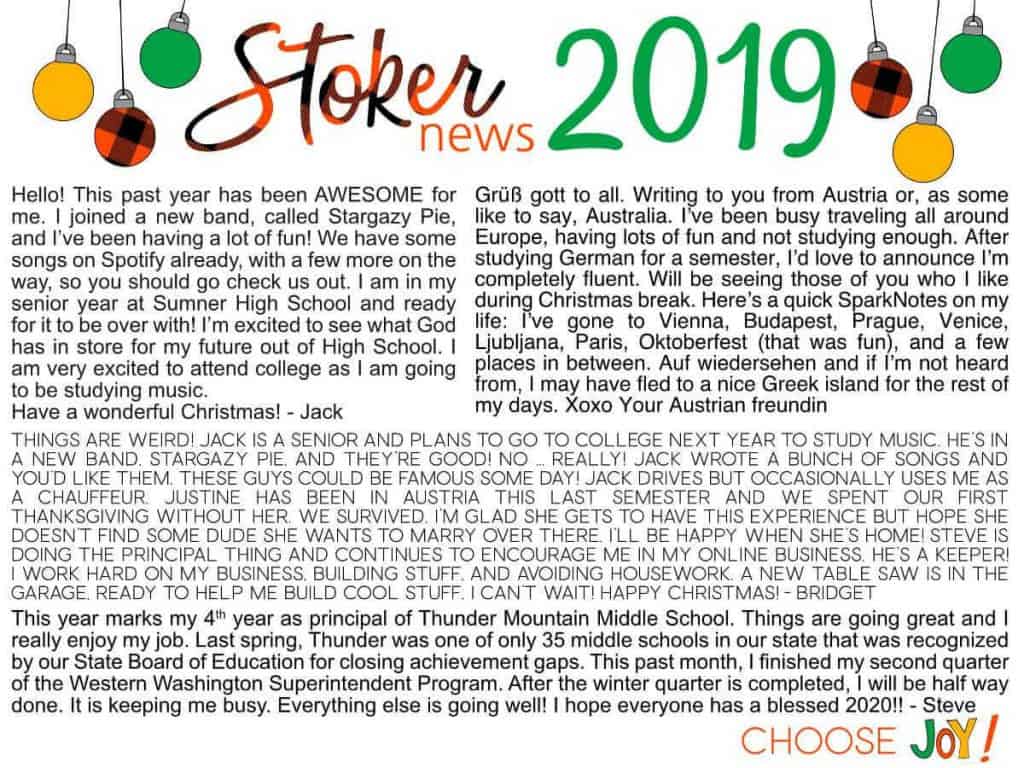 Year In Numbers Christmas Letter
In the Year In Numbers Christmas Letter format, you share highlights and events of your year, using numbers. This list is NOT a 1 – 10 numbered list. Instead, you use numbers to highlight events and fun facts from your year.
Here are a few examples:
5 The number of months our family was all under one roof. Justine came home early, from her study abroad program in Austria. It was nice to have everyone home!
2020 The year Jack graduated high school … without a graduation ceremony. Instead, he got a sign in the yard proclaiming his success to neighbors that drove by.
3 The number of years our current toilet paper stock will serve us. We won't make THAT mistake again …
20 The age of Justine, when she discovered living on her own wasn't ALL rainbows and roses but she wouldn't have it any other way.
3,897 Amount we spent for Jack's first quarter of his freshmen year of college … studying from home … and he's actually enjoying it!
The numbers help you tell a story in a creative, succinct, and fun way!
Top Ten Christmas Letter
The Top Ten Christmas Letter is a 1 – 10 numbered list that helps you share your favorite parts of the year.
Next to each highlight, write a few words to tell a story.
Jack graduated high school … but didn't get a graduation ceremony. Instead, he got to finish the last few months of his high school career, at home, avoiding school work as much possible, and a graduation sign in the front yard.
Justine moved into a house … with roommates … and spends a LOT of time in that house, studying from home, since her college went online … after we signed the lease.
Steve is working on his Superintendent's Credentials and is super close to being done but … as a forever student … plans to take yet another few years to get another degree or certificate that I can't even remember the name of, at this point.
You get the idea … name the highlight and then talk about it a little … in a very REAL way!
Family Awards Christmas Letter
If you could give an award to each of your family members this year, what would they be? The Family Awards Christmas Letter is an entertaining way to share your year with friends and family.
This year the Resilience Award goes to … JACK! Jack finished high school, at home, and graduated without a graduation ceremony. Instead, he was honored to have a sign placed in his yard to celebrate 13 years of school!
The Adventurous Award goes to … none other than … JUSTINE! Justine was given the news that she must leave Austria, where she was studying abroad, within a 48 hour time period. She had to scramble to find a flight … from another country, since all flights were cancelled where she was. She walked, took a train, and boarded a plane in order to get home before ALL flights were cancelled. She then spent some time at home before heading out on a new adventure to live with roommates, in another state.
You can have a LOT of fun with the Family Awards Christmas Letter!
Christmas Letter From The Perspective Of A Pet
A Christmas Letter From The Perspective Of A Pet is a way to keep your Christmas Letter light and fun! In this letter, you give highlights of your family's year, through the eyes of your pet.
Here's our own, in house, TeddiBear, writing from his perspective:
It's been a great year! I've had the pleasure of snoozing my days away while Dad works, Jack studies from home, and Mom works from home, too! I feel kinda lucky to not be home alone ALL DAY. Mom says I'm spoiled but doesn't seem to like it much when I pass gas, sitting by her, while she works.
Justine is MY GIRL but it's kinda weird because she'll just show up … all excited to see me and then, she'll just up and disappear again … I hear she has roommates and she's in college but so is Jack … I just don't get it.
I'm pretty good at being Dad's alarm at 5AM EVERY DAY … not just work days. The trick is to whine and whine until he just can't stand it anymore. He's okay though because I greet him with enthusiasm every day when he comes home. After all, he is the one who feeds me!
It sucks a little when Dad is at his Superintendent's class though because then Mom feeds me and she doesn't give me as many treats. She's into being healthy and eating healthy … blah!
About every other week, a group of guys come over to make loud noises with Jack. They call themselves a band and even have a name: Stargazy Pie. I get SO excited to see them all but, man, they're loud. SO loud, in fact, that the police actually showed up one day to tell them to pipe down!
I won't go on but … you get the idea. Your pet tells it like he/she sees it and gets to share highlights of your year, at the same time!
Christmas Letter From The Perspective Of A Neighbor
A Christmas Letter From The Perspective Of A Neighbor will tell all about the comings and goings of your family, the walks they go on, the cars they drive, what hours of the night the teenagers come home, or even how loud they are.
Much like the Letter From The Perspective Of Your Pet, the Letter From The Perspective Of A Neighbor can be light and fun, even IF it's from the perspective of the grumpy old neighbor next door.
Keep Your Christmas Letter Light And Positive
While it's important to share news, both good and bad, you can share your news with a positive spin. After all, you don't want to leave your friends and family feeling gloomy and depressed, after reading your Christmas Letter.
Instead of saying Jack was bummed he didn't have a proper graduation ceremony, you can state Jack graduated high school without a graduation ceremony but was honored to have a spiffy graduation sign, placed in his yard, for all to see!
Be REAL In Your Christmas Letter
No matter what Christmas Letter Style you choose, be sure to write in your own words (or your pet's). If you have a big accomplishment or brag to share, be sure to balance it with a little reality so you can be relatable to your recipients.
There's a difference in feeling between; Steve now has his Superintendent's Credential and is ready to run the show and … Steve now has his Superintendent's Credential but … as a forever student … plans to continue schooling.
Include A Few Pictures From Your Year
If you happen to have professional pictures to use in your Christmas Letter, that's awesome! Don't put pressure on yourself to come up with a great family photo though. A few snapshots from your year will do just fine.
Remember, your goal is to connect with family and friends, not provide a frame worthy photo that they would never and should never hang on their wall.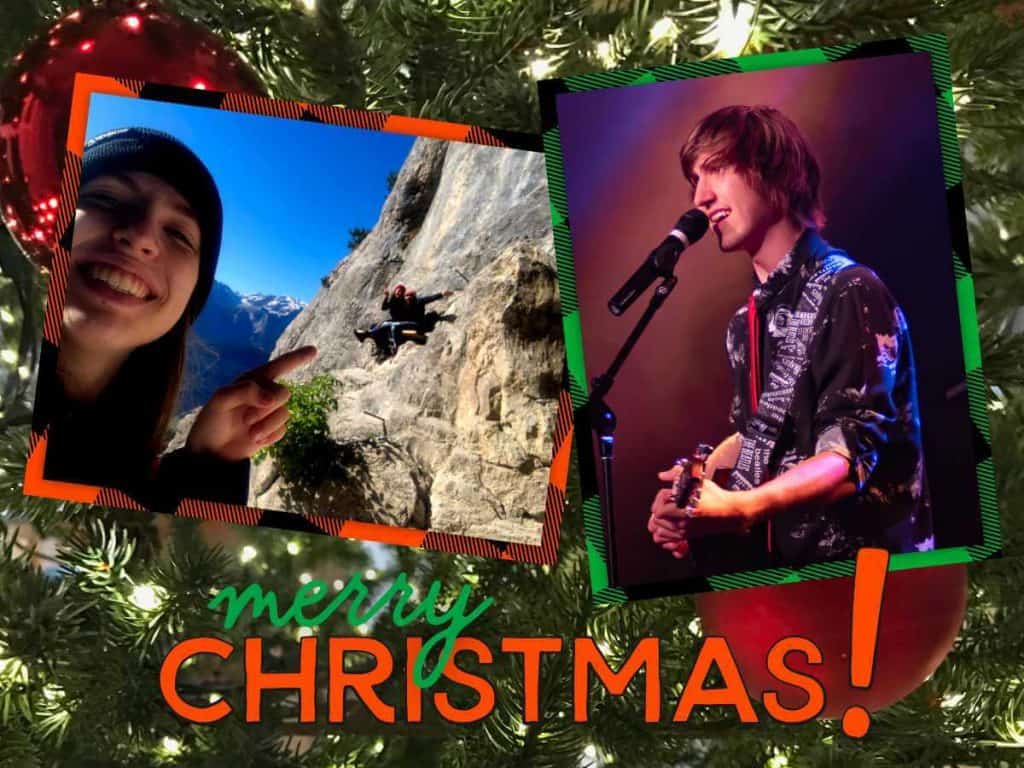 Choose How You Will Deliver Your Christmas Letter
Your Christmas Letter could be as simple as a letter on an 8-1/2 x 11 sheet of paper, placed inside a standard business envelope. It really doesn't have to be fancy. Your goal is to connect with friends and family!
An 8-1/2 x 11 sheet of paper placed inside a standard business envelope.
A traditional Christmas Card with a Christmas Letter inside.
A Christmas Postcard that you design online and have custom printed.
A Christmas Postcard that you design and print at home.
When our kids were young, we went to a fancy photographer's studio and ordered their fancy cards with good quality photos. It was PRICEY. They were beautiful cards but we all know full well that those cards and expensive photographs are, eventually, going in the trash.
Since then, we've opted for the inexpensive postcard style cards you can order from Costco … and, recently, we've even designed and printed our own cards, right at home. Of course, the cards printed at home are not the same quality but they work, just the same!
We choose to print our cards at home because we can easily create a postcard style card with pictures on the front and our family newsletter on the back.
After handing out our Christmas Letter, many years ago, I had a (not so great) friend humph before she told me no one would ever read all that. I might've felt bad for about 2 seconds but I didn't let her words dissuade me from continuing on with the Christmas Letter tradition.
I've also had friends text and call, after they received our Christmas Letter, saying how much they enjoy reading them!
THAT's who we write our Christmas Letter for!
There's no need to worry about those that don't appreciate Christmas Letters … and I KNOW they are out there. YOU write your Christmas Letter for family and friends that will appreciate them!
You will also end up with a delightful treasure trove of Christmas Letters to look back on and enjoy for years to come!
More Christmas Posts
Christmas Printables For A Season Of JOY!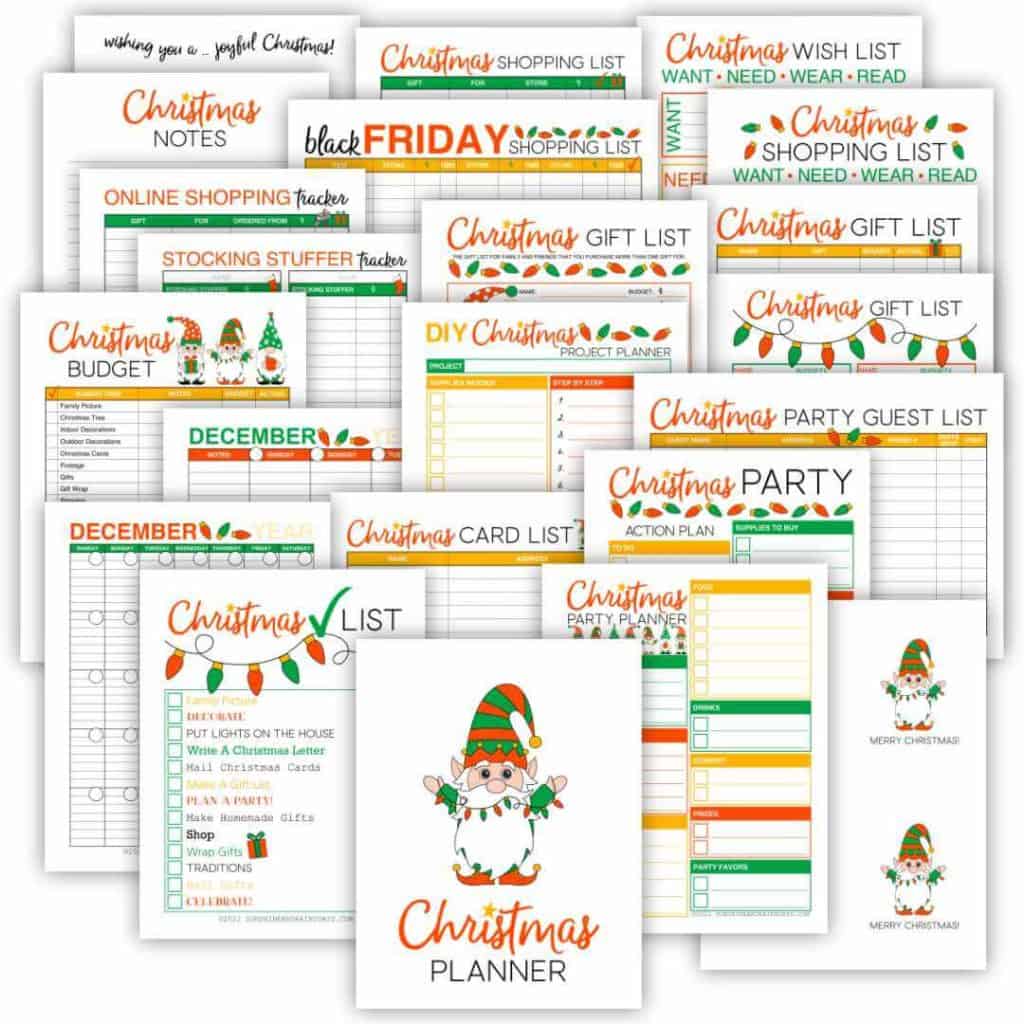 It's Time To Get Organized For Christmas!
The Christmas Planner is here to help you plan the BEST Christmas Yet!
It provides you with space to make lists, and check them twice, plan parties and projects, and create a schedule so you can enjoy your Christmas this year!
Want to fill out the fields, in the Christmas Planner, right on your computer? The Fillable Christmas Planner is also available!