It was January of 2014 when I decided I would jump into this blogging world, with both feet. There was no plan of action, pre-written posts, or even much computer knowledge. I didn't feel qualified to blog but I did it anyway. I knew if I waited for the perfect time, it would never happen.
As a stay at home mom, blogging seemed like a great way to supplement our income. Surprisingly, I discovered the benefits of blogging were quite different than what I anticipated.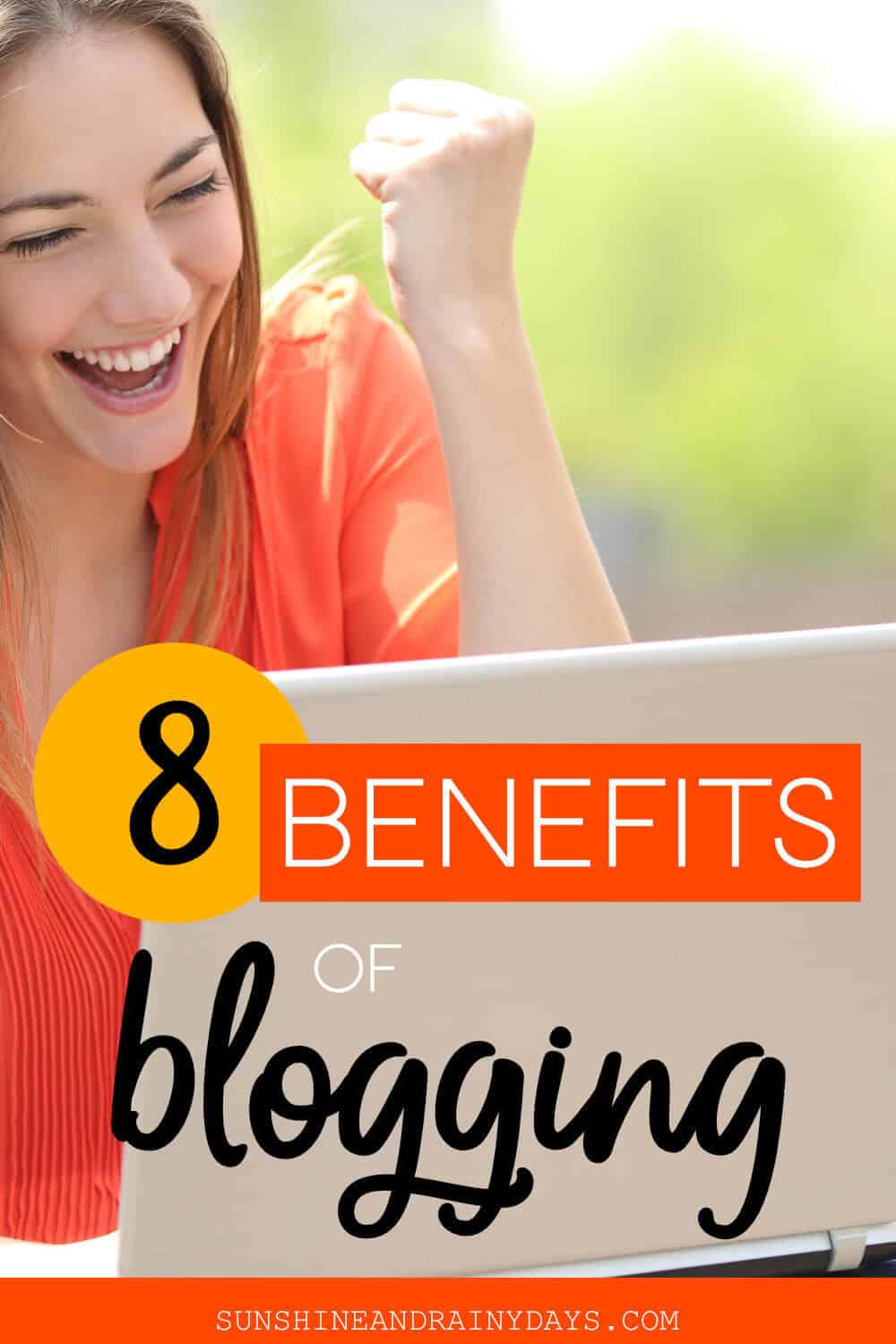 This post contains affiliate links. When you purchase through an affiliate link, we receive a small commission at no additional cost to you. Disclosure.
1) Improves Writing Skills
Practice makes perfect, right? The more you write, the better you get. I'm no seasoned pro but the desire is there. I recently purchased Secrets of Dynamic Communication by Ken Davis in hopes of gaining focus and clarity in my writing.
2) Exercises Your Mind
Oh my goodness! Blogging opens up a world of learning potential. Not only do you hone your writing skills, but you also become computer savvy, by default. SEO, plugins, widgets, and social media are sure to exercise those brain cells. Who needs crossword puzzles when you can blog?
3) Creates An Online Record
As we planted potato starts, I realized we would have plenty potatoes to freeze hash browns again this year. But how did we do that last year? No problem! I can do a quick search on my blog and know the exact steps we took.
It's always fun to go back and see what was going on, throughout the year, through this blog. It's like a running journal of where we've been.
4) Makes You Money
Okay, this one is still in the works. I've made a few dollars here and there. Surprisingly, this post: $10 Dirty Santa Gift Exchange Ideas brought in quite a few affiliate sales. I'm still trying to figure out how that one took off.
The experts say you shouldn't blog for money because you'll burn out fast. Good thing I didn't know that when I started! I was looking for an opportunity to work my own hours and make a buck or two. Yep! I said it. I got into blogging for the money. It's so taboo, I know. I have read about bloggers whose husbands quit their jobs to help with the blog and the blog is their living. What? Okay, Steve likes his job waaay too much to ever quit for blogging but hey, if they can make the big bucks, why can't I?
5) Gain Internet Friends
Through blogging, I have had the pleasure to meet some really awesome people whom I call friends. I look forward to reading their blogs and seeing the comments they leave here. It's a tight knit community that truly wants to see each other succeed, roots for each other, and genuinely cares.
6) Allows You To Help Others
Oh, boy! Doesn't that sound all noble and stuff? Seriously though, where do you go when you need help? If you don't have a walking encyclopedia next to you, you might turn to the internet. I have certainly learned a lot by reading other blogs and I aspire to help others too. Even if the help is as simple as a gift idea, card, or how to build a cinder block raised garden bed.
7) Let's You Express Yourself
My favorite blog posts are when something just burns inside me and I have to get it out. The words just flow. There's no need to blast it all over Facebook because you have this fun thing called a blog that lets you express yourself, in a creative way.
8) Gives You Self-Fulfillment
I have always loved being a stay at home mom but have often looked for ways to exercise my mind, beyond home life. In the past, I've done this through volunteer work at church and the kids' schools. It's easy for anxiety or depression to set in when there's nothing to focus your creativity on. Blogging has given me that something.
Why Blog?
Are you looking for a way to improve your writing skills and exercise your mind?
Would you love an online record of the happenings in your life?
Could you use a little extra money? I'm not sure who would say no to that question.
Do you love chatting it up online and helping others?
Do you long for a creative way to express yourself?
Are you looking for a way to contribute to the world, to get out of your own four walls?
If you answered, 'YES' to any of these questions, you may be a blogger waiting to happen!
Little did I know just how much time, effort, and energy goes into blogging, but the benefits of blogging make it well worth the effort. When I look back at posts from a year ago, I realize my writing skills have improved. My mind is always busy, there's a journal like no other, I've met friends I never imagined meeting, and I wake up every morning with the desire to help others, though I fail miserably. Blogging gives me a place to express myself in a creative way but, best of all, blogging has been incredibly fulfilling. I'm still waiting for the money!