Imagine your friends hearing a knock and opening the door to find a You've Been Egged sign. They go scurrying about their yard, with a smile on their face, to gather eggs. They can't wait to see what treasures they find, inside! That pure joy is the reason you've chosen to egg your friend's house, this Easter!
Can you egg a friend's house?
This isn't the kind of egging you did in your teenage years. You're bummed, right? That kind of egging is actually a crime and considered to be vandalism since real eggs can cause damage to houses and cars.
Instead, you have the chance to spread a little joy by egging your friend's house with candy, toys, and/or money filled, plastic Easter eggs! This kind of egging, when done right, is a fun way to celebrate Easter!
Who should egg a friend's house?
Anyone can egg their friend's house from young kids, to teenagers, and adults!
1) Decide Whose House You Should Egg
The first step, in egging a friend's house, is figuring out whose house you want to egg. Although kids and teenagers would get a kick out of being egged, you don't have to stop there. You could egg the houses of your adult friends, too!
2) Fill Plastic Easter Eggs
Once you know who you plan to egg, you can fill plastic Easter eggs with things you think they will like and be able to figure out how many eggs you want to fill.
How many eggs should you fill, per person?
A good rule of thumb is to fill at least 10 – 12 eggs, per person.
As a frame of reference, I purchased this Easter bucket from Walmart and 24, regular size eggs, fill it almost halfway. Forty-eight eggs fill it up quite nicely and is what is pictured here. BUT, you need to remember, your job in egging your friend, is to spread Easter joy NOT to fill a bucket.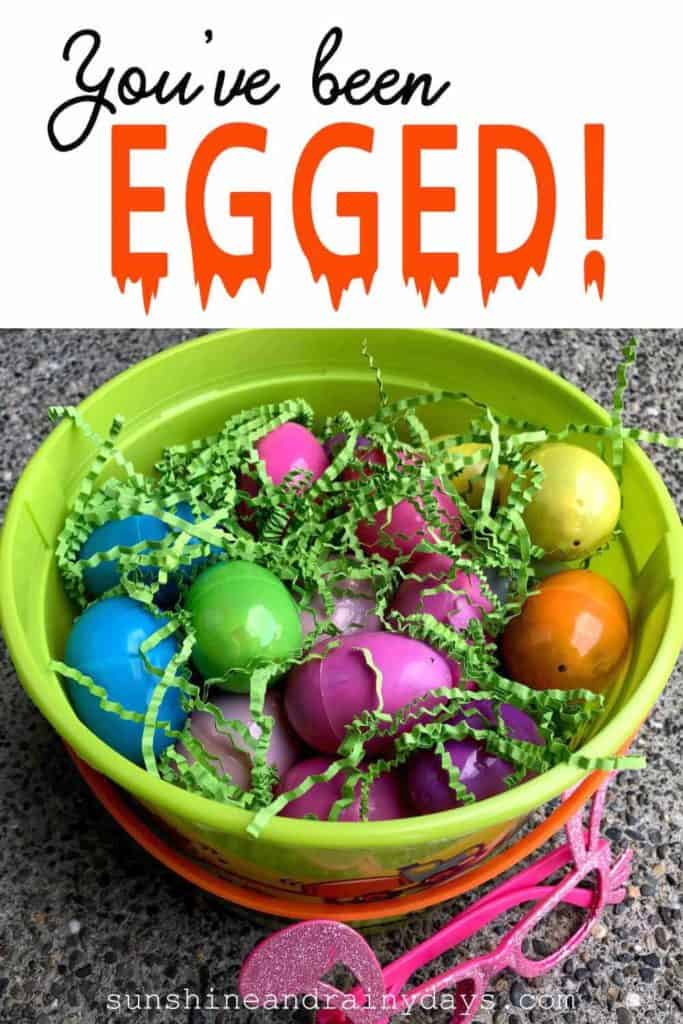 What do you put in Easter eggs, instead of candy?
Of course, everyone expects to find candy, in their Easter eggs, but there are many small items that fit inside plastic Easter eggs. Here are a few ideas to get your creative juices flowing:
Money
LEGO Minifigures
LEGOS
Puzzle Pieces
Ring
Bracelet
Bouncy Balls
Fruit Snacks
Marbles
What do you put in a Golden Egg?
It isn't necessary to hide a golden egg, when you egg your friend's house, but it could add an extra level of fun! What you put in the golden egg should be extra special and more valuable than the items in the other eggs. The popular choice for the golden egg is money!
If you choose to include a golden egg, I suggest you put a $10 bill in it, at the very least.
You may choose to sign your name, on the You've Been Egged printable, or be completely anonymous. Many people have cameras on their homes and will be able to figure out who egged them, quite easily, but that's okay! It's still loads of fun!
It would also be okay to let parents, of kids, know when you will be there so they can make sure to be home.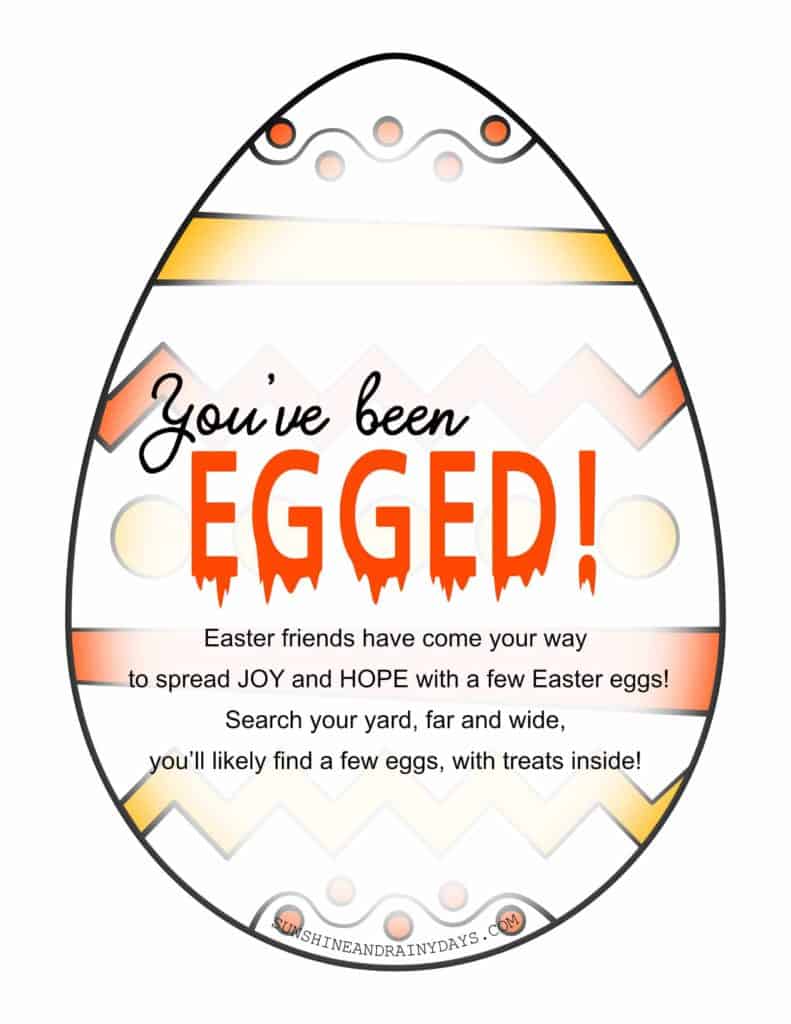 4) Deliver The Eggs
This operation needs to take place quickly so you aren't discovered, hiding the eggs. Stick to the front yard and try not to trample through your friend's garden areas. Often, it's best to place the eggs in the grass.
After you're done hiding, or should I say spreading, the eggs, place the You've Been Egged printable on the doorstep, knock, and run!
It's practically impossible to egg your friend's house without a huge smile on your face! Not only does egging spread Easter joy to your friend but it makes the egg-er joyful, as well! Get your kids involved or send your teenagers on an egging mission and watch the eggcitement spread!
More Easter Ideas
You've Been Egged – He Has Risen!