Easter is a fun time to do fun and creative activities with kids. This Easter Bunny Footprint Craft is easy to do and uses just a few simple supplies.
Since my kids are grown, I headed to my niece's house to do this craft with her 18-month-old and 3-year-old! They are the cutest! Her 3-year-old daughter was totally into it! Her son was a little concerned about me painting his feet, but he went along with it anyway.
Let's hop to it and make a cute Easter Bunny Footprint Craft!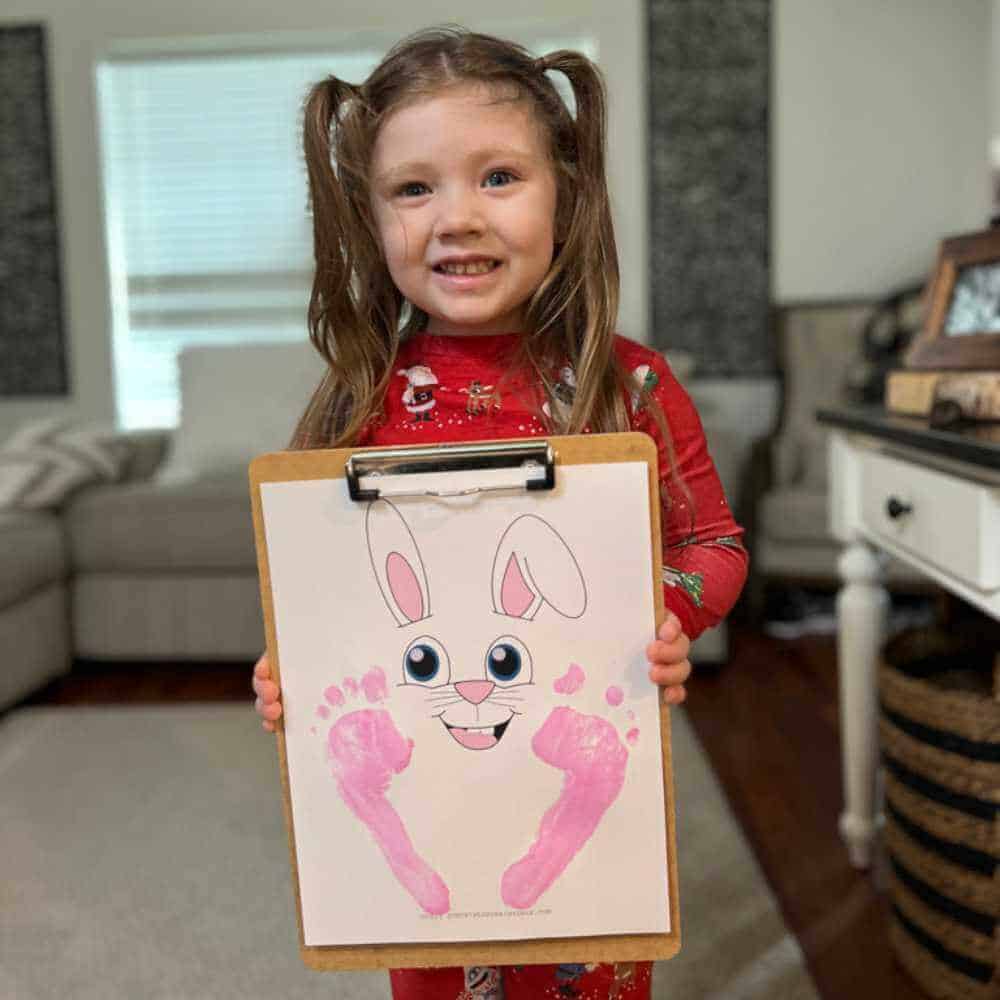 Supplies For The Easter Bunny Footprint Craft
This post contains affiliate links. When you purchase through an affiliate link, we receive a small commission at no additional cost to you. Disclosure.
Easter Bunny Footprint Printable – Found below.
Cardstock
Clipboard
Paper Cup or Bowl – For mixing paint.
Paper Towels or Rag – For cleaning feet after they've been painted.
How To Make This Bunny Footprint Craft
Print the Easter Bunny Footprint Printable on cardstock. There are two versions: one with the word, Easter, and a space to type the year, right on your computer. The other has no writing, so you can use it as is or handwrite your own words.
Place the Footprint Printable on a clipboard.
Mix your paint to the color you like best in a paper cup or bowl. For the pictured footprints, I mixed white and hot pink for one and white and blue for the other. It didn't take much paint at all.
Use a sponge brush to paint the bottom of your child's feet. For this step, I was a little concerned, thinking the toddlers would be too busy to sit still, but my 3-year-old great-niece sat in a chair to wait her turn and was super patient and into the process! We put my 18-month-old great-nephew in his high chair with a few snacks, and although he was a bit concerned about me painting his feet, it worked great! I wish I had gotten a few pictures of the process, but I was trying to work quickly!
Press the little one's feet onto the Bunny Footprint Printable, one at a time, being sure to press hard enough that all their little toes will show! I lifted the printable, on the clipboard, to their feet instead of having them step on it. I felt this would make placing their foot in the right spot on the printable easier, and it worked well.
Wash their feet with a wet paper towel or rag. The washable paint cleaned up very easily!
Let the footprints dry.
Put on display!
Get Your Bunny Footprint Printable Here
Click the picture or link below to download your Easter Bunny Footprint Craft Printable.
This is a fun craft for babies, toddlers, or any kid whose feet would fit on this Easter Bunny Footprint Craft page!
You can do this craft with your kids or borrow a few to have a little Easter fun!
After we finished the Easter Bunny Footprint Craft, I got to play keep the balloon in the air and watch my great niece and nephew race around and dance to music! There's something about little kids that fills you with joy!
More Easter Ideas