Easter will find yards full of Easter Eggs as kids, and the young at heart, search for eggs and the surprises inside! They'll find candy, little toys, and maybe even money! What if YOU added a new twist with Easter Trivia? No way am I proposing you skip the candy. Nope! Instead, ADD Easter Trivia to your eggs along WITH a piece of candy! Now, that's a combo you can get behind!
Add an extra element to your Easter Eggs this year with our Easter Trivia Printable!
The Easter Trivia PDF has twelve, egg shaped, trivia to add to your Easter Egg Hunt eggs!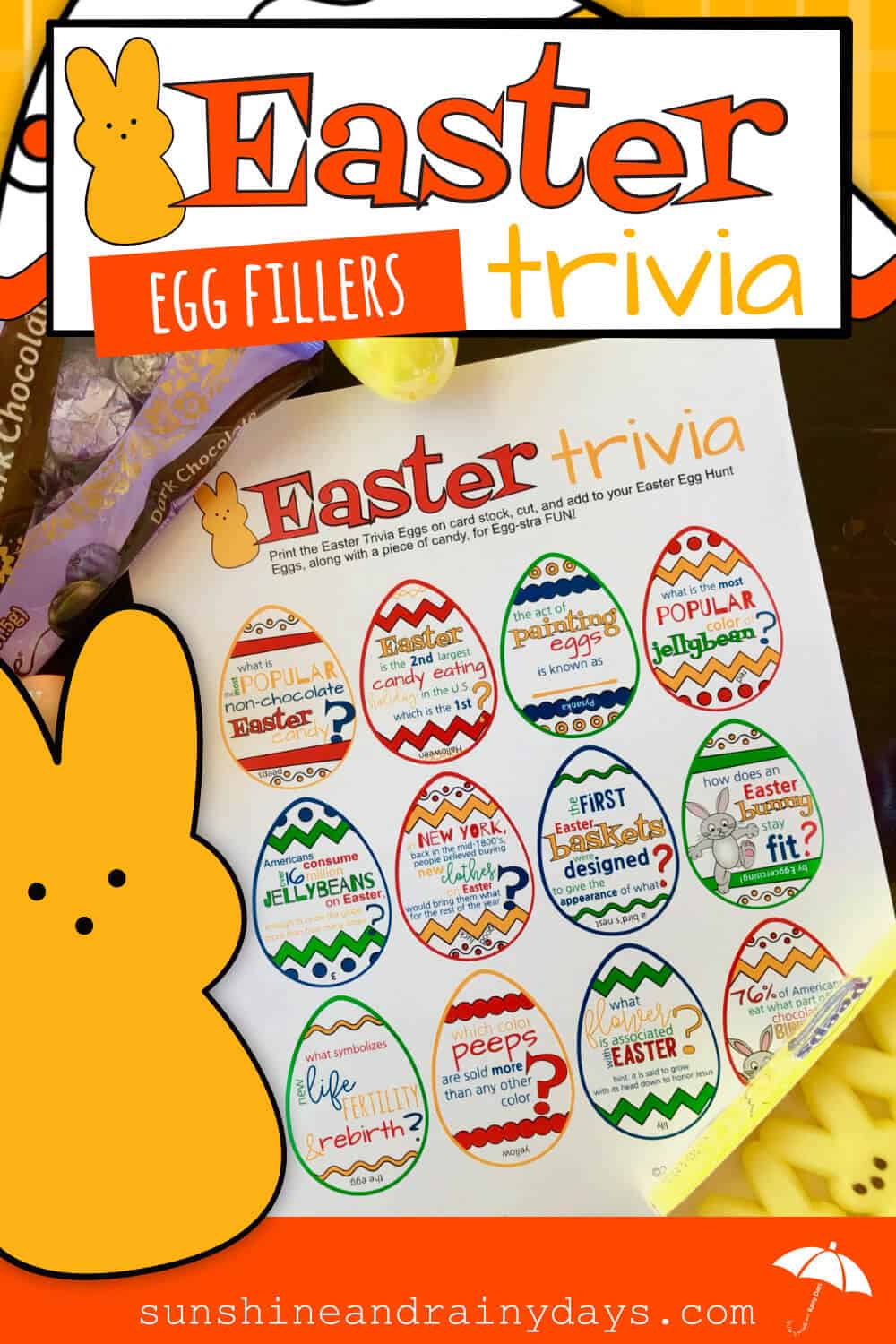 This post contains affiliate links. When you purchase through an affiliate link, we receive a small commission at no additional cost to you. Disclosure.
Easter Trivia Supplies
Printer – I have this one and I love it!
Easter Trivia Printable – found below
Scissors
Plastic Easter Eggs and Candy!
How To Use The Easter Trivia Printable
Print the Easter Trivia Printable (found below) on card stock.
Cut the egg shapes.
Add them to your Easter Eggs, along with a piece of candy!
Easter Trivia Included In This Printable
What is the most popular non-chocolate Easter candy? Answer: Peeps
Easter is the 2nd largest candy eating holiday in the U.S. Which is the 1st? Answer: Halloween
The act of painting eggs is knows as ___________. Answer: Pysanka
What is the most popular color of jellybean? Answer: red
Americans consume over 16 million jellybeans on Easter, enough to circle the globe more than how many times? Answer: 3
In New York, back in the mid-1800's, people believed buying new clothes on Easter would bring them what for the rest of the year? Answer: good luck
The first Easter Baskets were designed to give the appearance of what? Answer: a bird's nest
How does an Easter Bunny stay fit? Answer: by Eggcercising
What symbolizes new life, fertility, and rebirth? Answer: the egg
Which color Peeps are sold more than any other color? Answer: yellow
What flower is associated with Easter? Hint: it is said to grow with its head down to honor Jesus. Answer: lily
76% of Americans eat what part of chocolate bunnies 1st? Answer: ears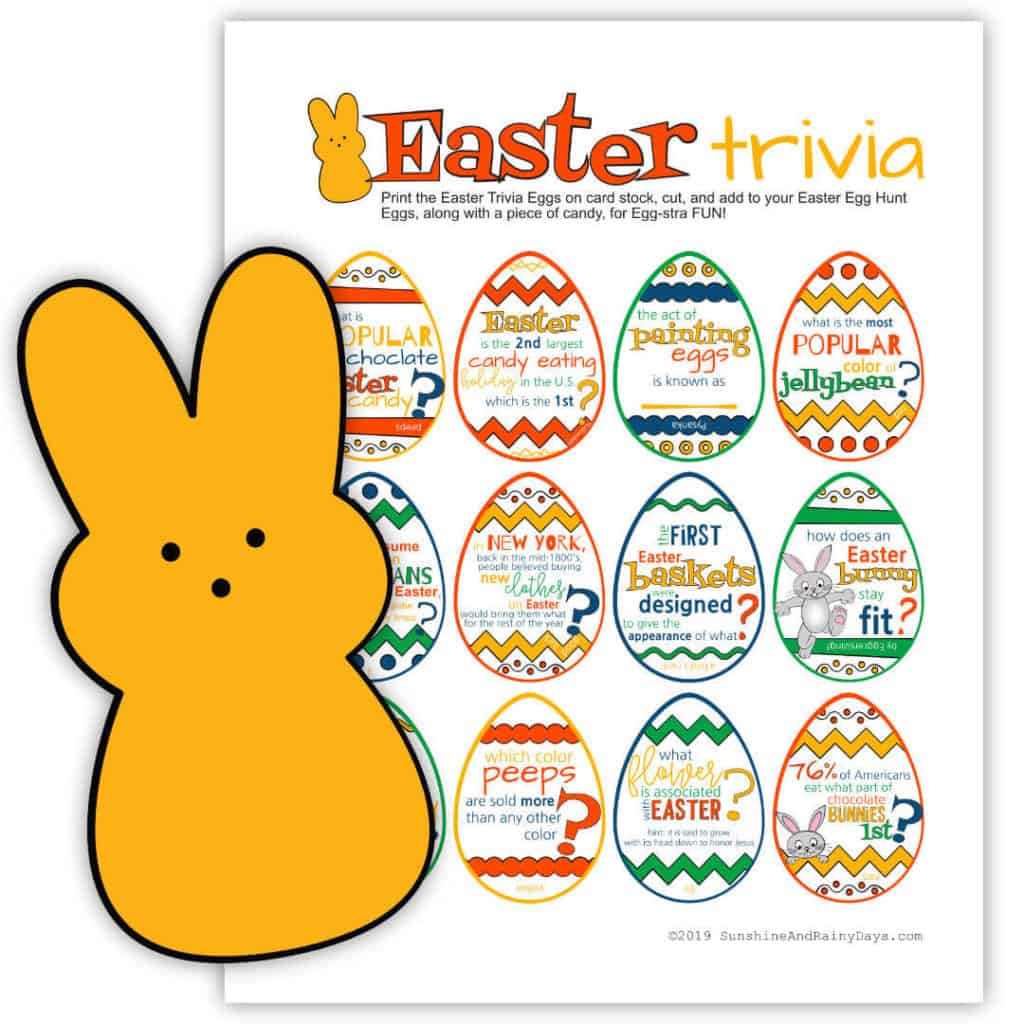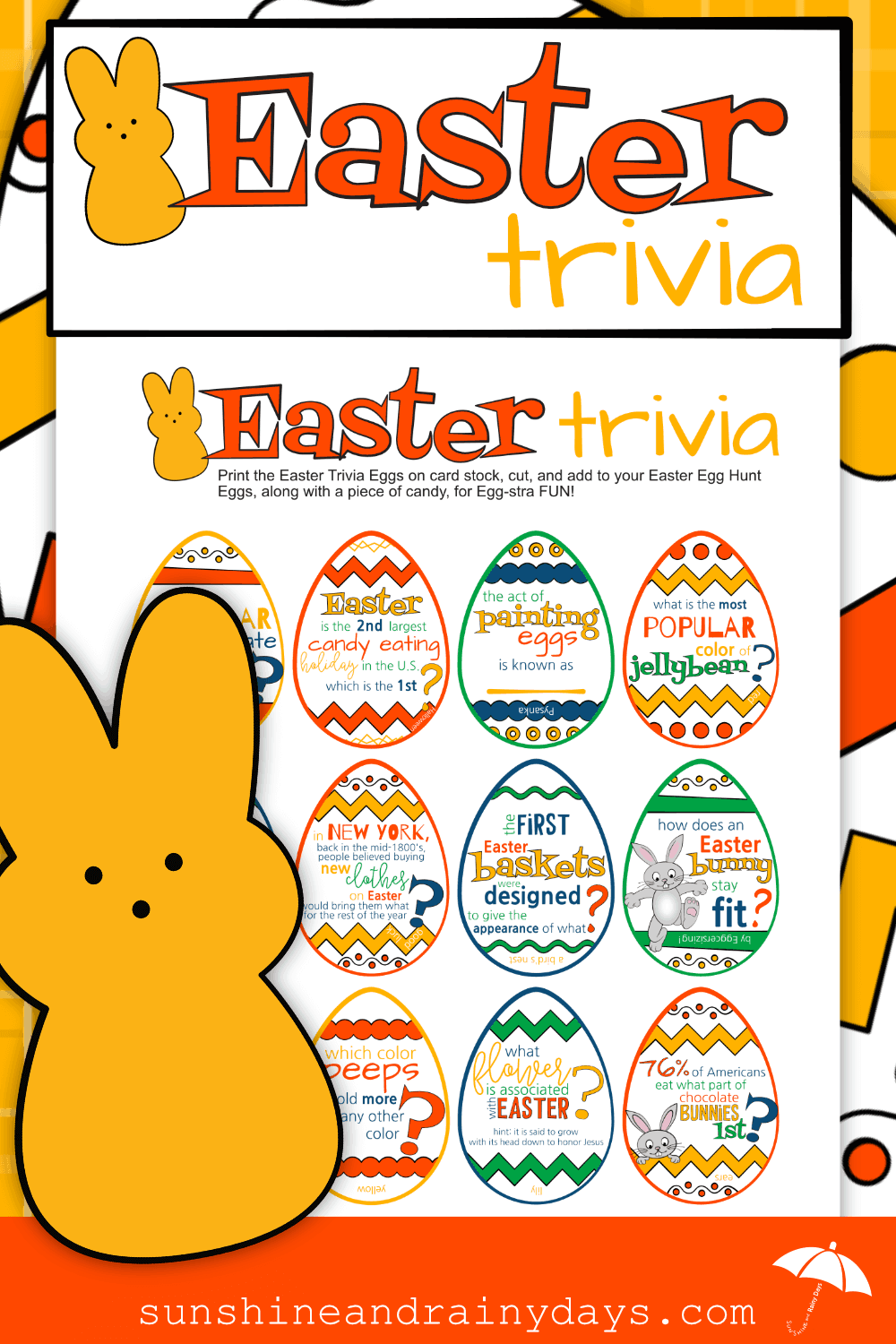 Use these festive Trivia Eggs to add to your Easter Egg Hunt Eggs! Remember … they don't stand alone … you gotta add the candy too!
More Easter Printables