Print the Easter Activity Sheet and get yourself hoppin' for Easter! Send an Easter Activity Page to your college student, place a few on your coffee table for guests, put an Easter Activity Printable in an Easter Care Package, or sit back, relax, and do the activities yourself!
Are you ready for Easter?
The Easter Activity Printable is ready to help you exercise your mind, color in the lines, and have an egg-stra special Easter!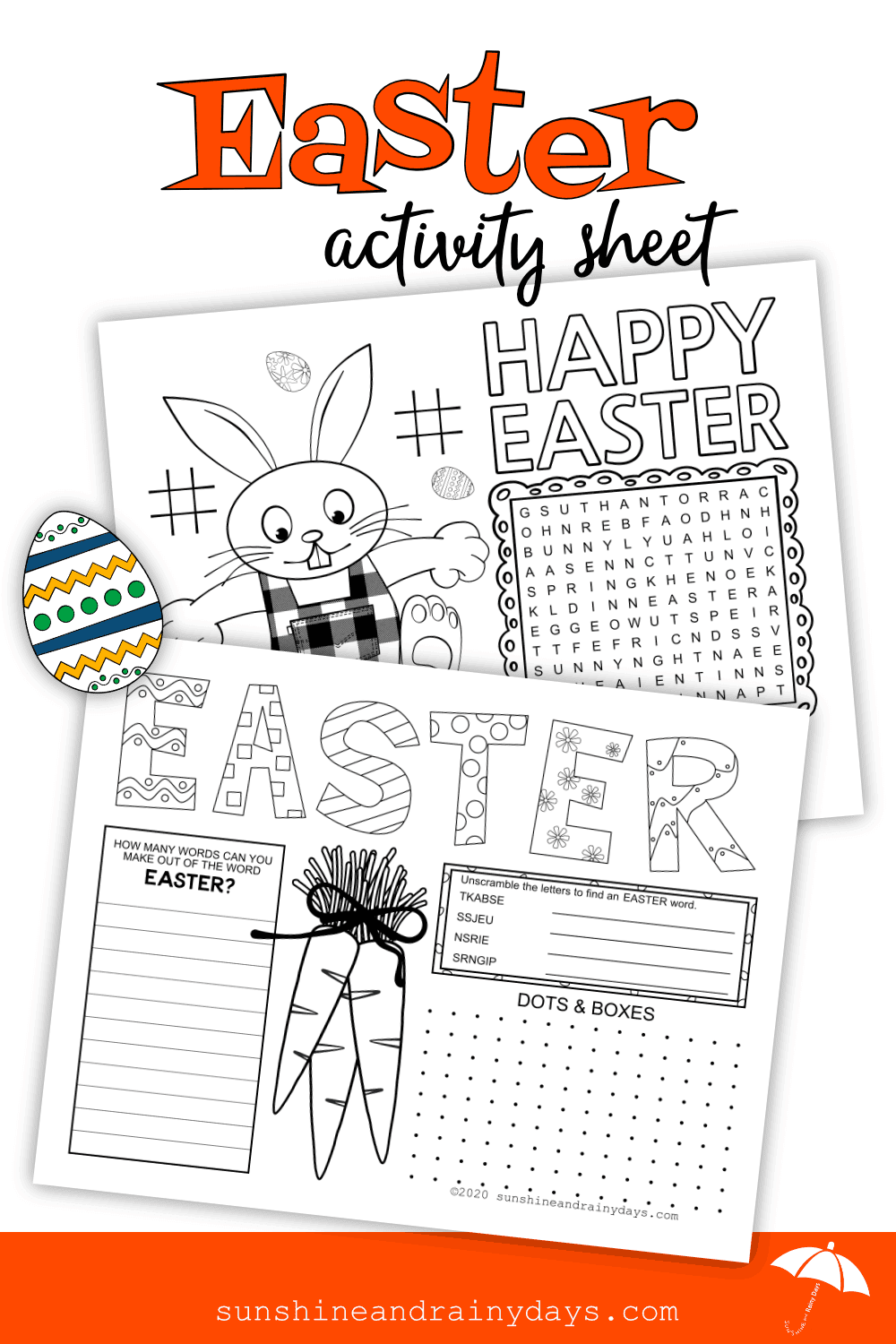 This post contains affiliate links. When you purchase through an affiliate link, we receive a small commission at no additional cost to you. Disclosure.
Activity Sheet Supplies
What's On The Easter Activity Page?
Color The Easter Printable
The Easter Sheet provides lots of opportunity to color!
Color the Activity Sheet as much as you like!
Easter Word Search
Find 12 Easter words on the Easter Word Search! It's kinda tricky though … find words up, down, and backwards.
Play Tic Tac Toe
There are a few tic tac toe boards to exercise your tic tac toe strategy with.
Growing up, my brother used to ALWAYS beat me at tic tac toe. THEN … I learned his strategy …
Make As Many Words As You Can From The Word EASTER
How many words can you make from the word, Easter?
Unscramble The Easter Words
Unscramble four different Easter words. They might stump you. No worries, there's a cheat sheet.
Dots & Boxes
Remember this? You need a friend or two to play Dots & Boxes. Each person takes turns drawing a line between two dots. Once you create a closed box, put your initial inside the box. The person with the most boxes at the end, wins!
It's a classic!
Where Do I Find The Easter Activity Sheet?
Get Your Easter Activity Sheet plus Answer Pages here:
The fun activities on the Easter Activity Printable are ready to get you hoppin'!
More Easter Printables
More Activity Sheets