This Halloween Activity Sheet is perfect to have on hand for Halloween parties, classrooms, trick-or-treaters, and your own kids at home!
This post contains affiliate links. When you purchase through an affiliate link, we receive a small commission at no additional cost to you. Disclosure.
Halloween Activity Sheet Supplies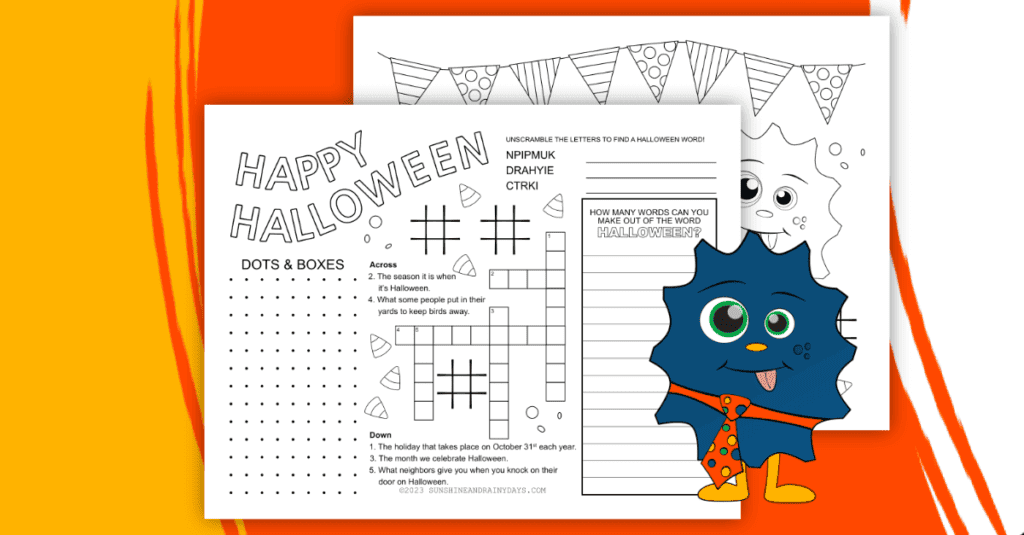 What activities are on the placemat?
Coloring
There are a lot of coloring opportunities on this activity page including the words Happy Halloween, cute little monsters, candy corn, and a banner.
Crossword Puzzle
The crossword puzzle on this activity sheet has five hints to write in six Halloween words.
How Many Words You Can Make Out Of The Word Halloween
There are 15 spaces to fill in words you can spell out of the letters in the word Halloween!
Unscramble The Letters
Unscramble the letters of three Halloween words.
Word Search
Find 20 Halloween words in this Halloween word search! Find words up, down, on the diagonal, and backward.
Dots & Boxes
Dots and Boxes encourage you to play with friends as you try to complete the most boxes and place your initials inside.
Tic Tac Toe
There are six tic-tac-toe boards but don't let that limit you! You can play in the margins of the sheet to practice your tic-tac-toe skills!
Where to buy the Halloween activity sheet.
Get the Halloween Activity Placemat plus the answer page here:
This Halloween Activity Placemat gives you a cute way to celebrate Halloween!
More Halloween Activities
More Activity Sheets