Let trick or treaters know when you're open or closed for business with these FUN Printable Halloween Signs for your door! Halloween Printables are here to make your life easier and just a little bit more fun!
When we moved into our house a few years ago, I asked neighbors what to expect on Halloween. Our old neighborhood was on a dead end and up a steep hill so very few trick or treaters made their way to our house. As a matter of fact, there were a few times we bought full size candy bars to hand out to the few that did brave our hill.
It was a good thing I asked!
I found out our new neighborhood is quite popular every October 31st!
With five bags of Costco candy on hand, we set up our candy station in anticipation of the line of young and old dressed as something other than themselves. We had the big basket, filled and overflowing, back-up candy nearby, and a chair to sit on.
It was quite enjoyable to see all of the fun costumes! We even gave kudos to the teenagers that braved the scene, in hopes of not being turned away for their age … but that's another story.
By the time 9:30 rolled around, the trick or treaters were dwindling and the basket was EMPTY! No worries though … trick or treaters certainly wouldn't knock on the door at that time of night.
Or, would they?
The brave souls did. They were the determined ones. The ones who would take advantage of every second they could to gather as much candy as possible. They had a strong desire to fill their pillowcases, probably as a money making venture, where they would get paid by the pound by their dentist or orthodontist. But we had nothing.
Even with the outside lights turned off, they knocked. They could see the lights inside and the warm glow of the television.
It was in THAT moment, I knew next year had to be different. Next year, I would post a sign. A sign that would let trick or treaters know their knocks would be in vain.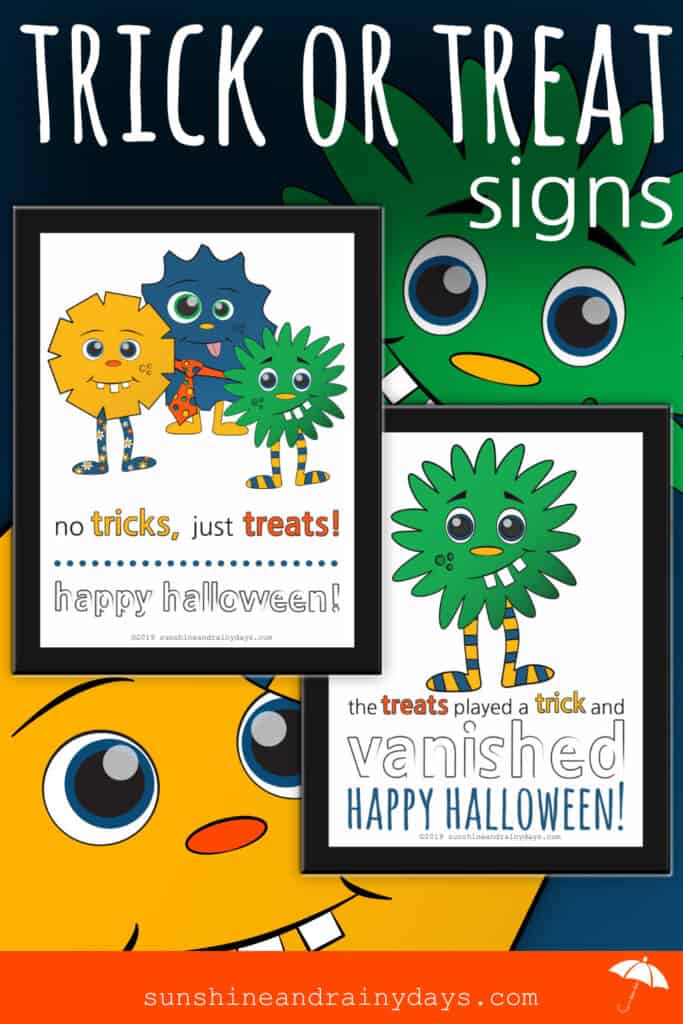 Printable Halloween Signs
Let YOUR Halloween night door knockers know when you are open or closed for business!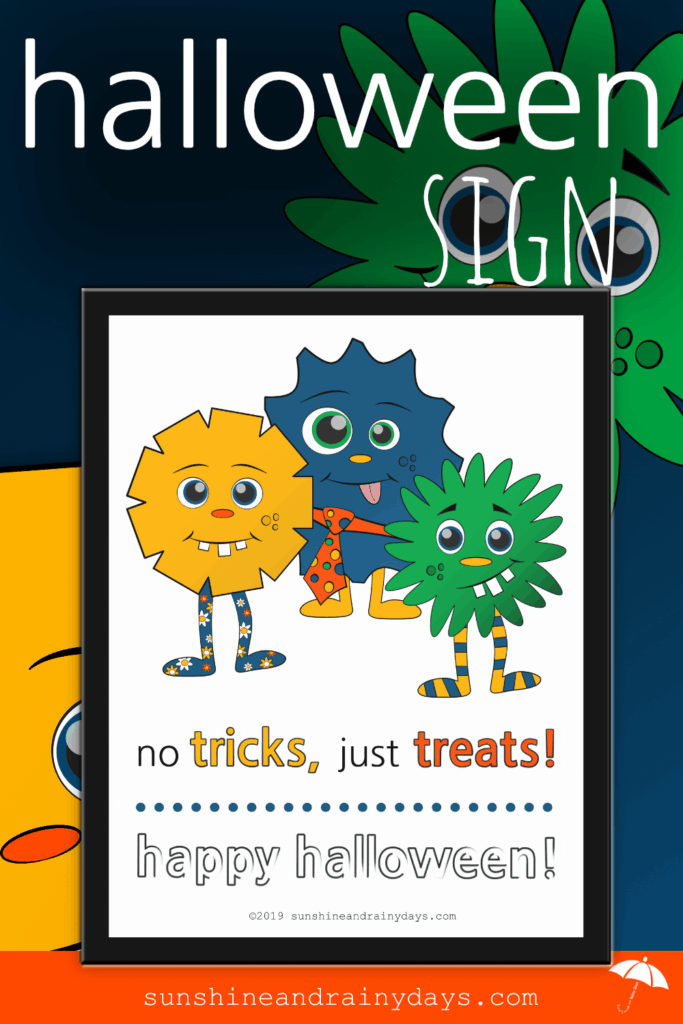 No Tricks, Just Treats!
When there's candy in the basket, welcome them with the No Tricks, Just Treats sign!
Of course, if your lights are on, they'll knock anyway … with or without a sign. The thing is, many kids, and even teenagers, would be happy to know they are welcome before they even have to knock!
You get to have the cool house that INVITES trick or treaters!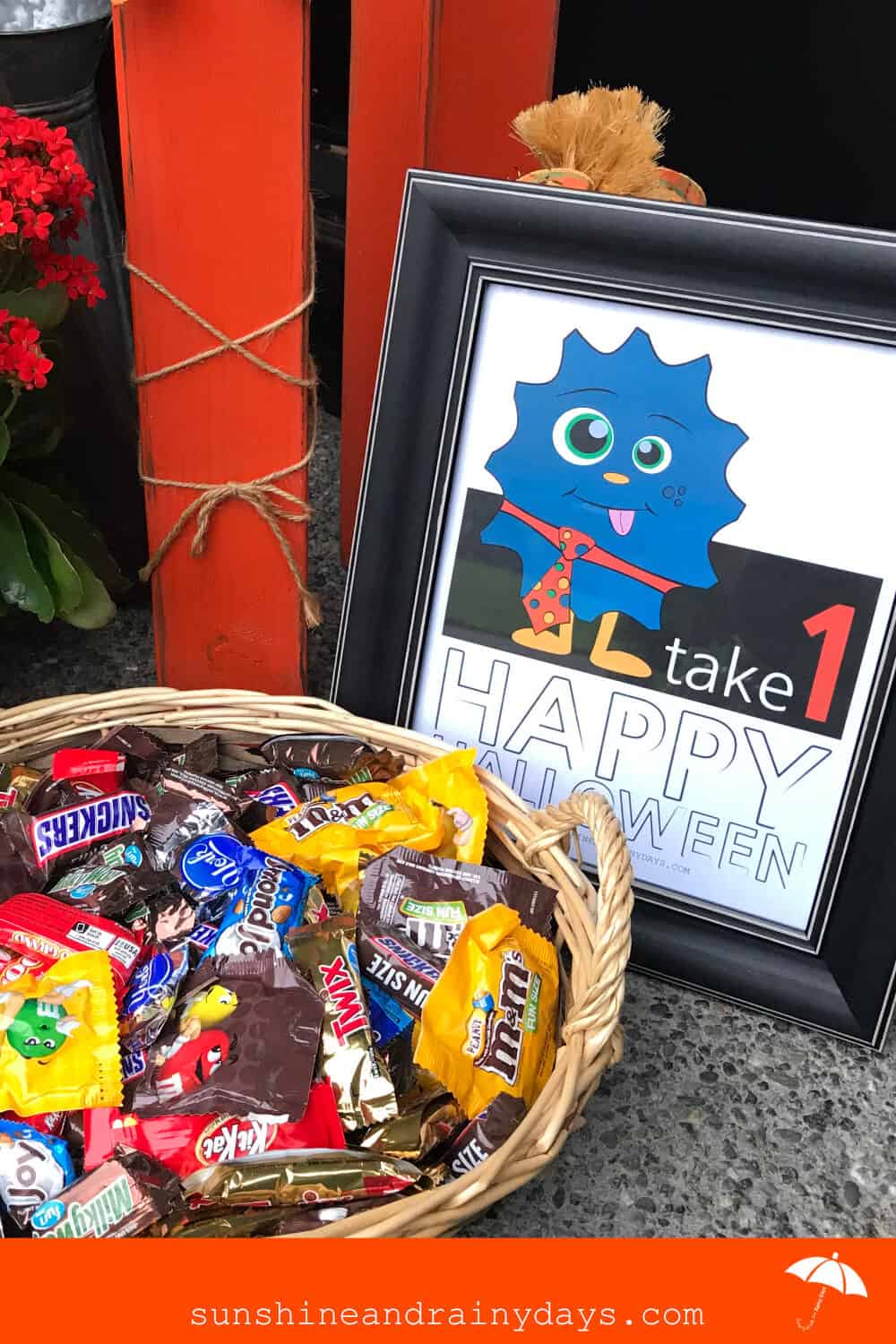 Take 1
If you can't, or don't plan to, answer the door but still want to give candy to trick or treaters, here's your answer!
Print it, frame it, and leave on the porch with a bowl full of treats!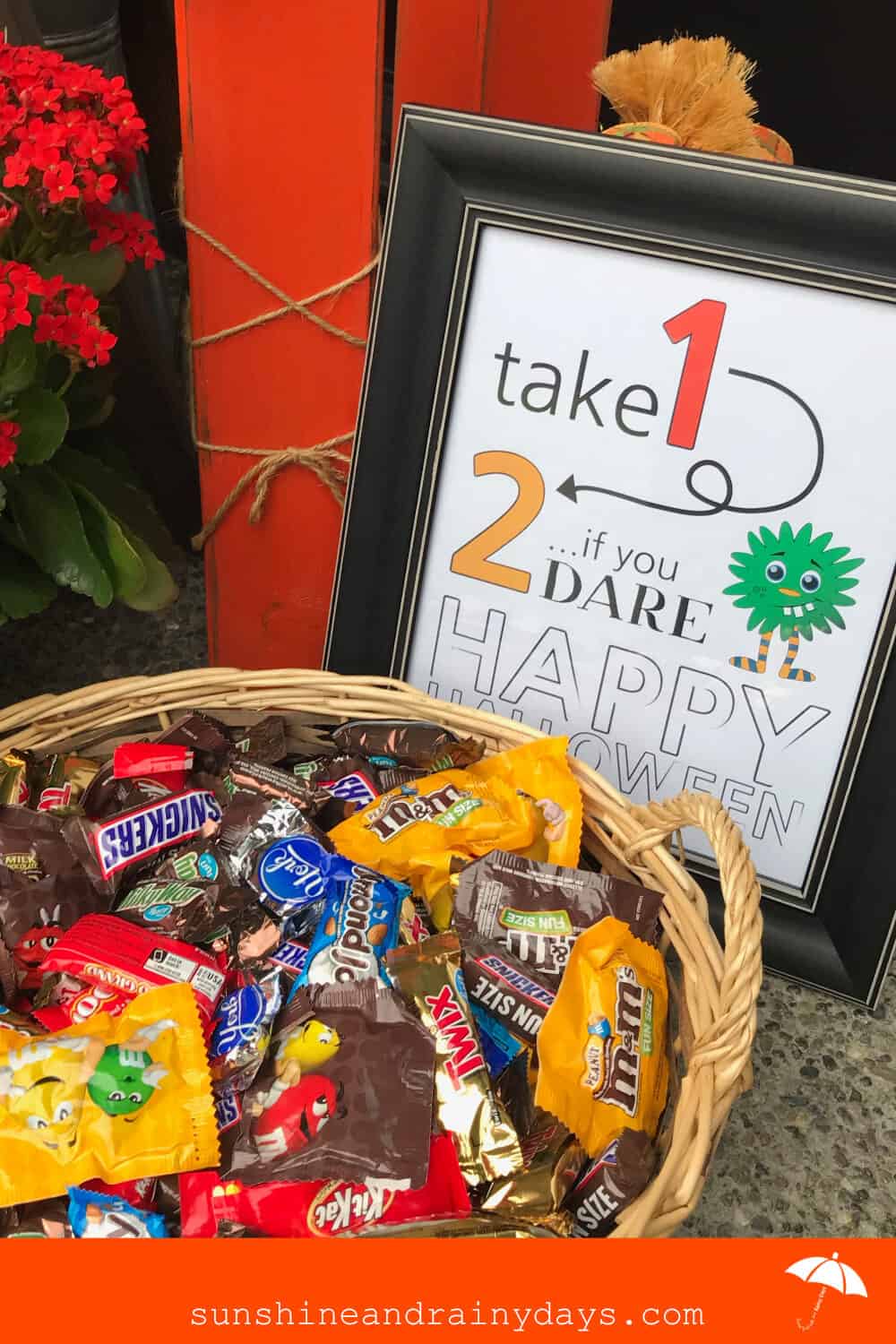 Take 1, 2 … if you DARE!
Heading out with your own trick or treaters but want to leave treats on your porch? Here's another option.
Print it, frame it, and leave on the porch with a bowl full of treats!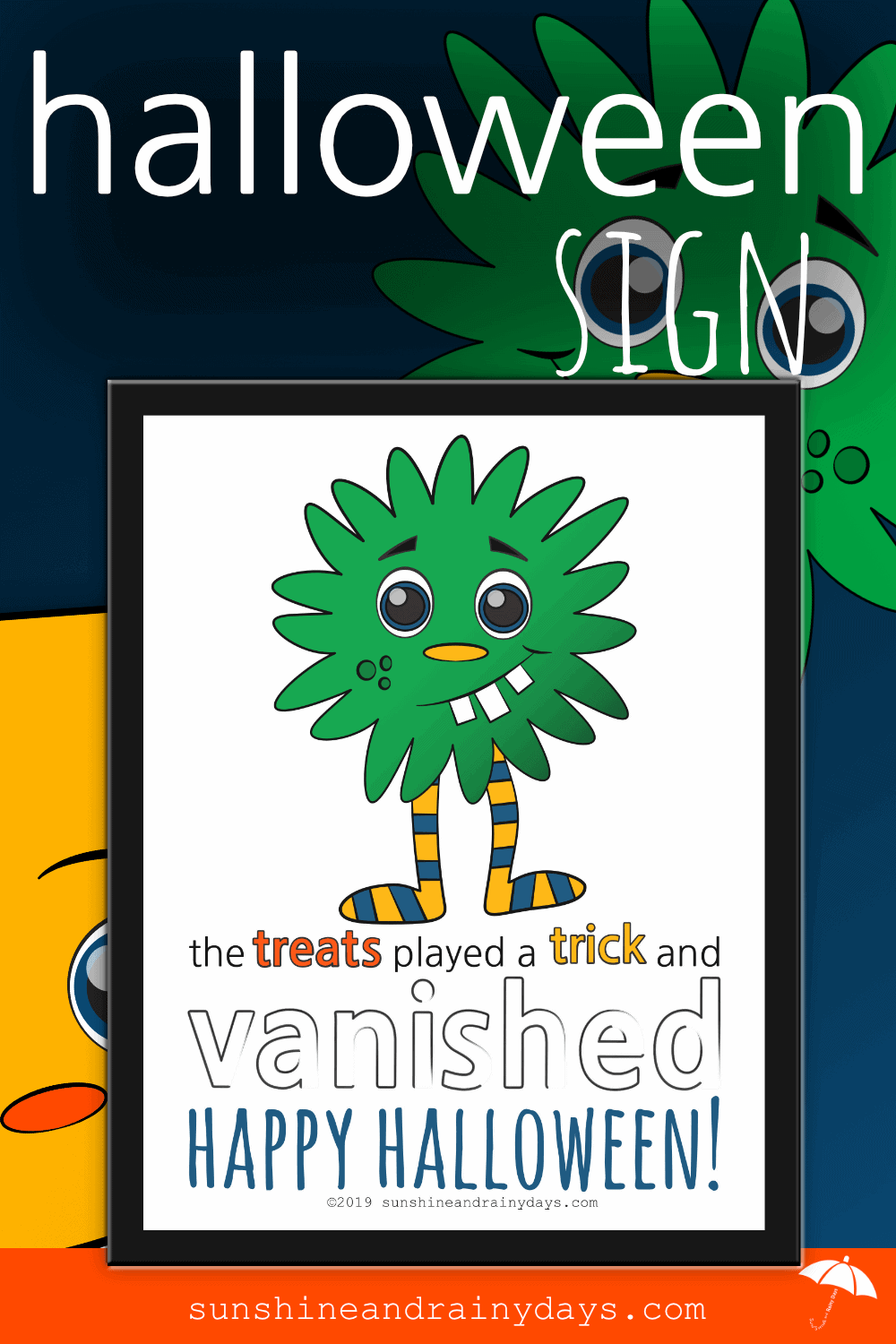 The Treats Played A Trick And Vanished
When you're staring at an empty candy basket, it's time. Time to put out the sign proclaiming the Treats Have Vanished!
What better way than with a cute little monster sign? Save yourself the hassle of turning off lights and hiding in the back room. Stop trick or treaters in their tracks. Put out the sign that proclaims the treats have vanished!
Printable Halloween Sign Supplies
This post contains affiliate links. When you purchase through an affiliate link, we receive a small commission at no additional cost to you. Disclosure.
Printer
Card Stock or Paper
Halloween Signs – found below
Don't wait until you're out of candy to print these signs! Do it NOW! Do it before you're placed in the predicament of digging into your personal stash of Reese's!
Oh … and don't try to guess what that little 3-year-old is dressed up as. Let her tell YOU! Learn from my mistakes!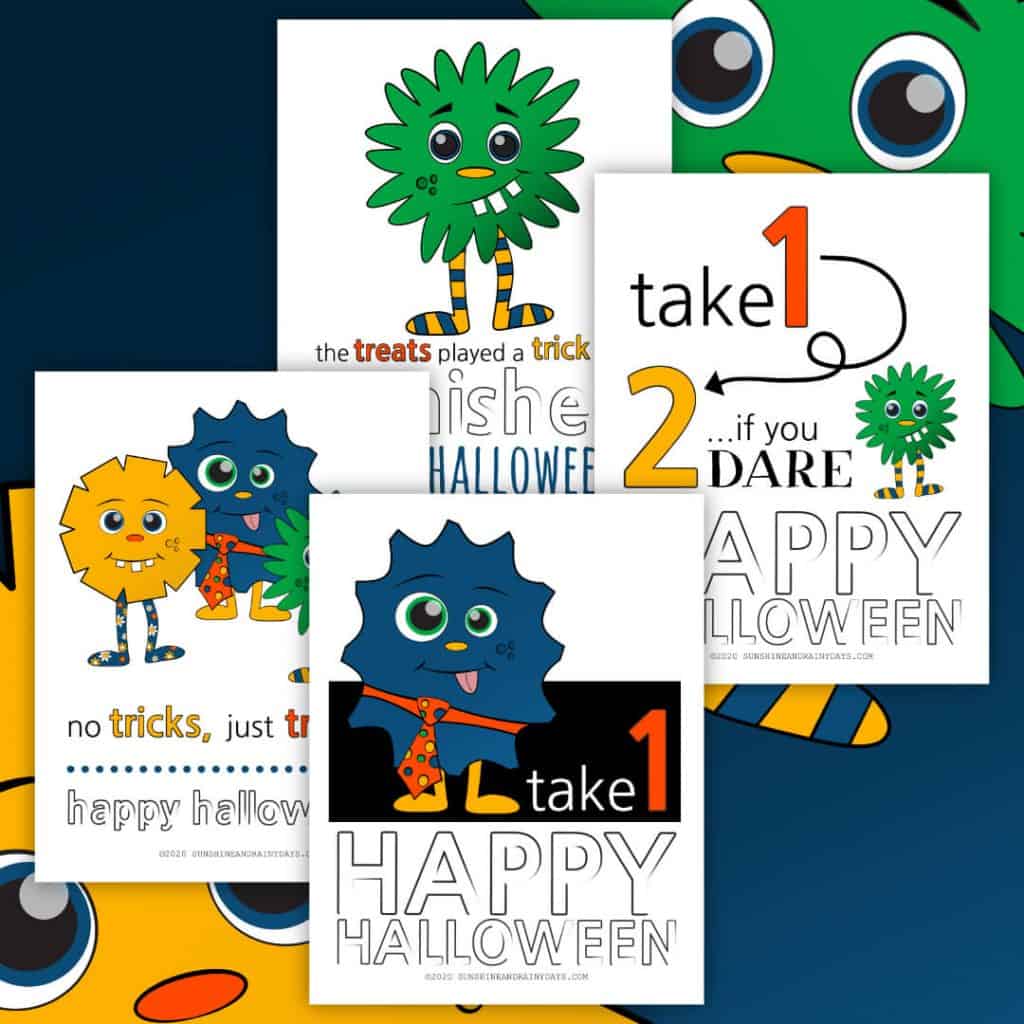 More Halloween Printables
Halloween Wall Art – Say Happy Halloween with this monstrously cute Halloween Wall Art.
Halloween Color Page – You can color your own delightfully cute Halloween Art with this color page.
Just Poppin' Halloween Popcorn – Do you want to say Happy Halloween without the sugar? Check out this Just Poppin' By Halloween Popcorn idea!
More Fall Printables