The Magic Reindeer Food Recipe And Printable Poem are here to help you guide Santa's Reindeer to your home so Santa can deliver presents to all the girls and boys!
What Is Magic Reindeer Food?
If you've never heard of Magic Reindeer Food, it's a festive mixture that all reindeer would love. Its ingredients include sugar crystals that sparkle in the moonlight so the reindeers know where to guide Santa's sleigh.
Spreading food for Santa's reindeer is a nice gesture and a festive Christmas tradition you can easily participate in year after year.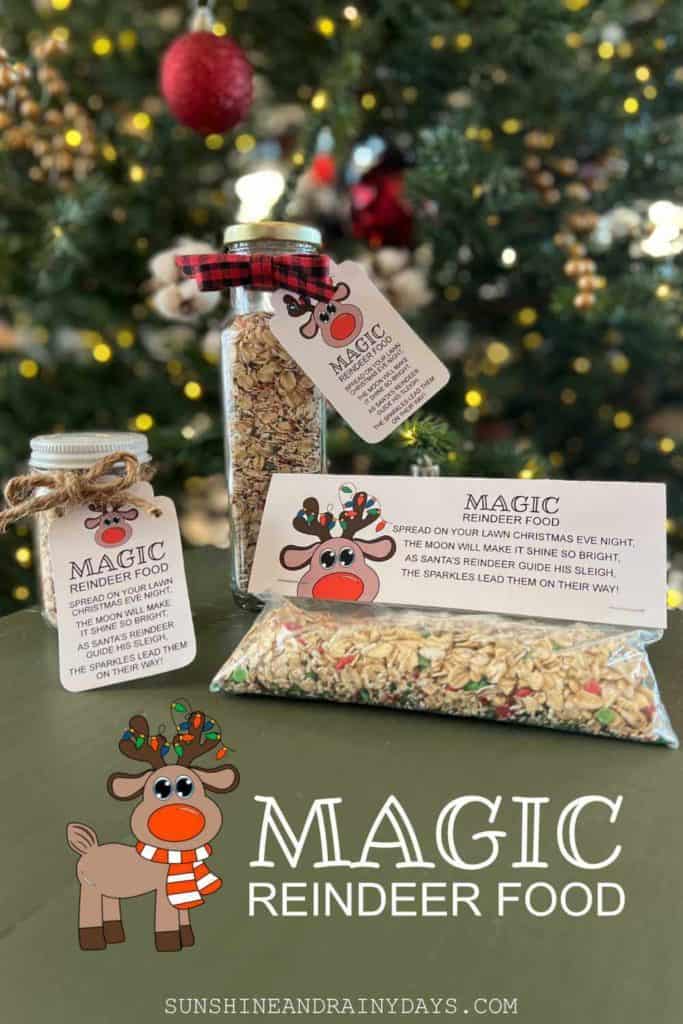 Magic Reindeer Food Recipe
Supplies
1/2 cup
Tablespoon
Bowl and Spoon
Snack Size Baggies or Small Jars
Funnel (to funnel Reindeer Food into a jar)
Stapler (if using snack size baggies)
Ingredients – listed below
Magic Reindeer Food Tags – found below
This post contains affiliate links. When you purchase through an affiliate link, we receive a small commission at no additional cost to you. Disclosure.
Ingredients
1/2 cup oatmeal
2 tbsp red and green sprinkles
1 tbsp red or green sugar crystals

You may think glitter is a good option to add to your Reindeer Food but Reindeer can't actually eat glitter and it could possibly make them sick so stick with sugar crystals!
This is the perfect amount to fit in one snack size baggie. You can adjust the amounts, depending on the size container you are using but, remember, the reindeer have many houses to visit so it's best to mix a small amount.
Instructions
Print the Magic Reindeer Tag, of your choice, on card stock – found below.
Cut the Reindeer Food tags.
Mix all ingredients together (listed above). You may choose to let your little ones stir the ingredients together, in a bowl, or simply add them to a snack size baggie, zip it up, and shake it around. Either way is loads of fun!
Place in a small jar or snack size baggie. A funnel works well to transfer the Reindeer Food to a jar.
Add a Magic Reindeer Food Tag onto your jar, with jute, or fold the Reindeer Food baggie tag in half and attach to your baggie, using staples.
Sprinkle on your lawn Christmas Eve night!
Magic Reindeer Food Printable Poem
SPREAD ON YOUR LAWN CHRISTMAS EVE NIGHT,
THE MOON WILL MAKE IT SHINE SO BRIGHT,
AS SANTA'S REINDEER GUIDE HIS SLEIGH,
THE SPARKLES LEAD THEM ON THEIR WAY!
This PDF document includes the following:
Magic Reindeer Food Recipe and Instructions
Magic Reindeer Food Tags – 3 styles
Magic Reindeer Food snack bag toppers – 2 styles

These snack bag toppers were made a bit wide so you can adjust the size (cut down) as needed, per your print settings.
Spread Magic Reindeer Food on your lawn Christmas Eve night so Santa's Reindeer can see the sparkles and guide his sleigh, right to your home!
Magic Reindeer Food is a festive tradition to make the magic of Christmas come alive!
Want To Give Reindeer Food As A Gift?
Add Reindeer Food to a gift like one of these:
More Christmas Ideas
Super Simple Snowman Soup In A Mug Gift
Just Poppin' By To Wish You A Merry Christmas Gift