When you can't spend Christmas with friends and family, in person, you can do the next best thing … send a Christmas Party In A Box!
You may not have the opportunity to celebrate Christmas with many of your friends and family but you still want to do something special for them. The Christmas Party In A Box allows you to celebrate with those dearest to you, from afar.
What Is A Christmas Party In A Box?
A Christmas Party In A Box is a box full of festive things that scream Christmas. Decorate the box flaps and add tinsel and you'll have a box fit for Christmas cheer!
What Do You Put In A Christmas Party In A Box?
What you put in your Christmas Box will depend on what makes Christmas special for you and the people in your life. Maybe you have a specific (shelf-stable) dessert you make every year and want to share or a homemade gift that your family enjoys each year.
Listed below are Christmas Box ideas that will give your recipients the Christmas warm and fuzzies!
This post contains affiliate links. When you purchase through an affiliate link, we receive a small commission at no additional cost to you. Disclosure.
Santa Hat – When you put on a Santa Hat, everything just becomes more jolly!
Hershey's Kisses – Because … chocolate, in Christmas colors … mmmmm.
Candy Canes – Christmas just isn't complete without a candy cane or two.
Hot Chocolate – Nothing says Christmas better than a nice, warm cup of hot chocolate. You could even put together a few Snowman Soup gifts so your recipients will have ALL of the ingredients for the best hot chocolate … ahem … Snowman Soup … ever!
Snowballs – Bring out the kid in your recipients and encourage a good old snowball fight, indoors!
Christmas Activity Sheet – It's kind of like one of those placemats that kids get at restaurants, only better!
Small Gift – Really, the whole Christmas Box is a gift but if you'd like to include a small gift, that's cool too!
Christmas Snowball – The Christmas Snowball can be used to gift money or small items, like a stick on mustache or hard candy.
Christmas Popcorn – Put these festive Just Poppin' By To Wish You A Merry Christmas tags on a bag of microwave popcorn for an easy way to get your recipients to have a poppin' good time.
Lottery Ticket – Add these festive Lotto Gift Tags to a lottery ticket, for the adults!
Tinsel – Tinsel is fluffy and fun and will make a great festive box filler.
Puzzle – Because there's something about a puzzle that attracts family members to sit down and contemplate together.
A small Christmas Sign, you've made, yourself.
Java! Java! Coffee – The coffee lovers, in your life, will certainly enjoy a special blend of coffee to welcome the holidays!
You likely won't be able to fit ALL of these items in a Christmas Box. Choose your favorites and deliver a Christmas Party to your family and friends, through the mail!
How Do You Decorate A Christmas Party In A Box?
I have created festive printables to help you decorate the box flaps of your Christmas Box!
Print the Christmas Party In A Box printables. I like to print on card stock.
Cut out the Christmas shapes.
Hole punch the ornaments and thread jute through them.
Use an adhesive applicator to adhere the box decor to your Christmas Party In A Box flaps.
You can attach your box decor just like I did or come up with your own creation!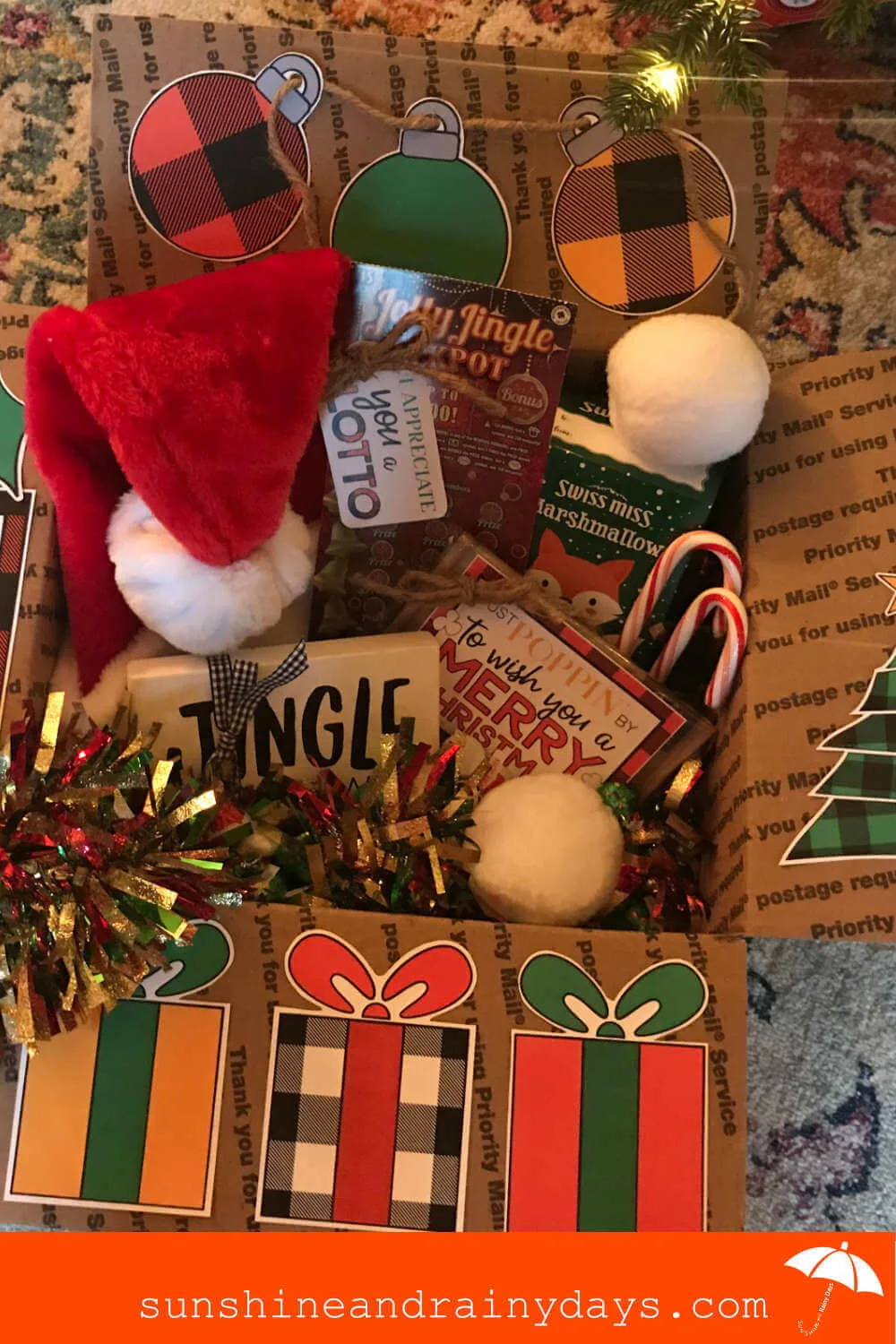 What Printables Are Included In The Christmas Box Printable Set?
The Christmas Box Printable Set includes printables to decorate your box plus labels for microwave popcorn, lottery tickets, snowman soup, and a Christmas activity sheet.
Three pages of box flap decor including: holly, ornaments, gifts, Christmas tree, and Santa in a frame that says Merry Christmas.
One page of small box flap decor (same as above) for smaller boxes.
Just Poppin' By To Wish You A Merry Christmas microwave popcorn labels.
Lottery Ticket Gift Tags – 4 different sayings on one page.
Snowman Soup Gift Tags – 8 per page.
Christmas Activity Sheet and Answer Sheet.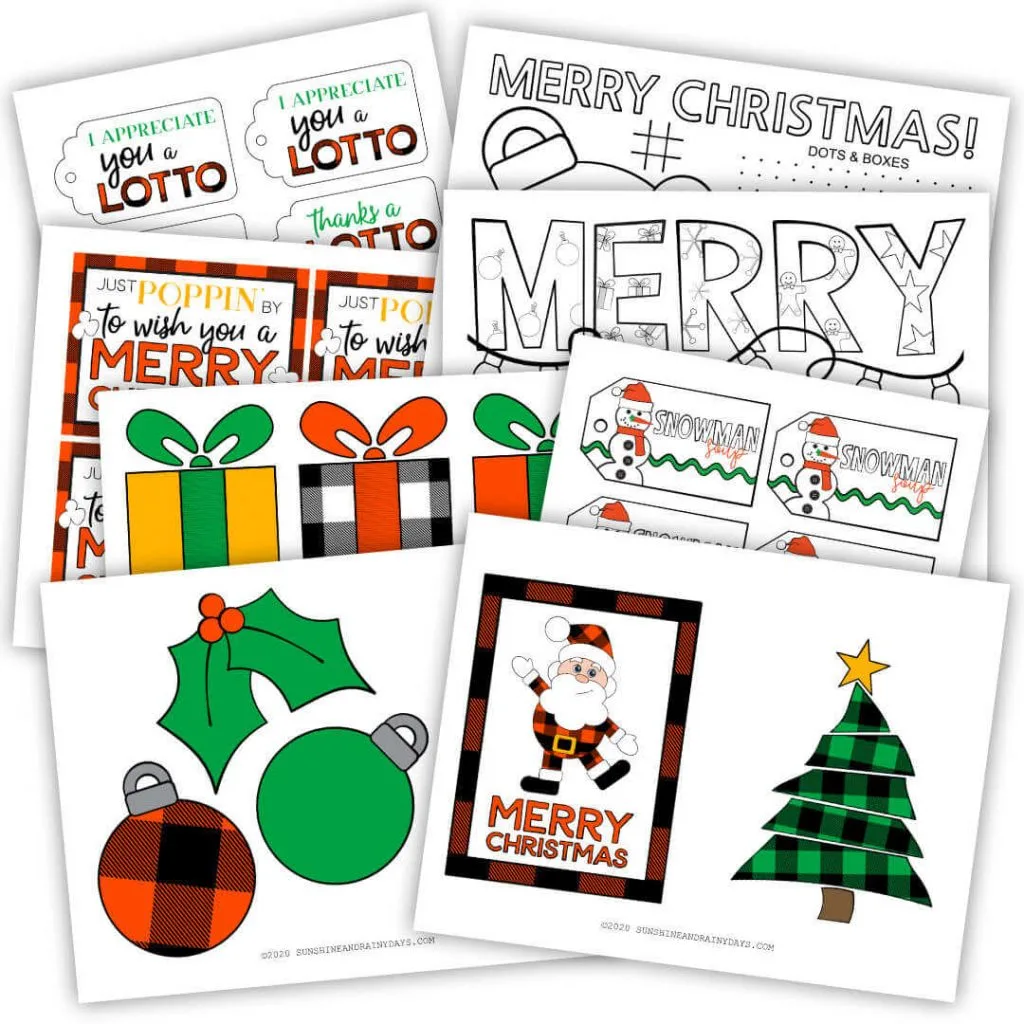 How Do I Send The Christmas Box?
It's super easy to send your Christmas Box via USPS, Priority Mail. The boxes I like to use are Priority Mail Regional Rate Box – B1. You can order them FREE, from USPS.com. You can even schedule a free pick up, right from your doorstep.
Read more about how I send packages here: How To Send A College Care Package The Smart Way
Mini Christmas Party In A Box
Every year, we send our favorite coffee to family members that live far away. This year, we decided to add a few Christmas things to make it a Mini Christmas Party In A Box!
Here's what's in the box:
Snowman Soup
Tinsel
Christmas Hershey's Kisses
Candy Cane
These boxes were super simple to put together in Regional Rate A boxes from USPS and I think they'll be appreciated!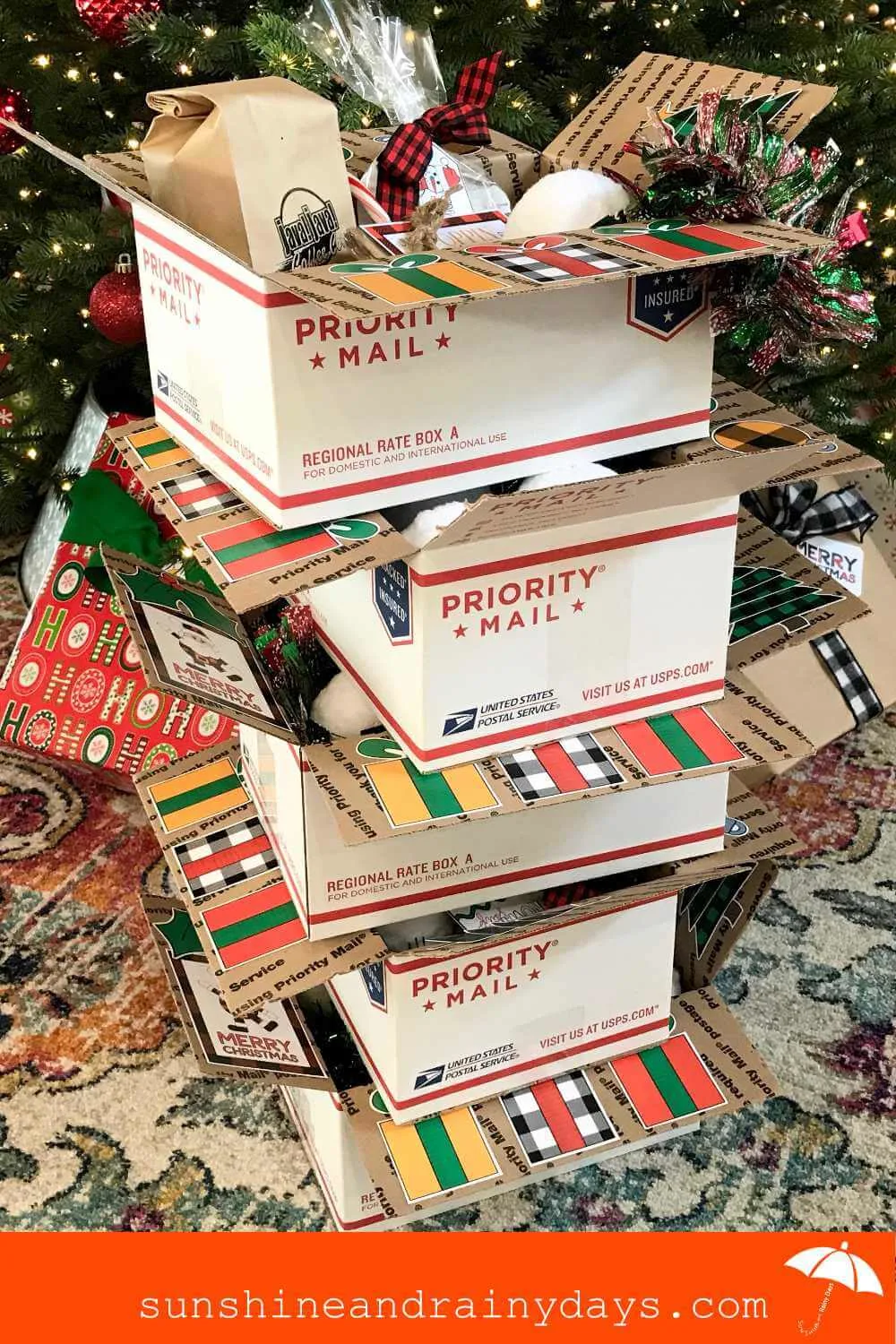 When Should The Boxes Be Opened?
Whether you send a Christmas Party In A Box to one or many … they will likely open it as soon as it's received, unless you specify otherwise.
It would be a blast to schedule a Zoom or Google Meets call and have everyone open their boxes, at the same time, for a super festive Christmas Party, online! Just write on the box, DO NOT OPEN UNTIL (DATE & TIME).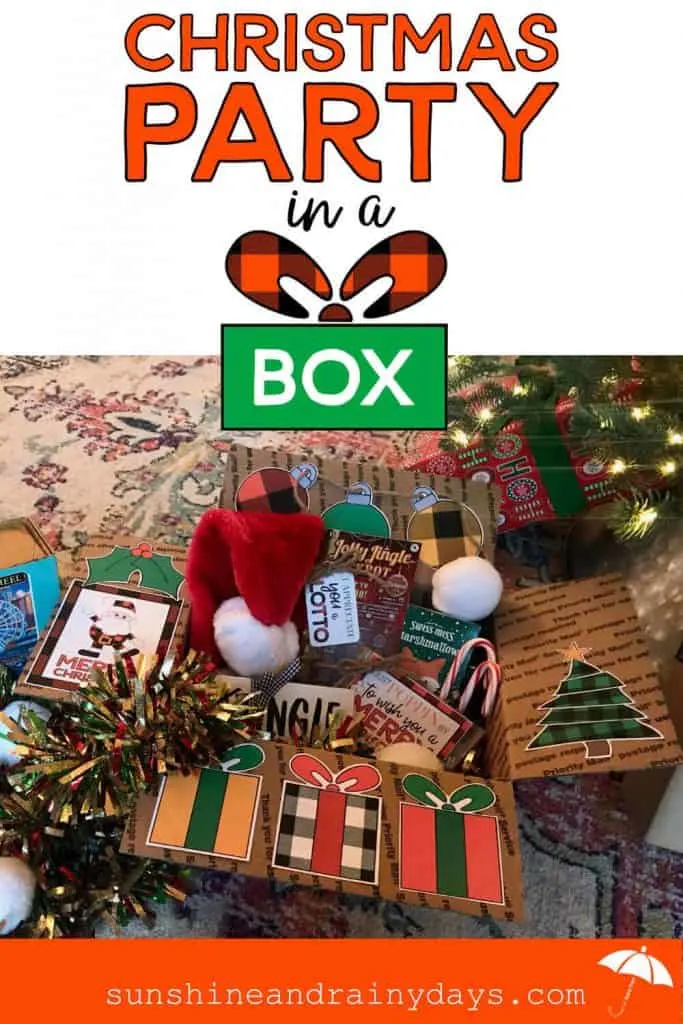 Whether you plan to celebrate Christmas in person or online … it is my wish that you have an excellent Christmas full of moments worth cherishing!
More Christmas Printables