A Side Hustle is a way make extra cash without quitting your day job. It's a chance to pursue your passions without hurting your bottom line. It could also be a job you take, on the side, in order to pay for something you really want or need to pay for. Like Chiefs Season Tickets or credit card debt.
As a stay at home mom, I love to find opportunities to make a little extra money! Ways that work around my schedule! Opportunities that don't require a time clock, bodily fluids, or an app that follows me every second of every day.
The following Side Hustle ideas are ones I believe in and have used myself!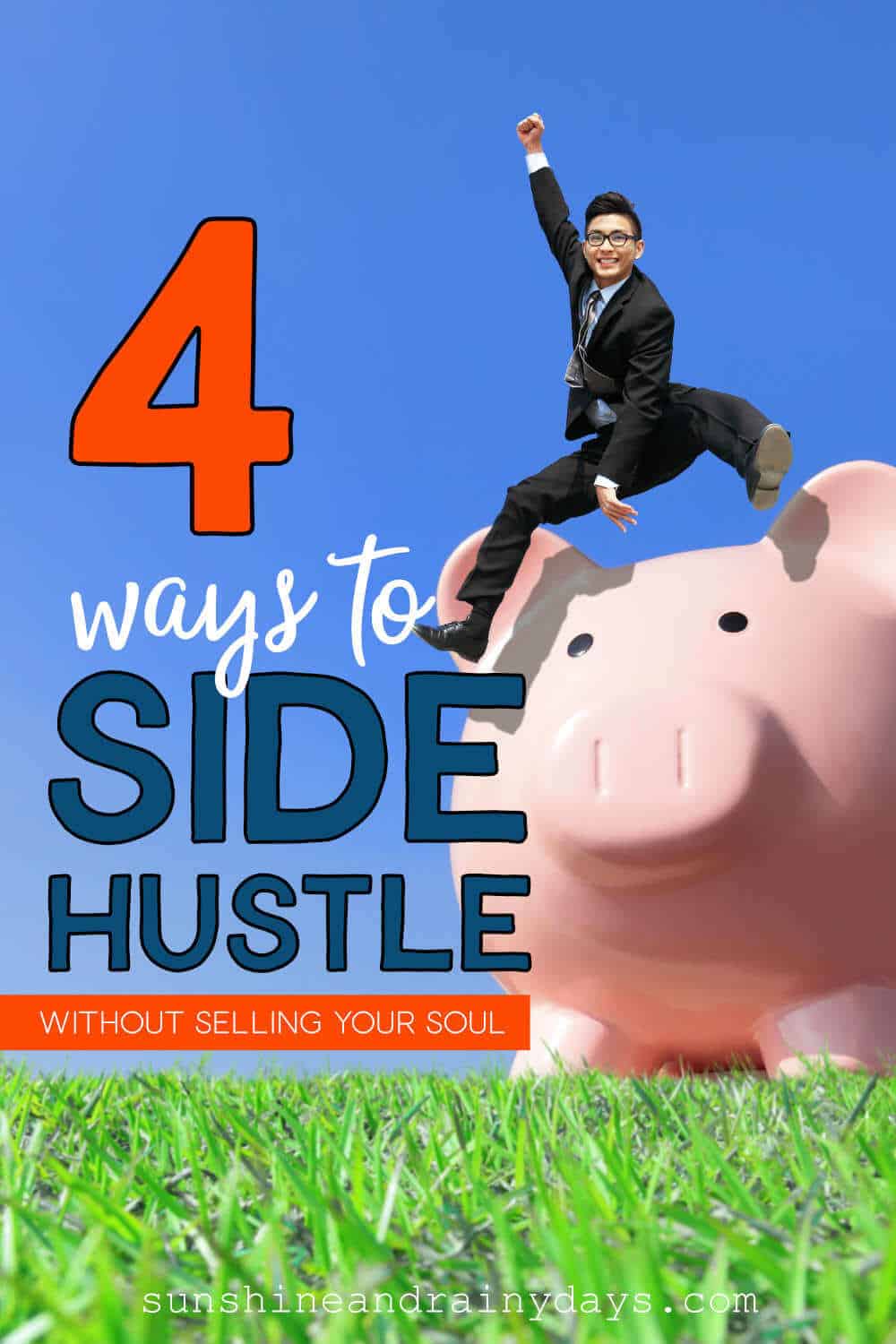 1) Sell Stuff You Make!
One year, my teenage daughter wanted to make a little cash during the summer months. She had applied at Home Depot, but when the interviewer found out she'd be going off to college soon, she didn't offer her the job. Justine needed something she could do for just a few months and not many companies want to hire for such a short term period.
I had recently built a King Size Farmhouse Bed and Garage Sale Signs and she thought she'd try her hand at building stuff, too!
Justine built Blanket Ladders, Ladder Shelves, Chalkboard A-Board Signs, and Farmhouse Signs. She even made small signs with vinyl lettering as a low cost item. Her most popular items were the small signs with vinyl lettering and chalkboard a-board signs. What she didn't sell at the market, she sold on Facebook Marketplace!
Do you have a hobby that you can turn into profit? Be sure to check with your state and city about what licenses you need and get to work!
2) Sell Stuff You No Longer Want
There's no need to hang onto stuff you don't use. Instead, turn it into cash!
Have A Garage Sale
Garage Sales are my favorite way to declutter and make a little money at the same time! Hey, why not? With over 20 years of garage sale experience, I decided to share my Garage Sale Tips with you so you can have a successful sale, too!
Sell On ebay
While you're prepping for your garage sale, you may have read How to Set Garage Sale Prices and decided you have a few things that just aren't garage sale material. No worries! You can sell it on ebay!
Sure, you can sell on Craigslist, OfferUp, or any of the other sell sites that are popping up, too. I appreciate ebay for the fact that I don't have to meet up with a stranger hoping the deal goes right or that they even show up.
Is ebay in your future? I'll tell you what you need to get started in the post Get Ready To Sell On ebay!
3) Start A Blog
Don't get me wrong, blogging isn't an easy gig. You'll work your behind off for absolutely nothing, zero, zilch in hopes that one day your beautiful site will take off! Many people have become incredibly successful with their blogs and earn a full time income. There are a few who even have their spouses working with them full time. How crazy is that?
4) Sell Digital Products
You probably are an expert at something … you just have to figure out what that something is. Then, create an ebook or PDF to sell to people online. People that want to learn what you already know!
Printables of just about every kind are totally my thing! I love to create them and am amazed that people like to buy them, too!
Of course, you have to learn how to market your digital products. I do this through Sunshine And Rainy Days. You can find most of my printables in my Shop. Many people also use platforms like Teachers Pay Teachers or Etsy to sell their digital products.
If you are interested in learning HOW to create printables and digital products, I've created a course that shares how I do it!
Are you inspired to Side Hustle?
Each of these Side Hustle opportunities have been tried and proven! Building stuff has saved us money and put cash in our pockets. Garage sales have helped us de-clutter and add a few dollars to our bottom line. Ebay earnings have been used to purchase gifts for Christmas. Blogging has been a lot of fun and added a few dollars to our budget and creating printables has been a nice income booster, over the years!
Side Hustles have become popular as a way to earn extra money to pay off debt, save for college, fund a Roth IRA, make vacations possible, or purchase those red high top Converse you've been dreaming of. The possibilities are endless!