Make your house seem bigger and your wallet fatter by simply getting rid of things you no longer use. After numerous garage sales and letting stuff go way too cheap, I discovered I could sell on eBay! eBay has been an excellent way to rid our house of excess stuff. Why not earn a little extra money from things you no longer want?
First Things, First!
Create an account at ebay.com
Sign up with paypal.com
Helpful eBay Supplies
Preparation takes the intimidation out of selling on eBay! Take time to gather the proper resources and you will be ready to tackle your eBay pile!
Priority Mail Boxes From USPS.com
Shipping Priority Mail is always a good idea as it includes USPS Tracking®. Believe it or not, your eBay customers will dutifully watch their package location. Shipping Priority Mail also alleviates any problems with the customer claiming they have not received an item.
Order a variety of Priority Mail Boxes as well as Flat Rate and Regional Rate Boxes. In some instances, it is cheaper to ship with Flat Rate and Regional Rate Boxes.
Order Priority Mail stickers to use on boxes of your own. You will place these stickers on each side of your box to ensure mail sorters know, without doubt, it is Priority Mail.
Just before Christmas a few years ago, I sent a package in a plain box with the Priority Mail sticker on the front. When I delivered the package to the Post Office, I asked the clerk if I could use Priority Mail stickers to put on each side. The clerk told me that wasn't necessary and refused. Guess what? The package arrived late, on Christmas Eve. The buyer was very upset and constantly emailing me. It is my conclusion that the package was sent Parcel Post because it wasn't marked Priority Mail, on each side.
Priority Mail Boxes can be ordered free, online, and delivered right to your door.
USPS.com also sells shipping labels and shipping scales, however, you may find them cheaper elsewhere.
Action Step
Log on to USPS.com
Order a variety of Priority Mail Boxes and Priority Mail stickers.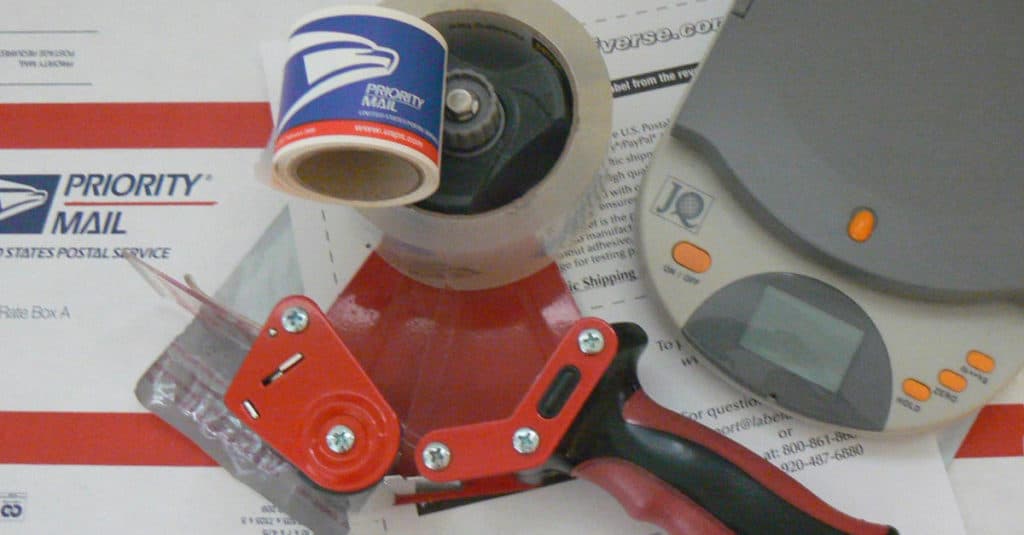 This post contains affiliate links. When you purchase through an affiliate link, we receive a small commission at no additional cost to you. Disclosure.
Poly Bags
Poly bags are an excellent way to mail items without the added weight of boxes. The 6 x 9 poly bags are great for smaller items and poly bubble mailers give you a little extra padding.
Poly Bags are an excellent way to send smaller, lightweight merchandise via First Class Mail.
Action Step
Determine what size Poly Bags you will need and place your order.
Labels
LabelUniverse sells labels that work perfectly with eBay shipping. It is also perfectly acceptable to print postage on regular typing paper and tape it to your box, although you must avoid taping over the barcode. If you choose to use Poly Bags, Labels are your best choice.
Action Step
Decide if you'd like to use paper or labels.
Scale
A scale is necessary to weigh your merchandise for shipping. This is the scale I own. It works great for weighing light weight items.
It would also be beneficial to own a scale with a digital readout that can be moved out of the way for larger packages.
Action Step
Purchase a scale!
Recycled Boxes And Envelopes
Save boxes and envelopes you receive merchandise in. You never know, they may work perfectly for something you're ready to sell.
Tape Gun
A tape gun definitely comes in handy when it's time to mail your packages.
Action Step
Purchase a Tape Gun or, at the very least, clear packing tape.
Camera
I don't use anything fancy and usually end up using my iPhone.
Action Step
Determine what you will be using to take pictures of your merchandise.
Photo Station
Currently, my photo station consists of a piece of white fabric taped (with packing tape) to the wall and resting on the top of a shelf. Quite fancy, right? It actually works quite well as it is opposite a window that creates natural light.
Many people often use Light Boxes. I never have but if you want to get super professional, it's something to consider.
Action Step
Create an area to take clear close-ups of your merchandise.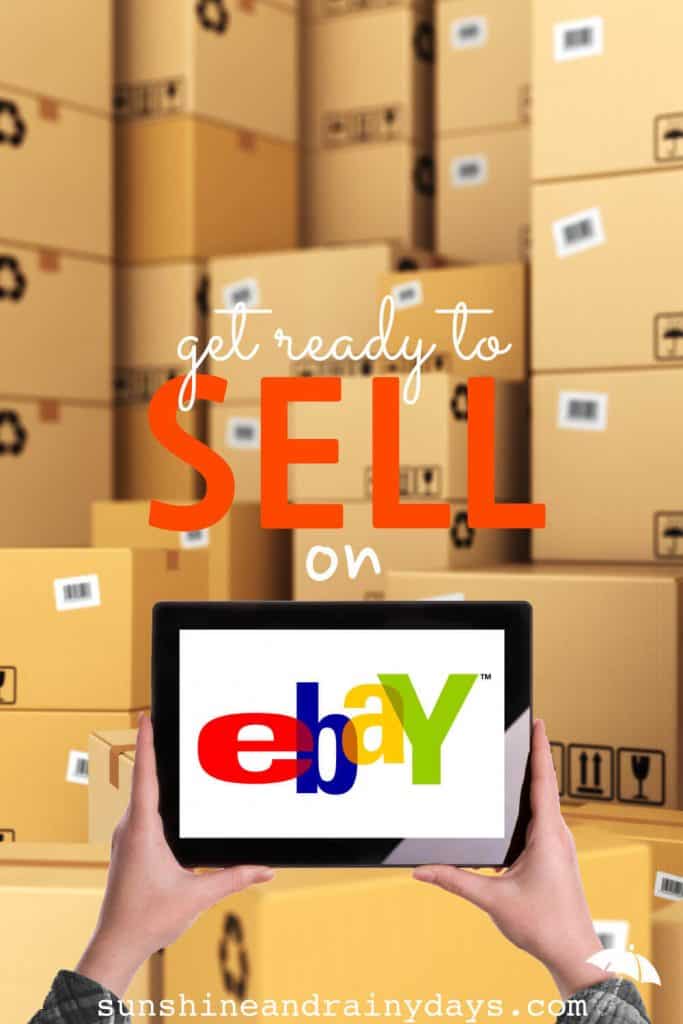 Congratulations!
You've set up your ebay and PayPal accounts, gathered supplies, and cleared the clutter. Now it's time to turn that clutter into cash!
You are ready to sell on ebay!
But WAIT! Before you get too far, check out the three things you should NEVER sell on ebay …
3 Things You Should Never Sell On eBay
I've been taking it in the shorts lately when it comes to selling on eBay. Don't get me wrong, I will still use it as a tool to sell things we no longer use or need BUT I will be more judicious on what I list on eBay.
There are three things you should never sell on eBay. That is, unless you enjoy being scammed!
It's just a shame that there are so many mean Stink-A-Lots out there willing to take a great thing and flip it upside down.
Digital Products
Have a game code you won't be using? It might be nice to sell it to someone who actually wants it, right? Maybe. Then again, maybe not.
We purchased an Xbox One for our son and it came with a game code that we had no intention of letting him use. The bonus was, we could sell it to offset the cost of the gaming console! Yay! Not so fast. A not so fine gentleman purchased the game code and requested I scratch the covering off the back and send the code through email.
Thinking I was covering myself, I took pictures of the game code pre-scratched and post-scratched next to the time and date on my computer and emailed it to the buyer. BIG mistake!
A few months later, I received an email from PayPal stating that the charge was 'unauthorized' and the amount would be withdrawn from my account unless I could prove the sell was, indeed, authorized. I sent pictures and emails and screenshots. Screenshots of this scammer's feedback which, by the way, showed he had scammed many others the exact same way. Oh, if I had only checked his feedback BEFORE I sent the code!
Alas, it didn't matter what kind of proof I had. PayPal does not give protection on digital products. Not only did they deduct $24.95 for the original purchase, they also charged a $20 chargeback fee. Ugh! Lesson learned at the hand of Sir Stinker Pants.
Digital products should never be sold on eBay!
Software
Hey, it's a way to get free software! Just order the software you're looking for, claim it doesn't work, and get your money back. Sounds like a frugal way to do business, Ahem, dishonest way no doubt, right?
Yeppers! It happened to me. I sold an expensive piece of accounting software and the buyer claimed it didn't work with his computer, filed a claim with eBay, and Whamo! got his money back.
Mechanical Items
Items with working parts. You know, anything that has moving parts that could actually break or that a buyer could claim was broken upon arrival.
Not only will you be out the cost of the item but you will also have to refund the shipping cost as well.
It doesn't matter if you state 'No Refunds'. The buyer always wins the dispute.
---
Yes, I've been hit hard lately. So hard, in fact, that I have decided to take many of my eBay listings down and sell only those items that, hopefully, a buyer would not be able to complain about. It may be easy for large corporations to 'eat' costs such as these but for a mom just trying to earn a little extra money, from items we no longer use, it's a hit to the budget.
I'm working on selling my son's LEGO collection and that has worked well so far. I'm keeping my fingers crossed!
By the way, looking for a free book? Order one on eBay and claim the copyright was listed wrong. Ba da da dum! A refund for you!
Okay, now I'm just being plain old snarky!