The Favorite Things Birthday Party is a great way to incorporate all of the Birthday person's favorite things so their party is full of everything they like!
To add an element of surprise, wrap each activity as a gift for party guests to take turns opening. Inside the gift you will place a card that explains the activity, along with any supplies or money they will need to complete the activity.
After years of well orchestrated parties, planned way in advance, it was time to simple it down. My daughter was turning 12 so she listed all of her favorite things and we picked twelve of them to share with friends.
This is what our list looked like:
Movies
Starbucks
Menchies Frozen Yogurt
Drawing
Sleepovers
Red Robin
Baseball
Games
Books
Chocolate
Music
Birthdays
Then, we prepared twelve gifts, with the necessary supplies, to complete each activity. It was a pretty impressive pile!
On party day, the girls took turns opening the gifts and we did each activity as they opened them. The fun part was we didn't know which gift they would open first! (I did know which gifts were things to drive to and threw them in the car so we weren't driving back and forth so much.)
This party took a little prep work but once party day was here we all got to enjoy the day as it came! So. Much. FUN!
The awesome part is you can do a party this way and spend a little or a lot depending on the activities you choose!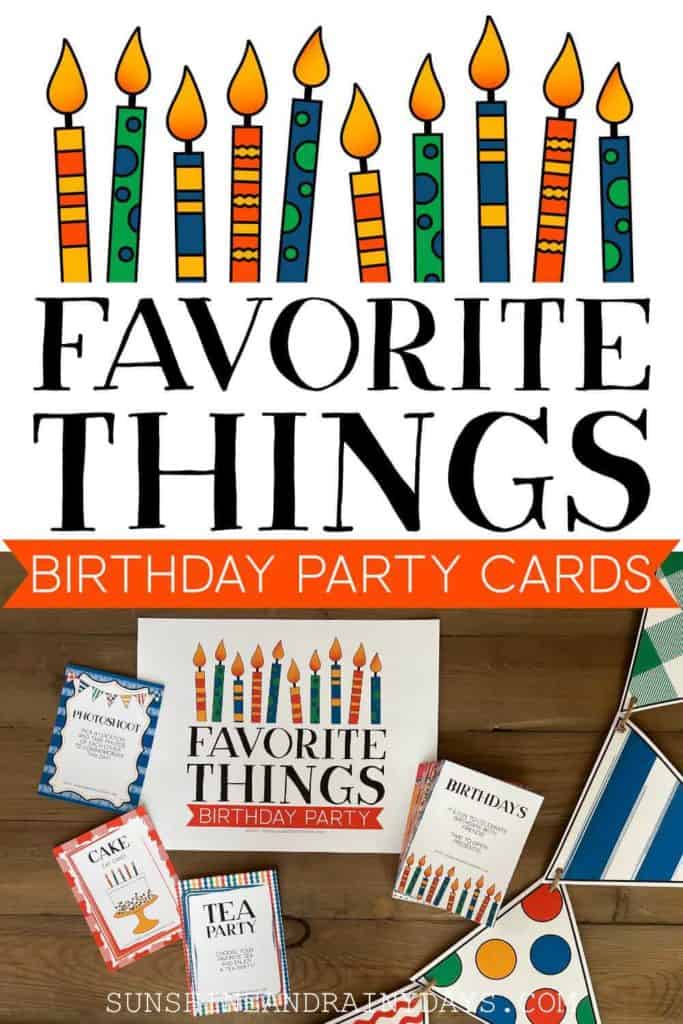 How To Throw A Surprising Favorite Things Birthday Party
Have the Birthday person list their favorite things.
Choose how many favorite things you will do, depending on time constraints.
Gather supplies for the favorite things you chose.
Wrap each favorite thing, along with any supplies needed.
Open one gift at a time (let the guests take turns opening gifts), completing the favorite task or thing before moving on to the next.
Favorite Things Ideas
This post contains affiliate links. When you purchase through an affiliate link, we receive a small commission at no additional cost to you. Disclosure.
Listed below are many favorite things ideas to get your creative juices flowing! Use these ideas or create your own. Just be sure they are things the Birthday person enjoys!
For the most exciting Favorite Things Party, combine a few food ideas, at home ideas, and adventure ideas.
All of the ideas below are included in the Surprising Favorite Things Birthday Party PDF – found below.
Food Ideas
Frozen Yogurt
Go directly to the nearest frozen yogurt shop and enjoy a scrumptious treat!
Include a gift card to the nearest frozen yogurt shop.
Hungry?
Enjoy a favorite restaurant for lunch, dinner, dunch, or whatever this might be.
Include a gift card to the Birthday person's favorite restaurant.
Coffee
Head to a nearby coffee stand and order your favorite drink!
Include a gift card to the Birthday person's favorite coffee stand.
Treat
Enjoy a favorite treat!
Include the Birthday person's favorite treat, in the box.
Snack
This snack is just for you!
Include a favorite snack of the Birthday person.
Cookies
Decorate a cookie and enjoy the tasty treat!
The Cookie Box should include:
Sugar Cookies
Frosting
Sprinkles
Paper Plates
Napkins
S'mores
Enjoy an all time favorite treat!
The S'mores Box should include:
Tea Party
Choose your favorite tea and enjoy a tea party!
Tea Party Box Ideas:
A Variety Of Teas
Tea Kettle
Tea Cups
Spoons
Honey or Sugar
Recipe
Use these ingredients to create a dish worthy to eat!
Include the ingredients for a favorite recipe with directions to find perishable items in the fridge.
Here's a favorite of ours: Cookie Dough Balls
Cake
Eat Cake!
Cake Box Ideas:
Paper Plates
Forks
Napkins
Cake – the cake should probably be left on the counter!
At Home Ideas
Drawing
Use the enclosed supplies to draw a picture then decorate the walls with your masterpiece!
Things to include in a Drawing Box:
Paper
Color Pencils, Crayons, etc.
Blue Tape
Music
Listening to music is an all time favorite thing to do! Create a new playlist and each load your favorite song!
Dance Party
Crank the music and dance to one song! Not just any dance. Make it the most ridiculous dance session you've ever witnessed!
Birthdays
It's fun to celebrate Birthdays with friends! Time to open presents!
Game
Take some time to play!
Include the Birthday person's favorite board game.
Puzzle
Take time to put the pieces together as you chat about anything you desire.
Include a puzzle.
Video Game
Take a bit of time to play!
Include a video game that's a favorite of the Birthday person.
Create A TikTok
Get together and create a TikTok you can all be proud of!
Craft
Get creative with these craft supplies!
Include the supplies to create a fun craft the Birthday person would love!
DIY
It's time to DIY! Use these supplies to create a treasure you'll keep forever!
Include supplies for a DIY project!
Sleepover Box
The enclosed supplies will help you party the night away!
Sleepover Box Ideas:
Microwave Popcorn
Pirate's Booty
Red Vines
Glow Sticks
Candy Bars
Movie
Disco Light
Adventure Ideas
Movie
Who doesn't love a great show? Find a theater and movie to see.
Things to include in a Movie Box:
Money or movie theater tickets. You may want guests to choose which theater they go to and, in that case, money would be the best choice.
Candy
Baseball
Time to hit a few balls! Go hit (or attempt to hit) 12 balls each.
Include a gift card to a local family fun park.
Books
Find the nearest book store and purchase one new book for yourself!
Include a gift card to the nearest book store.
Arcade
Play a game or two at the arcade!
Include a gift card to a nearby arcade.
Putt-Putt
It's time for mini golf!
Include a gift card to a nearby mini golf place.
Go Karts
Head to the go kart place for a drive!
Include a gift card for a go kart place that's nearby.
Walk
Head out for a short walk and enjoy the sights you see!
Hoops
Go shoot hoops!
Wrap a basketball and directions to the nearest basketball hoop.
Jump
You might as well jump!
Include a gift card to a local adventure park or directions to go outside and jump on a trampoline!
Swing
Find a swing at a nearby park and take turns touching the sky with your toes!
Swim
Head to the pool and splash a while!
Include a gift card to a local swimming pool or, if you have a pool, they can head to the backyard.
Mural
They adorn buildings and show the talent or artists. Take a picture in front of a mural!
This is a fun opportunity if you have buildings with murals painted on them, nearby.
Explore
Head to a nearby town to see the sights or window shop on main street!
Give each party guest a set dollar amount to spend, as they explore.
Shop
Use this $$$ and head to the store to purchase a new outfit for the Birthday girl!
Include $$$ for party guests to purchase a new outfit for the Birthday girl!
Photoshoot
Pick a location and take photos of each other to commemorate this day!
Picnic
Enjoy a picnic in the great outdoors!
Picnic Ideas:
Picnic Basket
Drinks
Sandwiches – You may want to include directions to get the sandwiches out of the refrigerator!
Chips
Brownies
Ride
There's a ride nearby, waiting for you to laugh with joy!
Include tickets to a nearby fun center, carnival, or fair.
Bowl
Head out to the bowling alley for one game!
Include a gift card to a local bowling alley.
Sightsee
Choose a nearby spot to sightsee and take pictures like a tourist would.
You might encourage a destination location or something simple, like a walk to see a nearby attraction.
Sightsee Box Ideas:
Sunglasses
Bucket Hats
Umbrella
Drawstring Backpacks
Water Bottles
Get Your Favorite Things Birthday Party Cards Here!
These cards include all of the ideas above plus four blank cards you can use as you like!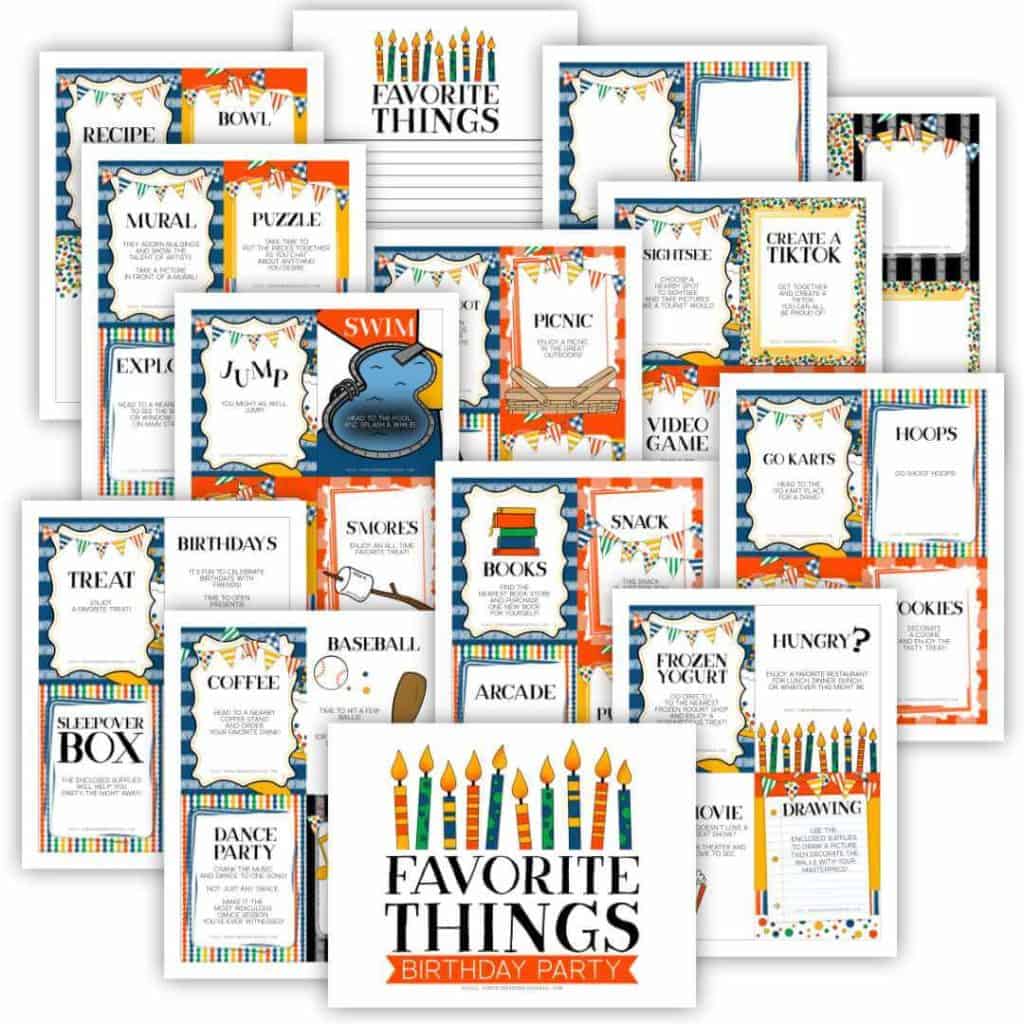 The Favorite Things Birthday Party is a fun way to celebrate any age!
If you are throwing a Birthday Party for a teenager, this is a great way for teenagers to self-direct their own party, with you standing in the sidelines, since you've already done the work. You just provide the rides!
More Birthday Party Ideas
Guess How Many Birthday Party Game
Birthday Banners You Can Print At Home
Happy Birthday Card Free Printable
Creative Birthday Party Ideas For Teenagers