Teenagers love to party and their Birthdays are no exception BUT the kind of party they enjoy will be much different from the parties you threw for them in elementary school. Creative Birthday party ideas for teenagers are ones where the parents are a bit more hands off, leaving their teen and friends in charge … with a little guidance.
That doesn't mean you should let them loose without any form of structure. It just means the structure will be a little more flexible because you've done the groundwork, ahead of time.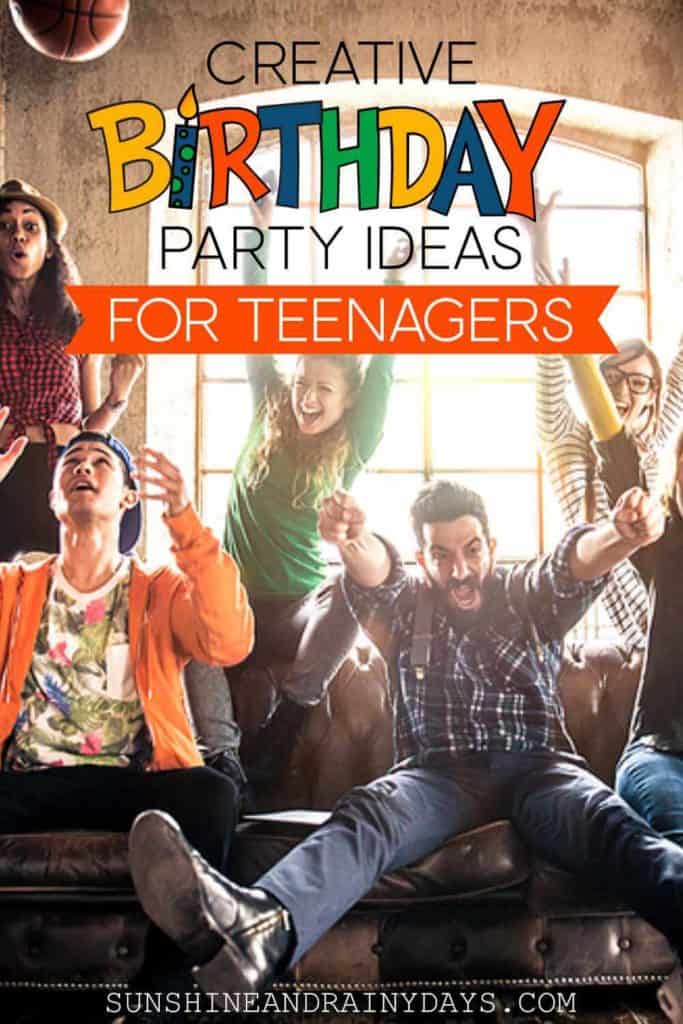 Birthday Adventure
Take your Birthday teen and friends on an adventure to a nearby town. Check out all the cool things about the town, ahead of time, and create a bit of a scavenger hunt to visit those spots.
One year, we took a group of Justine's friends on a day trip to Seattle. We created envelopes of each activity they would do and handed them each envelope, when the time was right. The envelopes held clues to the next activity and anything they would need to do the activity.
Here's what the invitation said:
We would love to have you join us as we help Justine enter her teenage years with a day of Top Secret Adventure! We will enjoy some old and some new experiences. Your tummy may flop, your sunglasses get splashed, you may go up and down and round and round, it may even be a little fishy! Wear your Tourist Attire: walking shoes, camera, sunglasses, sunscreen, drawstring backpack, and sweatshirt/jacket.
The envelopes held clues to go to the following spots in Seattle:
Subway at Fisher Plaza for lunch
Ride The Ducks – We bought each of them a quacker (noisemakers in the shape of a duck bill) so they could look like true tourists!
The Seattle Monorail
Pike Place Market – Where we gave them each a few ones with instructions to enjoy the music and to tip their favorite buskers.
Original Starbucks – Where they each ordered a drink.
The Gum Wall
The Great Wheel
Red Robin For Dinner
The Space Needle
This was probably one of the most expensive Birthday Parties we've hosted but the memories … oh, the memories!
Justine and her friends knew they were on a day long adventure but they didn't know what places they would visit until they opened the next envelope.
A Birthday Adventure could be done in any town and on any budget. Think outside the box and have fun visiting the hot spots in a town nearby!
Favorite Things
The Favorite Things Birthday Party is a great way to incorporate all of your teenager's favorite things so their party is full of everything they like!
To add an element of surprise, wrap each activity as a gift for party guests to take turns opening. Inside the gift you will place a card that explains the activity, along with any supplies or money they will need to complete the activity.
This is a great way for teenagers to self-direct their own party, with you standing in the sidelines, since you've already done the work.
Here's what Justine's Favorite Things Birthday Party Invitation said:
Justine has picked her favorite things and wants to share the experience with you! Fun and full of surprises, this will be a day for adventure!
Here are the favorite things/activities we wrapped:
Baseball – Time to hit a few balls! Go to Mike & Terry's and hit (or attempt to hit) 12 balls each!
Red Robin – Hungry? Enjoy one of Justine's favorite restaurants for lunch, dinner, dunch, whatever this might be.
Games – Apples to Apples is Justine's favorite board game and Just Dance 3 is her favorite video game. Take some time to play!
Books – Justine loves to read. Find the nearest book store and purchase a new book for yourself!
Chocolate – Enjoy one of Justine's favorite treats!
Drawing – Justine loves to draw. Use the enclosed supplies to draw a picture for Justine. Decorate her room with your drawings!
Birthdays – Justine loves to celebrate her Birthday with friends! Time to open presents!
Menchie's – Mmmm! Go directly to Menchie's and enjoy a scrumptious treat! (Menchie's is a frozen yogurt place.)
Music – Listening to music is one of Justine's favorite things to do. Use this iTunes card and load your favorite songs on Justine's phone for her to enjoy and think of you every time she listens!
Movies – Who doesn't love a great show? Find a theater and movie to see right now! Go!
Starbucks – Go directly to Starbucks where Justine enjoys her favorite drink.
Sleepover Box – This box was full of snacks, glow bracelets, and other fun stuff any teenager would like for a sleepover.
The great thing about this favorite things party was the party guests took turns opening an activity and then they did the activity as soon as they opened it. It was totally self-directed, we just provided rides when needed!
Mall Challenge
Every mall is different but all malls have activities you can challenge your Birthday teen and friends to do. Give them a checklist, supplies and money to complete the challenges, and an end time. You can even awkwardly follow them around as they accomplish their tasks!
Here are a few ideas from a Mall Challenge we did to get you thinking creatively:
Ride one kiddie ride!
Purchase a bouncy ball. (Old Navy used to have a giant gumball type vending machine where you could put a quarter in and get a bouncy ball.)
Go rock climbing.
Get Blown away. (Are wind machines still around?)
Ride the carousel.
Jump for your life on a bungee trampoline.
Visit the arcade.
Collectively purchase an outfit for the Birthday girl or boy.
Say 'Cheese' in a photo booth.
Watch a penny go down the funnel.
You deserve a break! Get a 3 minute massage.
That was a pretty cool mall! No matter what mall is nearby, you should be able to find fun activities for the Birthday crew!
Each person who completes all of the challenges gets a prize before you head to dinner at a mall restaurant.
Birthday Hang Out
Sometimes teens want nothing more than time to hang out with their friends! In this case, purchase outdoor toys like huge beach balls, hula hoops, pool noodles, chalk, + more! Leave them out where party guests will see or even trip over them. You'll be amazed that your teenagers will enjoy toys from their childhood while hanging out with their friends.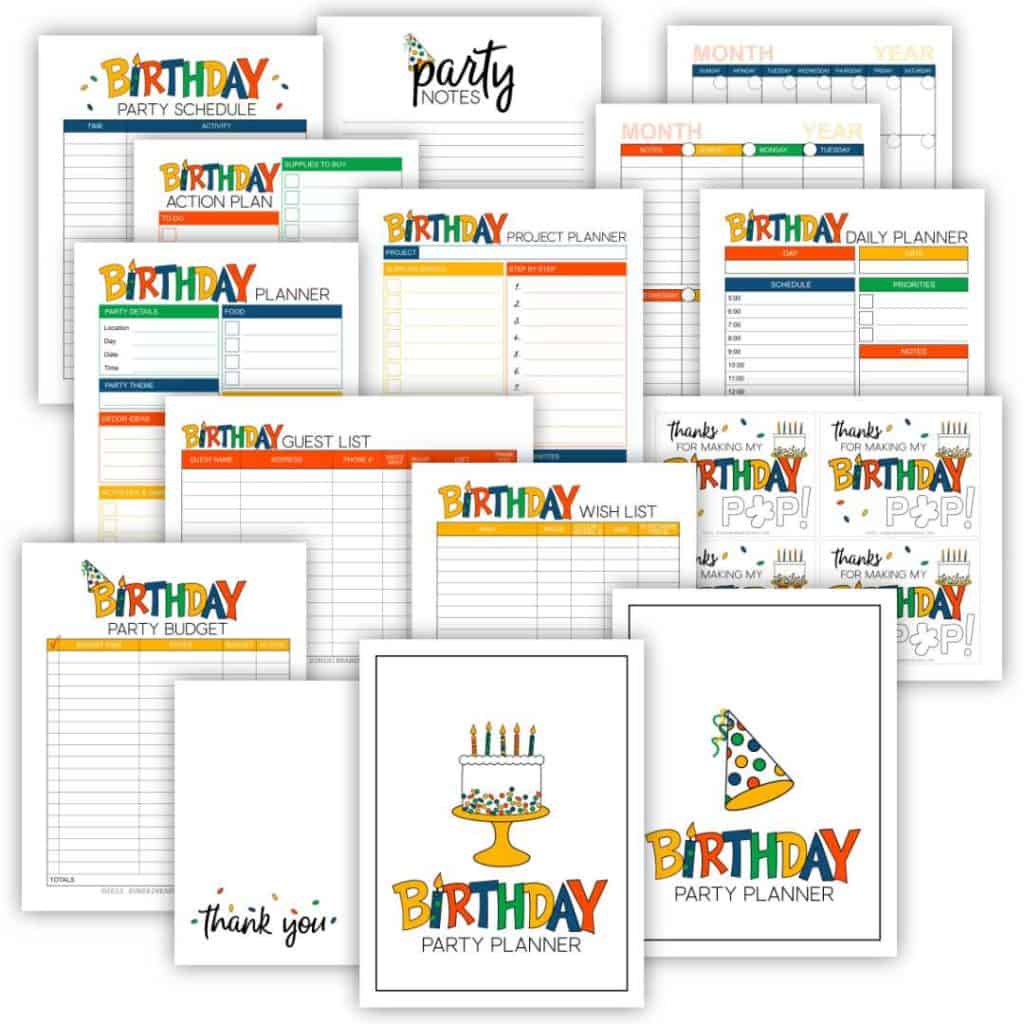 When planning a Birthday party for your teenager, the main thing is to provide self-directed activities that keep them moving in order to avoid awkward silence and boredom.
More Birthday Ideas
Large Printable Happy Birthday Banner