You've decided to take the plunge into the gardening world and grow your own fruits and vegetables! But what should you grow? You visit a garden center and contemplate picking up starts that look healthy and that everyone else seems to be picking up. Then, you take pause and decide to give it a little more thought. After all, you do want to actually Eat What You Grow!
I like zucchini! I'm the only one in the house who eats it and I decided to grow it just for me! Somehow, we ended up with six zucchini starts. No worries though, I could freeze what I didn't eat instead of leaving it at my neighbors' doorsteps. I'm just kind that way! Guess what? We froze A LOT of zucchini.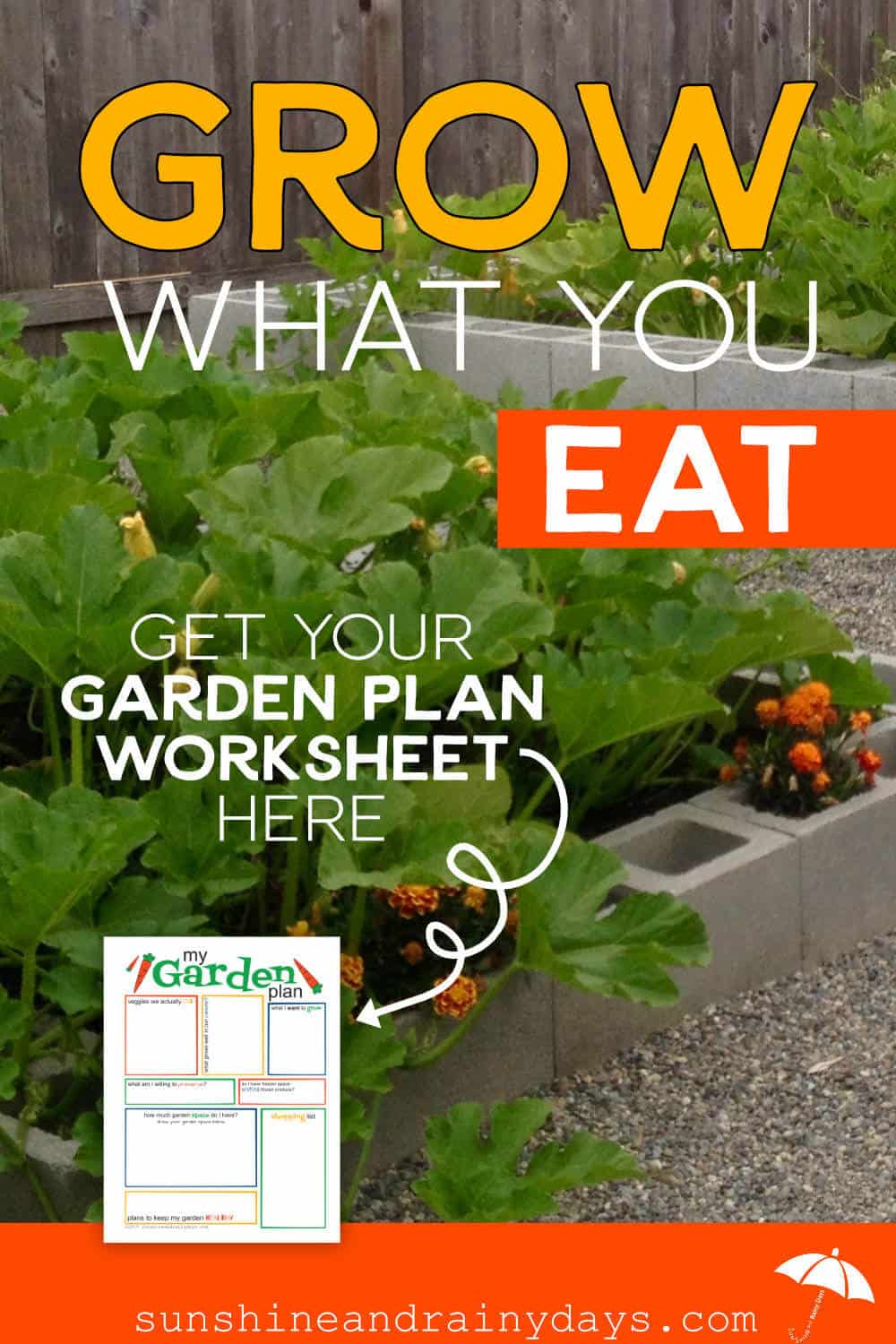 Grow what you Eat, Eat what you Grow
This post contains affiliate links. See our disclosure.
Consider what veggies you normally eat, how much space you have to grow, what your climate dictates, and what can easily be preserved.
What Veggies Do You Actually Eat?
If you never eat okra, chances are you won't necessarily want to eat it from your garden either. Sure it's a fun novelty, and you might even be tempted to try something new, but it's always best to stick to the tried and true!
1. While grocery shopping, what ends up in your cart from the produce isle?
Lettuce
Onion
Cilantro
Green Pepper
Tomatoes
Zucchini
Carrots
Green Beans
Potatoes
2. What about the frozen section?
Hash Browns
Mixed Veggies
Corn
3. Are there canned goods you purchase that you don't have to?
Tomato Sauce
Pureed Pumpkin
4. How many family members eat the fruit or vegetable?
If you're the only one who eats green beans, you probably don't want to fill your garden with them but a few plants for you will do!
Woo Hoo! Just by answering a few questions, you have a great idea of what you'd like to grow!
How Much Space Do You Have?
Now that you have a list of seeds and starts to purchase, it's easy to go a little crazy! STOP! Consider how much space you have to grow that delicious goodness!
If you're starting out with a cute little container garden, choose the vegetables you use the most. We still have two container gardens and we continue to use them. They actually work quite well!
Have you built a few raised garden beds or have great soil to work with? Grow what you will eat during the growing season.
If you've grown your garden to a massive space, you will more than likely be able to preserve garden goodness to last you throughout the year!
You might also want to grow your very own pumpkin patch! No need to visit a fake patch, with trucked in pumpkins, here. We got REAL!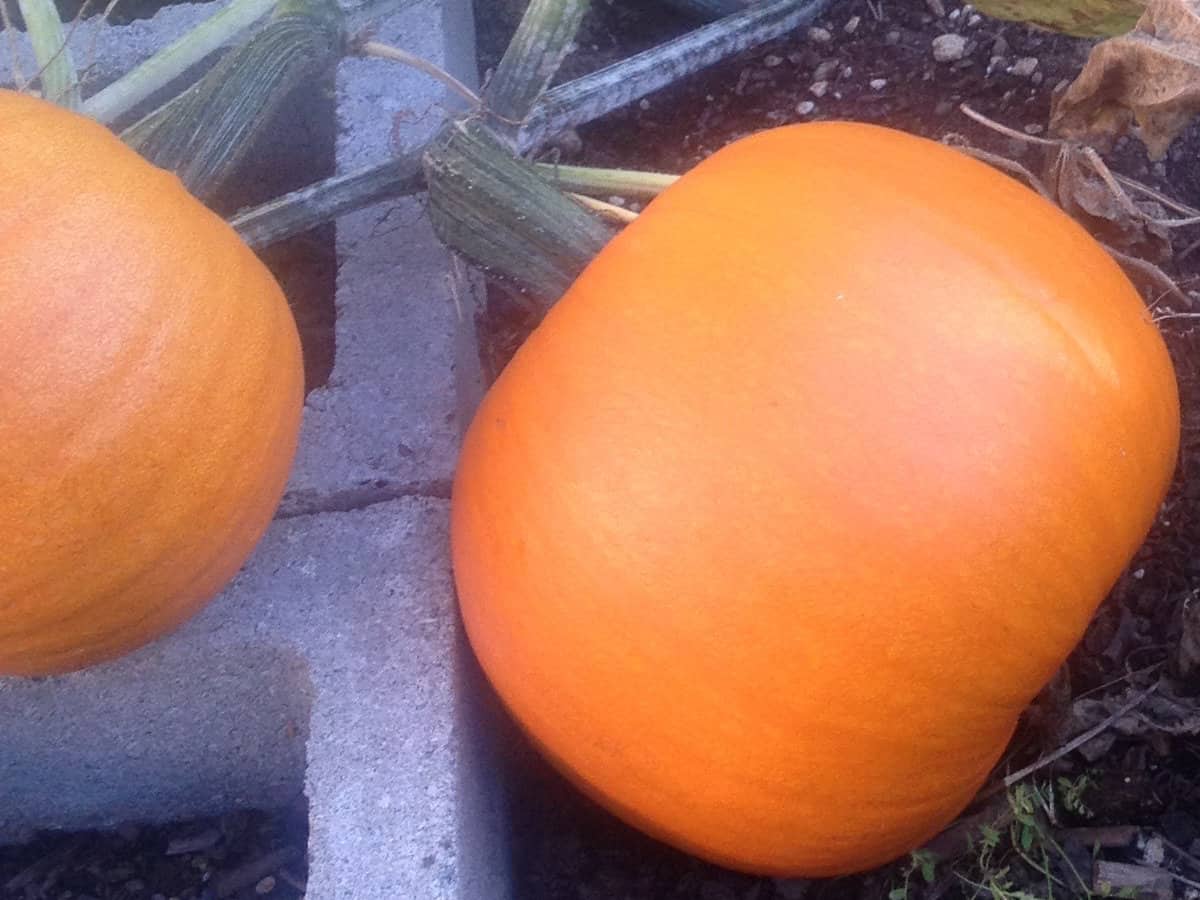 I have to admit, I was a little sad to send the teenagers off to a pumpkin carving event with these beautiful pumpkins. I was missing out on roasting those scrumptious seeds and preserving pumpkin puree. It was a money saver though! That's a huge bonus!
There's no need to plant eight zucchini plants unless you're certain your neighbors want all of that extra zucchini!
What Grows In Your Climate?
Oranges may find their way into my grocery cart but that doesn't mean it would be a good idea to plant an orange tree in my back yard. Check out Mother Earth News to set yourself up for success!
What Can Be Preserved?
If you want the garden goodness to last and last, what can be easily preserved?
I have never learned to can but we do have an extra freezer in the garage that is happy to hold loads of frozen goodness!
Get Your Garden Plan Worksheet Here:
Obviously, this article slants heavily toward the fruits and vegetables we like to grow in our own garden! Yours will be different.
You will grow what YOU eat!
What do you normally eat?
What do you have space to grow?
What grows well in your climate?
What would you like to preserve?
Guess what? I don't like frozen zucchini. It was mushy and tough, all at the same time. We threw away A LOT of zucchini.
From now on, I will grow enough zucchini to eat during the growing season. It's fabulous fresh! Now, if I could just convince the rest of the family!
More Garden Resources
How To Build A Cinder Block Raised Garden Bed