We have painted two tables and learned a few tips for painting a kitchen table to share with you so you can confidently paint your table and avoid the mistakes we made.
This post contains affiliate links. When you purchase through an affiliate link, we receive a small commission at no additional cost to you. Disclosure.
Our upholstered barstools for our counter-height kitchen table had seen better days. They were ripped at the seams, and you could see the stuffing underneath. They were upholstered in fake leather that had become scratched and worn. So, many people recommended the Bistro Distressed Wood Barstools from World Market. We liked the look of these barstools, but they didn't necessarily match our kitchen table.
Matching stains on the barstools to the table would have been next to impossible, so we decided we would paint our table, which was also quite worn. Since we had painted another kitchen table for our daughter's college house, we knew this was a good option.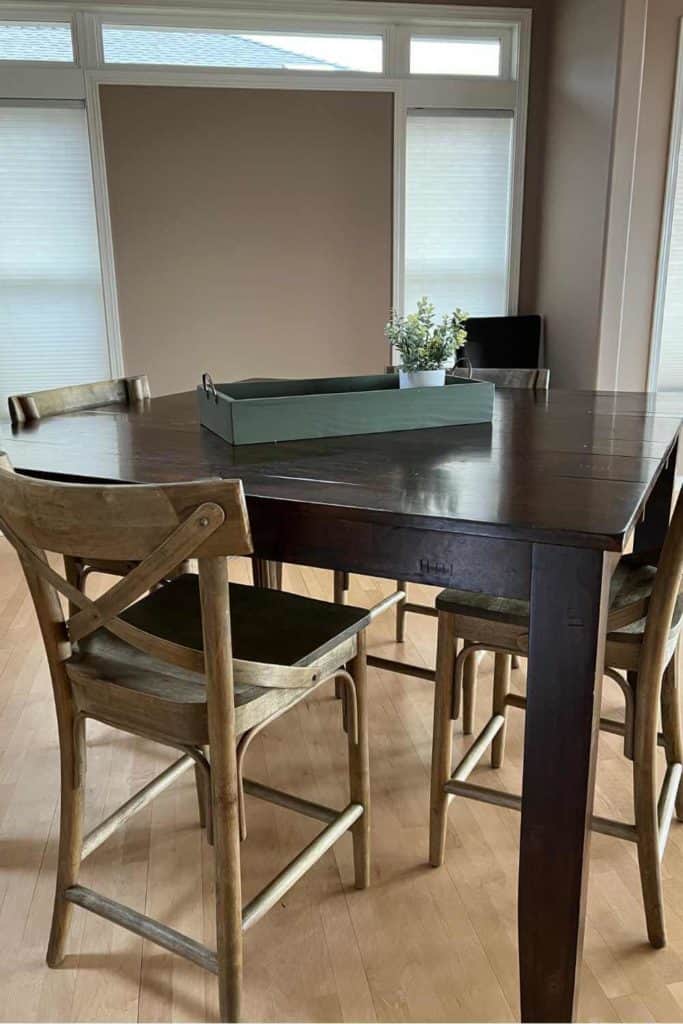 Many people prefer the look of wood, and that's okay too! If we weren't trying to match the table to the barstools, I probably would have refinished the table in a different stain, but I knew the different woods wouldn't look right.
I can't claim to be a professional table painter. I can only tell you my experience with painting tables and let you know how they've held up.
When you paint a kitchen table, does the paint hold up okay?
You may be concerned about paint chipping on a painted table or scratches on the surface. These are real concerns and ones I had as well.
Justine has now graduated from college and lives in our remodeled basement, which is more like an apartment, along with our son, Jack. We moved her college house table home for them to use downstairs, which has held up quite well. I found a chip on one of the legs, but that's pretty good for a few years of use and two moves across state lines in the back of a Chevy Silverado with all of her belongings packed around it.
My conclusion is that painted tables hold up quite well when care is taken to follow the proper steps in painting your table.
What kind of paint should you use on a kitchen table?
We chose to use Fusion Mineral Paint for the tables we painted, our entryway benches, and our daughter's chest of drawers. All have held up quite well.
I like Fusion Mineral Paint because it doesn't require sanding or a finish (although a tabletop could use a good finish). On this table, I used a deglosser, following the bottle's instructions, to prep our table.
A foam roller and a Wooster Shortcut Polyester Brush to paint the table worked great.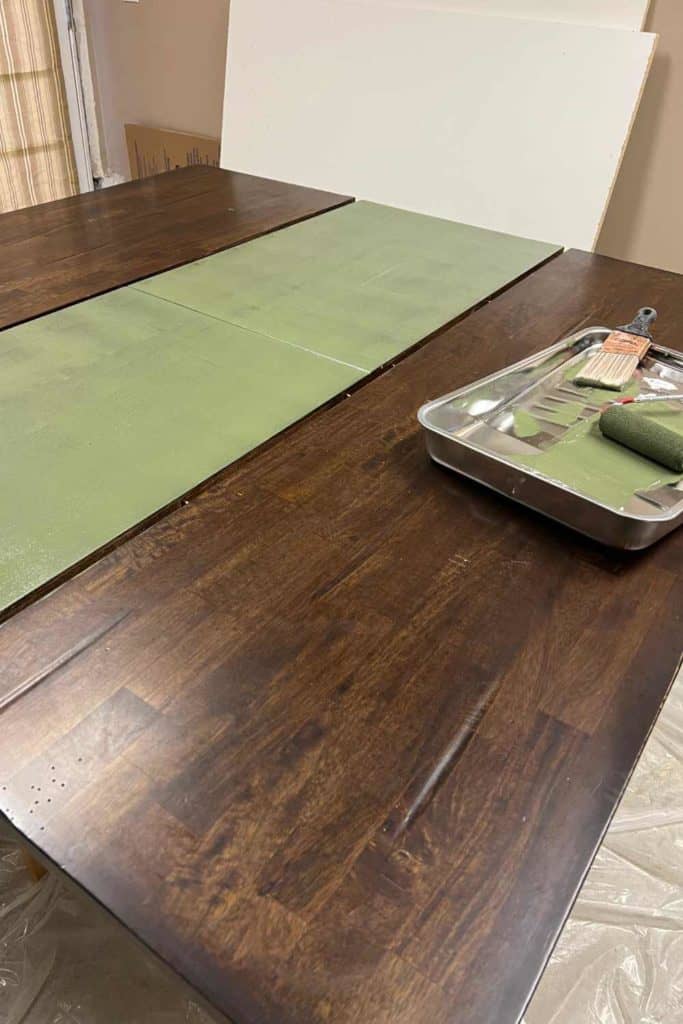 I did three very light coats of Fusion Mineral Paint in Bayberry.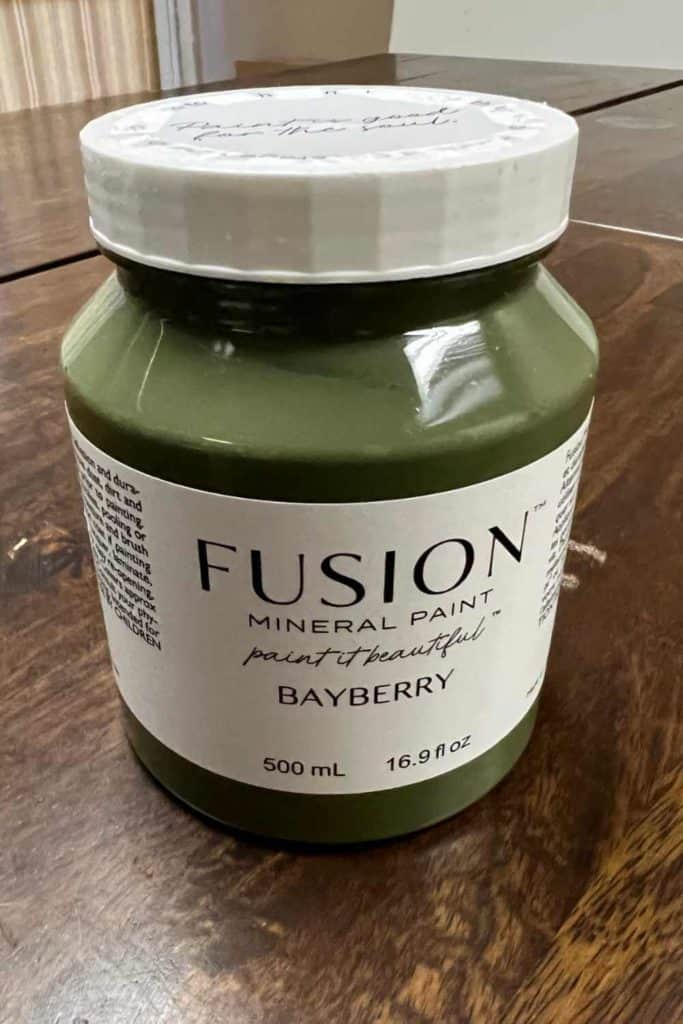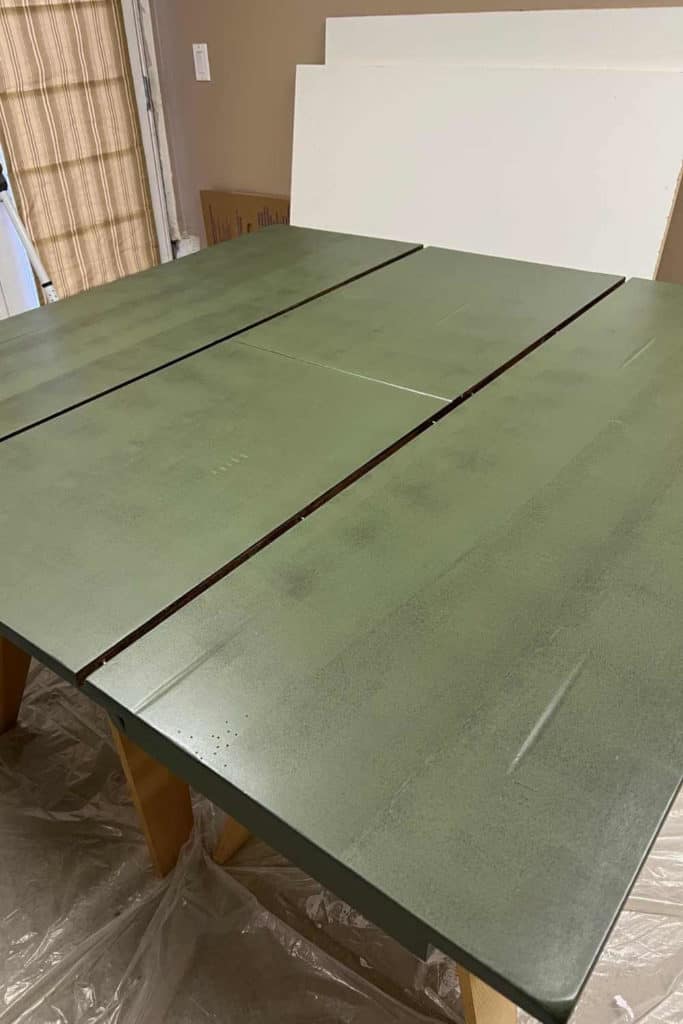 Should you use a finish on a kitchen table?
Although Fusion Mineral Paint doesn't require a finish, a high-traffic piece like a table that's been painted would probably last longer with a good finish.
Oil-based polyurethane is best used on wood finishes as it can turn yellow and change the color of a painted surface. As you can see, with my daughter's painted table, we used an oil-based finish we had on hand, which changed the color. We were trying to do that project with minimal cost, so we went with it.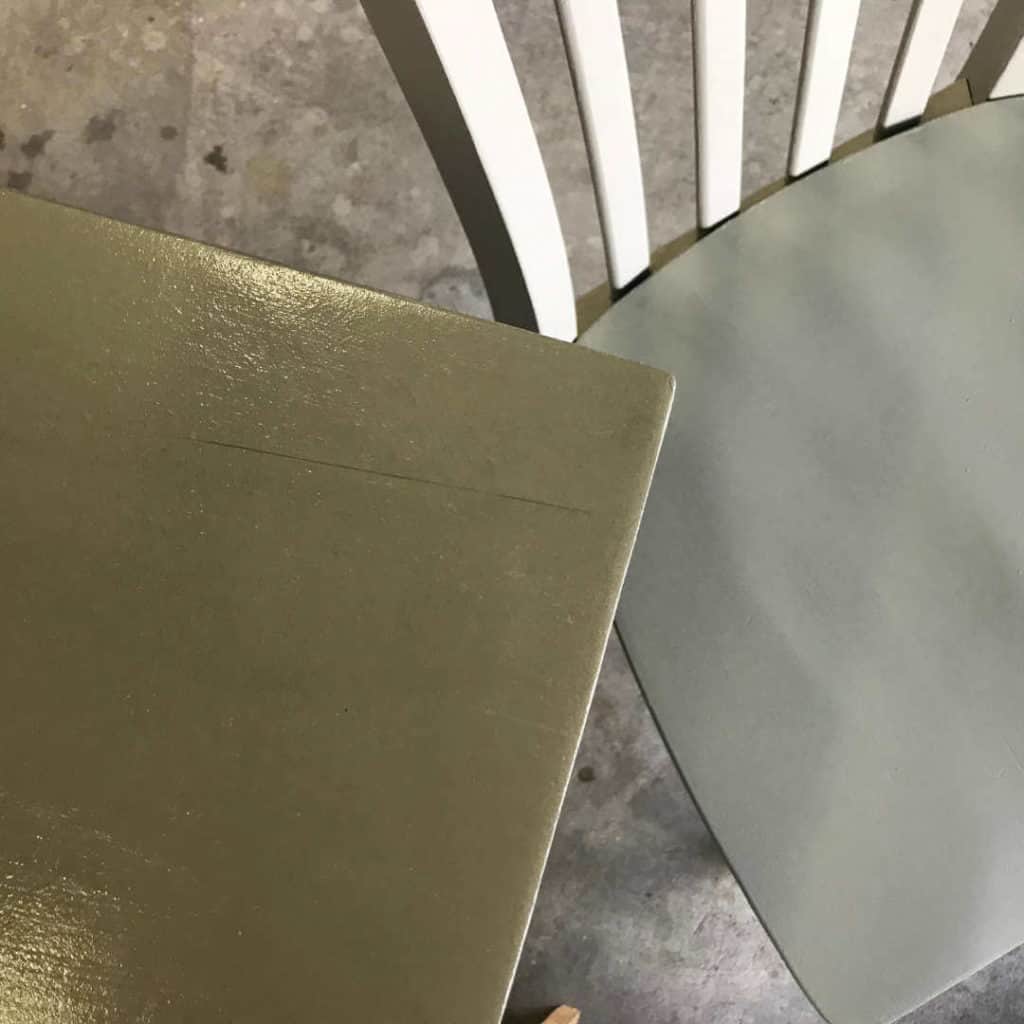 Water-based polyurethane is best for painted surfaces because it doesn't change the color. We used a water-based finish on our kitchen table, which didn't change the color at all. It is simply a little shinier, but it's barely noticeable.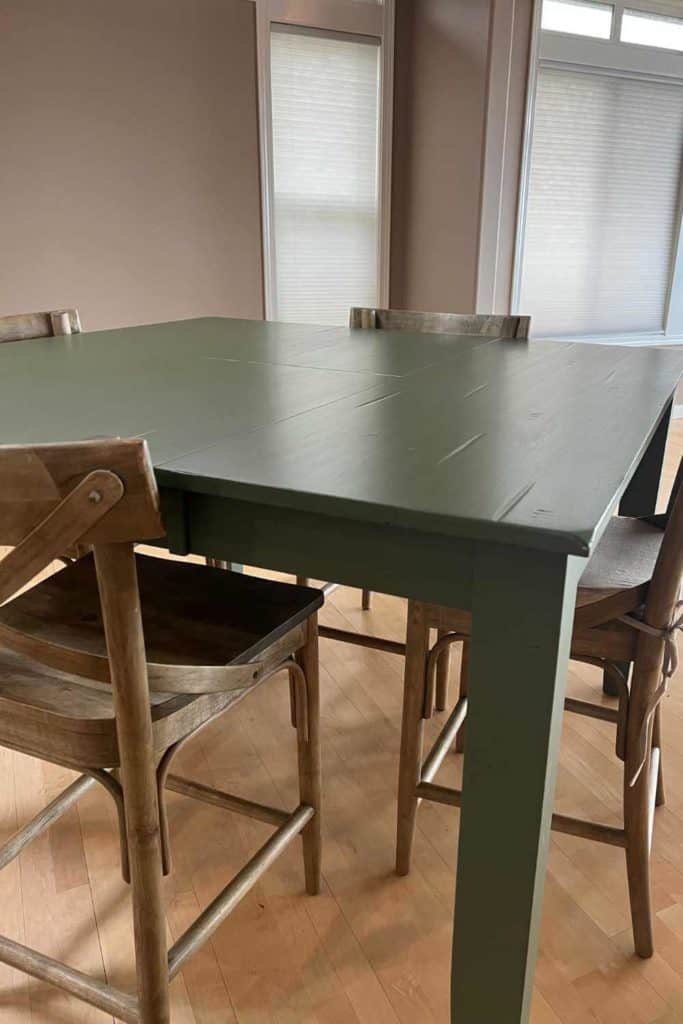 Once the paint had fully cured (21 days), I did three coats of water-based polyurethane (on the top only), lightly sanding between each layer with a sanding sponge.
I used a Wooster Shortcut Polyester Brush, and it did leave some brush strokes. However, it isn't enough to bother us.
The first time we used the table, I was a little nervous about putting warm plates and glasses directly on the surface, but we did it anyway. To my surprise, the tabletop wipes clean after every meal with no water marks or heat spots. I use a dish rag with Dawn dish soap to wipe it down after each meal, and it's good as new.
What would you do differently next time?
Before painting this table, I had sat at it to weed vinyl for signs and triangle Christmas trees. If you've ever done any weeding, you know that the little pieces end up everywhere and are excellent at sticking. I had missed removing a few small pieces of black vinyl which I discovered when I lightly sanded after the first coat of polyurethane. This realization came after I had painted the table and let it cure for 21 days, so I decided it would add character and didn't worry about perfection. We now have a tiny little 'S' on the table from an s I had weeded months before.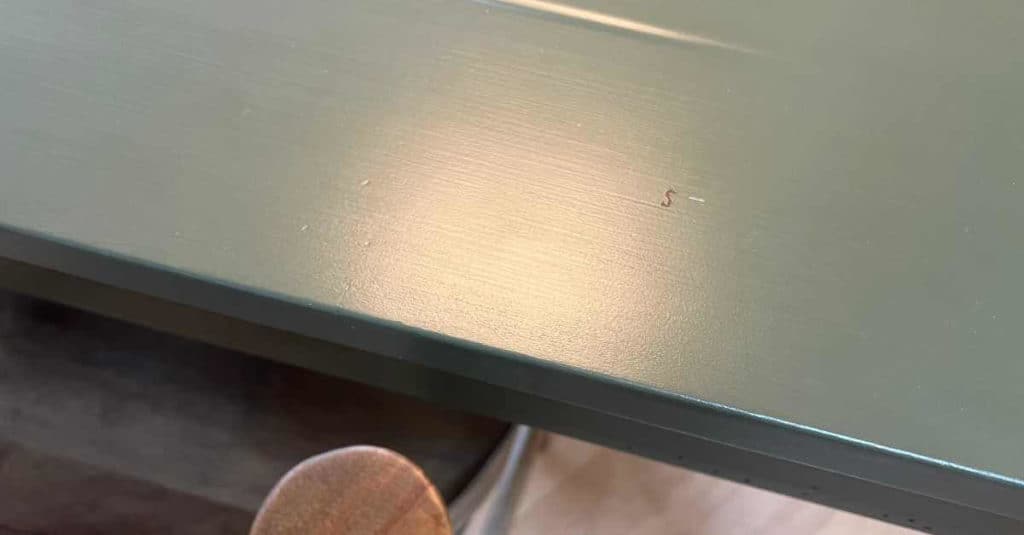 If I had a do-over, I would probably give the table a light sand after deglossing to catch any wayward little pieces of vinyl.
Another thing I might do is look into ways to apply the finish that wouldn't leave brush strokes. This is me getting nit-picky as the brush strokes are not significant.
We are pretty happy with how this table turned out (even with the tiny S) and would do it again, with just a few changes I mentioned above.
As for the barstools, we love the look but were used to cushioned seats, so we opted to purchase Bistro Chair Cushions, which make them SO much more comfortable.