After selling our home of 13 years and making offers on two homes that didn't go through, we had a choice to make. Our choice was to hurry up and get into a new home or slow our role, move into an apartment, and wait for the right home. We chose apartment life which sent us into a whole different mindset of apartment hunting.
I quickly realized I needed a way to compile the information I was learning. With each call, I learned something new I should be asking. THAT is where the Apartment Rental Information cheat sheet started!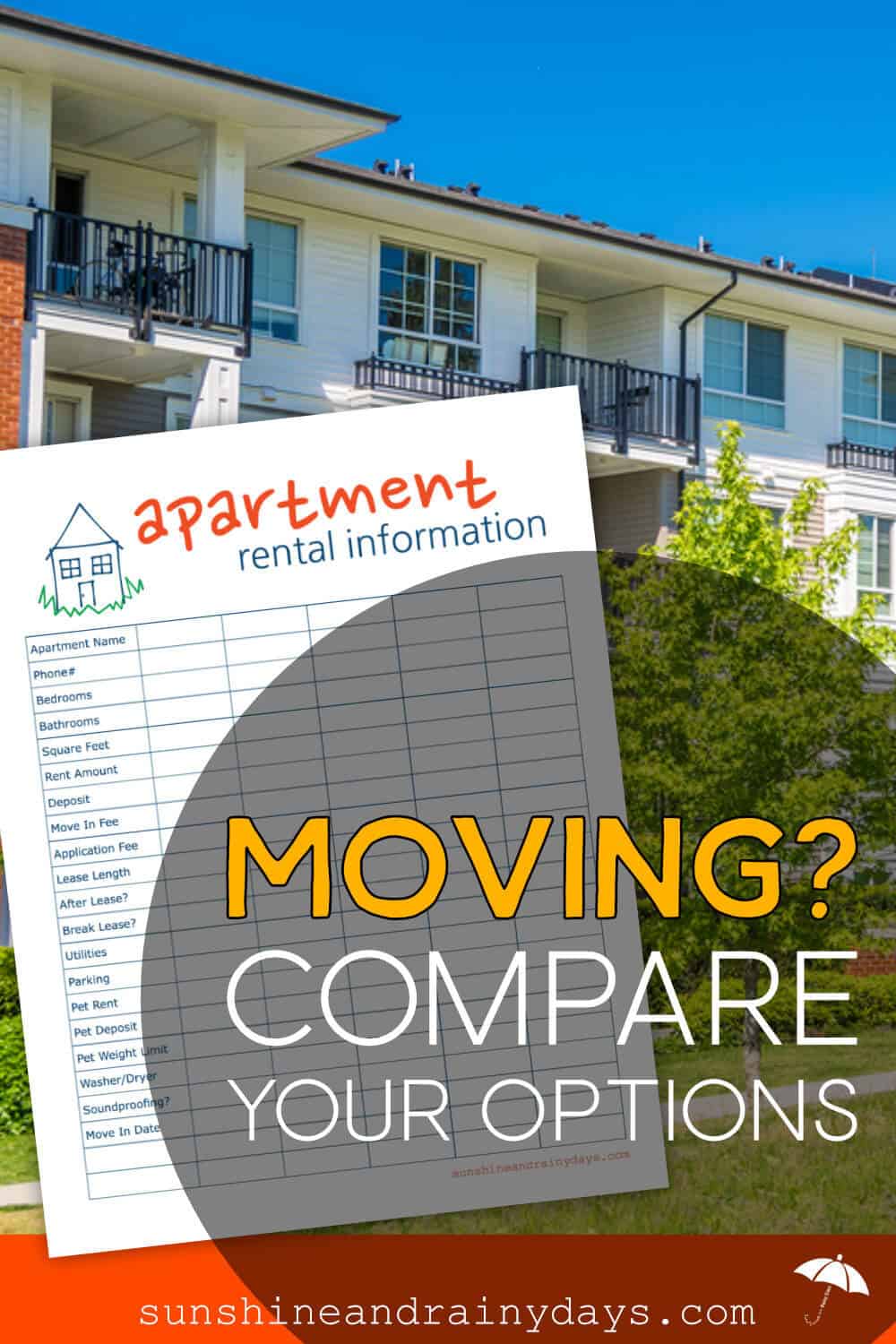 Apartment Hunting Comparison Chart
The Apartment Hunting Printable will help you gather everything you need to know in one place!
Apartment Name
Write the apartment name or address. Whatever it takes to remind yourself which apartment complex it is.
Phone #
Sure you can look it up but, why? Jot it down here in case you need to call for clarification.
Bedrooms
How many bedrooms do you need? How many units do they have available with those bedrooms?
Bathrooms
How many bathrooms do you need?
We found a beautiful three bedroom apartment but it only had one bathroom. We didn't think that would work with two teenagers!
Square Feet
It's good to know the square footage so you can easily compare units.
Rent Amount
What is the base rent amount?
Deposit
You will want to find out how the deposit needs to be paid. We were required to pay with a cashier's check.
Move In Fee
This is the prorated amount you will need to move in. It may include an admin fee and pet fee. We were also required to pay our move in fee with a cashier's check.
Application Fee
The application fee is not refundable and typically required for every adult over 18.
Lease Length
What is the length of the lease?
It is common to have a 6 or 12 month lease although we found there are many creative solutions that apartments come up with such as charging a much higher rate for month to month.
The shortest lease we were able to sign was a 10 month lease.
After Lease?
When your lease is up, what happens? Do we renew month to month or are we required to sign a new lease? What is the typical rent increase to renew?
Break Lease?
If you need to break the lease, what does it take?
In our instance, two months worth of rent is charged to break a lease.
Utilities
What utilities are included in rent?
Be careful here. Different complexes will word this differently. We do not have any utilities included in our base rent, however, we are required to pay an additional $165 for garbage, water, and sewer along with our base rent. Power and cable we pay ourselves.
Parking
Does parking cost extra? How many spots are you allowed? Is there additional parking?
In our case, carport parking is available at $35/month. We have three vehicles and were allowed two carport spots. There is additional uncovered parking but they are few and far between. It's a fun race to get to them every day!
Pet Rent
What is the monthly pet rent?
Our pet rent is $20 a month.
Pet Fee
How much is the pet fee? Pet fees are generally non-refundable and called pet fees, instead of pet deposits, for this reason.
Our pet fee was $300.
Pet Weight Limit
There may also be a species limitation as well.
Washer/Dryer
Does the unit have a washer and dryer or are hook-ups available?
Soundproofing?
Believe it or not, we've discovered that there is zero soundproofing in the apartments we chose. I'm not sure if there are apartments out there that have spent the money to soundproof but, boy, it sure would be worth it, if there was!
I hear drawers closing, high heels walking, water running, dogs whining, and all kinds of middle of the night antics.
Not only do we hear everything upstairs, we live on the middle floor so we are constantly walking on eggshells for the people below.
I'm certain the people in the video below live upstairs!
Move In Date
What date are you able to move in?
Click the picture below and the Apartment Hunting PDF will pop up for you to print!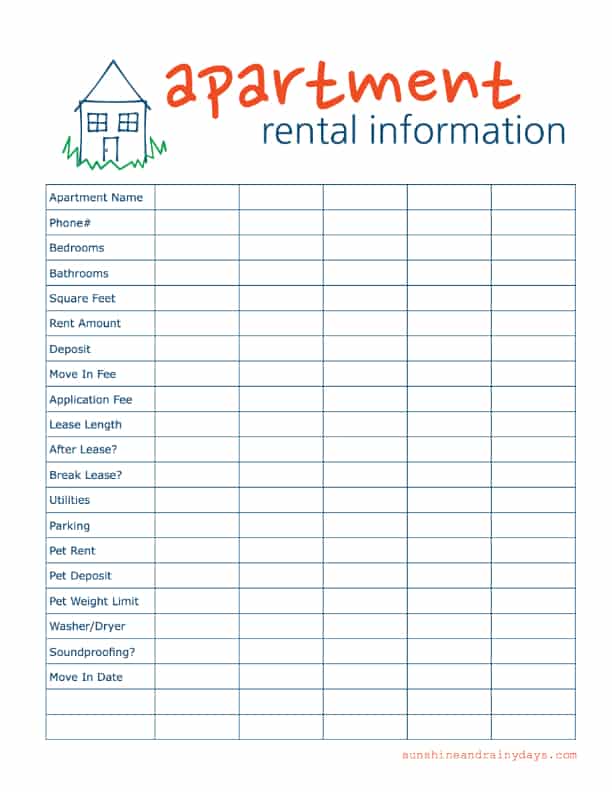 I found that many apartment complexes could not even show us the unit as the current renters had not moved out yet. It seems to take a week to turn over an apartment and they go fast. You are renting sight unseen.
We ended up in a brand new apartment complex and were able to see the unit but we were pressured into renting a week earlier than we needed, in order to secure the unit.
After calling many apartment complexes, we found two that were available in the time frame we needed. One was brand new on the second floor and the other was a town home, with a garage, next to the railroad tracks. We chose new and are cozily settled into apartment life until we find the right home!
More Apartment Life Posts
The Downside Of Apartment Life
11 Ways Apartment Life Has Saved Us Money
Surprising Ways Apartment Life Breaks The Bank
My Must Have Apartment Life Resources