Over the years, we've moved six times, and I've helped friends and family get ready to list their houses more times than I can count. I enjoy the process that many people would rather leave to professionals. I've learned a lot along the way and want to share 10 things you need to do before you list your house for sale in case you're ready to take on this fun challenge, too!
1) Decide how you want to sell.
Using a realtor to sell your house is probably the easiest and safest way to sell. However, there are other options.
When we sold our last house, we signed up with SavvyLane. It was a pretty straightforward process, but it had a few drawbacks. The first was that Open Houses didn't show up on listings for house hunters (that may have changed), so we purely relied on signs and social media. The second is realtors know they won't make as much showing a home for sale by the owner, so they don't bother.
After our home sat on the market for a few months, we signed a contract with a realtor. Of course, using a realtor has drawbacks too. The first was the contract. The second is that a realtor charges more because they are working for you and doing a lot to sell your home. Our house sat on the market for a few months, and we were pushing into December when my husband had a scheduled surgery. If we weren't locked into a contract, we would have taken the house off the market until we got past Christmas and my husband's recovery.
We had hoped our house would have sold right away, and we could have moved before my husband's surgery, but it didn't work out that way.
You might want to read a few articles before deciding how to sell.
2) Create a timeline.
Without a timeline, you'll likely spend more time than necessary getting your house ready to sell, so be sure to set a date for when you want your home to go on the market. Use a calendar and map it out so you know exactly what needs to happen to stay on your timeline. Then, fill in other important dates, like a garage sale, before filling in the rest.
When setting your timeline, consider what time of year is best for selling your home. There may be some controversy, but I prefer early spring to summer. Unfortunately, on our last house sale, we started late summer, and the house sat on the market longer than we would have liked. This is most likely because people want to be settled in their new homes before a new school year starts.
3) Gather moving supplies.
Although your house isn't listed, this is a great time to pack up the things you won't need for a while to make your home look spacious.
You can often find boxes on Facebook Marketplace for free or for a small price from others who have recently moved. Big box stores like Home Depot also sell boxes for a reasonable rate.
This post contains affiliate links. When you purchase through an affiliate link, we receive a small commission at no additional cost to you. Disclosure.
Tape Dispenser – Tape Dispensers make taping up those boxes much easier and are good to have on hand.
Packing Tape – Be sure to buy extra packing tape.
Boxes In All Sizes – If you buy boxes from a store, buy more than you think you'll need. I bet you'll probably need even more. Think about what you'll be packing and buy accordingly. Medium boxes are good for packing heavy items like books and dishes. Extra large boxes are great for bedding and lighter-weight things. You can also purchase specialty boxes like wardrobe, television, and picture boxes. However, these boxes are a bit pricey, so I haven't used them. Instead, I pack clothes in big boxes and wrap blankets around wall art. If you're moving a long distance, you may want to spend the big bucks to ensure your wall art arrives safely.
4) Declutter, organize, and deep clean.
There's nothing more off-putting than walking into a house that is filled with stuff and is noticeably dirty. The last time we went house hunting, one of the houses we walked through had visible grime on all the baseboards. The top of these baseboards were black, and you noticed it without getting too close. No, I wasn't looking closely or going over them with a white glove.
You can do things to make your house stand out without spending a dime. The best ways are to make your house shine and clear extra stuff. What you do keep in the house until you move, make sure it is tidy and organized.
5) Host a garage sale.
Garage sales are a great way to make money on things that aren't worth moving. Host a garage sale before you list your house so you can have it cleaned up and ready for potential buyers to see.
The last time we moved, we hosted garage sales two weekends in a row. At the end of the last day, we gave everything away for free. It was a great way to have people take the stuff we didn't want to move away for us. After that, we had just a few boxes to take to our local thrift store.
Here are a few articles full of garage sale tips:
6) Create a home seller's budget.
It's important to determine how much you're willing to spend to get your home ready to sell. A realtor will help you know your best return on investment, but they may also suggest expensive changes that you aren't willing to bust your budget for. That's okay.
Come up with a budget of what you're willing to spend now and set a limit on how much you'll spend when an inspection is done, and buyers come to you with a list of repairs.
When we sold our duplex, our realtor helped us negotiate repairs up to a set dollar amount. That worked well for us. On another home sale, we were encouraged to have most repairs done. This caused a lot of stress, and we ended up spending more than we wanted to, which also impacted the amount we had available for our future home.
Creating a budget and sticking to it may mean you walk away from a deal. Only you can decide what you're willing to do.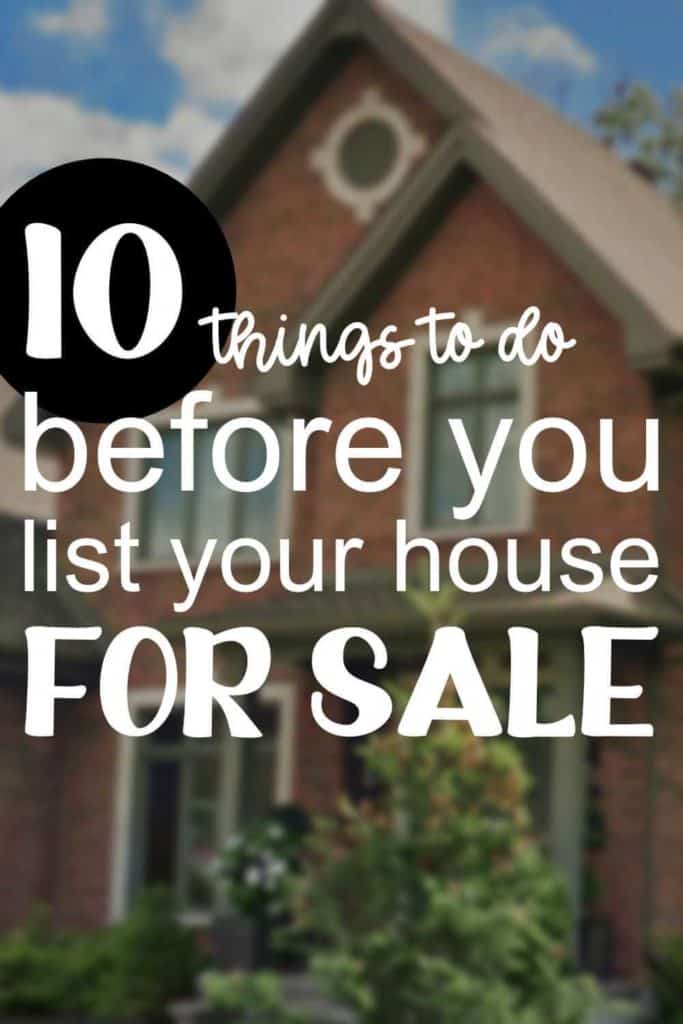 7) Complete house projects.
Finish up any house projects you've started, so things aren't left undone, making it look like you haven't spent much time on the upkeep of your house.
It's debatable whether or not you should update your home by changing out the countertops, replacing worn-out floors, or even painting cabinets. You can use the current market to make these decisions. If homes are selling as soon as they hit the market, you probably don't need to worry much about making updates to your house. If houses are moving slowly, you might want to do an update or two to make your home the one buyers want.
We planned to replace a cracked storm window when we sold our duplex. Our realtor advised us not to. The reasoning was that buyers will always come to you with a list of things they want to be fixed. Then, you negotiate. If you've already fixed a bunch of stuff, you'll have to fix more in that negotiation. If you leave the window as is, you can include that in your negotiation and spend less on fixes.
A friend was planning to replace the hardware on her kitchen cabinets because some hinges didn't work correctly. We talked it through and realized that a new owner might choose to replace the cabinets so it would be money wasted.
8) Work on curb appeal.
Power wash, pull weeds, mow, edge, spread a fresh layer of mulch, clean the roof and gutters, purchase a new doormat, and hang colorful flower baskets.
You may want to consider painting the front door to freshen it up and removing extras from the front porch so potential buyers can imagine their furniture on the front porch.
9) Stage your home.
You may pay someone to stage your home, or some realtors will pay a home stager. In my experience, you can save money by staging your home yourself, as long as you have furniture that isn't too outdated.
These are the steps I took to stage our home and help others stage their homes.
Remove
Declutter – The goal is to make your spaces look BIG! The best way to do that is by removing any items you won't need before the move, and that doesn't work for staging. Work room by room, and be sure to leave at least 1/3 of closet shelves empty, so it appears you have more than enough space and even room to grow! Clear the floors (including under the bed), remove outdated curtains and wall hangings, take out bulky furniture, and clear countertops.
Pack – Determine what is worth moving to your new home and what you want to sell. Pack the keeps and store them in the garage or a storage facility.
Host A Garage Sale – Set tables up in your garage for a garage sale and place unwanted items directly on the tables, so you're ready for a sale!
Repair
Patch Holes In Walls
Finish Projects
Fix Anything That's Broken
This is your chance to put your best foot forward and show a potential home buyer that you've taken good care of your home!
Do a walk-through of each room, taking note of minor repairs that need attention, and make a plan to take care of them.
Refresh
Paint A Neutral Color Throughout – Paint a neutral color throughout your home. Potential buyers may find it hard to get past the purple bedroom or orange kitchen to imagine a life in your home.
Rearrange Furniture To Make Rooms Aesthetically Pleasing – Rearrange furniture, even moving furniture to different rooms where it makes sense.
Clean Everything – Make your home sparkle! Clean the windows, window tracks, blinds, doors, baseboards, curtains, and floors. Make time to clean light fixtures, fans, cupboards, and drawers. Replace lightbulbs and make sure they are the same kind and wattage.
Update If Necessary – Updates are optional. When you choose to make an update, be sure to take into consideration your return on investment.
Work On Curb Appeal – Power wash, pull weeds, mow, edge, spread a fresh layer of mulch, clean the roof and gutters, purchase a new doormat, and hang colorful flower baskets.
10) Create a Homeowner's Guide.
The Homeowner's Guide is an excellent home staging resource to make your house STAND OUT from the rest! Leave it on the entry table or kitchen island so potential buyers can learn more about your home and neighborhood!
Then, when you sell your house, leave the Homeowner's Guide for the new owner!
The Home Seller's Resource below includes the Homeowner's Guide and a Home Seller's Planner that helps you get organized and ready to list your home for sale.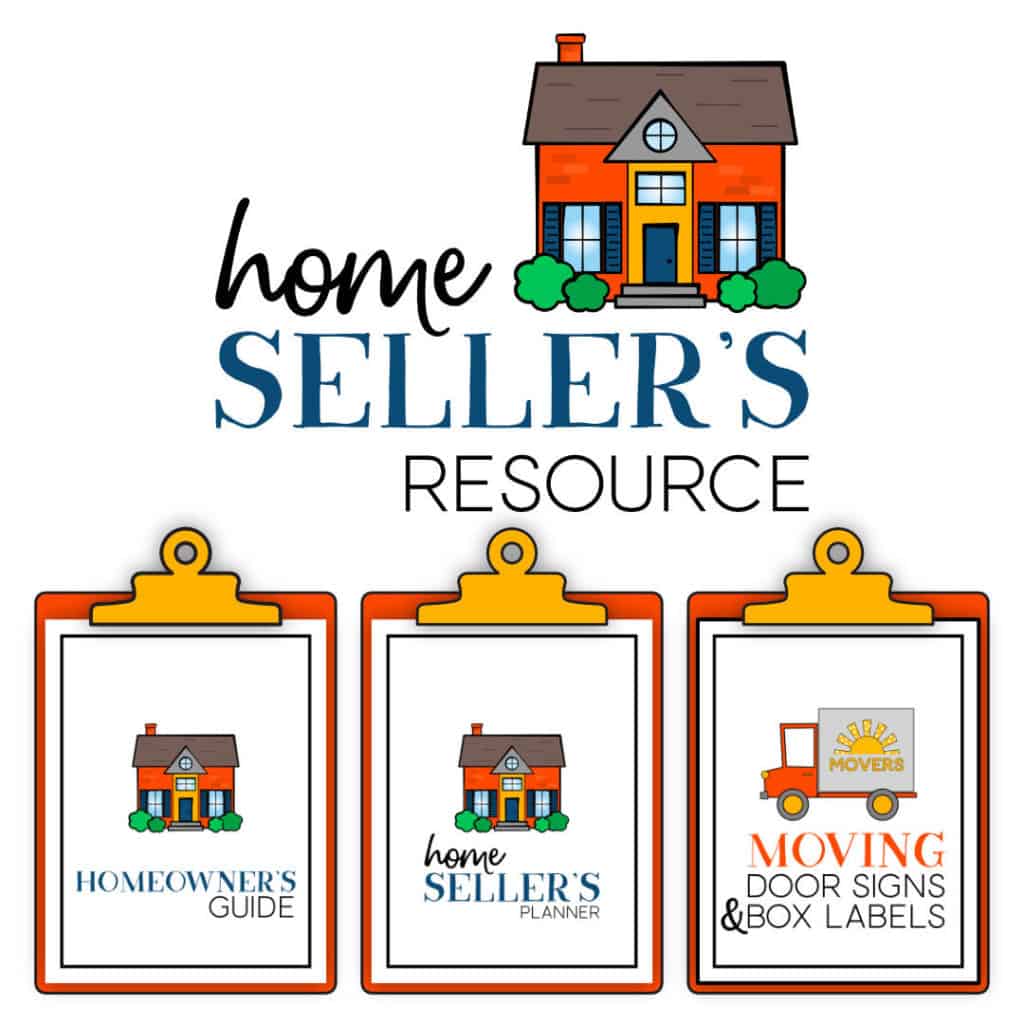 Home Seller's Resource
There's a LOT to think about when you're getting your home ready to sell. Use the Home Seller's Resource to help you get organized and ready to sell your home, for top dollar!
Getting your house ready to sell is a big job, but it's quite rewarding and one that you'll be able to look back on with satisfaction!