Moving into an apartment, temporarily, while we look for our next house to call home has been an interesting experience. We have been determined not to spend money to make this place comfortable as we know we won't be living the apartment life for long. However, there are a few things that we had to fork over the big bucks for. Well, not really big bucks, just bucks!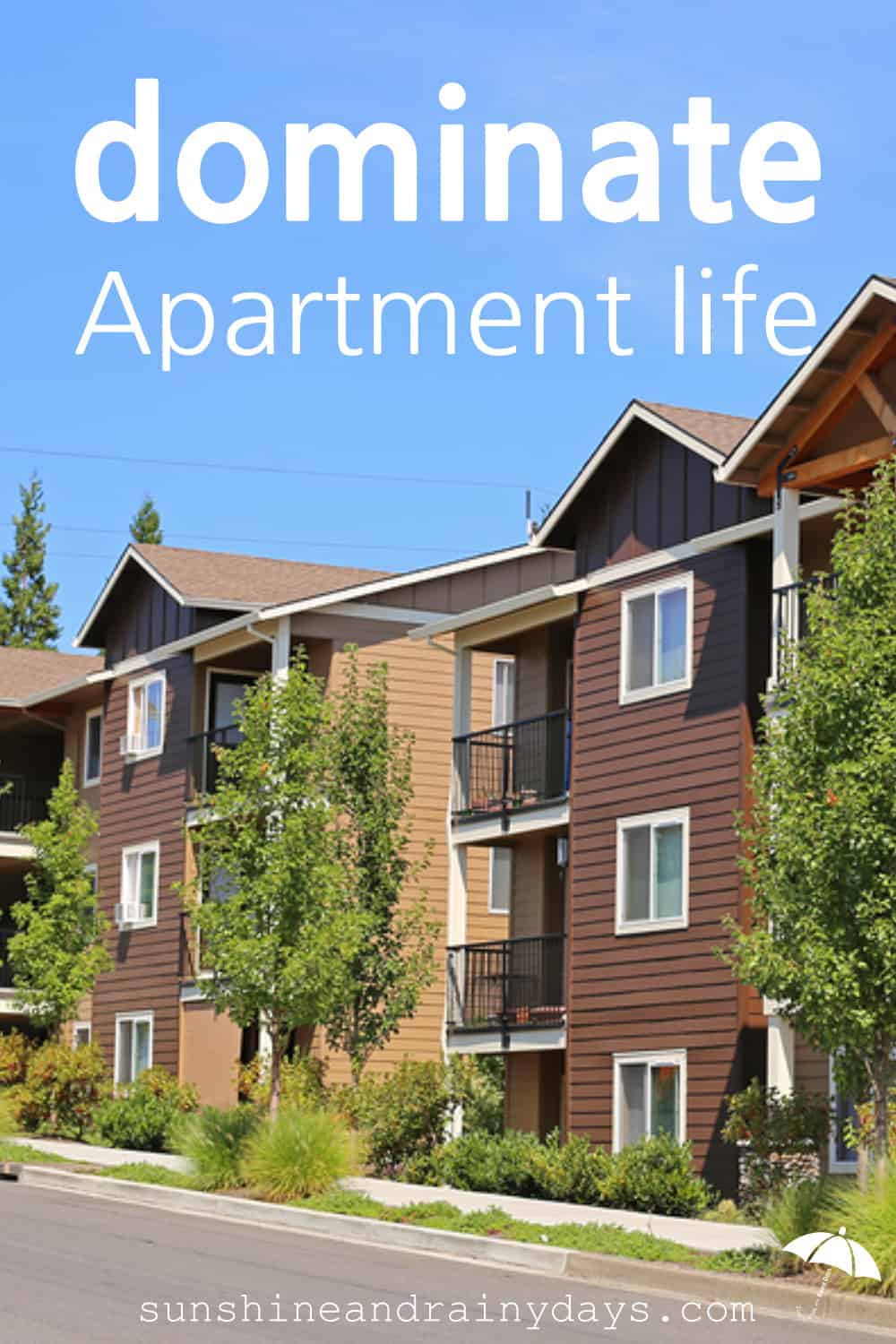 Dominate Apartment Life
If you are moving into the apartment life temporarily or for the long haul, I've listed 11 things that will help you dominate your stay!
Ice Tray
Most apartments won't swing for a refrigerator with an ice maker. That leaves you with buying ice or making your own. Seriously though, a bag of ice would take up most of your freezer space so get used to making ice! I was amazed at the fancy pants ice trays out there these days.
This post contains affiliate links. If you purchase through an affiliate link, we receive a small commission but your price remains the same! Disclosure
We purchased the OXO Good Grips No-Spill Ice Cube Tray with Silicone Lid. Let me tell ya, when you're cramming tons of stuff into a tiny freezer, you'll be happy you have the silicone lid.
We also purchased a silicon ice cube tray similar to this:
I absolutely love the size of these ice cubes BUT it is super hard for me to get the ice cubes out of this thing. I have no patience for it but my husband, Steve, handles it okay if he fills it about half full.
When you have ice trays, you need something to put all that ice in, right?
Although I hate plastics, we are using something similar to this Ice Bin:

These three items stack nicely on top of each other in the teensy tiny freezer!
Ice scraper
While on the ice subject, you may want to pick up an ice scraper. After parking our two cars in a garage for many years, we discovered we didn't have a stinking ice scraper.
My Applebee's rewards card has been getting a workout on the windshield! Hey! It works in a pinch!
I'm buying an ice scraper though because that tiny Applebee's card takes a while to clear the window, plus, dangling on the side step of the car to reach the center of the windshield in freezing temperatures may create another issue.
Did I mention how cold it is when scraping your windshield? You may want a mitten built into that ice scraper to save your hand!

Fan
Apartment Life includes a massive amount of humanity in a very small space. If you expect to ever sleep again, I would highly suggest a fan to use as white noise. It won't eliminate every sound you hear but it is certainly helpful!
The Lasko 20″ Cyclone Fan even has a Remote Control! It'll make you feel like you're living the high life!
Diffuser and Oils
Serenity Now! Diffuse calming scents so when the noise escalates from above, you won't go on a wild rampage of anger.
My Oil Gear Greenair Diffuser is the diffuser we have and love!
I use oils from one of the 'famous' MLM companies and would be happy to share that information with you, if you are interested, HOWEVER, I have recently discovered Plant Therapy and intend to purchase from them in the future! It is NOT an MLM and their prices are affordable!

Broom or Cane
Not for the floor or walking. Nope! Even though the diffuser is calming you, you can happily tap a tune on the ceiling above you with a broom or cane! This is simply done to let your upstairs neighbors know that you can hear them bowling up there!
Be careful not to damage your ceiling though! I take no responsibility for dents caused by tapping tunes!
A Loud Alarm
This is simply so you can participate in your building's music making at o'dark thirty as alarms are heard throughout!
Our alarm clock is so old I can't even find it to show you but this Equity by La Crosse 30240 Super Loud LED Alarm Clock should do the trick! Did you see the Super Loud in the name?
A Micro Car
It is next to impossible to park under the carport without scraping your wheel wells on the strategically placed poles. Not to mention the fact there is never enough room to swing wide and maneuver into your spot.
Seriously, parking is the most stressful part of apartment life. We have three vehicles and are allowed two paid spots. Rarely is there an open spot near our building but, when there is, you can hear shouts of joy!
Of course we didn't actually purchase a micro car but it sure would make parking a whole lot easier if we had!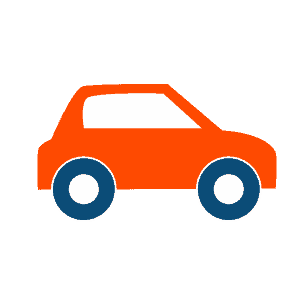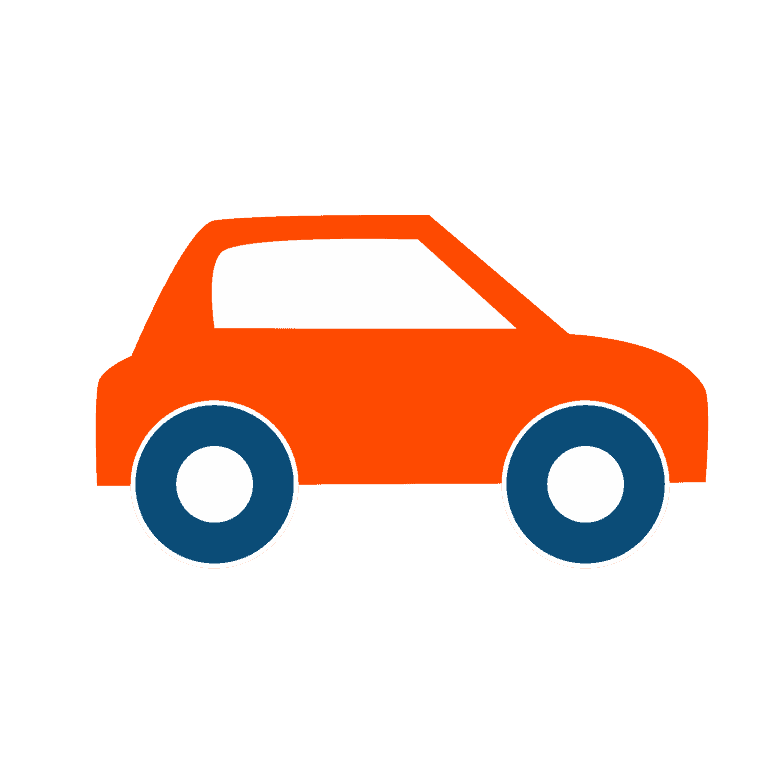 Fresh Patch
Although there are quite a few green spots, dogs are only allowed in one area at our apartment complex. Our dog wants to pee the moment we wake up. No time for getting dressed appropriately or putting on shoes and a coat for that matter. Bear is jumping with excitement and ready to go.
Thankfully, my sister told us about Fresh Patch! We signed up for a Fresh Patch delivery every two weeks and Bear actually uses it! No more early mornings or late nights trudging outside to a particular patch of grass. Nope! Bear can do his business and I can stay in my pajamas!

Shower Curtain
If you come from a home with a glass shower door, you will more than likely need to purchase a shower curtain and rings for your new apartment.
Door Draft Stopper
I have always wondered why anyone would need these things UNTIL we moved into an apartment and you can see outside under the door. The breeze is enough to make you take action. For now we are using a classy blanket rolled up to stop the draft!

Door Security Bar
Speaking of doors, I purchased a Master Lock Dual-Function Security Bar for added security in our apartment. I can't add additional locks to the door, so the Security Bar does the trick! Not only does this help us feel more secure at night, it is also a way to feel secure during the day when I'm home alone!
You guys! This thing is super cool! I didn't know such a thing even existed until I was talking to a friend at the gym and she told me about it!
Check it out in real life action below! You also get to see my rolled up blanket to stop drafts too!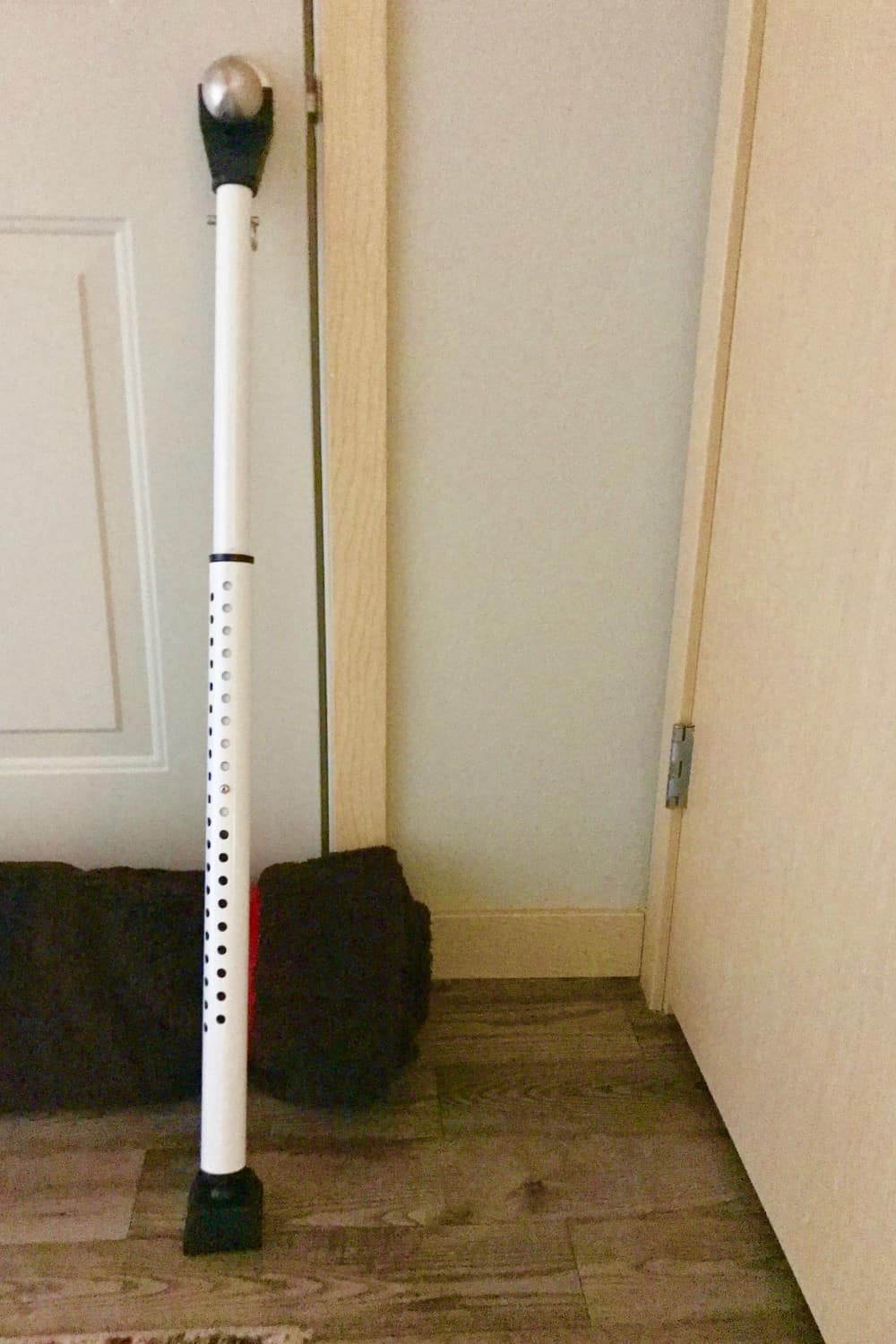 Thankfully, a lot of things we purchased for apartment life will come in handy at our new home! I know the Security Bar will continue to get used at our new home and in hotel rooms too! I'm a big user of oils, as a matter of fact, I have lemon, lavender, and peppermint diffusing now! Ice scrapers, fans, and alarm clocks are always good to have but, hopefully, the ice cube trays, door draft stopper, and Fresh Patch will be left as nothing more than apartment memories!
More Apartment Life Posts
Questions To Ask When Apartment Hunting + Free Cheat Sheet
The Downside Of Apartment Life
11 Ways Apartment Life Has Saved Us Money
Surprising Ways Apartment Life Breaks The Bank
Let Your Annoying Neighbors Know How You Feel With This Simple Complaint Form – This had me laughing! I don't think I would actually have the guts to slip this under anyone's door but, man, it's good!
My Must Have Apartment Life Resources


Are you an apartment dweller?
Do you use any of these items to dominate apartment life?