The Upside Of Apartment Life has become apparent in just the few months we have lived here, however, the looks on people's faces when we told them we were moving into an apartment was as if we had just been given a bad diagnosis. Even customers at our moving sale slumped their shoulders and exuded pity when they asked where we were moving.
I can't say apartment life has been a bed of roses but I am willing to look at the bright side! After all, we made a conscious choice to move into an apartment after the sale of our home.
No pity needed here!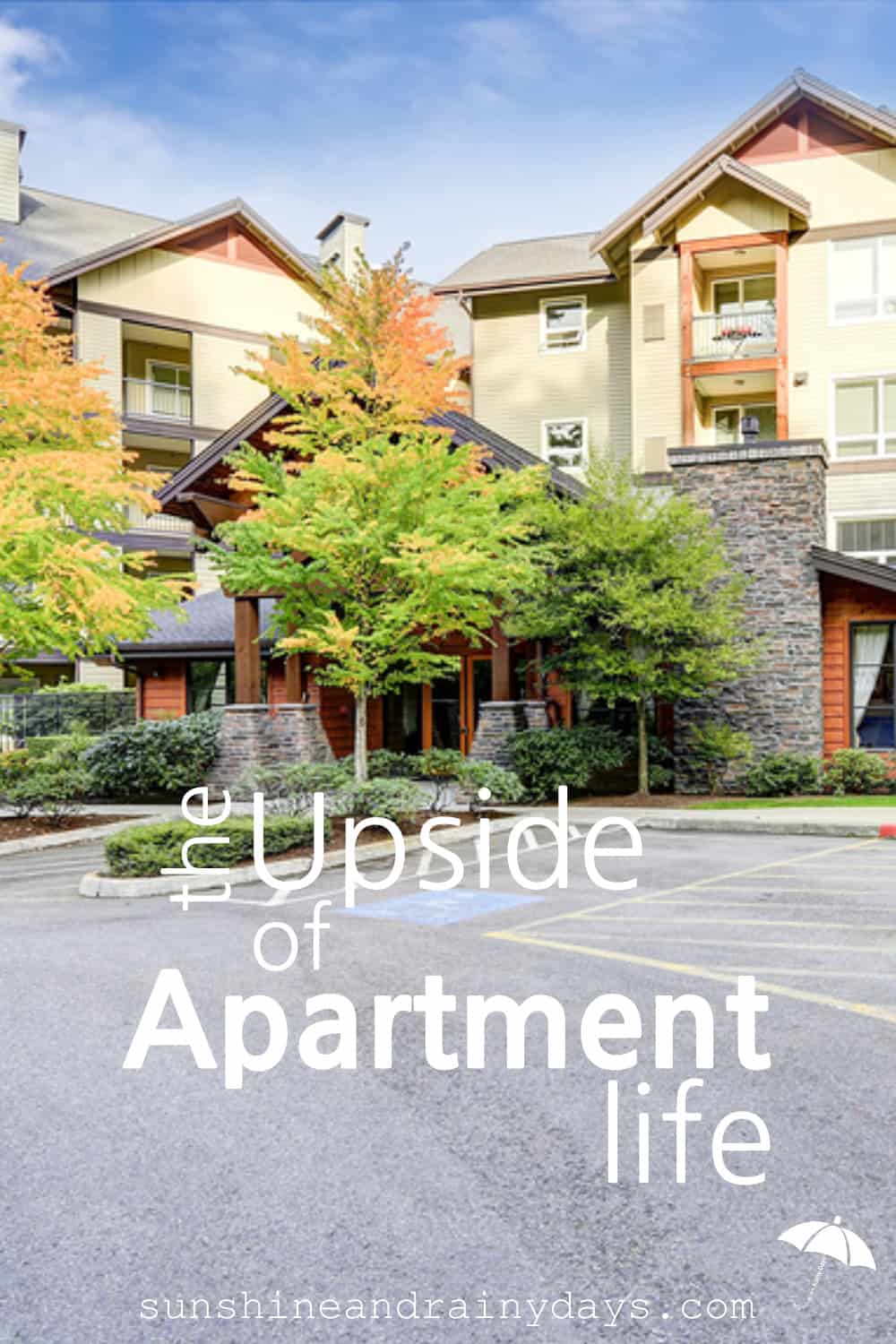 The Upside Of Apartment Life
This post contains affiliate links. Disclosure
One Level Living
If anything has convinced me how nice it would be to live in a rambler, apartment life has!
Life is simpler!
The laundry area is RIGHT THERE! Right in the middle of our living area and bedrooms.
There is no need for an upstairs vacuum and a downstairs vacuum.
The teenagers can hear me call them to dinner without raising my voice!
Everything is in one compact spot!
THIS is easy living!
The Second Floor
Although we consider one level living and upside to apartment life, we must first traverse a flight of stairs to get to our second floor apartment.
The UPSIDE to the second floor is we feel safer being UP!
There's A Peep Hole!
I've always wanted one of these things! I can sneak up to the door to look out and see who's knocking!
Maintenance To The Rescue
Its almost like living in a posh hotel! If something isn't working right, there's no need to visit the home improvement store. Just call the office and maintenance to the rescue!
Washer And Dryer Included
No need to agonize on what brand to buy here! They've done the work for you! We also have no worries if they fail or of cleaning the vents. Good-bye Mr. Appliance Repair, we have maintenance!
Party Room
The few times a year you may want to host a crowd, no problem! There's a party room that can be reserved!
There's A Gym
The gym has been a big bonus for us! Although my husband and I have a gym membership, the two teenagers don't and, amazing but true, they want to work out! BONUS! I'll do anything to get those two off the couch!
We Have A Pool
There's a pool here! If that's not an upside to apartment life, I don't know what is. We look forward to the days where the teenagers can hang out at the pool! How fun is that?
No Yard Work
Nope. Nadda. Zip. You won't find us with a weed in our hands or lawnmower by our side! The closest we come to yard work is when we pull up the Fresh Patch and replace it with a new one for TeddiBear!
We Have A Balcony
Balconies are cool! It's where TeddiBear uses the Fresh Patch. We can also go out and enjoy the view of the road or businesses nearby!
Storage
There is a storage space off the balcony! You can cram a lot into that small space!
Simple Living
It's so simple we almost feel we are in a hotel, without towel service or someone to clean the toilets.
Apartment Life Is Cozy
What some call small, others call cozy! Seriously! It doesn't take long to find the teenagers, the husband, or the dog. They're all right here! Together!
Easy Conversations
I can sit on the couch in the living room and carry on a regular conversation with my husband in the kitchen. No need to move closer or raise our voices!
Easy To Clean
Seriously folks! One hour tops and this place is spic and span!
Everything Is Close!
Need to empty the dishwasher? You will never walk more than two steps to put a dish away!
Want to get the teenager's attention? His room isn't far!
Is it laundry time? There's no reason to procrastinate to put laundry away since there's no stairs to climb!
No Mortgage Debt
I know, I know, we're throwing money away every month on rent. I get it. I also realize a mortgage is okay.
There is something about NO DEBT! We owe nothing to no one except for the monthly utilities. That's a pretty good feeling!
Saves Money
No joke! The only thing we have to upkeep and repair is our vehicles.
There's no reason to pine after a kitchen remodel or hardwood floors. Plus, there's not enough room for one extra thing so there is NO REASON to shop!
The Teenagers Get To Experience Apartment Life
Some day our teenagers will probably live the apartment life. What better way to acclimate them? They may be better apartment citizens because of it!
Lest I've convinced you to throw your house on the market lickety-split so, you too, can enjoy the Upside of Apartment Life, HOLD UP! The Downside of Apartment Life will be coming soon. In the meantime, I plan to relish in the luxury of upsides!
More Apartment Life Posts
Questions To Ask When Apartment Hunting + Free Cheat Sheet
The Downside Of Apartment Life
11 Ways Apartment Life Has Saved Us Money
Surprising Ways Apartment Life Breaks The Bank
My Must Have Apartment Life Resources