Imagine a Christmas where you can enjoy the sights, smells, and joy the season brings. A Christmas where you are able to leave the hustle and bustle behind in favor of peace and relaxation. One where you still do the work to make the holidays magical but it's less stressful because you've invested the time to make a plan for an Organized Christmas! That Christmas is obtainable! It takes planning and hard work but it's ready for you!
1) Create a Christmas budget.
A Christmas budget is a must! Sure, you could drain your savings account and charge up credit cards, to worry about in January, but do you want to? Instead, come up with a reasonable budget that won't leave you stressed out and looking for ways to work overtime when you really want to be spending time with your family.
Sit down with your family and create a reasonable Christmas budget. A Christmas budget will help you determine what your family values MOST and what is not worthy of your hard earned cash.
It could be that your kids think they want a house lit up with lights and all of the Christmas decor, set to music … until they discover that would take up a huge chunk of your Christmas budget and mean less gifts for them.
Maybe you want the biggest, tallest tree but quickly realize that, after paying for that tree, your budget wouldn't be able to handle a Christmas party that you've always wanted to host.
You want professional family pictures, in the snow, with your family decked out in Christmas clothes BUT you understand spending the cash on that will curtail you from taking a family road trip to a Christmas town.
Creating a Christmas budget is all about determining where you want to spend your allotted Christmas money instead of spending on things haphazardly and then wondering where it went.
Your budget and what you value most will also help you decide if you need to take on DIY projects to give as gifts.
2) Build a Christmas calendar.
A Christmas calendar will help you keep your holiday activities on course. As you schedule events or things to do, write them down and plan your week by filling in your to do's.
Be sure to schedule time to take care of yourself by allotting time to exercise or to have a little downtime.
3) Prepare your space.
Start the Christmas season feeling at peace that you've done the prep work to host joyful celebrations.
Clean Early – Before the Christmas decor comes out, do a good clean of your home so you will feel prepared when friends and family visit.
Go Through Toys – If you have kids, now is a good time to sort through their toys and make room for new things that Santa might bring!
4) Write out a Christmas card list.
Keep a Christmas card list with names and addresses for everyone you plan to send a Christmas card to. You can use the same list over multiple years and check who've you sent cards to so you don't double up or forget to send Aunt Sally a card.
5) Come up with a gift list.
A gift list is super important in order to keep your budget in check. Make a list of everyone you'd like to give a gift to and the amount you have budgeted for it.
There are many ways to to give gifts to the people on your list, without spending a lot!
6) Plan Christmas parties.
Christmas is the BEST time to spend with family and friends and Christmas parties are so fun to host!
Make a Guest List.
Do you plan to host a Christmas party for family, friends, co-workers, or a church group? Write the guests you'd like to invite along with the information you need to send the invite.
Write out a Party Plan.
Party Details – location, day, date, time
Decor Ideas
Food
Drinks
Dessert
Prizes
Party Favors
Come up with an Action Plan to make your party happen!
Make a to do list.
Write down the supplies you need to buy.
Make a list of groceries you'll purchase.
Note the people you will call.
7) Decide on projects you want to take on.
There's something about Christmas that inspires you to give homemade gifts. Sometimes, it's necessary to DIY gifts in order to stay on budget. Whether you make gifts out of necessity or just for fun, now is the time to plan your Christmas projects!
8) Shop early!
My family thinks I'm crazy when I start asking them for Christmas ideas in OCTOBER! The thing is, when you know what you're looking for, you don't spend on things just to have something to give. You also save money by taking the time to look for the best deals.
Waiting until the last minute means you'll end up paying premium prices in order to have a gift to put under the tree.
Record your online purchases.
When you get busy ordering gifts online, it can be hard to remember everything you ordered … especially around Christmas. Keep an online shopping tracker close by your computer so you can write down when you order something. That way you don't have to worry that something got lost in the mail or, worse yet, porch pirates snagged your loot.
Keep track of what you've purchased for your immediate family or those you buy multiple gifts for.
It's important to track the gifts you buy for family members that you purchase multiple gifts for, like your kids. That way, you can wrap them with confidence knowing you've done your due diligence to make sure you've spent an equal amount on each kid.
Shop with a list on Black Friday.
Black Friday is the biggest shopping day of the year. It's not a time to browse. Go in with a list of what you're looking for, the amount, and what time it goes on sale.
9) Make space for a wrapping station.
Take an inventory of the supplies you have and decide what you want to purchase for your gift wrapping station.
It's fun to get creative with your gift wrap! I like to buy festive ribbon and wrap my packages in brown paper. We happen to have a huge roll of brown paper that has lasted many years. I think it might even be painter's paper but it works!
Your wrapping station should include:
A flat surface for gift wrapping.
Boxes
Wrapping Paper
Gift Bags
Scissors
Tape
Ribbon or Bows
10) Label your Christmas storage boxes and pack only what you know you'll use.
When you're packing up your Christmas decor, be sure to get rid of anything you know you won't want to use, in future years. Put those items in a garage sale box, take them to a second hand store, or list them on Facebook Marketplace or in a Buy Nothing group.
Label your Christmas boxes and make decorating for Christmas next year a breeze!
There are a few different ways you can organize your Christmas storage boxes:
Pack like items together.
Store things by the room you use them in.
Group ornaments by the tree they go on, if you have more than one tree.
By doing a little prep work, you can have a relaxing Christmas that you enjoy!
Get Your Christmas Planner Here!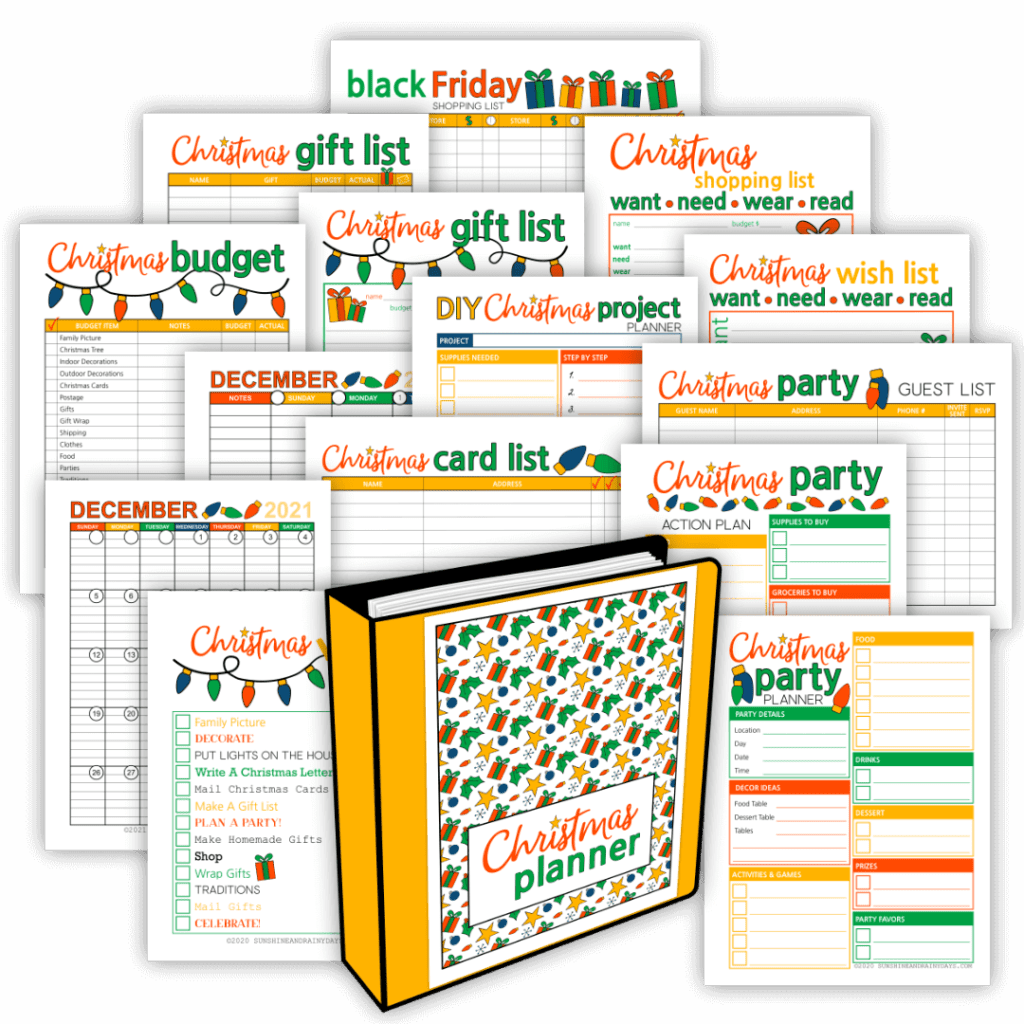 It's Time To Get Organized For Christmas!
FREE Christmas Planner!
The Christmas Planner is here to help you plan the BEST Christmas Yet!
It provides you with space to make lists, and check them twice, plan parties and projects, and create a schedule so you can enjoy your Christmas this year!
Are you ready to work the plan for a magical, organized Christmas?