There's a lot of stuff that needs to be stored, in the garage, and it's a bonus when you find a FUN way to organize the garage, especially when it comes to the kids' outdoor toys.
We had a blank wall, in our garage, that we wanted to utilize for storage but, since we also park two cars, in the two car garage, we needed an organization system that didn't stick out from the wall too far. We also wanted a space where the kids could easily access their outdoor toys, without digging through bins or piles.
How To Organize Kids' Outdoor Toys, In The Garage
We started with a four foot slatwall and installed a wire grid, on either side. There are lots of accessory options for both the slatwall and wire grids. We added baskets and shelving, along with various hook sizes. We purchased these items at storesupplywarehouse.com. They have the best prices that we've found.
Once we had the slatwall and wire grids installed, we had fun figuring out the best placements, for the accessories, to hold the kids' outdoor toys.
There is so much FUN on this wall! Sports equipment, squirt guns, scooters, bike helmets, chalk and lightsabers! It is all easily accessible and looks great on display. We can also easily change out the wall accessories as the kids' outdoor toys change, over time.
I love that Justine and Jack have their own wall to organize all of their outdoor toys! A few of the toys might be the adults, too!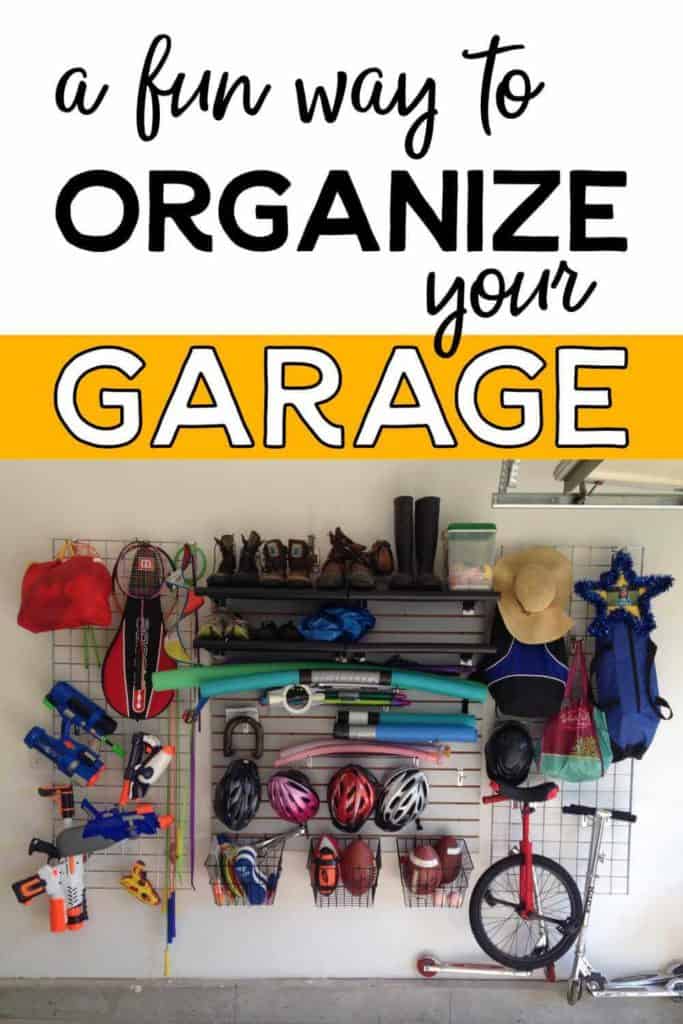 Overhead Storage In The Garage
The garage has to hold a lot more than fun outdoor toys so we installed an overhead storage rack that works overtime.
We have definitely used our overhead storage to its full potential! Christmas, Easter, Halloween, etc. all lives up there, out of the way.
It's amazing how much you can fit in your garage, when you have the right tools, to help you organize. After all, the garage needs room to park your cars, too!
More Garage Ideas
DIY Garage Parking Aid – Park Perfectly In The Garage Every Time
More Organizing Ideas
Organizing And Decorating A Teenage Girl's Room
The Best Way To Get Organized Once And For All
How To Organize Manuals So They're Easy To Find