If you'd rather spend your money on a gift than the card, print this Printable First Birthday Card on cardstock to wish the one-year-old in your life a Happy Birthday!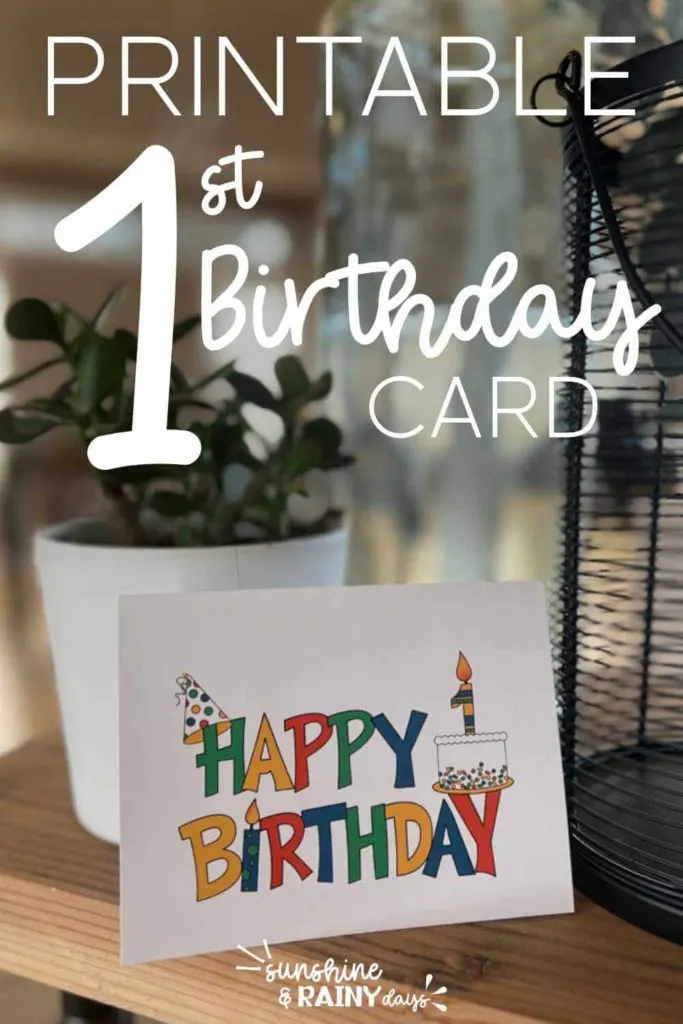 Supplies Needed
This post contains affiliate links. When you purchase an item through an affiliate link, your cost remains the same, and Sunshine and Rainy Days receives a commission. Disclosure.
Cardstock – It's always good to have cardstock on hand!
Bone Folder – A Bone Folder helps you score and create a professional crease. I have one, and it has been an excellent investment! You could also use the dull edge of a butter knife.
Scissors or Paper Cutter – Scissors will work fine, but you may want to invest in a paper cutter for a super straight cut. You will find yourself using it over and over and over!
1st Birthday Card PDF – found below
Envelope – Envelopes are optional, depending on your preference. This notecard fits in a standard A2 envelope.
How To Use The Printable First Birthday Card PDF
Using this printable Birthday card is easy.
Print the Birthday card (found below) on cardstock.
Cut the page in half.
Fold the cards in half and crease them with a bone folder or the back of a butter knife.
Write a Birthday message to the recipient.
Put it in an envelope to send or deliver!
What Should You Say In A First Birthday Card?
You aren't wrong whether you write a lot or just a few words. It could be as simple as "Happy Birthday," and your signed name, or you could write a bit more. Here are a few ideas:
Happy first Birthday! Wishing you a day filled with love, laughter, and lots of cake!
To the cutest little one on their first Birthday – may your day be as sweet as you are!
Happy 1st Birthday! You have brought so much joy into our lives and we can't wait to watch you grow.
One year old already! How time flies. Here's to a day filled with fun, games and all your favorite things!
Happy Birthday to the world's most adorable one-year-old! May your day be full of laughter, hugs, and lots of presents!
You've been in this world for a year, and you've already changed so many lives!
Happy 1st Birthday! Your smiles and joy have made the world a better place!
What you write in a Birthday card can be sincere, thoughtful, or humorous, but the message should be a happy one that warms the recipient's heart … or, in this case, the parents' hearts!
Get Your Free Printable First Birthday Card Here
Click the image or link below to download your Free Printable 1st Birthday Card.
Birthday cards aren't always necessary, but when they are, a FREE printable card is the way to go so you can spend your hard-earned cash on a great gift that the one-year-old will love!
More Birthday Cards
More Printable Cards