Have you received Graduation Announcements in the mail or plan to attend a Graduation Party?
You know the graduate really just wants money but you hope to get a little creative. We have the answer for you! The High School Graduation Gift Book For College Bound Students is here! It's money with a little bit of FUN thrown in!
Here's the story … my daughter is a high school senior so our mailbox has had the privilege to see many graduation announcements! Being the frugal girl I am, I set to work creating a graduation card I could print and add money to but the card I made was a little too serious for my daughter's liking. She wanted light, happy, and airy for her friends. NOT serious!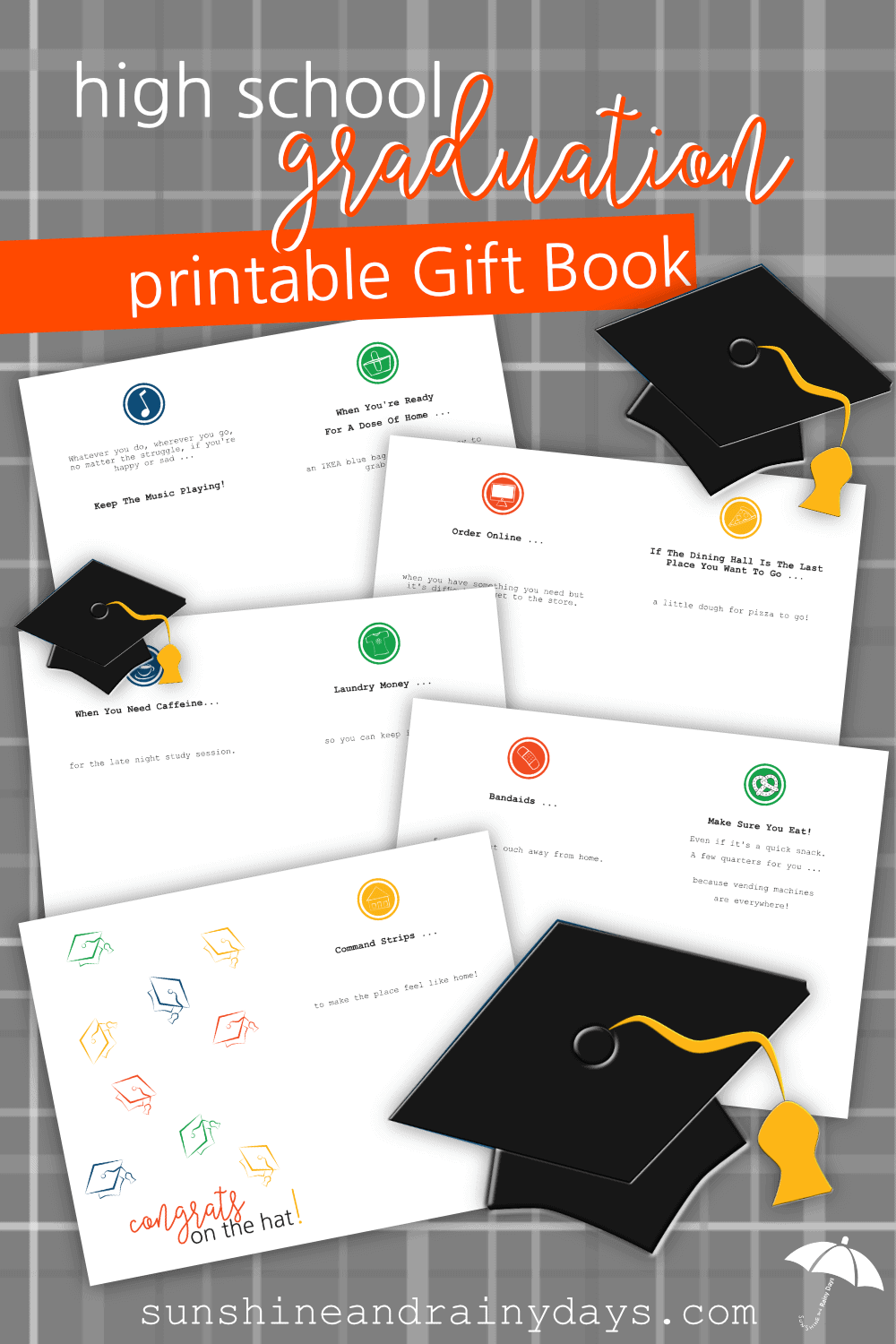 This post contains affiliate links. When you purchase through an affiliate link, we receive a small commission at no additional cost to you. Disclosure.
I stumbled upon the College Survival Guide and loved the idea … most of it! We needed something a little more flexible and … ahem … less expensive! This Graduation Gift Book is super versatile, to fit any budget!
Graduation Gift Book Supplies
Printer – I just purchased this one and it is ah-mazing! You will love it!
Card Stock
Graduation Gift Book Printables – found below
Hole Punch
Quarters
Money
iTunes Gift Card
Starbucks Gift Card
Amazon Gift Card
How To Assemble The Graduation Gift Book
1) Print the Graduation Gift Book – found below.
2) Cut the Graduation Book Printables in half.
3) Hole Punch the top of each sheet in two spots.
4) Lay the sheets out and adhere gifts using Glue Spots.
Here's the fun part! You can choose to use all the pages or just a few. Our goal was to create a Graduation Gift Book that had a value of $20 – $25. You could do more or less! That's what makes this Gift Book so versatile!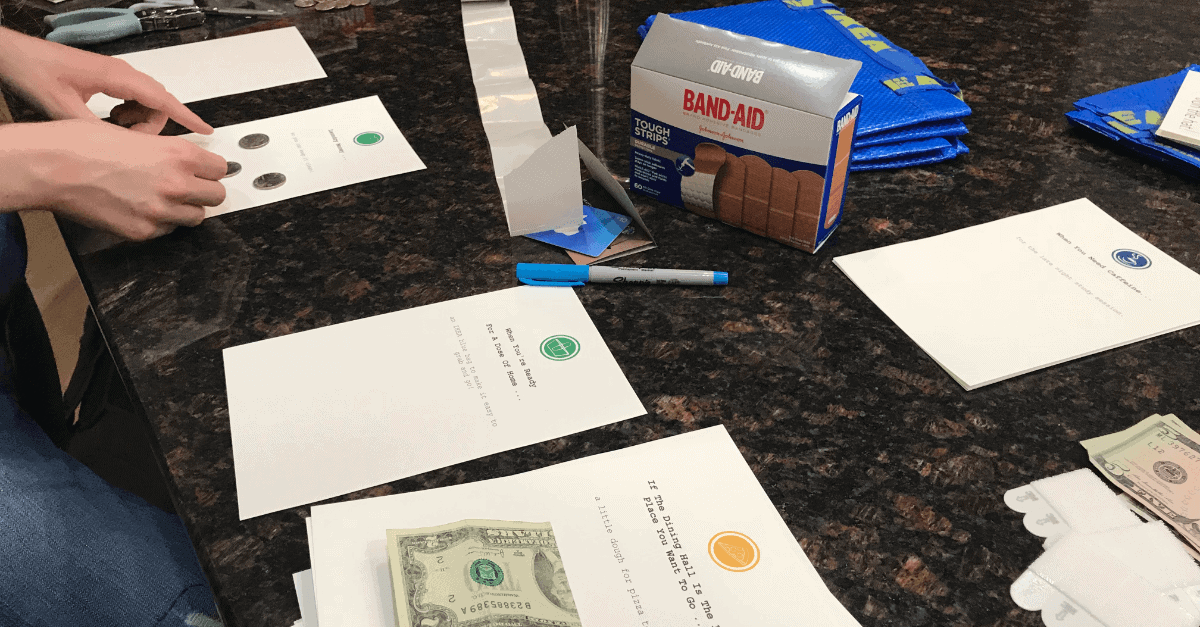 Command Strips – we placed 4 Command Strips on the card so the recipient could hang something on their dorm room walls to make it feel like home!
Bandaids – 3 Bandaids for the first Ouch! away from home.
Make Sure You Eat – 4 quarters for the vending machine. You could do more!
When You Need Caffeine – $5 Coffee Card.
Laundry Money – 8 quarters. Not all campus laundry rooms use quarters but it's a fun gesture nonetheless.
Order Online – Amazon Printable Gift Card. You print these right online and fold in fourths. They fit perfectly on the bottom half of the card when folded!
If The Dining Hall Is The Last Place You Want To Go – Money
Keep The Music Playing – iTunes Gift Card. The smallest increment we could find for iTunes was $10. If you purchase a pack of 3 $10 iTunes Gift Cards at Target using your Target card, you will get 5% off!
When You're Ready For A Dose Of Home – IKEA Large Blue Shopping Bag. These bags are an excellent way to pack things around yet they don't take up dorm room space to store! Win!
5) Decide the order you would like to place the pages.
If you choose to use the IKEA shopping bag, put that one last so you can place the bag directly behind the Gift Book.
6) Thread Hemp Cord through holes at top and tie a bow!
7) Sign the back page of the Gift Book!
8) Place IKEA shopping bag behind the Gift Book and tie hemp cord around it all.
Update: We used the IKEA Large Blue Shopping Bags without a zipper BUT, after moving my daughter to college, we realized we preferred the IKEA Large Blue Storage Bags with zippers! The bags with zippers were easy to stack in the car and throw in the cart to wheel into the dorm room.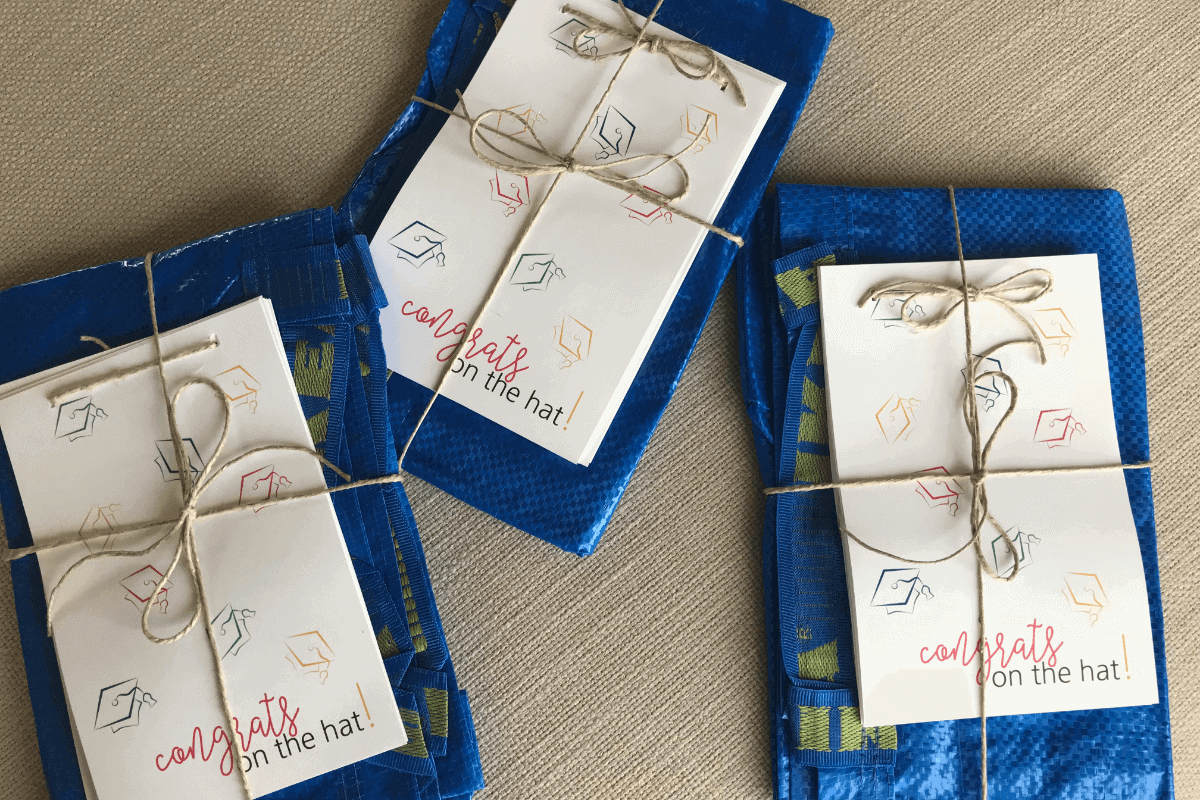 As we assembled each Graduation Gift Book, we put the announcement of who it was for with it!
My daughter and I had a lot of fun gathering supplies and putting Graduation Gift Books together for her friends! It was a fun puzzle to decide which pages to use for each friend, too! It's a gift she's proud to give and would be happy to receive!
Get your Graduation Gift Book Printables here!

More Graduation Resources
High School Graduation Gift Ideas That Make Sense