Do you want to do something FUN for your teenagers this Valentine's Day? Are you all for fun and EASY We have just the thing for YOU! It's a Valentines Scavenger Hunt For Teens!
The Valentine Scavenger Hunt For Teens will have your teenager running around the house, singing a love song, and using brain power on a quest to find their Valentine Surprise!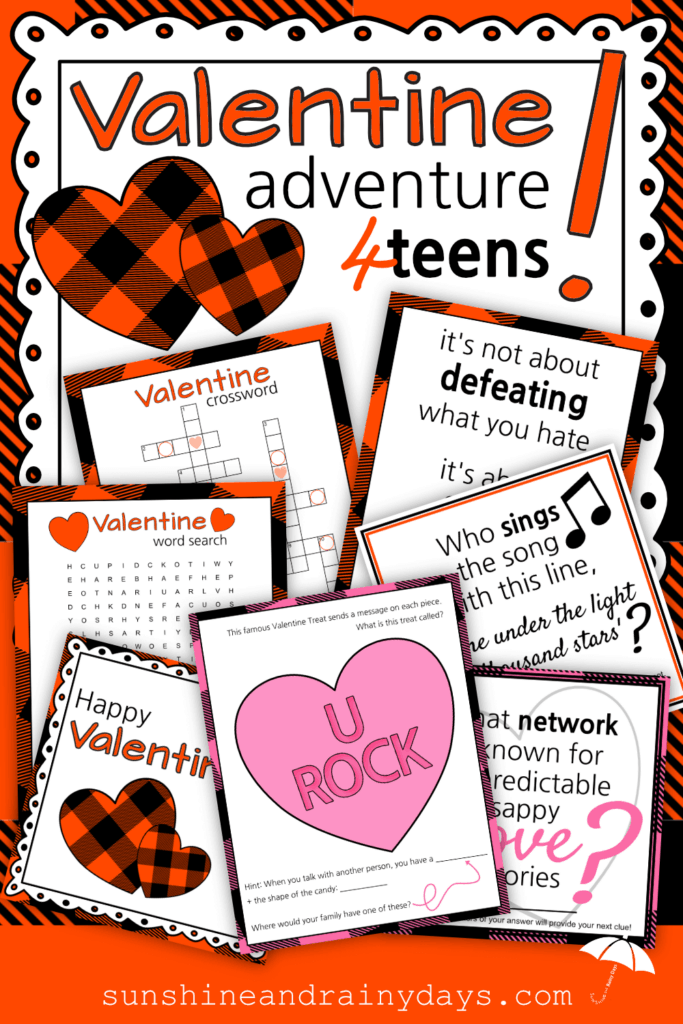 Valentine Scavenger Hunt For Teens
I'm super stoked about this Valentine Scavenger Hunt For Teens because it makes your life easy!
Who doesn't need a simple way to celebrate?
We've done most of the work for you! Woot! Woot!
What Is The Valentine Scavenger Hunt For Teens?
The Valentine Scavenger Hunt For Teens is a scavenger hunt in your own home!
You will provide your teenager with a series of 8 clues to guide them on their quest to find the Valentine Surprise you have purchased for them.
Your teens still like surprises and FUN so I've created this Valentine Scavenger Hunt to make Valentine's Day FUN for them and EASY for you!
Is The Scavenger Hunt Only For Teenagers?
Nope! It doesn't have to be at all! The Scavenger Hunt is geared toward teenagers BUT it could work for younger kids with a little help. Of course, it would work for your significant other too!
Supplies Needed For The Valentine Scavenger Hunt For Teens
Computer
Printer (or a place to print)
Paper/Cardstock
Paper Cutter or Scissors
How To Prepare For A Valentine Adventure
Purchase a Valentine Surprise for your teenager!
Print the Valentine Adventure Scavenger Hunt Cards (pages 2 – 5) on cardstock.
Cut the Scavenger Hunt Cards.
Use the Cheat Sheet (pages 6 – 10) to place your Scavenger Hunt Cards throughout your home.
Place your teen's Valentine Surprise where he/she hangs his/her coat.
Sit back and watch the FUN!
Say WHAT?
That's it?
It's so EXCITING!
Valentine Scavenger Hunt Cards
Pictured below are the Valentine Scavenger Hunt Cards.
It's your job to place them in their predetermined spots.
Make it easy … make it hard … the choice is yours!
You should place the first clue card where your adventurer will see it first thing. Tape it to their bedroom door, put it on their pillow, or just hand it to them.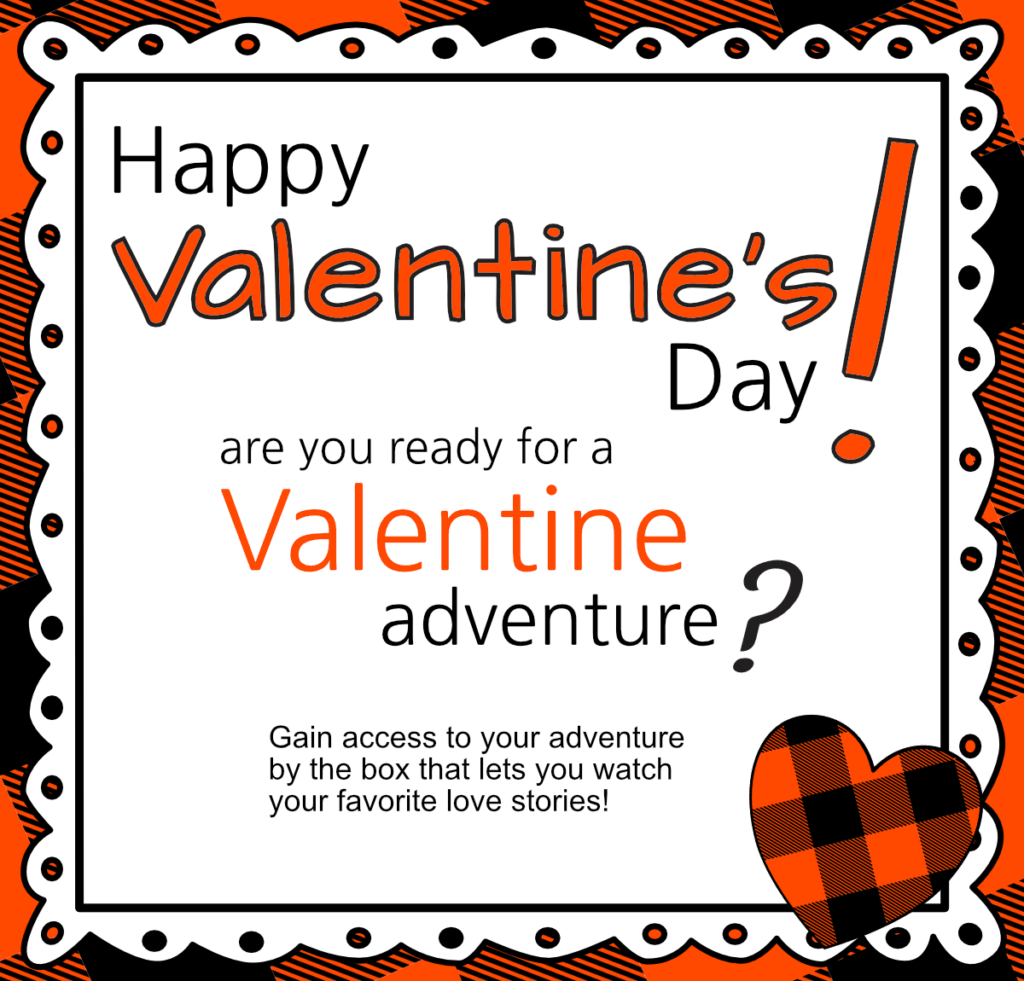 This clue goes next to the television … or a television … how many you got? How about the television your teen would watch a movie on?
Your teen should fill in the blanks to discover … they need to head to the kitchen table.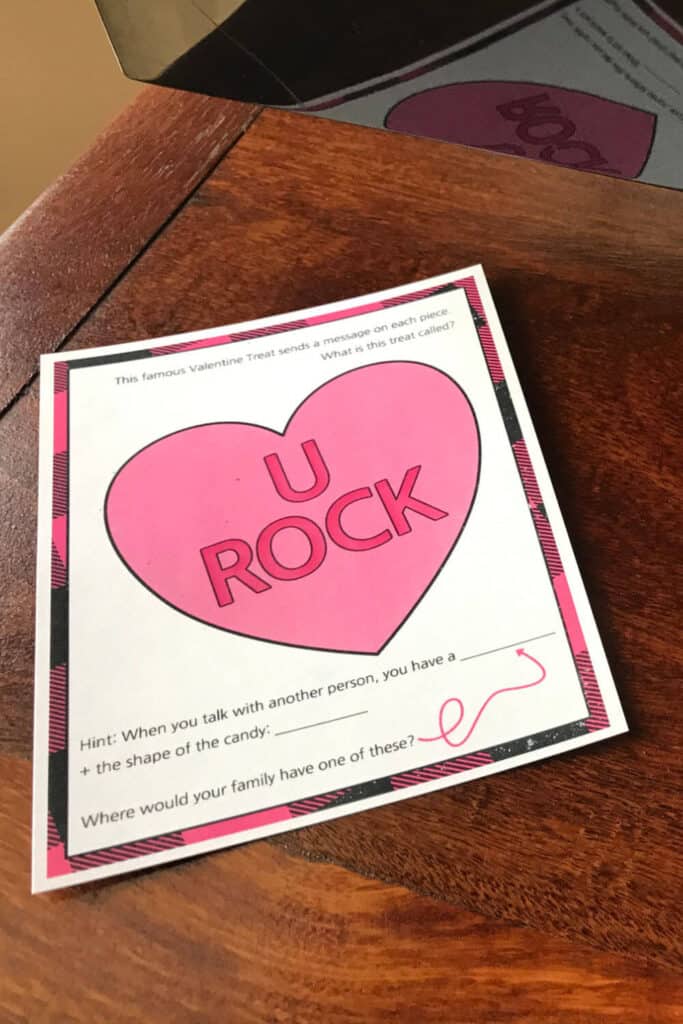 Place this card on your kitchen table where your family may have a conversation.
Do you think your teen will find ALL of the words or just the one he/she needs?
Once they find the secret word, they will know it's time to check out the trash!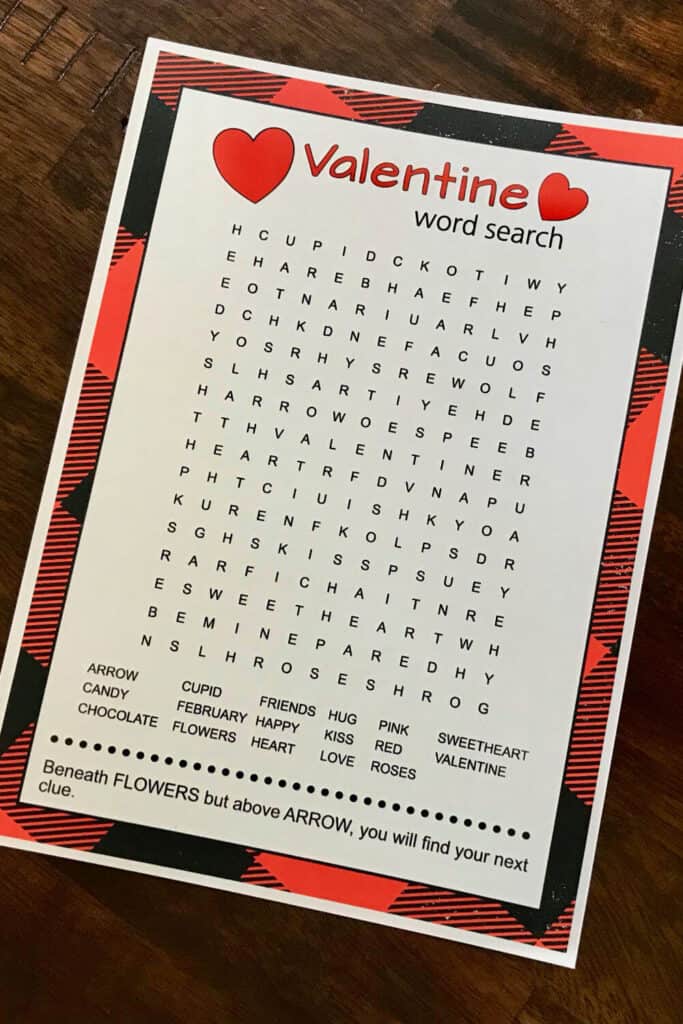 The next clue goes to the trash! Not IN the trash … taped to the outside will do.
The first four letters of this answer will lead your teen to the hall.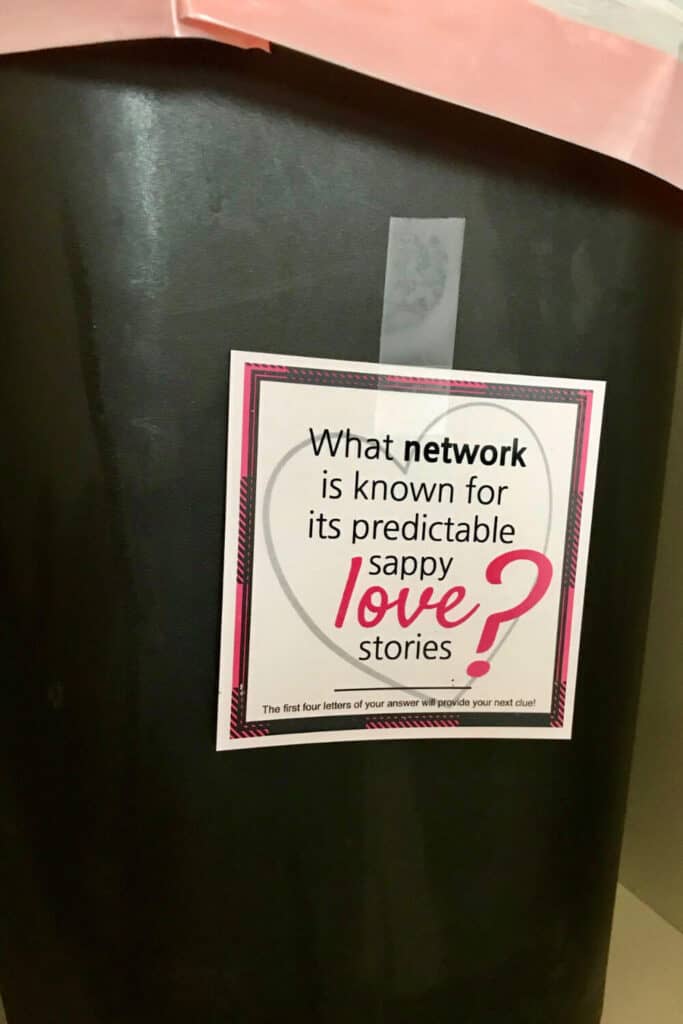 Then, this clue goes in the hall. I didn't have anything to hide it behind but I bet you can do better!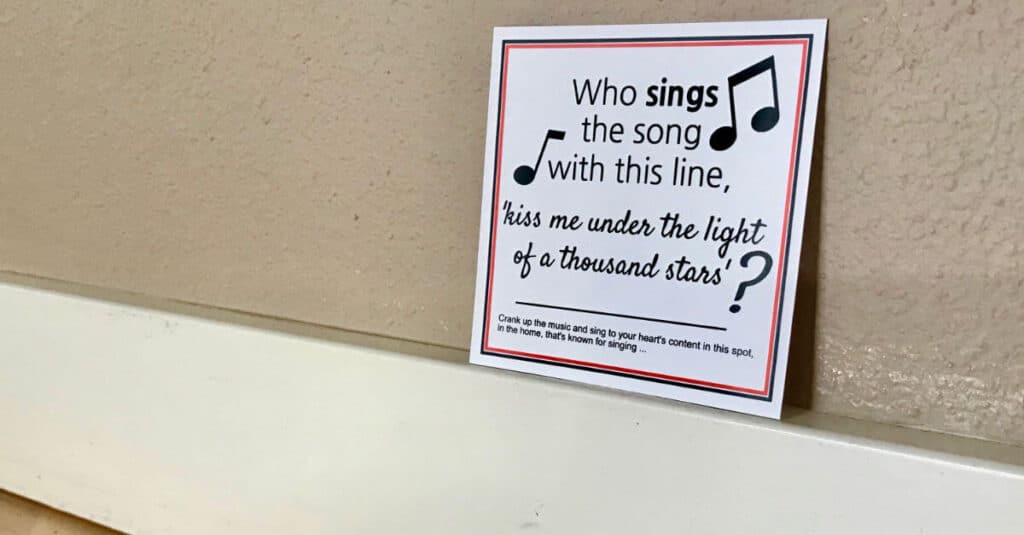 This one goes in the shower. Your teen is supposed to sing the song mentioned above … in the shower … where they'll find this clue.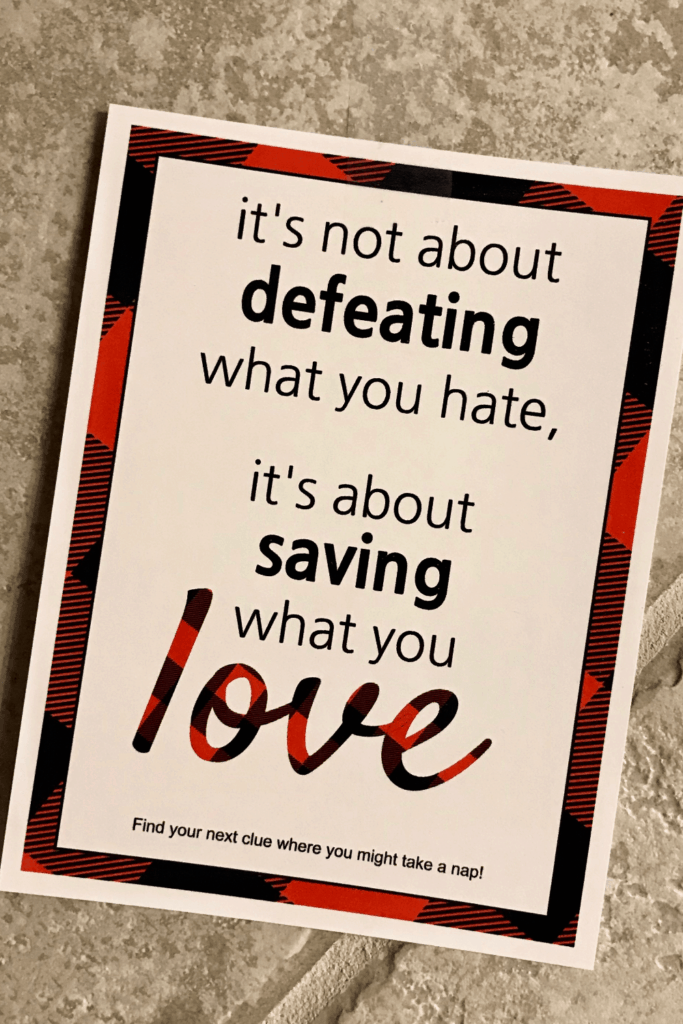 They might be exhausted after all that singing and need a nap. The Valentine Crossword goes where they might take a nap.
While your teen is napping … or not … he/she gets to complete the Valentine Crossword Puzzle … that's how they'll find the next clue.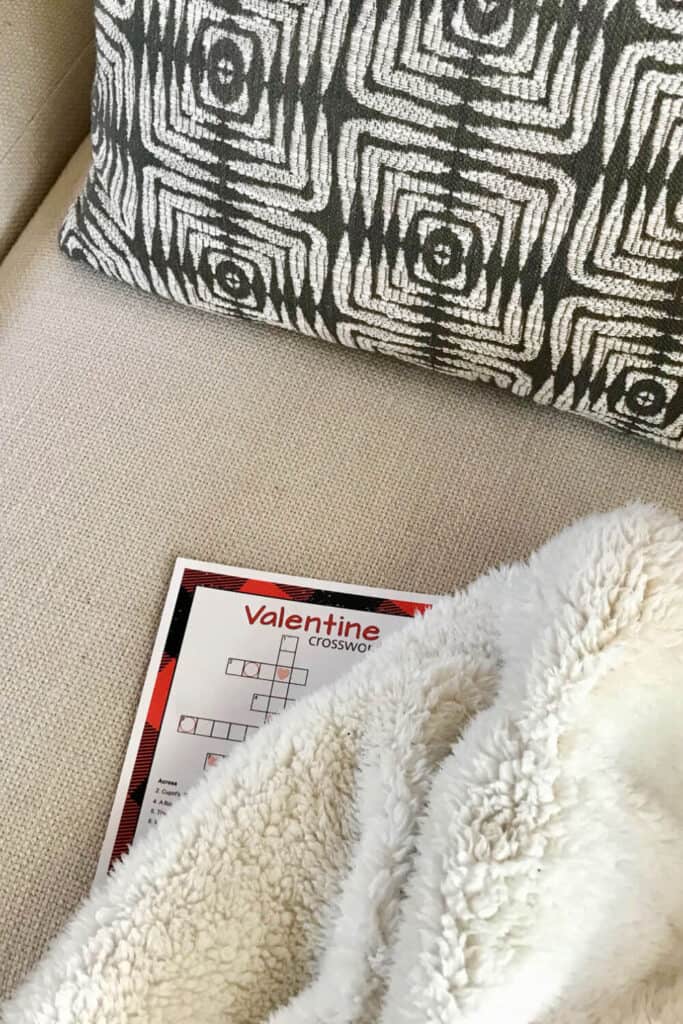 The refrigerator!
Point to ponder: Why is fridge spelled with a d if there is no d in refrigerator?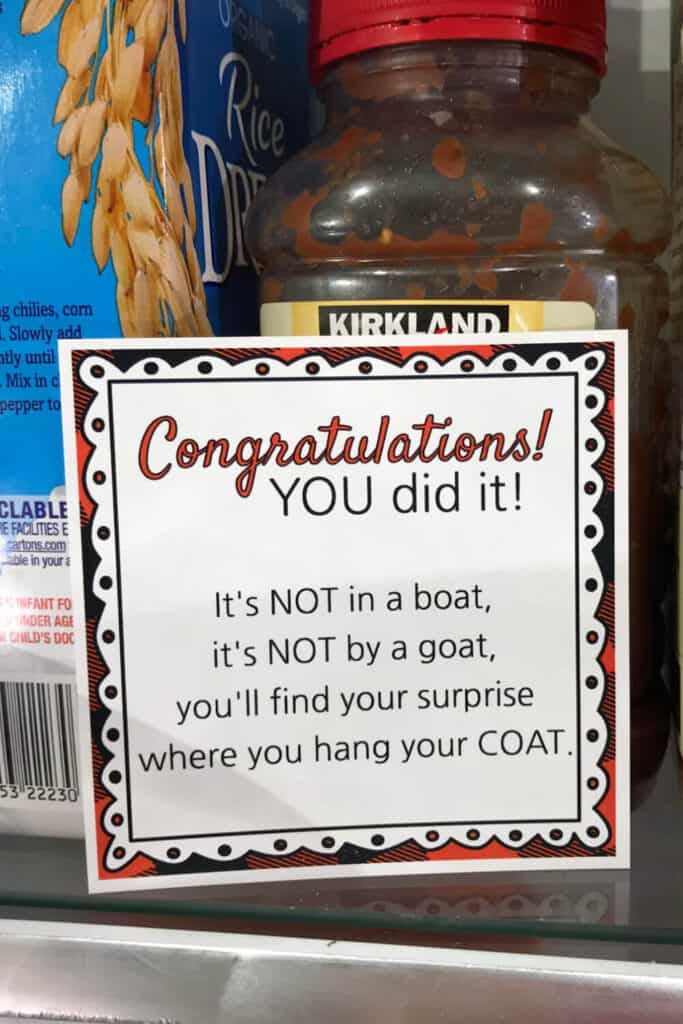 Next, they'll be led to the place where they hang their coat.
THIS is where you've left there Valentine Surprise!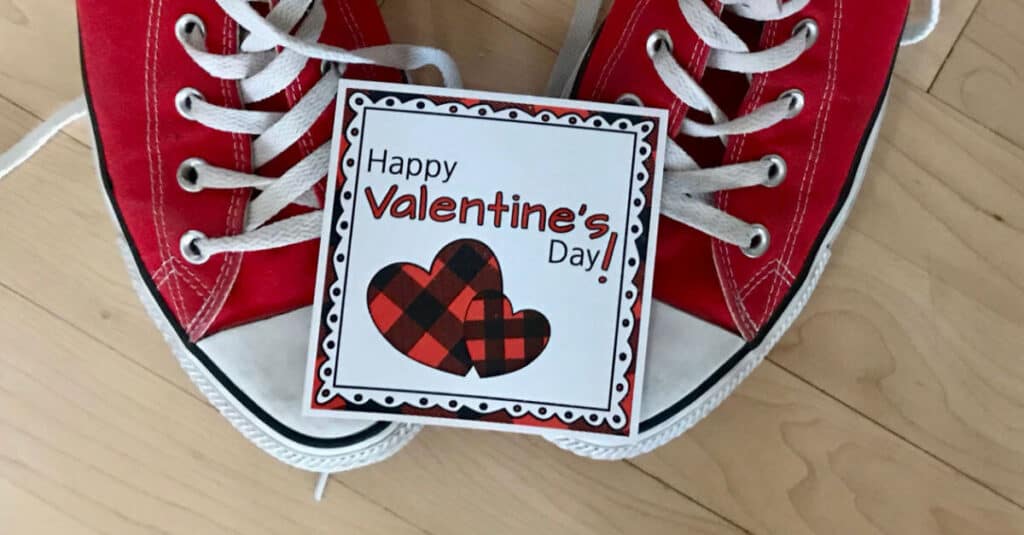 Get The Valentine Adventure Scavenger Hunt Here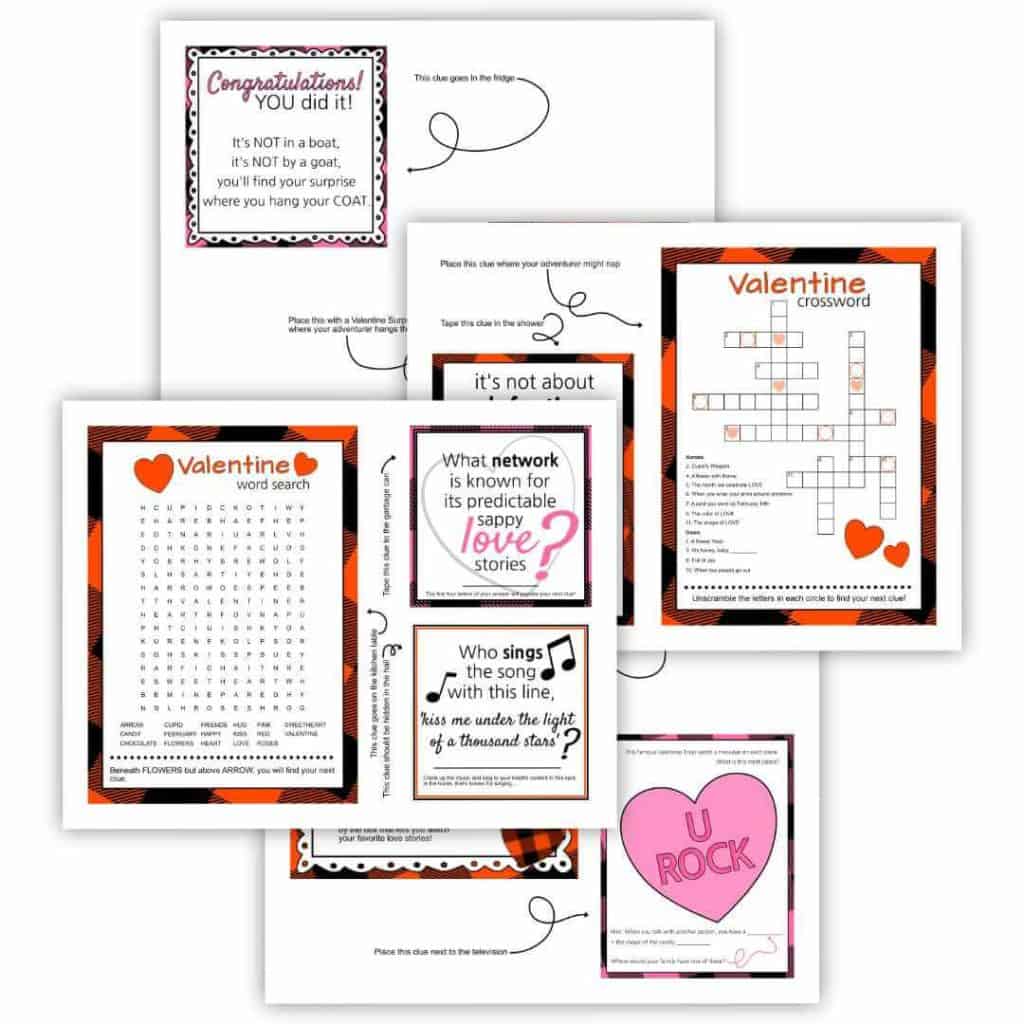 Valentine's Day is a Holiday that doesn't need a lot of fuss or expense. Yay!
The Valentine Adventure For Teens is your answer for a FUN and EASY Valentine's Day!
More Valentine Ideas
Valentine Gift Ideas For Teenagers
Valentine Gift Ideas For The Frugal Girl
Printable Valentine Pillow Boxes
Printable Valentine iTunes Gift Card Holder