You work hard for your money. You spend wisely, take on extra jobs, and rarely eat out. So … WHY do you feel STUCK in debt with no clear view of money success? Check out these 9 Money Mistakes that will keep you stuck in the debt merry-go-round.
1. You Spend More Than You Make
It really boils down to that one simple statement. If you consistently spend more money than you bring home, you will never get out from under your debt and will be stuck with your bad money choices for years.
2. You Don't Have A Budget
It's time. Time to sit down and list every bill you pay, the amount you spend on groceries, allowances, fun money, etc.
If you use our Income and Expense printables, this should be easy to do.
The important thing is to make sure your monthly expenses don't exceed your monthly income. If they do, make adjustments to your budget, look for ways to side hustle, and say no to extra things that don't fit in your budget.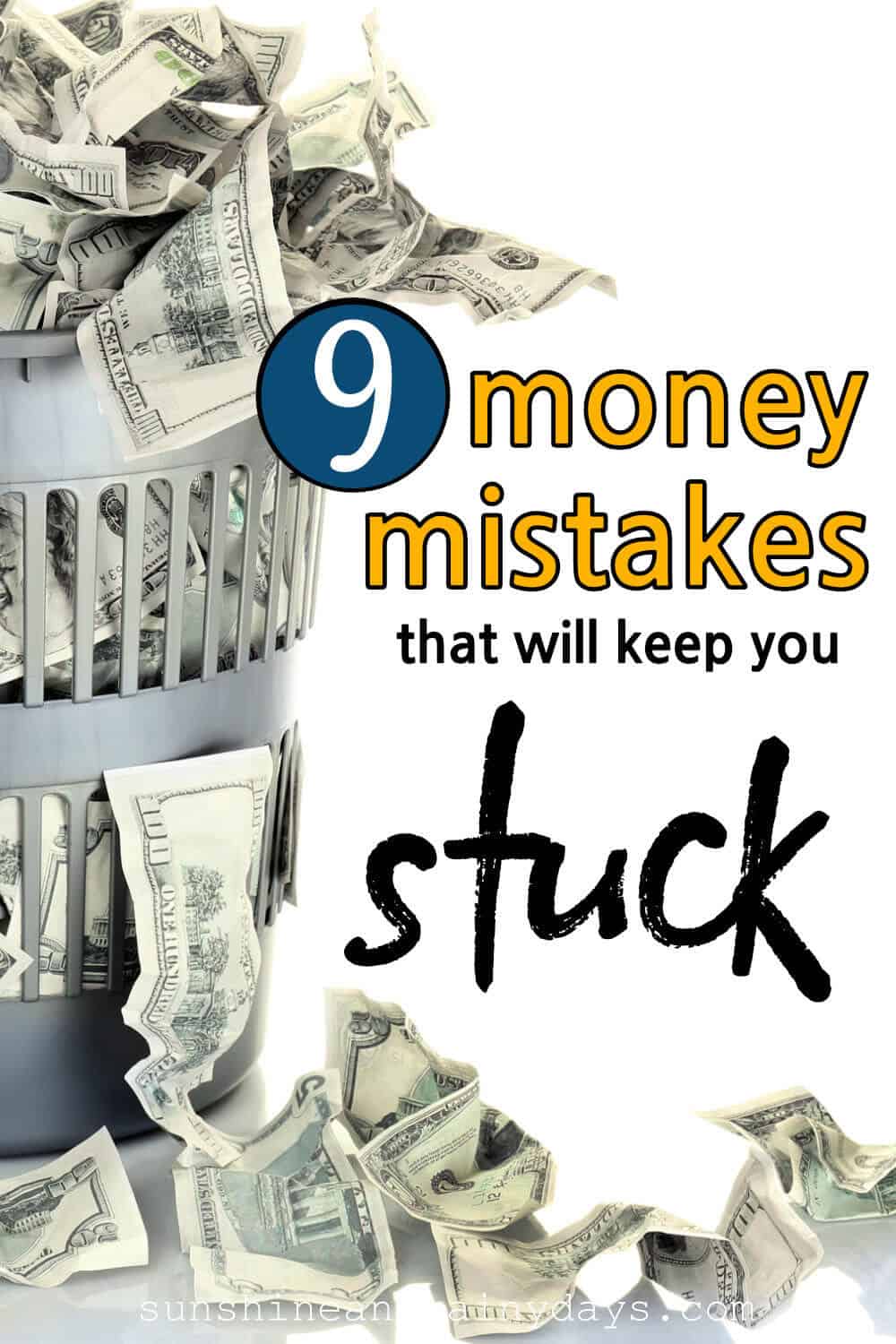 3. You Don't Pay Attention To Your Debt
There's no need to dwell on your debt all month but you should certainly track your debt and know how much you pay in interest each and every month.
That's enough to make you want to do something about it!
Use our Debt Boss worksheet to track your debt and give yourself a dose of reality.
4. You Purchase Items For Price Not Quality
Stop the madness!
Use your hard-earned money to purchase items you love and that will last.
When you purchase low quality items, because you like the price, you will probably need to replace those items sooner … spending MORE money in the long run.
Instead, save your money to buy the good quality item from the start.
This may mean you have to practice delayed gratification in a world that is used to instant gratification.
5. You Don't Give Yourself Or Your Family Members An Allowance
Money is tight. I get it.
The thing is … if you don't allow yourself a little freedom, you will, more than likely, find yourself giving up, frustrated, and going on a spending splurge. Just like the person on a super strict diet who binges on sweets because they just can't take it anymore.
Determine a fair allowance amount and make it a priority!
Your allowance amount doesn't need to be huge or excessive. It's not meant to provide latte money for every day of the week or accomplish ALL of your dreams.
Start with expenses you would normally incorporate in your family budget. Expenses like haircuts, gas, clothes, and entertainment.
6. You Don't Have Money Set Aside For Emergencies
It's hard, right?
You want to use any extra money you have to pay down debt.
That's fair, however, you will continue to accrue debt if you have to use credit for emergencies.
Start small with a $1,000 Emergency Fund and work your way up from there.
7. You Don't Pay Attention To Your Regular Bills
Mistakes are made. Pay attention to your bills. Read each charge or line item. Verify that the bill is correct.
Not only should you pay attention to bill amounts, you should also take time to re-evaluate.
Can you find a better insurance rate?
Would it be wise to refinance your home?
Could another cell phone company save you money each month?
Is there a better option for internet?
You may also want to re-evaluate where you grocery shop, where you get gas, or where you get your hair cut.
It is easy to get stuck in a rut and pay your bills on auto-pilot, without thought.
It's time to pay attention!
8. You Sign Up For Credit Cards To Save 10% On Your First Purchase
We've all done it.
That 10% looks really good when your bill is $100 or more.
THEN … you have another credit card … with a balance.
How many credit cards do you want to have?
The only time I would recommend you sign up for a credit card is if you have cash to make a huge purchase, can save over $100, and pay the credit card off right away … never to be used again.
9. You Pay For Multiple Memberships
Memberships are everywhere. They are THE THING.
Know why?
Because companies want to ensure their success by setting you up to pay them month after month.
What about YOUR success?
Memberships are often charged to your credit card and you don't pay attention or realize that you're paying for that Netflix membership and you haven't used it in months.
You work hard for your money. Make your work count.
Avoid these Money Mistakes that will keep you STUCK in debt.