Who says household finances have to be cumbersome? We're all about SIMPLE here! That's why we created Income and Expense Printables, ledger style!
It's the simplest way to create a Spending Plan and track all Expenses and Income for the year!
We've been using this system to track our finances all of our married lives (we were married in 1994). As a matter of fact, I adopted this system when I purchased a duplex at the age of 21 (which I believe was in 1990). It worked for me then and it works for us now!
It was just this last year that we moved from the traditional ledger (because the pages were full) to printables … because I LIKE printables!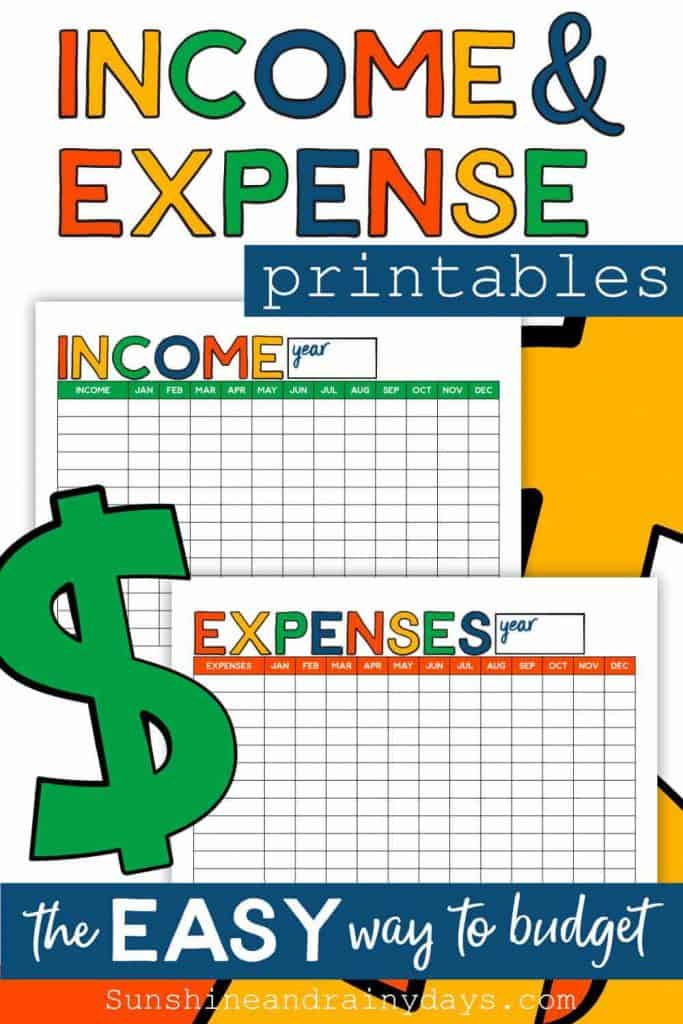 This post contains affiliate links. When you purchase through an affiliate link, we receive a small commission at no additional cost to you. Disclosure.
Income And Expense Printables Supplies
Income And Expense Printables – found below
Pen
How To Use The Income Printable
Write in the name of your employer or any source you receive an income from.
Record the amount received in the corresponding month.
How To Use The Expense Printable
Write down each Expense Name in the left hand column labeled Expenses. Listed below are examples of Expense Names. You may want to use the actual name of the company!
Mortgage/Rent
Power
Gas
Water
Sewer
Garbage
Cable
Phone
Car Payment
Tabs – You will find that some expenses, such as Tabs, are only due once per year. It is awesome to be able to quickly look to see when they are due so you can plan ahead!
Car Insurance
Life Insurance
Tithes
Credit Card
Medical
Gym Membership
Music Lessons
AAA
Roth IRA
Expendables – Expendables include groceries, gas, dog haircuts, gifts, and any other expense you may have throughout the month. Figure out a realistic amount you need each month and write a check for cash, in that amount, at the beginning of the month.
Savings – Savings may change throughout the year, depending where you are in your debt payoff journey.
Sinking Funds – It's important to include Sinking Funds in your regular budget for things you want or need to save for.
Allowance – Dad – Allowances are super important! Don't forget to give yourselves an allowance, even if it's a small amount!
Allowance – Mom
Allowance – Son
Allowance – Daughter
2. Record Expenses. Record each amount you pay in the coordinating month column! Doing so will help you see, at a glance, which bills you have paid for the month and which bills may still be coming in. (I use a regular check register as well to keep a running total of our bank account.)
What To Do At The End Of The Month
At the end of the month, add your Expense Column and your Income Column. Are your expenses less than your income? Are you living within your means?
Look at that! Just by paying your bills, you are creating a Spending Plan and telling your money where to go! You will also have a quick snapshot of your year at your fingertips!
Does family finance get any easier?