You probably know someone who is facing something challenging whether it be a hard test, a health issue, or a new job. This You've Totally Got This printable card is perfect to let them know you believe in them!
Not long ago, I tripped over my own long flowy pants and fell, in my own house, breaking both of my arms. A very kind nurse at the emergency room sympathized with me but let me know I would survive this. Then, when my orthopedist let me know I couldn't lift anything more than a glass of water for six weeks I questioned how I'd be able to do anything. She quickly let me know I'd survive. It sucks but I'd survive.
As blunt as those words seem, they gave me the little mental push I needed to stop feeling sorry for myself because I'll get through this crazy time just like others have.
Then, I saw my You've Totally Got This Sign and realized it would make a great card for people going through things, just like I am. So, of course, I'm sharing it with you so you can inspire the people around you!
Printable You've Totally Got This Card Supplies
This post contains affiliate links. When you purchase an item through an affiliate link, your cost remains the same and Sunshine and Rainy Days receives a commission. Disclosure.
Card Stock – It's always good to have Card Stock on hand!
Bone Folder – A Bone Folder helps you score and create a professional crease. I have this exact one, and it has been a great investment! You could also use the dull edge of a butter knife.
Scissors or Paper Cutter – Scissors will work just fine, but for a super straight cut, you may want to invest in a paper cutter. You will find yourself using it over and over and over!
You've Totally Got This Free Printable Notecard PDF – found below
Envelope – Envelopes are optional, depending on your preference. This notecard fits in a standard A2 envelope.
How To Use The You've Totally Got This Notecard PDF
Print the notecards – found below.
Cut the page in half.
Fold notecards in half and crease with a bone folder or the back of a butter knife.
Write something inside and put it in an envelope!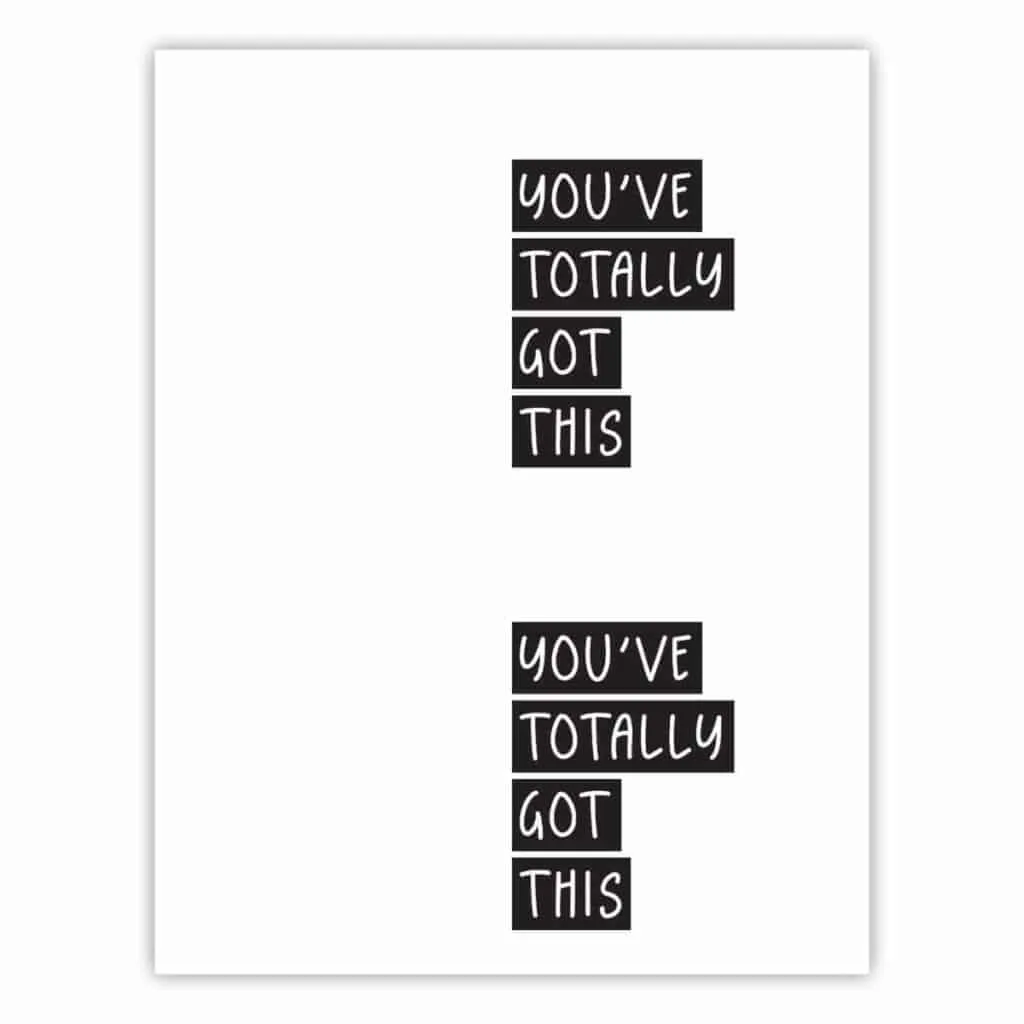 Use this You've Totally Got This card to let the people around you know that you believe in them. A simple gesture means a lot when they have hard things coming up.