I was asked to create a game that could be used at a Valentine's Day Party for adults. Since my son, Jack, is in a band and loves all things music, I had him come up with popular love song lyrics for a Name That Love Song Game!
Who Should Play This Game?
The songs used in this game are from a wide variety of artists, over a wide range of time. Because of this, kids may have never heard of many of these songs. However, my 21 year old daughter easily won this game and my 19 year old son is the one who came up with the lyrics.
My recommendation is to save this game for adult parties!
How Hard Is This Game?
Many people will recognize the lyrics, when sung, but may not know the actual name of the songs. They will probably bust out in song, in hopes of figuring out the name.
If your guests find the lyrics too difficult, you may choose to accept the band name as the answer or give it as a hint.
This game is much harder when the song lyrics are simply read as most people don't pay attention to lyrics but will recognize the music.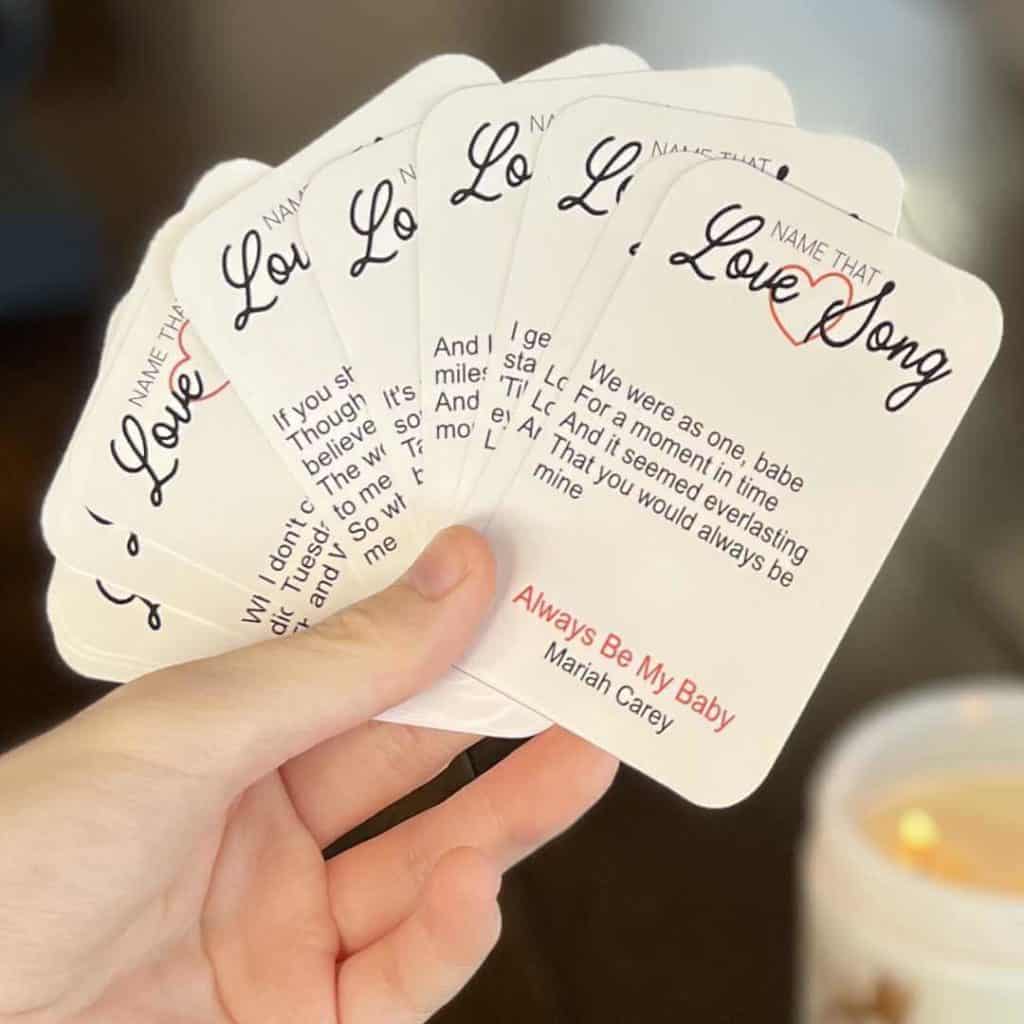 The Game Includes
Name That Love Song Game Rules
3 pages of Love Song lyrics and answers (8 per page) for a total of 24 Love Songs
How To Use The Name That Love Song Game
This post contains affiliate links. When you purchase through an affiliate link, we receive a small commission at no additional cost to you. Disclosure.
Print the Name That Love Song Game on card stock.
Cut the Cards. (I like to use a corner punch, on each card.)
Choose one person to sing the love song lyrics. No one wants to sing? Pull the songs up on your favorite streaming service (Spotify, YouTube, etc.) and play the song until someone guesses!
The first person who guesses the song, correctly, gets the Name That Love Song Card. (Alternatively, you may allow the band name as the answer or give it as a hint.)
The person with the most Name That Love Song Cards, at the end, wins!
Prize Ideas For The Game
The important thing to keep in mind, when you're purchasing a game prize, is your audience! What would they love to have? It doesn't have to be expensive but should be substantial enough to get even the most reserved person involved.
It's fun to give a prize that follows the theme of the game and that anyone would think the game is worth playing for. For this reason, I would suggest showing the prize, before the game starts, so your guests know what they're working for! After playing the Name That Tradition Christmas Game last year, I heard someone say "If I knew THAT was the prize, I would've tried harder"! What was the prize? A $10 Target gift card!
Here are a few prize ideas to get you thinking in the right direction:
Box of Chocolate
Bag of Chocolate Kisses
$10 Gift Card to a Local Coffee Stand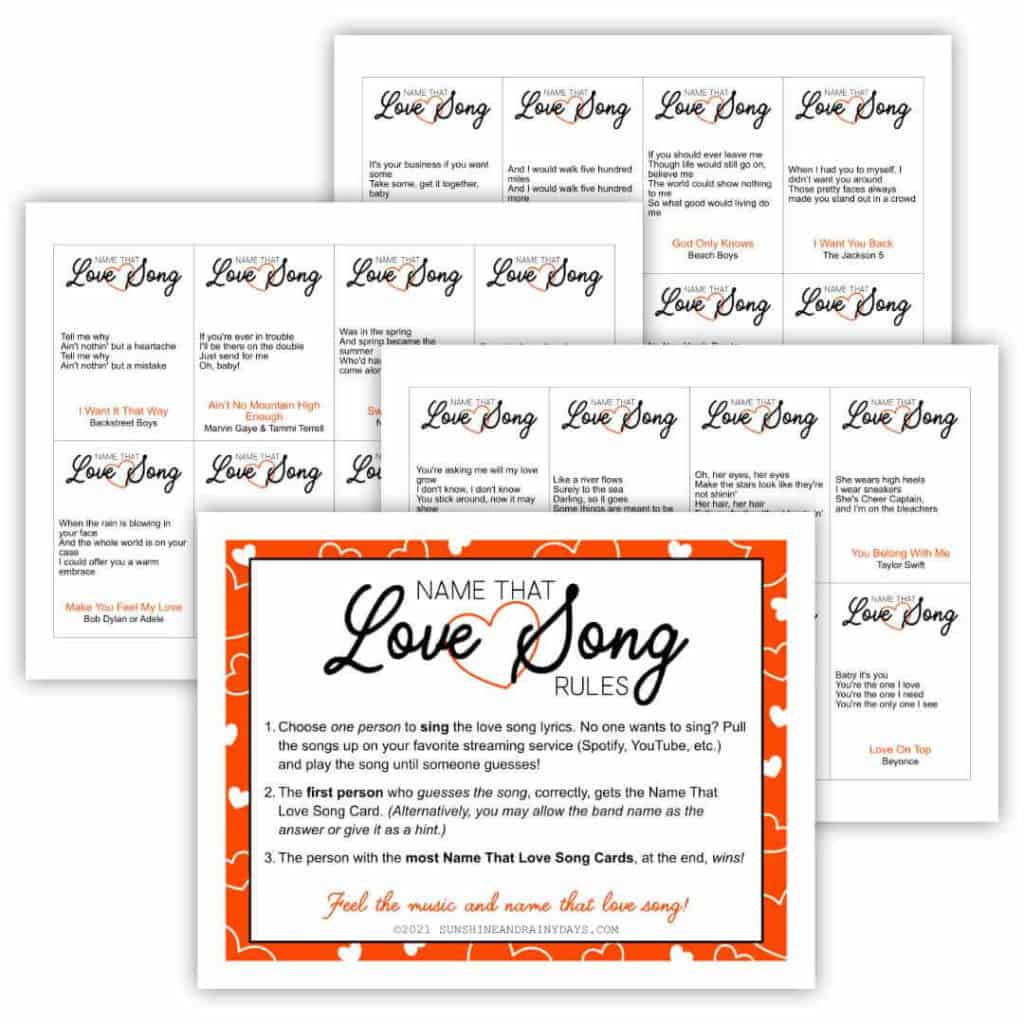 We practiced the Name That Love Song Game after dinner one night and it had us all busting out in song and laughter. Turns out, this is a good game to play with your adult kids, too!
Guess How Many Hearts Valentine Game