So, here's the deal. Everyone has been talking about New Year's Resolutions and I'm just not into it. I know it's a good idea to set goals and blah, blah, blah. Realistically, it just seems silly. However, I've been working on my teenagers' Big Books of Everything and I found their resolutions from past years to include in their books. It was really fun to see what they wrote! Needless to say, I'm jumping on the bandwagon and revising our dreams sheet from last year just so we can look back on it and say, ahhh! The 2017 Dream Sheet is on its way!
There is no pressure, just history in the making. I can handle that!
2017 Dream Sheet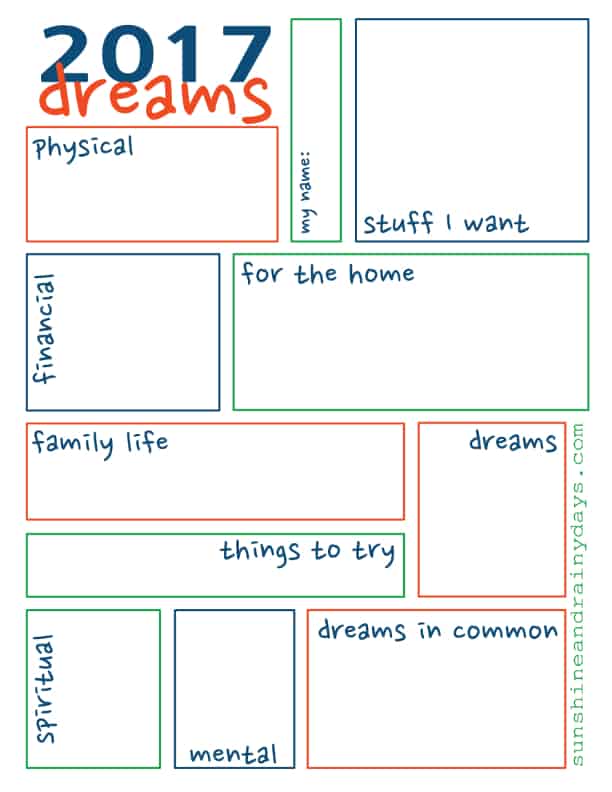 Click the picture above to get your very own 2017 Dream Sheet!
Don't think of it as resolutions, just let yourself dream!
What do you think of New Year's Resolutions?
Do you love them or do they make you nauseous?
More Dream Sheets
Subscribe (free!) to gain access to my Resource Library full of FUN Printables! Once subscribed, you will receive weekly emails with Printables, DIY Projects, and FUN for your Everyday Life!
By subscribing, you are agreeing to our Privacy Policy.