Ready to surprise your friends or neighbors with a little festive Halloween fun? Download this You've Been BOOed printable and check out the BOO ideas so you can BOO a friend or neighbor and put a smile on their face!
This You've Been BOOed printable doesn't leave the recipient with instructions to BOO others, too. It's a simple BOO that won't leave them with yet another thing to do but, instead, lets them enjoy being BOOed. That's what you want to do!
This post contains affiliate links. When you purchase through an affiliate link, we receive a small commission at no additional cost to you. Disclosure.
You've Been BOOed Supplies
Printer
You've Been BOOed Printable – found below
Paper Cutter or Scissors
Festive Gifts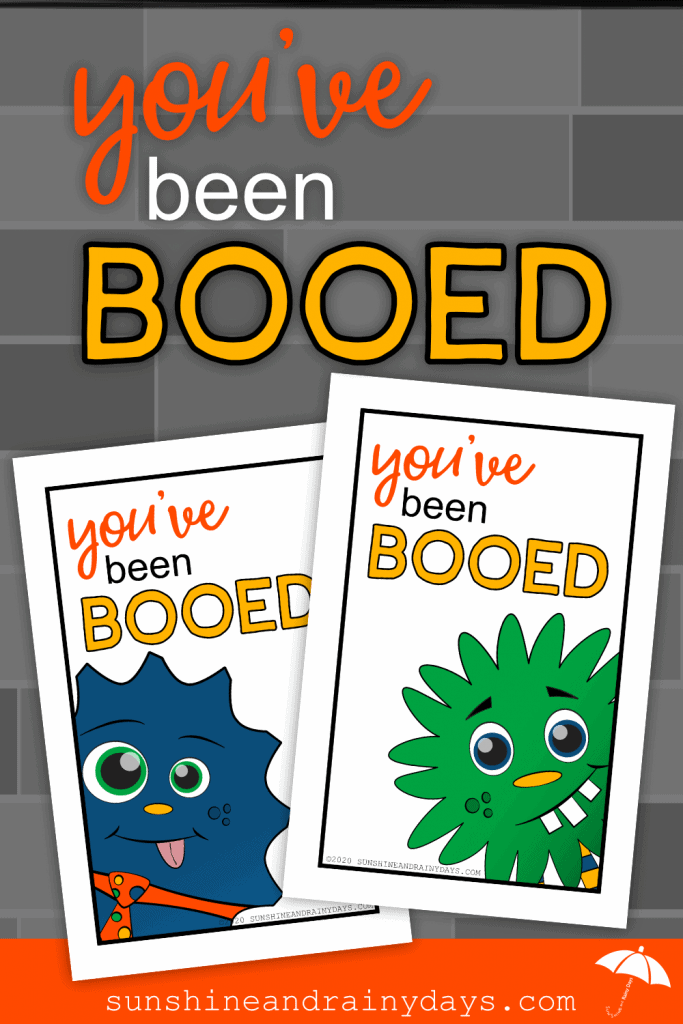 How To Use The You've Been BOOed Printable
1. Print the You've Been Booed Printable – We suggest using card stock to print. The printable comes with two per sheet for extra fun!
2. Decide What Gifts You Would Like To Give – Ideas are below!
3. Gather Supplies
4. Assemble BOO Boxes
5. Deliver Your BOOed Gifts – Place your You've Been BOOed Box on your recipient's doorstep, ring the bell, and head back to your car. This is supposed to be an anonymous gift!
You've Been BOOed Ideas
You can use a photo box, a gift bag, or a regular box to BOO! This time, I chose to use a box and decorated the box flaps with printables from my Halloween Care Package! I love the way it turned out!
What you put in the box or gift bag can be anything that reminds you of Halloween or it can be personalized for the person you are giving it to.
I do suggest that you don't put homemade treats in the BOO gift since it is an anonymous gift and recipients may not want to eat anything homemade because they don't know who it's from.
Sweet Treats
Candy Corn
Caramel Apple Pops
Trick Or Treat Candy
Snacks
Goldfish Crackers
Cheez Its
Something To Do
A Funny Mask
Disguise Glasses are always fun!
Something Silly
Glow Bracelets
LED Strobe Light – It's fun to take these lights out of the package and turn them on, when you deliver!
These items fill the box perfectly and add the fun and laughter of Halloween to our friends' homes!
You've Been BOOed Printables
When you BOO, not only does it bring smiles to others, it makes you smile too!
Happy BOOing!
More Halloween Printables