We are creatures of habit. We get used to our routines and often don't take time to reconsider what is best for our bottom line. I was recently prompted to re-evaluate our regular routines and explore ways to save money when grocery shopping.
Coupons used to be my thing. I had the big Coupon Binder all organized and would take it with me to the grocery store every time I went. Then my diet changed. Hashimoto's (a thyroid disease) changed the way we eat. I tried to coupon but the foods I could eat didn't have coupons. I gave up and sold my beloved Coupon Binder at a garage sale.
We found a grocery store that had a great supply of organic and gluten free foods. Our grocery bill soared and we determined this was how it was going to be.
A few weeks ago, we ran into a discount grocery store for an item our regular store didn't carry. Lo and Behold, I found a bag of peas for a third of the price I had just paid.
That was the turning point. We have decided to reverse our strategy and shop at the discount grocery FIRST and then fill in at the more expensive store with items we have to have.
You could have told me that, right? So silly!
The thing is, we get so used to our routines that we forget to re-evaluate even the simple stuff.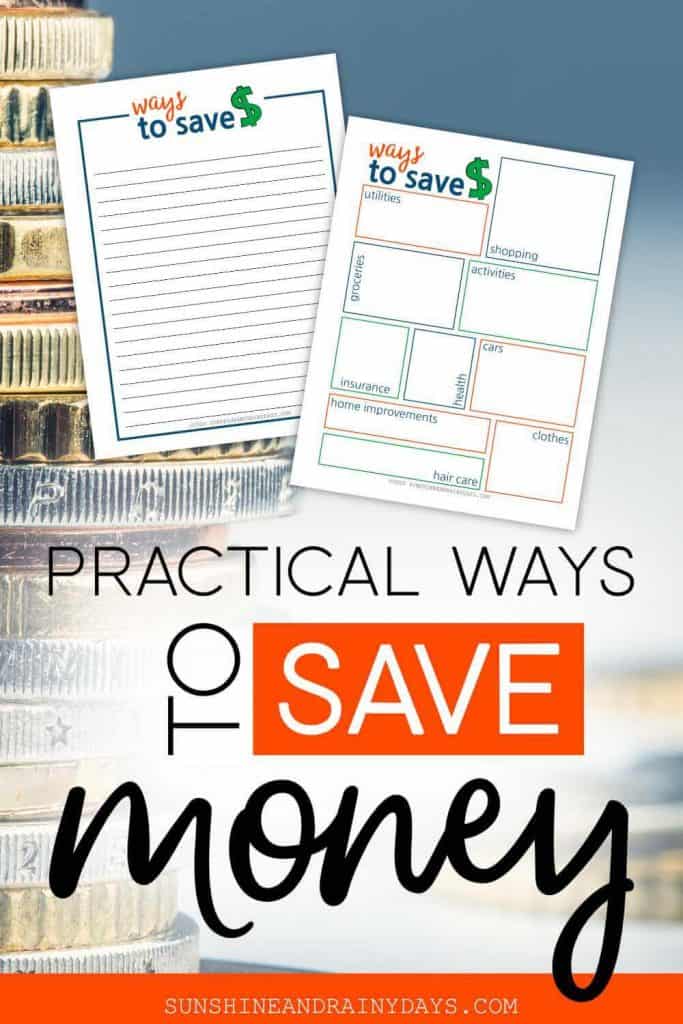 Ways To Save Money
Use the Ways To Save Money printable to quickly write ideas how you can save money. It won't be the same for any of us. This is a personal journey.
Let your mind flow. Even if your idea seems ridiculous, write it down. Get it on paper.
But it doesn't stop there. Use our targeted Ways To Save Money Printable to hone in and get creative!
There's something about putting pen to paper to make change happen!
We will even give you some ideas to explore!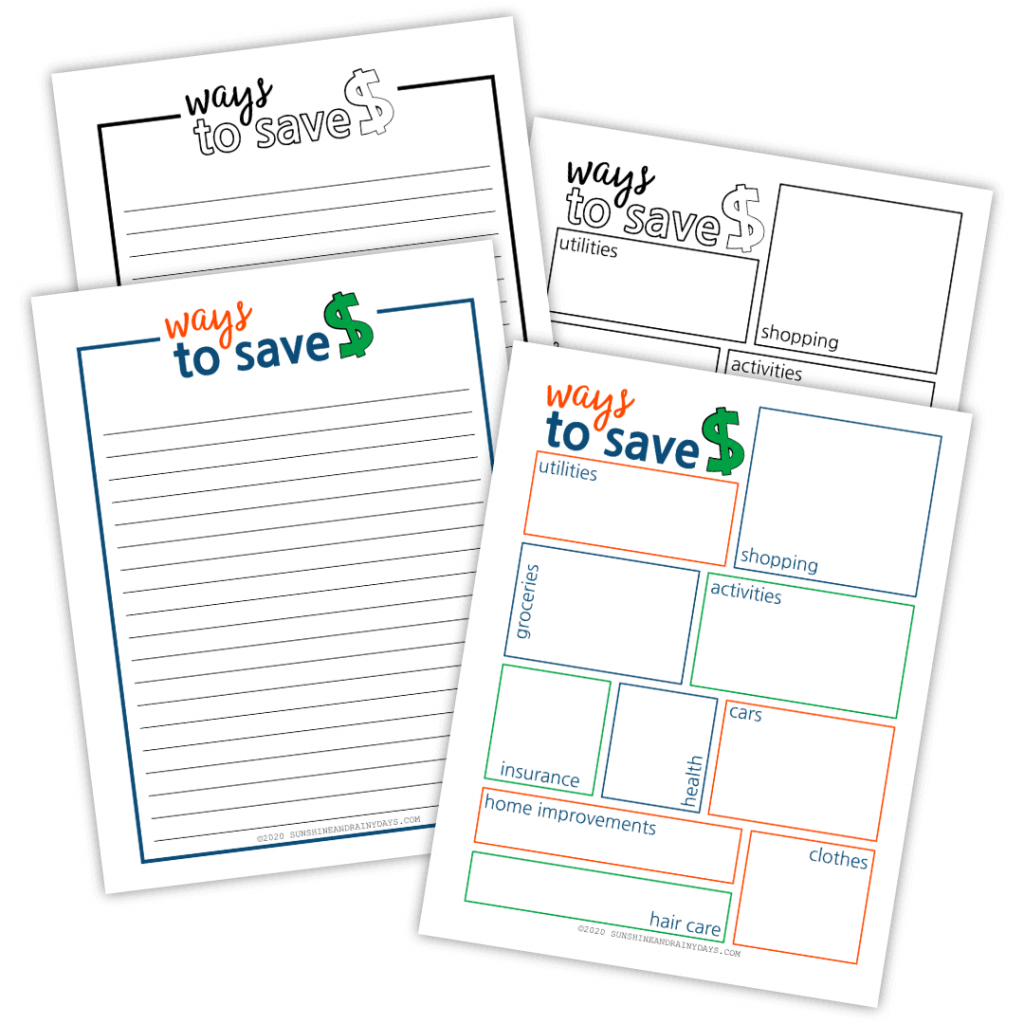 Here are a few ideas to explore and get your creative juices flowing!
This post contains affiliate links. When you purchase through an affiliate link, we receive a small commission at no additional cost to you. Disclosure.
Utilities
Reduce thermostat during sleeping hours.
Turn off lights.
Unplug.
Re-caulk windows.
Call the cable company.
Cancel landline.
Shopping
Shop online to save gas and avoid add on purchases.
Look for store discounts.
How many times have you been to Target and ended up with more than you anticipated? MmmmHmmm! It's so easy! When you shop online, you generally search what you need, put it in your cart, and purchase!
Groceries
Shop at a different grocery store where prices are better.
Use coupons.
You guys, I LOVE the store we shop at. They have a great selection of gluten free and organic food BUT it ain't cheap. I am proposing we shop at the discount store first and supplement at the more expensive store when needed.
We also use Thrive Market for many of our grocery needs!
Activities
Participate in fewer activities.
Look for a less expensive instructor.
When we moved, we were on the hunt for a guitar teacher. A guitar teacher that my son would enjoy. Not many would allow us to pay for a single visit to get to know the instructor. Some even charged an initiation fee. Most had a set monthly rate whether or not all lessons were used. We did find an excellent teacher who doesn't charge if he takes a Holiday and allows some flexibility.
Insurance
Call around for best rates.
Improve credit score. Yes, THIS matters!
Pay for a year at a time.
We call around every few years. Our last insurance agent was super nice and friendly BUT he was not doing us any favors. I have learned it doesn't pay to be loyal in the insurance industry. We found a substantial savings by switching to another company. Our credit score mattered and paying for a year saved us big time!
Create a sinking fund and pay for an entire year of car insurance to shave money off your policy!
The funny thing is, I had called the SAME company just one year before and their rates were higher. I was told insurance companies rates are constantly changing so keep calling!
Health
Work out!
Eat right.
Pay attention to healthcare bills.
Cars
Do regular maintenance.
Wash and vacuum at home.
Pay it off!
Find a great, trustworthy mechanic.
Seriously! We took my daughter's truck in for an oil change and were told she needed a new engine. An engine that would cost more than the truck was worth. Panicked, we parked the truck for about a month before taking it to a recommended mechanic who had it up and running for $600. Whew!
Home Improvements
DIY what you can.
Find a trustworthy handyman.
Keep up on regular maintenance.
Hair Care
Find a salon who charges less but provides the same level of service.
Stop coloring hair.
Find a hairstyle that requires fewer trips to the salon.
Stretch visits out.
Clothes
Enjoy a minimalist wardrobe.
Shop sales.
Use coupons.
Keep track of clothes.
No joke! There have been a few times when I have looked for my son's clothing only to find a friend he had stayed the night with wearing them or at a friend's garage sale. Ha! Awkward! We let it go but emphasized to our kids the importance of keeping track of their clothes when they are at camp or a friend's house.
You may feel like $5 here and there doesn't matter but it DOES! All those little things add up fast.
There is a choice to make.
Stay in your comfortable routine.
OR
Jump out of your comfort zone and do things different in order to change your bottom line.