You have the bulk of your Christmas shopping done but those empty stockings are hanging there looking so lonely. You need ideas. Ideas for stocking stuffers for teenagers!
Wasting money just to fill those bad boys up is not an option. You're looking for things your teenagers will actually use. Practical, fun, interesting stocking stuffers!
This post contains affiliate links. When you purchase through an affiliate link, your price remains the same and we make a small commission for our efforts! Disclosure.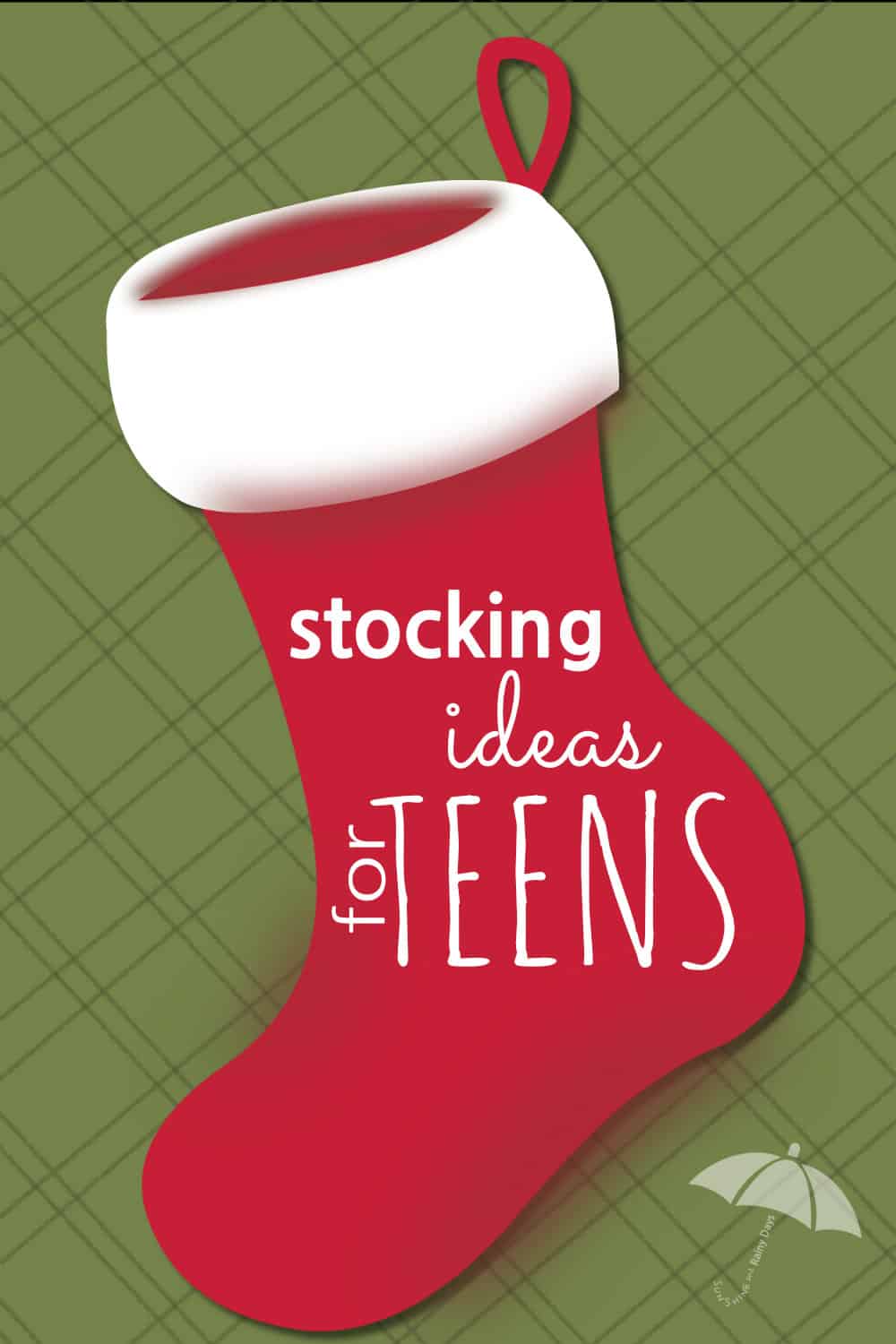 Stocking Stuffers for Teenagers
iTunes Gift Cards
If the teenagers in your house have Apple devices, an iTunes gift card is an easy choice. The only bummer is, it doesn't take up enough space in that stocking! How about wrapping it in a nice little box?
You can often find iTunes Gift Cards discounted at local stores. Costco offers a deal online and in store.
Candy
But, of course! What's your teen's favorite? No need to go crazy here, just a little will do. Especially if it's this one pound Hershey's Bar. Oh my Goodness! Will that even fit in a stocking?
Movie Tickets
Hey, you're probably gonna head to the movies at some point anyway so you might as well throw the tickets in their stockings too!

Gloves
Oh yeah! I'm thinking we just might have snow this winter. Fingers crossed! The teenagers have outgrown their snow gear and, guess what, Winter Gloves fill up that stocking quite nicely!
Grooming Supplies
It's time for the teenagers to stop using mom and dad's grooming supplies and take pride in having their very own! What? What? But these are nicer than mom and dad's. No Fair!
EarPods
We tried to go with the cheap drug store earbuds/earphones one year and they didn't quite cut it. If you've used Apple EarPods, you apparently get a little spoiled! Needless to say, it's hard keeping track of these things and a spare pair is always a blessing!
Video Games
It's an expensive stocking stuffer and we may have, ahem, wrapped a few in a MUCH bigger box in hopes of filling that space under the tree. Of course, if your space is limited and stockings bare, put that fun video game in the stocking!
Check out Gift Ideas for 13-Year-Old Boys for more video game ideas!
Socks
How about some specialty socks? These socks by Thorlo are my daughter's favorite! As a matter of fact, they're my favorite too!
Fuzzy Socks
Perfect for those cold winter evenings at home!
Wool Socks
Ahhh! I can feel the warmth now! Wool socks are an excellent choice for those chilly days. My teenage daughter borrows mine often because she hates cold toes!
Whew! That's a whole lot of socks, right there! Isn't that what stockings are for?
Game Controller
Do you have enough controllers for the whole family to play? Stuff those stockings and get into the game!

Flashlight
Because you just never know when you might need one and, when you do, you'll be glad you have it!

Wallet
The duct tape wallet has been through the wash so many times it is actually falling apart. Those things are pretty tough too! Now that we're growing up, it's time for a REAL wallet. Hopefully one that will never see the insides of the washing machine. Perfect for the toes of your stocking!

Ice Scraper
The permit holding teenager holds some golden opportunities for stocking stuffers! Plush dice anyone? How about a lovely gas card? That gas money is probably coming out of your pocket anyway, so stick it in the stocking! In a box, of course. This ice scraper will fill that stocking nicely AND your teen will be thankful when their windshields are frozen or heaped with snow!
Hopefully this list of stocking stuffers for teenagers has inspired you to get the ball rolling and fill those stockings!
From practical to fun and things you probably would have bought anyway. Take it and roll with it!
More Gift Ideas