You may have dreams and aspirations to change things up in your home but the high cost of hiring someone to make your dreams a reality leave you with years of saving and a home you aren't proud of. In order to save money and get your project done sooner, how do you know if you should DIY a house project?
You have the tools needed or are willing to purchase the right tools for the job.
This post contains affiliate links. When you purchase through an affiliate link, we receive a small commission at no additional cost to you. Disclosure.
It's easy to think you can make do with the few tools you have on hand but the right tools will make the job easier and possibly make the difference between doing the job well or looking like an inexperienced DIY project. One simple example of this was when we were installing pre-hung doors. We thought we could get by with our three foot level to make sure the frame was straight. What we ended up with was a crooked door and lots of frustration. Once we purchased a six foot level, the doors were much easier to install. Sounds silly, right? The right tools matter!
You are confident that you can learn how to complete the project by watching YouTube videos and learning from others.
There is a lot of good information out there but you can't just watch one YouTube video and think you're a pro. It's important to learn from many different sources so you know what went wrong and what went right and can make adjustments or know what to expect. It's a huge bonus to have someone you can ask questions, in person. Thankfully, we hired a contractor that was willing to let us do a lot of work ourselves and wasn't afraid to answer our questions, when they arose!
Patience is your middle name!
You know you aren't a professional and can exercise patience when things don't go like you had anticipated. Because they won't! You will have to learn to adapt and rework things that didn't go quite right. It may even mean wasted material, which equals wasted money. While installing trim, I made more than a few wrong cuts and had to pick up extra trim to accommodate. I was okay with that because, in the big picture, I was still saving a LOT of money by installing trim myself.
You realize mistakes happen and can pivot to turn those mistakes into lessons and make them work for you.
It's what you do with those mistakes that matters most. I made more than a few mistakes and sometimes needed a day or two before I was ready to fix them. I took my time to figure out how to turn those mistakes around and was willing to do the tedious work of redoing things in order to make them right. One example of this was trim that was bowed. I was so intent on getting the trim close to the wall that I didn't pay attention to the fact that one particular piece left a half inch gap at the bottom, near the center. I had already caulked the top of the trim, done the touch up paint, and the room was done before I realized I just couldn't leave it that way. A few days later, I cut the caulk, removed the board, pulled the nails, scraped the caulk, and then re-installed the board, with my husband's help, pushing the board down as we nailed it to studs. It took time but I knew if I didn't correct the mistake, it would be the first thing I saw every time I went in that room.
Time is on your side.
When learning new skills, you will not be able to complete projects as fast as an experienced carpenter. It will take time to learn and implement so, if you are on a major timeline for completion, this may not be the best time to DIY. Our daughter was moving home from college so we were on a bit of a time crunch but we made sure to make her room a priority to finish first.
You are physically able to perform the tasks needed to complete the project.
This is a big one! Most DIY projects will stretch you, physically. From bending, lifting, squatting to running up and down stairs and lots of trips to the hardware stores, you will feel as though you're in a marathon of exercise. One thing that helped me, while installing trim and scrubbing tile floors, was knee pads! They were definitely worth the $30 to save my knees.
You know details matter.
An eighth of an inch may seem close enough but when it throws the whole door off, it makes a difference! Take the time to lay the right foundation by paying attention to details and you'll save yourself time and frustration.
Help is available for the projects you just can't do alone.
There are just some projects where two hands are not enough or the task is made much easier when someone else is there to help. I was able to devote a full three weeks to our basement renovation but I knew I could rely on my husband to help out on weekends and maybe a tad bit after work for those things I just couldn't do alone. Like installing doors!
You are able to think things through.
The second step relies on the first step being completed the right way and you need to be able to think through the steps in order to avoid a disastrous result. We have a transition piece on the floor going from our hallway to the bathroom. The bathroom has heated floors so the floor is a bit higher than the rest and the transition is a gradual incline, right at the doorway. Because of this, we had to trim the door frame, at the base, so the door wouldn't be a noticeable half inch higher than the rest of the doors in the hallway.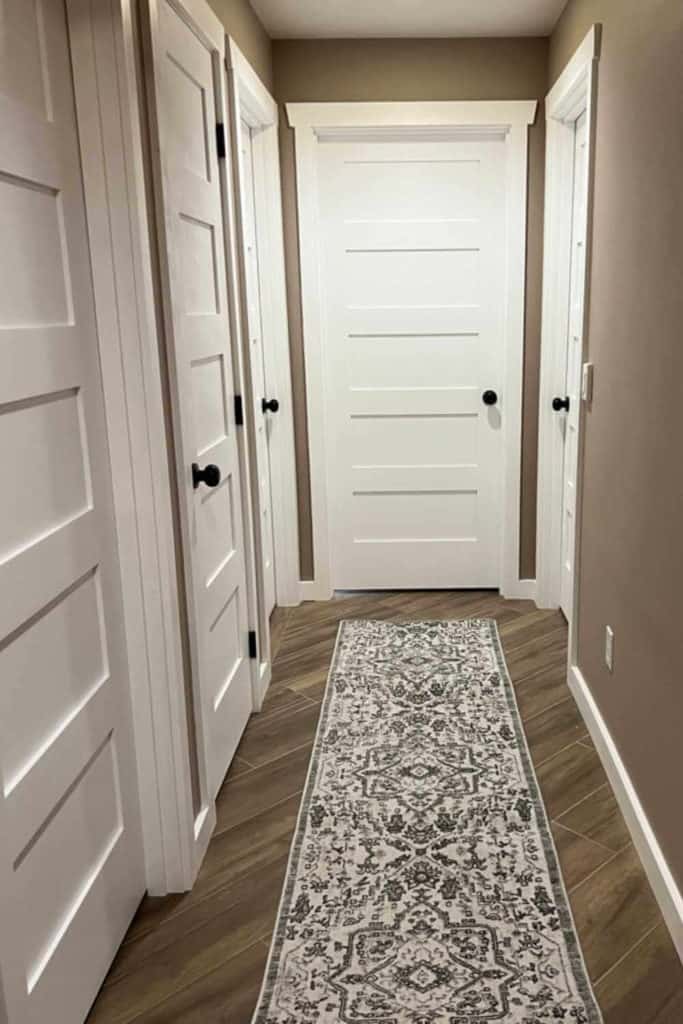 You can give yourself grace.
This is your project and you will probably want to do the best job you possibly can. I would even dare say you will care more than someone you would hire to make sure the job is done well. Even so, you will have disappointments and frustrations. It is important to realize you are doing your absolute best and to be proud of your accomplishments.
You know your limitations.
There are some projects you just shouldn't take on. Projects that deal with electricity, plumbing, or soar to heights that are more than uncomfortable. There is no project that is worth putting yourself in a hazardous situation. Know when to hire someone who is knowledgable of the task at hand and can do it in a safe manner.
You enjoy learning new things.
If you don't enjoy learning new things and the process of DIY house projects, you will dread every second and it will probably take even longer than it should. I absolutely like learning how to do new things but I must admit, my husband doesn't necessarily enjoy the whole DIY experience. He will tolerate it and help where he can but it is more my thing and I embrace that!
You are particular about materials used.
A contractor will probably not give you all the options and, instead, will install the most cost effective material. If you have an opinion on materials used, it needs to be stated upfront but you may not always know until you're knee deep in a project. We chose to use real wood for baseboards in our basement. It was a bit more expensive than your run of the mill MDF baseboard material, that the contractor would have used, but we were okay with that since we were saving so much money by installing it ourselves.
You want things done a certain way.
No one cares more about your house than you do. Contractors are there to get the job done and earn a paycheck. If you want things done a certain way, you need to be able to speak up or do it yourself. Case in point where I messed up, I overheard the contractor explaining to his helper the cost of a material and how he chose the less expensive way to do it. Turns out, that less expensive material was toxic and smelled awful for days. Had I thought ahead, I would have asked the contractor to use non toxic materials whenever possible. If I had done this job myself, I would have certainly chose the less toxic material.
You like to save money!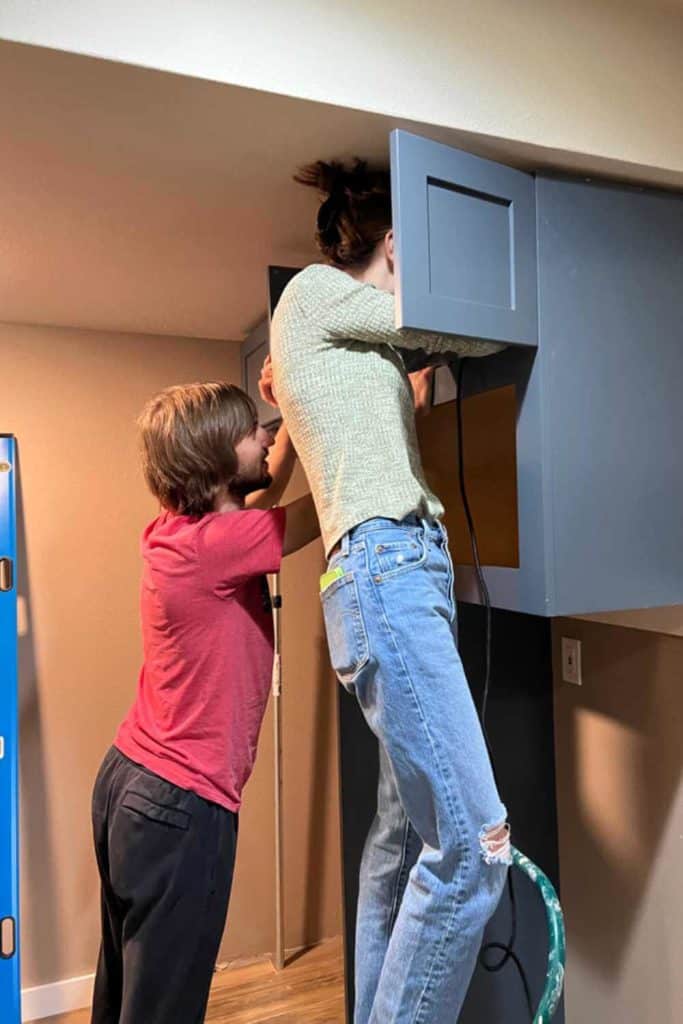 If you are budget conscious, DIY projects can absolutely save you money as long as you are taking on projects that are in your scope of knowledge. I was uncomfortable installing tile floors in our home as I had heard horror stories of people who had tried, failed miserably, and wasted a lot of money on materials. So, we hired a contractor to do the things I wasn't confident in taking on. Things like flooring, plumbing, and electrical. We did take on DIY projects that I was confident I could learn and, if mistakes were made, they could easily be corrected.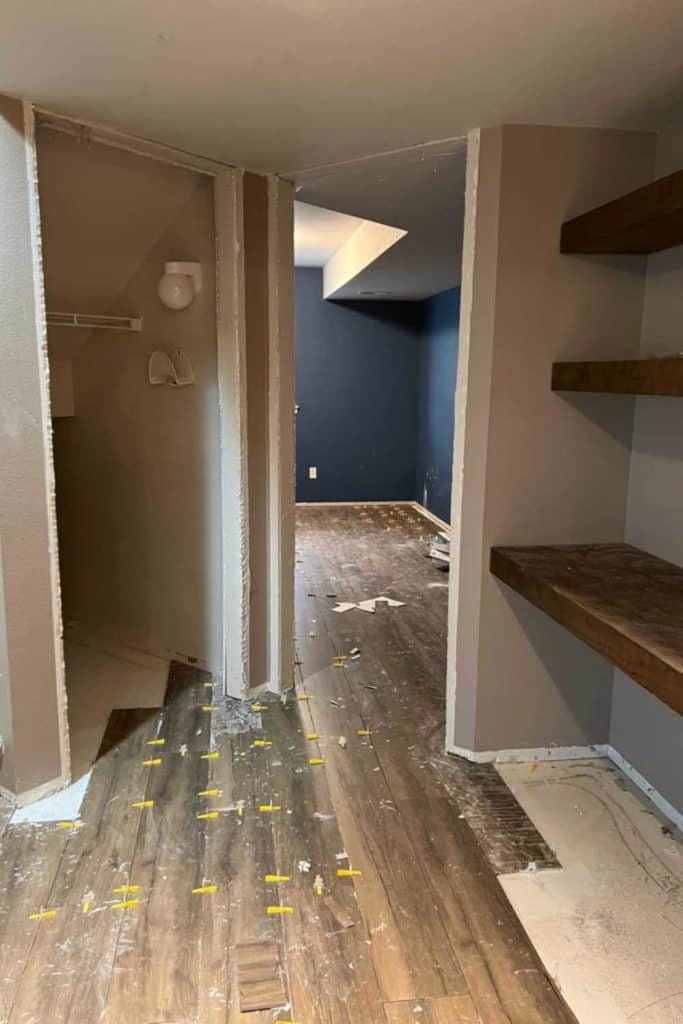 You are good at organizing.
I'm not talking about organizing cupboards, although that's a bonus! What I am referring to is being able to get organized by ordering materials and keeping track of timelines and budget as well as contact information for people working on your project.
I created a Home Project Planner (found below) to keep everything organized and I carried it with me when I made purchases. It was a great resource that I referred to often, throughout our project timeline.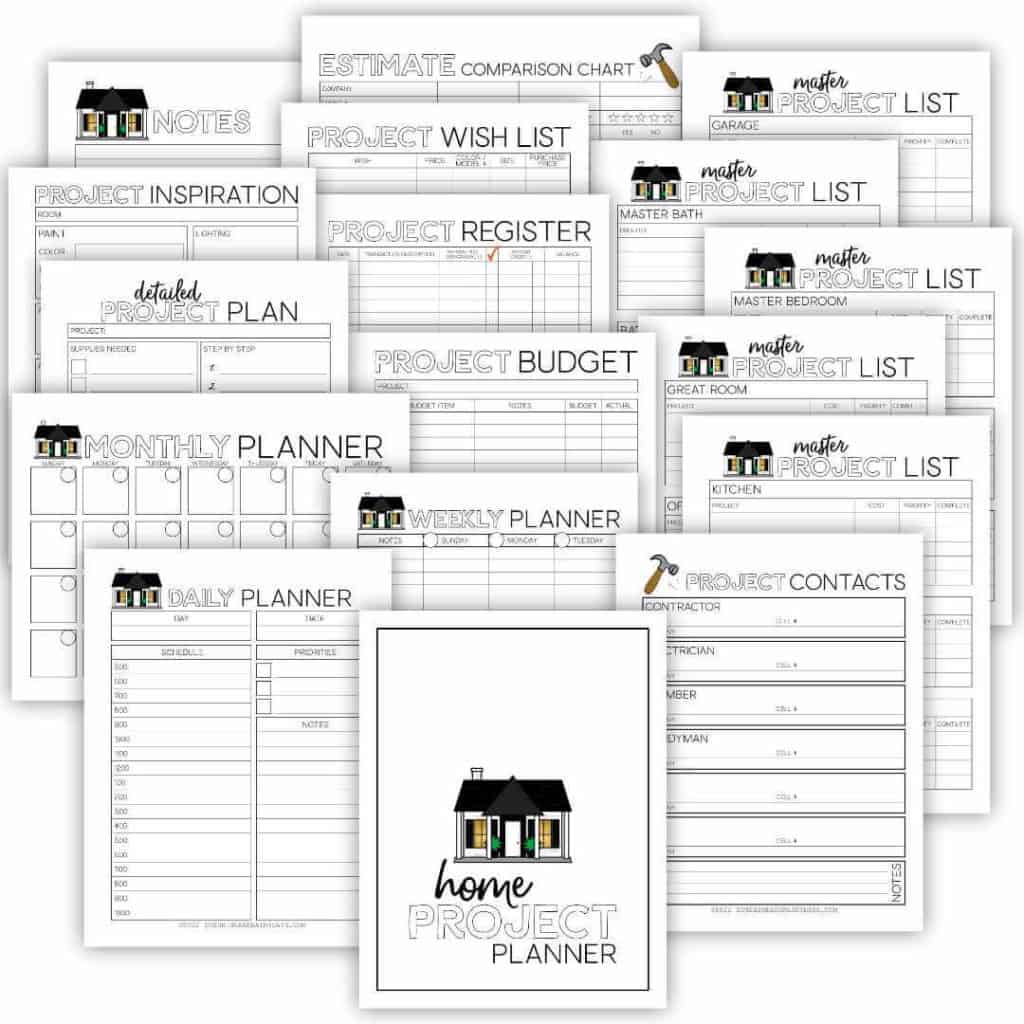 Get Your Home Project Planner Here!
Whether you have a small project or a huge remodel, this Home Project Planner is here to help keep you organized and in the know of what's happening and the costs involved.
DIY house projects can be a lot of fun and very rewarding! When you do things yourself, you are able to learn new skills, do things the way you want them done, use the materials you like best, and have the excitement in knowing you did it yourself! After all, you are the one who cares about your home the most!
DIY House Project Ideas