Do you have sticky notes with passwords haphazardly scrawled here and there or do you rely on your memory to get you past the pearly password gates? Get those passwords organized with the Printable Password Keeper!
The Little Black Book we've used to store our passwords for the last 10 years is just not cutting it anymore. Our journey started promising enough. Every password was carefully entered in pencil for easy changes and alphabetized according to those handy little alphabet tabs.
Through the years, the kids have added their own passwords in PEN, many of the passwords have become insignificant, and those alphabet tabs, well, they have seen better days.
Also, certain letters are more popular than others and their passwords have leaked onto pages that don't necessarily coordinate with their names.
It's time for a change! I'm one of those people who NEEDS passwords handwritten, within arms reach.
I fully realize there are programs to help organize passwords online. To me, it's kind of like using credit cards or cold hard cash. I just need the cold hard cash or something to put my hands on.
That's why I created my very own Password Keeper!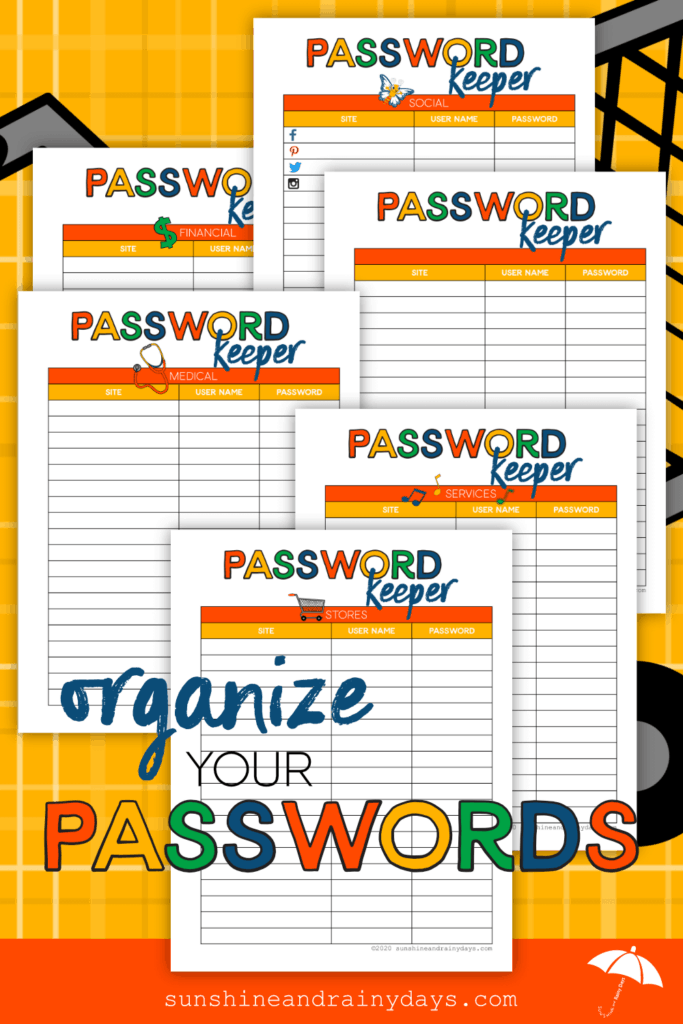 Password Keeper
The Password Keeper is a seven page PDF and includes the following:
Cover Page
General Password Keeper
Social Password Keeper
Financial Password Keeper
Medical Password Keeper
Stores Password Keeper
Services Password Keeper
The Printable Password Tracker has the following columns:
Site – This is where you list the website URL. You may also choose to record the company name here, as well, for those companies that the site doesn't match the name. For example, the Costco Visa cards use the URL citi.com. Who would've known?
User Name – Some sites may require a User Name, some may offer a User ID. Regardless, you have a place to record it!
Password – Wouldn't life be easier if we could use just one password for everything? Unfortunately, using one password enables a hacker to not only access one of our accounts but EVERY account. Those hacker people are smart in some ways, dumb in others. Read up on how to create strong passwords.
Now comes the arduous task of sifting through The Little Black Book and deciphering which passwords are worthy for the Password Tracker. It will be swell to have those passwords organized again!
Get Your Password Trackers Here