On April 11, 2020, my daughter turned 20! At the time, we were on stay at home orders but I wanted a way … however small … to celebrate her day. That's when I created the Happy Birthday Banner!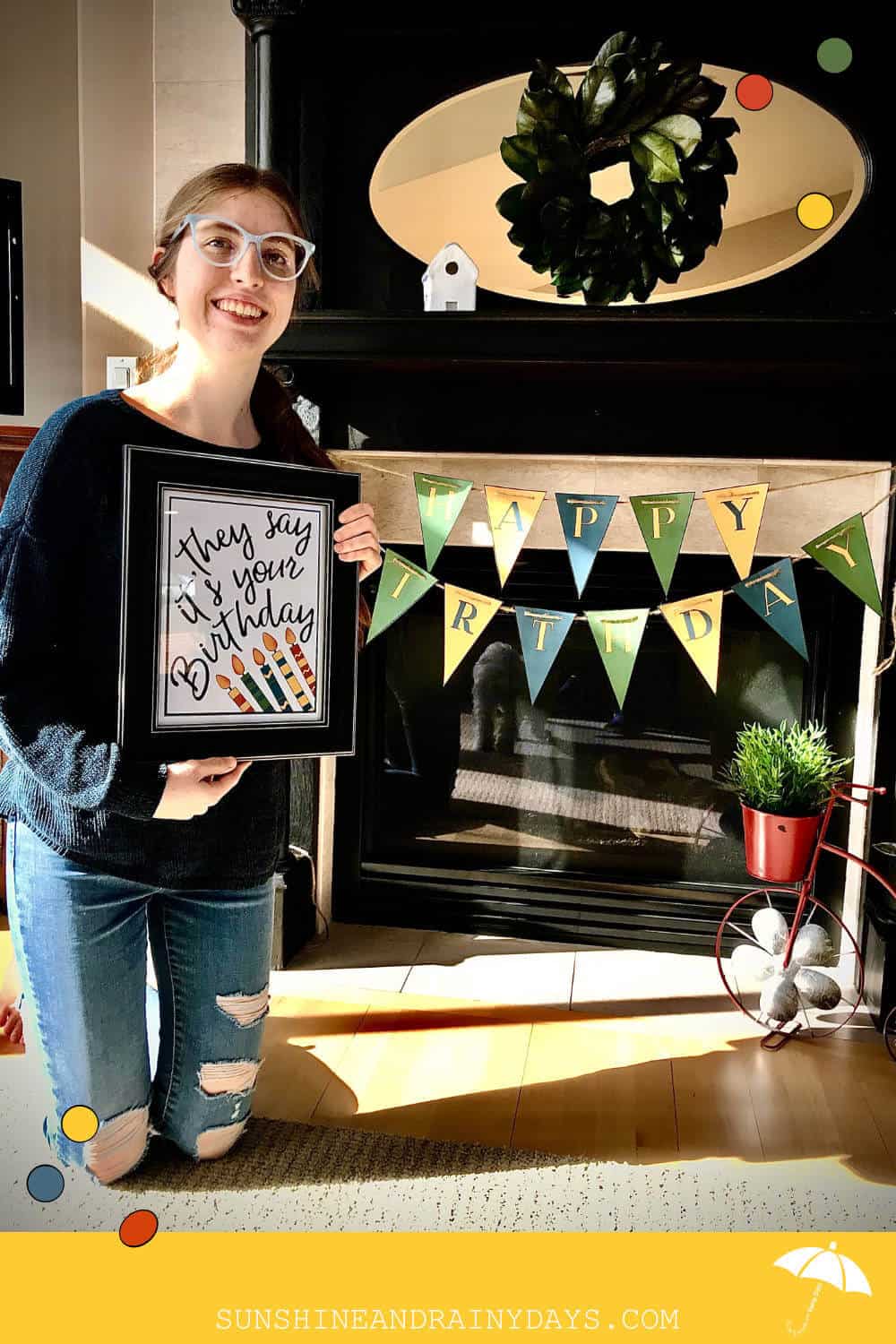 Supplies You Will Need For Your Birthday Banner
This post contains affiliate links. When you purchase through an affiliate link, we receive a small commission at no additional cost to you. Disclosure.
Happy Birthday Banner Printable – found below
Printer – I have this one and like it!
Card Stock – This is the card stock I use.
Paper Cutter or Scissors
Hole Punch
Jute, Twine, or String
A Way To Hang The Banner – I use these 3M Hooks since I had them on hand
How To Assemble Your Happy Birthday Banner
Print the Happy Birthday Banner – found below. The printable has three flags per page.
Cut the Flags.
Punch holes in the two top corners of each flag.
Thread jute or twine through each hole. I like to thread the jute from the back first and then through the front, leaving the jute exposed (on the front of the flag) in the middle.
Hang your Birthday Banner!
How To Hang Your Birthday Banner
Banners are an easy way to decorate your home for any occasion!
Since they are such an easy way to decorate, I have placed 3M hooks on my fireplace and leave them there throughout the year. Then, I just switch out the banners!
Remember the slip knot? Tie a slip knot on each end of your banner and attach to 3M hooks.
Should You Save Your Birthday Banner For Future Use?
Yes! I save every banner I create in a shoebox, that sits in a cupboard, next to my fireplace. This makes it super easy to pull out the appropriate banner, right when it's time.
If you choose to save your Birthday Banner, you'll be ready for the next Birthday, lickety-split!
Get Your Happy Birthday Banner Here
This Birthday Printable Pack includes the Birthday Banner plus a whole lot more!
Whether you plan to celebrate at home or intend to throw a Birthday Party like no other, the Birthday Banner will help you celebrate in style and make your Birthday girl or boy (man or woman) feel extra special!
More Birthday Printables