GET THE MEDICAL BINDER FOR $14

ORGANIZE YOUR MEDICAL LIFE
Never have to search for your medical paperwork again!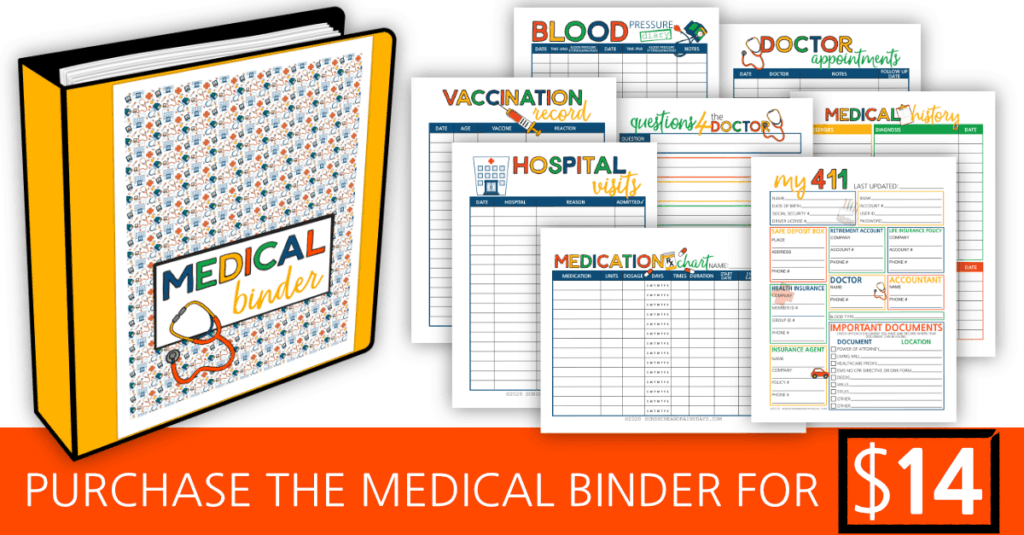 THE MEDICAL BINDER WAS DESIGNED TO HELP YOU KEEP TRACK OF YOUR MEDICAL INFORMATION
HERE IS WHAT YOU GET IN THE MEDICAL BINDER:
✓ Medical Binder Cover – The Medical Binder Cover And Spine will take your Medical Binder from boring to FUN and easily identifiable!
✓ Divider Tab Inserts – For AVERY 11903 Dividers
✓ Blood Pressure Diary – Track your blood pressure with the Blood Pressure Diary!
✓ Dentist Appointments – Track your dentist appointments and KNOW when you're due to get those teeth cleaned again.
✓ Diabetes Tracker – The Diabetes Tracker provides a place to track a week's worth of information pertinent to those with diabetes.
✓ Doctor Appointments – Keep track of where you've been and where you're going. List the date, doctor, notes, and when to return for a follow up.
✓ Exercise Tracker – Are you ready to make exercise a habit in your life? Our fun and colorful Printable Exercise Tracker is here to help motivate you!
✓ Food Sensitivities – How many times have you eaten a food, had a bad reaction, and THEN remembered you shouldn't be eating that food because you've had the same reaction in the past? The Food Sensitivities Printable REMINDS you of those foods that make you feel bad, before it's too late!
✓ Food Tracker – The Food Tracker provides a place to track what you eat for four weeks.
✓ Growth Trends – Track your child's growth with the Growth Trends Printable.
✓ Hospital Visits – Be prepared! Track your Hospital Visits on this Printable so you don't have to try to remember the specifics when your doctor asks a few years down the road.
✓ How Am I Feeling? Chart Your Feels – This chart is meant for people to track how they feel and maybe find a correlation between that and their eating and exercise habits. By having a chart for the whole week, it is easier to see trends in how you are feeling and how you are taking care of your body.
✓ Insurance Information – Do you find yourself running to grab your wallet every time you make an appointment or need to call your insurance to inquire about coverage? Leave your insurance cards in your wallet and use this Insurance Information sheet when it's time to make those calls!
✓ Medical Contacts – Keep all of your Medical Contacts right here, on one sheet. Whether it's a doctor you see on a regular basis or one you see sporadically, you'll have the information you need to contact them, in one spot!
✓ Medical History – With room to list your allergies, diagnosis, and surgeries, you'll be sure to have pertinent information at your fingertips the next time your doctor asks!
✓ Medical Mileage – You may or may not itemize at tax time but, if you do, it's a good idea to have your Medical Miles handy and ready to report!
✓ Medication Chart – The Medication Chart is ready for you to record the medications you take. Keep your own medication history and track what you've taken, when!
✓ Medication Tracker – The hardest part of medications being prescribed is actually remembering to take the medications. Keep this Medication Tracker near your medications where you will see it.
✓ Personal Information Worksheet – It's super hard to think about but … what if an emergency situation came up and you were unable to communicate important information with your loved ones? The Personal Information Worksheet will guide you in your quest to make sure the people closest to you will know where to find important documents and have your personal information at their fingertips.
✓ Questions for the Doctor – The last time I was at the Naturopath, I had mentally prepared a list of questions to ask. Guess what? Once I was there I drew a blank. Sound familiar? We all do it! Write those questions down as you think of them and you'll have them when you need them most.
✓ Supplement Chart – The next time you're at the doctor, there's no need to guess what supplements you're taking because you have it all written down on your very own Supplement Chart! Keep your own supplement history and track what works for YOU!
✓ Symptom Tracker – Track your symptoms and make your next doctor appointment a breeze.
✓ Test And Reports – You've had multiple medical tests but do you have a place to record the results of those tests? Can you quickly tell a new doctor what tests you've had so he doesn't order the same ones? The Tests And Reports Printable lets you know, at a glance, what medical tests you've had so you don't repeat them, unnecessarily.
✓ Therapy Plan – Track your Therapy visits with the Therapy Plan Printable!
✓ Thyroid Trends Tracker – Are you faced with thyroid issues and depend on your doctor to keep track of your lab work? It's time to take the butterfly by its wings and discover right where you stand with THIS awesome Thyroid Trends Tracker!
✓ Vaccination Record
✓ Weight Loss Tracker – If you find your clothes aren't fitting well … and it isn't because they've shrunk … check out this FUN Weight Loss Tracker Printable.
✓ Who Am I? – Does the busyness of life have you wondering, Who Am I? Outside of busy, your responsibilities, and roles, Who Are You? What gives you JOY? What character traits make you who you are? The Who Am I worksheet prompts you to discover who you really are!
Exactly What I Needed! My mom is in her 70s, and I have been looking for a way to organize all of her doctor appointments and medical information. I live in a different state from her and visit twice a month to drive her to appointments, etc, but sometimes she forgets to update prescriptions and other important changes that occur between my visits. This is exactly what I've been looking for and will really help me keep track of everything! Thank you!
– Erin Clarkson –
TAKE CONTROL OF YOUR MEDICAL INFORMATION
GET THE MEDICAL BINDER FOR $14
A Medical Binder is an excellent resource whether you visit the doctor often or not nearly enough.
Use our Medical Binder Printables to keep the information you need at your fingertips!
No need to wrack your brain trying to remember what happened when or calling your medical office for copies of labs. Nope! You've got it! YOU have taken charge of your health!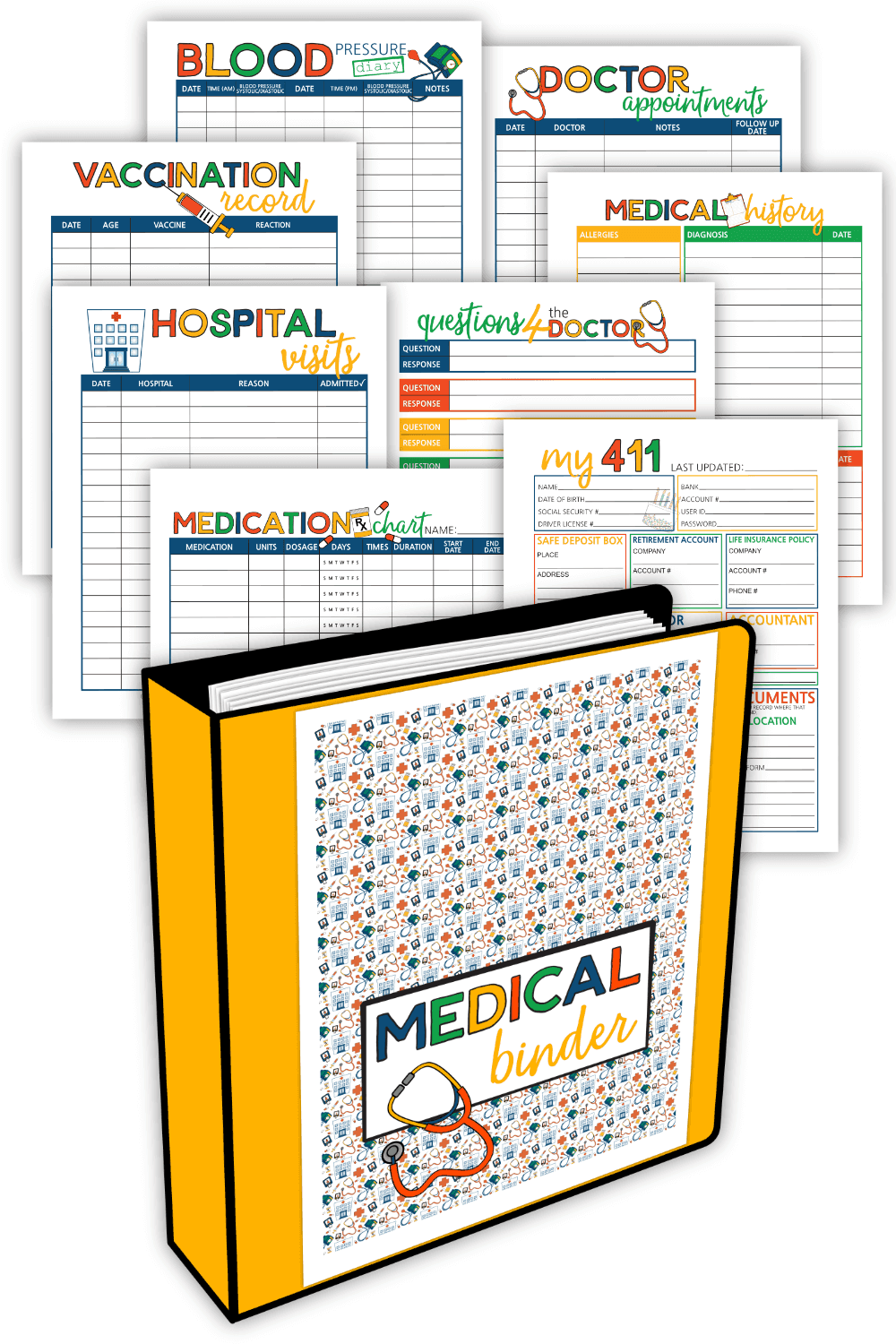 I'm pretty sure Bridget is a miracle worker. She's managed to read my mind and create a resource that helps my family immensely. This is something that I've been looking for forever.
– Janeen @ Loving Littles –
HI, I'M BRIDGET!
I KNOW WHAT IT'S LIKE TO GO TO DOCTOR AFTER DOCTOR AND BE ASKED THE SAME QUESTIONS OVER AND OVER AGAIN.
I also know it's no fun to have to dig through piles of medical information to find the information you need.
That's why I developed the Medical Binder!
A few years back, I was diagnosed with Hashimoto's. It took a while to get the diagnosis and then even longer to find a doctor that could actually help.
It was imperative I take control of my own medical information in order to know where I'd been so I could make informed decisions on my next steps.
Now, every member of my family has their own Medical Binder they can refer back to, when needed.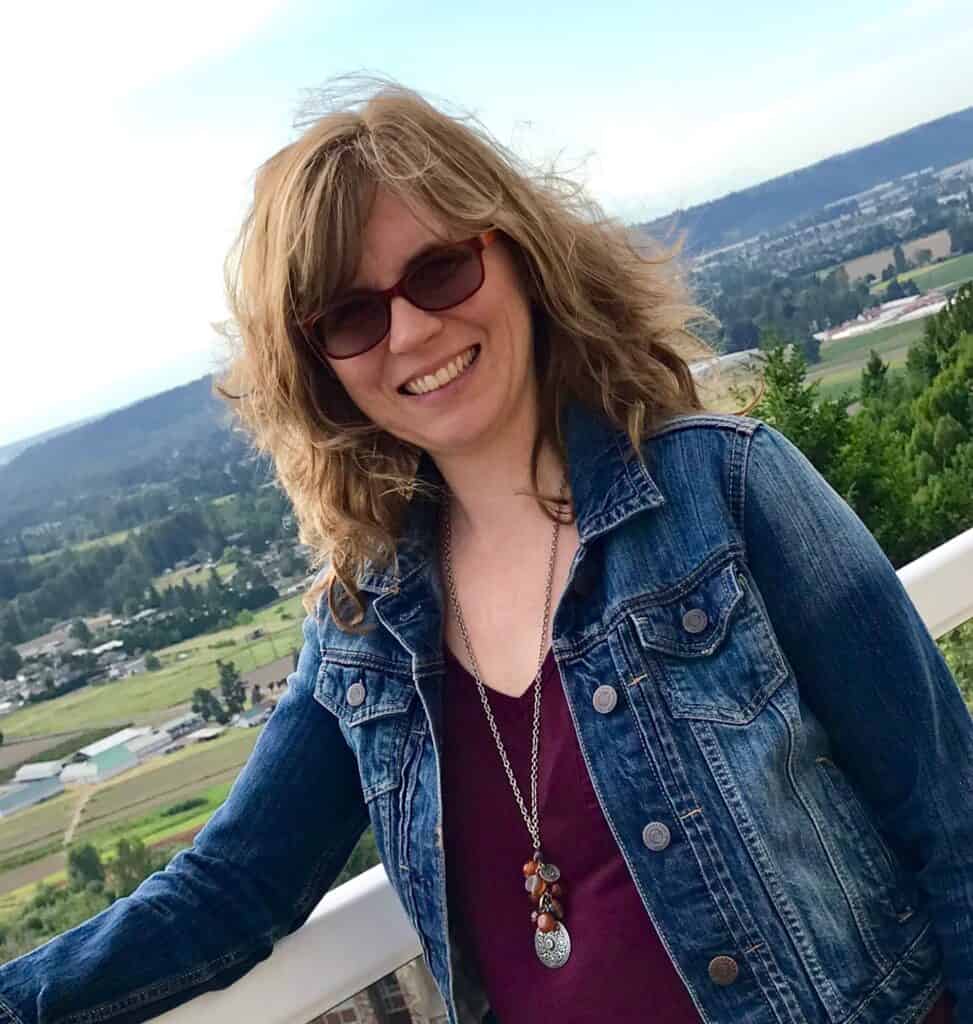 READY TO ORGANIZE YOUR MEDICAL INFORMATION?
The Medical Binder is a digital product you can print right at home!
FREQUENTLY ASKED QUESTIONS
WHAT EXACTLY ARE MEDICAL BINDER PRINTABLES?
Printables to Help YOU Organize Your Medical Life!
Say good-bye to digging through piles of medical information in order to find trends in your medical history. Get organized, once and for all, with a Medical Binder and Medical Binder Printables!
HOW DO I KNOW IF THE MEDICAL BINDER IS RIGHT FOR ME?
The Medical Binder is right for anyone who wants to keep track of their medical information. It's an excellent way to organize your medical information now and in the future.
IS THIS A PHYSICAL MEDICAL BINDER THAT WILL BE SHIPPED TO MY HOME?
The Medical Binder is a digital product. Nothing will be shipped to your home. You will receive PDF files to print at home!
WHEN WILL I GET MY MEDICAL BINDER?
Your Medical Binder will be delivered digitally, to the email address you provide at checkout, within 5 – 10 minutes.