We cheated! Yep! We got drastic and paid off $35,000 in consumer debt in just ONE DAY. We didn't toil away and apply the snowball or avalanche method or spend years working away at it. I applaud those that do pay off debt that way. It takes huge amounts of dedication and must bring loads of fulfillment.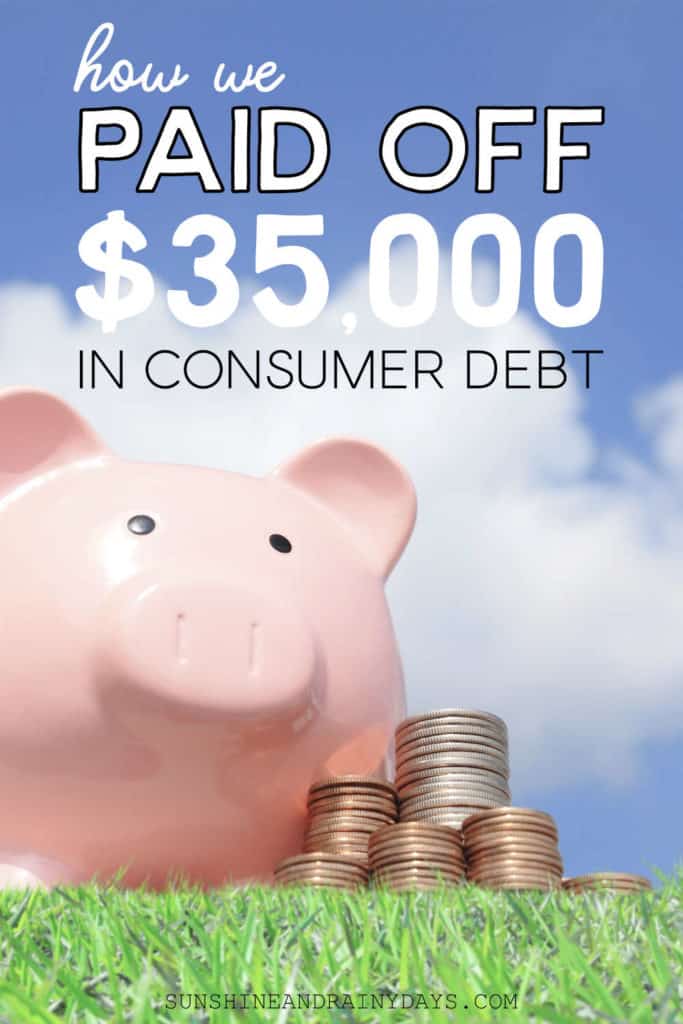 We sold our house! Now, before you get all excited, we didn't sell our home, in order to pay off debt. We actually needed to move closer to my husband's new job so we put the house on the market. The plan was to take the proceeds from the house to pay off debt, buy a new vehicle for Steve, and put a down payment on a new home. Guess what? Plans don't always work as we expect and, after losing two homes to better offers, we decided to slow it down and live the apartment life while we looked for the right home.
This post contains affiliate links. When you purchase through an affiliate link, we receive a small commission at no additional cost to you. Disclosure.
There were multiple times, during this process of apartment living, that I looked at Steve and said, 'what are we doing'? The home we'd lived in for 13 years held many memories and served us incredibly well. We had built a home that was comfortable and customized, just for us. We had cinder block raised garden beds, a yard for TeddiBear, EasyClosets installed, in every single closet, organization in the garage, room for the teenagers to have friends over, and space for that extra freezer. We even had an ice dispenser! Oh, and a garage! Nobody parked in our parking spaces at our home, like they park in our carport spots, at the apartment! We even had room for visitors to park!
It's difficult to leave a home that's been part of your life for so many years. I can't deny the tears that ran down my face as I cleaned that house, getting it spic and span for the new owners. It's still difficult, when my car wants to drive that direction home.
Somehow, some way, I am finding peace and paying off $35,000, in consumer debt, is icing on the cake! In actuality, we paid off $146,785.68 if you include the mortgage.
As I sat at my computer, I decided to pay bills, one by one, using the snowball method. I had to sneak it in there somewhere!
Here's what it looked like:
Tahoe: $4,794.87
Credit Card 1: $5175.44
Credit Card 2: $9314.48
Credit Card 3: $16,079.89
Mortgage: $111,421 (the mortgage was taken care of through the title company)
Goodness, how do those credit cards sneak up on us like that?
The exciting news is, we actually OWN everything we have now! That Lasik eye surgery, this computer, those doctor bills … we don't owe, we OWN!
Selling a home, to pay off debt, is a drastic move. It's uncomfortable. It's emotional. It's hard work.
Here, I take you on my final walk through of our home. Our home that is now just the shell of many memories. It was an emotional walk and you just might hear that in my voice.

My son, Jack, sat on the couch and shared his thoughts about a totally unrelated manner. He expressed how his interests are changing and he's afraid to let them go because he doesn't know what would be next, if anything. I told him we had to have faith that when one door closes, another will open at just the right time, just when he needs it. My husband looked at me incredulously and told me to think about what I was saying and take it to heart. I didn't want to hear it but I knew he was right! At just the right time, we will know the next thing!