You guys! I actually earned money blogging this month! Well, it is actually money I received this this month that was earned back in December. The Christmas holiday had readers interested in the gift ideas I share on my blog!
Between Sunshine And Rainy Days and How Do The Jones Do It, I earned $621.87 in February 2017! This is the largest income I have received from blogging in one month and it feels good! It hasn't come easy though. I have been blogging for three years and this is a welcome payout.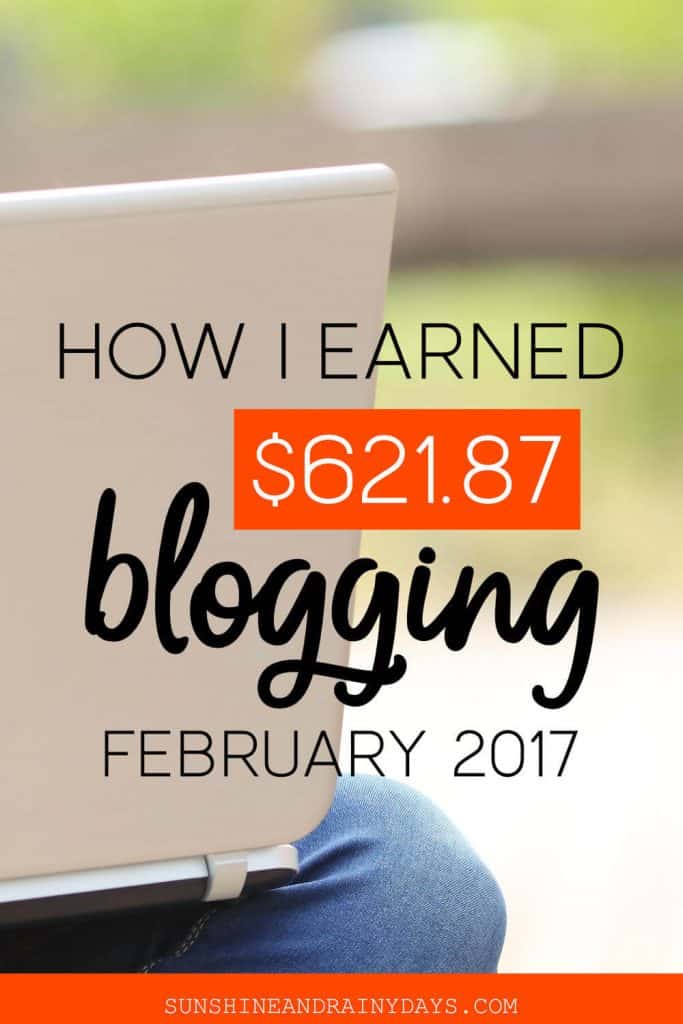 Blogging Income – February 2017
This post contains affiliate links. When you purchase through an affiliate link, we receive a small commission at no additional cost to you. Disclosure.
Affiliates
Amazon: 703.47
This income was generated in December when combined page views between Sunshine And Rainy Days and How Do The Jones Do It were 88,902. A large portion of those page views, 30,226 to be exact, were from a post titled $10 Dirty Santa Gift Ideas.
Products
Medical Binder Printables: 10.40
This is a product I created to help readers take charge of their health!
Total Earned: 713.87
Blogging Expenses – February 2017
G Suite: 4.00
G Suite allows me to have an email address with my domain name: yourname@yourdomain.com. I also store many of my PDF Printable files in Google Drive. If you are interested in G Suite, I have a code to give you 20% off your first year! Just hit the 'contact' link at the bottom of this page and I'll shoot it right over to you!
ConvertKit: 29.00
If you have a blog, you need to collect emails from the start! ConvertKit is an email marketing tool that allows you to collect subscribers through an email subscribe box on your sidebar, opt-in forms at the end of posts, inline subscribe buttons in the middle of a post plus more!
Media Temple: 20.00
Media Temple is the web host I used to host both Sunshine And Rainy Days as well as How Do The Jones Do It!
WP Rocket: 39.00
WP Rocket is what I use for page caching on Sunshine And Rainy Days. This is a yearly fee.
Total Expenses: 92.00
Profit: 621.87
Let's Get Real About Blogging
Blogging isn't a get rich quick scheme. If you were to add the hours worked and figured an hourly rate, it would be incredibly depressing. There are a few bloggers that succeed in a very short amount of time but that isn't the norm.
Blogging has its ups and downs. My two blogs are the busiest in November and December then they take a nose dive. It is likely the $621.87 profit made this month will need to sustain my blog for the remainder of the year.
I am thrilled that, at the very least, Sunshine And Rainy Days and How Do The Jones Do It have become self-sustaining. Money earned goes right back into the business through expenses or learning opportunities!
Blogging Goal
It is my goal to take this blog to a new level, in order to supplement my teenagers' college educations. One will graduate in 2018 and the other in 2020. Ack! I don't have much time. Paying for college scares me to death.
I am currently going through Elite Blog Academy and have high hopes! I enrolled in EBA when it first went on the market a few years ago but didn't get all the way through it. I am now ready! Ready to do the hard work. Ready to make a difference. Ready to even out the highs and lows of blogging!
If you blog, let me encourage you to stick with it! Come alongside me and let's figure this thing out!
Blogging Resources