Are you looking for gift ideas for 13 year old boys? Our in-house 13 year old has come to the rescue! He even blessed us with the reasons WHY he loves these gift ideas. This boy is always full of ideas and is actually easy to buy for. The hard part is narrowing it down a little …. er, a lot!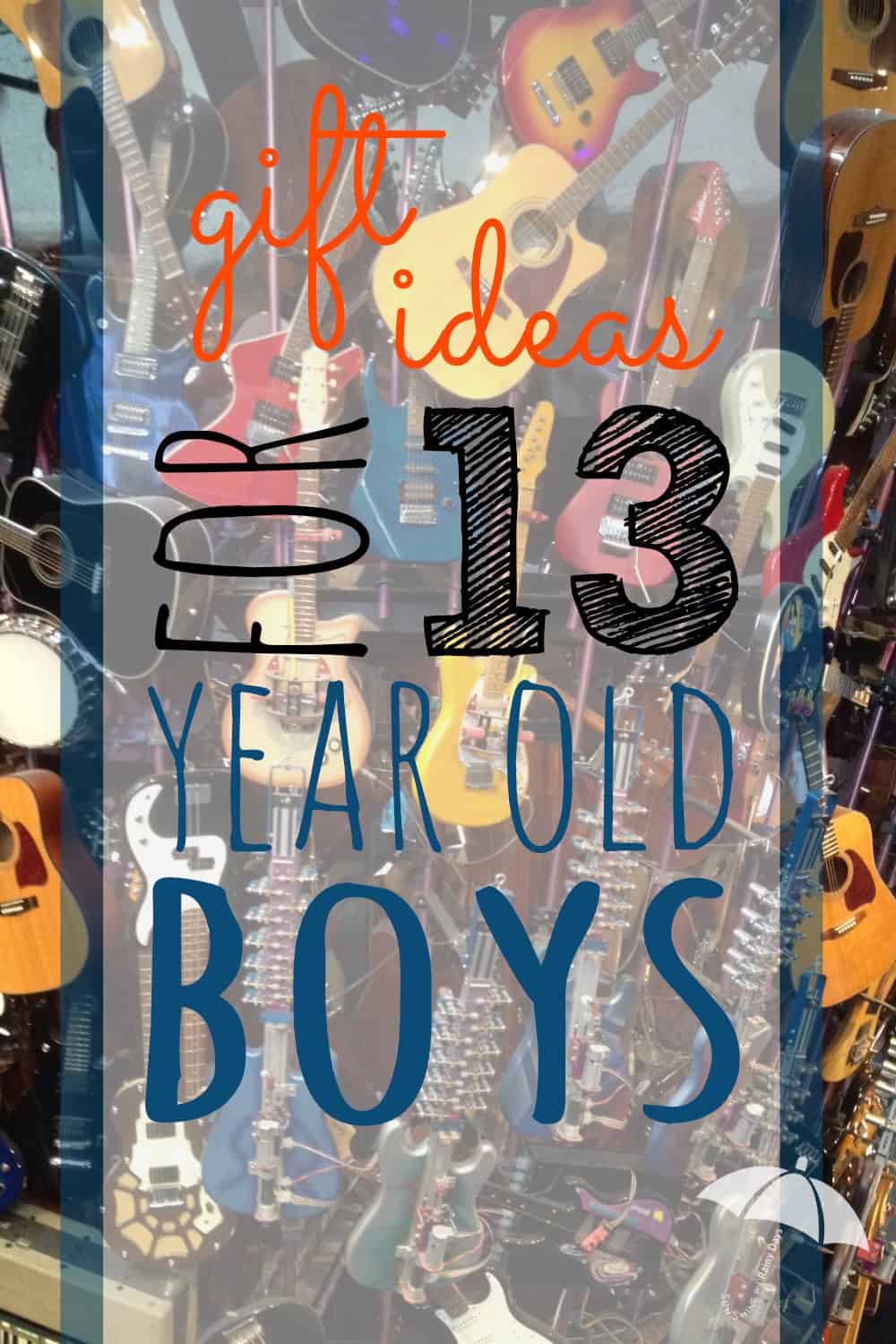 Take it away, Jack …
Gift Ideas for 13 Year Old Boys
Update: This post was written in 2015. Some of these items may be out of date!
Super Mario Maker – Nintendo Wii U

If your household is home to a Wii U console, I would definitely recommend this as a gift to any child this holiday season. With endless possibilities of creating your own Super Mario levels and being able to play other peoples' levels from around the world, this game is a must-buy for anyone interested in getting into game design. It is essentially the Mario game that never ends, so this should keep you and your loved ones occupied for long to come.
Yoshi's Woolly World Bundle – Nintendo Wii U
This new Yoshi game, along with its counterpart, a small yarn "Amiibo" that will give you an in game bonus, is a great game to give as a gift. It has a wonderful yarn aesthetic and isn't too difficult. If you are like me, and you're not that good at video games, this will be a drawing point. In fact, the game even has a "Mellow Mode" that lets you traverse the game levels as a winged Yoshi, making the game that much easier. Regardless, this adorable game would be an excellent gift for Christmas.
Nintendo Pro Controller – Nintendo Wii U

Wii remotes. Who doest need Wii remotes. The Wii U Pro Controller is great for kids who own a Wii U. This controller is very similar to that of an Xbox or a PlayStation. It would be a great gift to an owner of a Wii U console that just can't stand having to use a Wii "Remote" or a game pad to play their games.
Chibi-Robo! Zip Lash with Chibi-Robo amiibo Bundle – Nintendo 3DS


This game, and the small Amiibo that comes with it, would be great for anyone with a 3DS that enjoys 2-D platformer games like Super Mario. In this game, you traverse many levels exploring and collecting items as Chibi-Robo, a small little robot that uses his power plug to whip and slash enemies and solve puzzles. It even has a great soundtrack (if your kid is like me, and he/she geeks out about game music more then the game itself).
The Legend of Zelda TriForce Heroes – Nintendo 3DS


Good ol' Legend of Zelda. The ever so popular series that has captivated its fans with amazing music, great stories, and amazing gameplay for almost 30 years now, recently got a new addition to its' large collection of games, The Legend of Zelda TriForce Heroes. This game is a co-operative game that allows you and two of your friends to play through the game together, solving puzzles as a team. I really want this game because two of my best friends and I really love Loz and we thought this would be awesome to hang out and beat together. I think the whole getting together and communicating with friends to solve puzzles and beat levels is really interesting and neat to me, and it would be great to give your child if they have friends who are also fans of the series. (This game also has great music. Just thought I'd let you know that.)
Star Wars Battlefront – Xbox One

This game would be perfect for any Star Wars fan who owns a system it can be played on. Of course, with its T for Teen rating, you might not want to give it to your child if he is younger than 13. Regardless, this game has you battling it out with other players in massive 40 vs 40 battles, all set in the Star Wars Universe. This game comes out on November 17, 2015.
As I am getting older, I am finding out that not every game I could ever want to play will be on a Nintendo console, like the Wii U (sad, right?). This means it is necessary to purchase a new console, one that will let me play games like Star Wars Battlefront. I decided on an Xbox One instead of a PS4, because overall, the Xbox One just seems to have a better game library. If your child is interested in playing video games, then this would be for them.
If your child plays the guitar like me, they might want to branch out and learn to play a Ukulele as well. I've always wanted one of these because of their unique sound and small size. I've always wanted to be able to carry my guitar around everywhere and the Ukulele seems like a great compromise with its size and portablility.
Electric Guitar
Again, If your child knows how to play the guitar and their guitar seems to be getting a little worn out, you might want to consider purchasing a new guitar for them. The guitar I am currently using is the one I was playing when I first started out about five years ago. You can understand why I would want a new one, and if your child is in a similar situation as me, a new guitar would be the perfect gift for them.
My top three choices for Christmas gifts on this list would be an Xbox One, Super Mario Maker, and a Ukulele. These gifts are things I could make the most of, with the endless amounts of level design options of Super Mario Maker and the expansive new library of games to explore with the Xbox One, these are the things I would want the most.
Nice work, Jack! You've come up with some great gift ideas for 13 year old boys! I can't wait to see what you actually get!