When you have kids in college, you are required to fill out the FAFSA every year. That means you need to keep track of your Federal Student Aid Log In information. Make it easier on yourself with the FAFSA Log In Sheet!
FAFSA stands for Free Application For Federal Student Aid. It is the application students fill out to determine their financial aid eligibility for college. It may include grants, scholarships, work-study, and loans.
A parent will also need an FSA ID in order to help their students complete their application.
Each new log in requires an FSA ID, Password, and Save Key + 4 Security Questions.
That makes a lot of log in information to keep track of.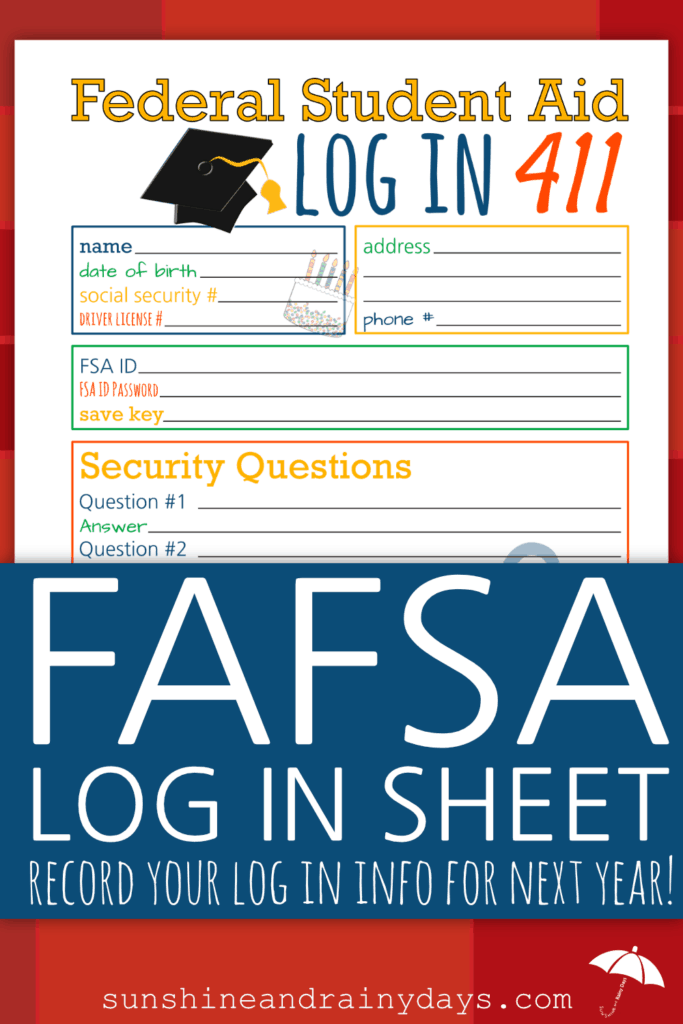 FAFSA Log In Sheet
My husband worked with my daughter last year to fill out the FAFSA. This year, I decided to help my daughter and son tackle the process and found a piece of paper with all of their log in information written in a very disorganized, messy manner.
I couldn't take it!
They now each have their very own Federal Student Aid Log In 411 to help streamline the application process for their remaining years of college!
How To Use The Federal Student Aid Log In Sheet
Print the Federal Student Aid Log In 411 – found below.
Fill out the top two sections of the sheet – name, date of birth, social security #, driver license #, address, and phone #.
Log into FAFSA at www.fafsa.gov.
As you create a FSA ID, Password, and Save Key, record them on the sheet.
Record the Security Questions you choose, along with your answers.
Complete the FAFSA.
Write any additional notes you think may help you to fill out the FAFSA next year.
Place the Log In 411 in a safe place, where you will know to access it next year. Preferably a safe. We each have a Big Book Of Everything where we know to look for our personal information.
Information You Will Need To Fill Out The FAFSA
There seems to be a lot of dread around filling out the FAFSA. I gotta say, if you have your information in order, it really isn't all that bad.
Here is the information you will need for both the student and parents:
Social Security Number
Federal Income Tax Returns
W2's
Any income not reported on your tax return
Total cash currently on hand
Total investments amount
Go ahead … you can do it!
Don't forget your Federal Student Aid Log In 411 Sheet!
You'll thank me next year!